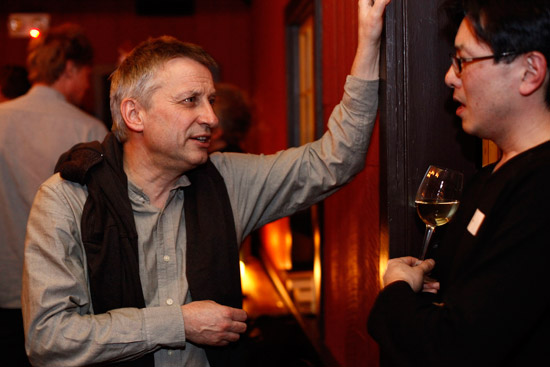 photo #1 / photo #2 / photo #3 / photo #4 / photo #5 / photo #6 / photo #7 / photo #8 / photo #9 / photo #10 / photo #11 / photo #12 / photo #13 / photo #14 / photo #15 / photo #16 / photo #17 / photo #18 / photo #19 / photo #20 / photo #21 / photo #22 / photo #23 / photo #24 / photo #25 / photo #26 / photo #27 / photo #28 / photo #29 / photo #30 / photo #31
New York, Montag, 5. März, at Freeman's, New York City: Die Stadt Zürich ladet zum Apero ein aus Anlass des Festivals Zürich-New York von Intakt Records im The Stone.
All photos by Manuel Wagner (mail[at]wagnerchic.com)
---
Beim Generalkonsul
Pause beim Intakt-Festivals: Der Montag im "Stone" gehört jeweils dem Komponisten Butch Morris und seinem Workshop "New Music Observatory". Mehr als fünf, zehn Zuhörer hat das "Stone" dann jeweils nicht, wie der Volunteers an der Türe sagt. Die Butch Morris-Fans gehen eher danach ins "Nublu", einen kleinen Club kaum einige Häuserblocks vom "Stone" entfernt, wo der legendäre Geheimtip der New Yorker Downtown-Szene dann jeweils ab Mitternacht zwei "Conductions" mit seinem NuBlu-Orchestra durchführt.
Statt der Konzerte gab es am Montag einen kleinen Empfang im Freeman's, einem kleinen, ebenso urigen wie schummerigen Restaurant, das sich am Ende eines winzigen Gässchens unmittelbar gegenüber unserem Hotel Off Soho Suite Hotel an der Rivington Street versteckt. Eingeladen hatte das Präsidialdepartment der Stadt Zürich. Die Schweizer "Delegation" war natürlich vollzählig da, dazu der harte Kern der in New York lebenden Schweizer Künstlerinnen und Künstler und einige New Yorker Musiker. Susanne Spreiter, "Head of Jazz and Popular Music" der "Cultural Affairs of The City of Zurich", zu deutsch: die Leiterin des Zürcher Popkredits, hielt eine gut beklatschte Rede, in der sie sich bei Patrik Landolt und Rosmarie Meier vom Intakt-Label bedankte, ohne die das Festival ja nicht zustande gekommen wäre.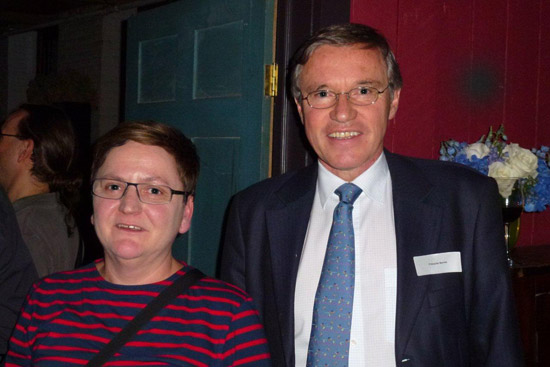 Susanne Spreiter (Popkredit) mit François Barras, Schweizer Generalkonsul in NYC
Man würde sich wünschen, dass das Lob und die Begeisterung auch über das Festival anhält, denn Intakt und das mit ihm verbundene "unerhört"-Festival sind vom Popkredit bisher eher stiefmütterlich behandelt worden. Und das, obwohl das Intakt-Label und das "unerhört"-Festival das wichtigste und nachhaltigste Beziehungsnetz zu dieser weltweit spannendsten Szene der Experimental- und Avantgarde-Musik aufgebaut hat und unterhält. Auch wenn es wie ein Werbespot klingen mag: Auf keinem anderen Schweizer Label – und wohl auch auf keinem anderen europäischen Label – haben so viele New Yorker Downtown-Stars, von Geri Allen, Marilyn Crispell und Andrew Cyrille über Fred Frith, Mark Feldman, Butch Morris und Ingrid Laubrock bis Elliott Sharp, William Parker und Cecil Taylor, CDs veröffentlicht wie auf Intakt. Und: Über das "unerhört"-Festival sind zahlreiche Verbindungen zwischen Zürcher Musikerinnen und Musikern und dieser New Yorker Szene entstanden, die bis heute anhalten und gepflegt werden. Die "cultural affairs" des Zürcher Präsidialdepartments dürften eigentlich ein bisschen stolzer sein auf diese beiden Zürcher Institutionen, als sie dies bisher zu merken gaben.
Christian Rentsch