Ich werde beschützt. Oder werde ich überwacht? Wer weiss das heute schon. Wie auch immer: Draussen vor meinem Apartment im Parterre des Off Soho Suites Hotels, steht eine Freiheitsstatue und schaut mir beim Scheiben über die Schultern. Am ersten Abend haben wir uns jeweils noch freundlich zugenickt. Inzwischen hat sich unser Verhältnis etwas abgekühlt. Was, frage ich sie, hat Christian Weber verbrochen, dass er als einziger der Zürcher Musiker, nicht ins gelobte "land of freedom and democracy" einreisen darf? Oder: Was haben wir nicht verbrochen, dass wir einreisen durften?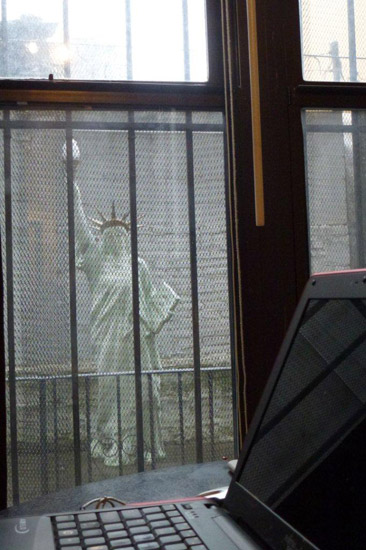 Photo: Christian Rentsch
Hat er vielleicht auf einem der Formulare das Geburtsdatum seiner Grossmutter falsch angegeben? Hat er ein Bankkonto bei der Wegelin Bank? Oder hat er einfach zu wenig freundlich gelächelt, als er vor vier Wochen auf er amerikanischen Botschaft antraben und seinen Pass abgeben musste? Wir wissen es nicht, und meine Freiheitsstatue vor dem Fenster hüllt sich in Schweigen.
Inzwischen ist klar: Christian Weber muss seine drei Auftritte im Stone mit dem Co Streiff -Russ Johnson-Quartet, mit Ellery Eskelin und Michael Griener und mit Oliver Lake und Dieter Ulrich fahren lassen. Alles Bitten und Flehen, alle Demarchen über diverse diplomatische Kanäle haben nicht genützt. Am Freitag Nachmittag erhielt Weber von der amerikanischen Botschaft ein E-Mail, in dem es hiess: "Your case is in administrative processing, the duration of which is case-specific and cannot be predicted. The Embassy does not control the process but we will get back to you as soon as possible." Wie würden wohl die Amerikaner reagieren, wenn man Dave Douglas oder Herbie Hancock mit ähnlich lausigen Argumenten die Einreise in die Schweiz verbieten würde?
Im Stone aber hat inzwischen das NY-ZH-Festival begonnen.
Christian Rentsch