Friday, April 21, 2017, 8.30 pm + 10.00 pm
(doors open: 8 pm)
Buy Ticket for Friday, April 21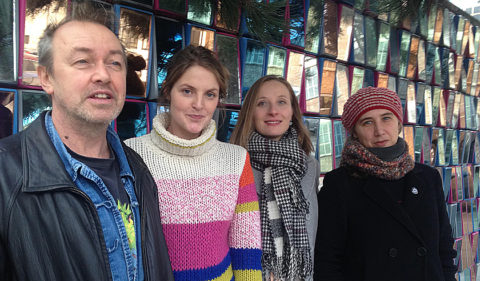 BUECHI – KINSELLA – EDWARDS – MARSHALL
WOOD AND BONES
Sarah Buechi: Voice, Composition
Lauren Kinsella: Voice
Hannah Marshall: Cello
John Edwards: Double Bass
ENG
Three locations interconnect the musical careers of the two vocalists in this project. Firstly the Indian city Bangalore, where both Kinsella and Buechi have studied South Indian music for some time. Secondly Dublin, Kinsella's hometown and a working place for Buechi for four years. Thirdly London, where Kinsella has established herself as an important member of the vivid jazz scene over the last few years, and where Buechi has travelled back and forth during a two year period while her partner resided there. Eight years ago, when they met in Dublin, they quickly realized that they shared a common approach to jazz and improvised music and started experimenting with their possibilities as two singers in a duo setting.
Now, with the invitation of the Intakt Festival London, there has finally arisen the possibility to reunite once more. They will be playing with two great musicians from the London Jazz scene, John Edwards on double bass and Hannah Marshall on cello. The compositions of Buechi serve as a vehicle for the band to weave in and out of written and free music.
DEU
Drei Orte verknüpfen die musikalischen Laufbahnen Sarah Buechis und Lauren Kinsellas, der beiden Sängerinnen dieses Projekts, miteinander. Zunächst die indische Stadt Bangalore, wo Buechi und Kinsella südindische Musik studierten. Dann Dublin, die Heimatstadt Kinsellas, in der Buechi während vier Jahren als Musiklehrerin arbeitete. Und schliesslich London. Hier hat sich Kinsella als ein wichtiges Mitglied der lebendigen Londoner Jazzszene einen Namen gemacht, während Buechi zwei Jahre lang zwischen der Schweiz und London pendelte, wo ihr Lebenspartner wohnte.
Als sich Buechi und Kinsella vor acht Jahren in Dublin kennenlernten, realisierten sie sofort, dass sich ihre Vorstellungen von Musik gleichen und sie ein ähnliches Verständnis von Jazz und improvisierter Musik teilen. Zuerst begann eine Zusammenarbeit im Duo, wo sie die Möglichkeiten der Stimmen ausloteten. Die Einladung ans Intakt-Festival im Vortex schafft nun die Möglichkeit einer erneuten Begegnung. Sie ergänzen das Vokalduo mit zwei grossen Persönlichkeiten der Londoner Szene: mit dem Bassisten John Edwards und der Cellistin Hannah Marshall. Die Kompositionen von Sarah Buechi dienen der Band als Ausgangspunkt, um sich zwischen der geschriebenen Musik und freier Improvisation zu bewegen.
---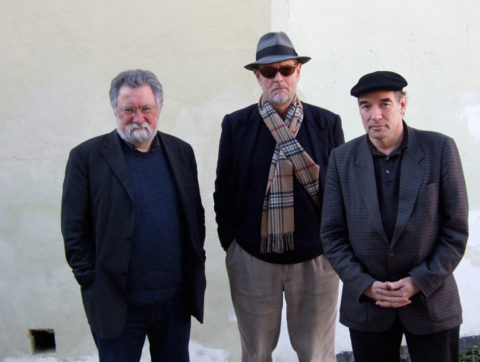 SCHLIPPENBACH TRIO
Alexander Von Schlippenbach: Piano
Evan Parker: Saxophone
Paul Lovens: Drums
ENG
Alexander von Schlippenbach, Evan Parker and Paul Lovens – they are the icons of European free jazz. This is the trio of innovation, and also of the conservation and constant renewal of a great heritage of achievement
in free jazz. "The immortal trio" is how Alexander von Schlippenbach describes his band on the liner notes for their newest CD, Warsaw Concert.
The former Director of the Berlin Jazz Festival Bert Noglik sums up their uniqueness as follows: "The trio's alchemy is derived from their years of working together, from their intuitive listening and interaction – the ability to respond in an instant – and from the complementarity of their characters, each adding to the whole as well as challenging each other – a stroke of fortune. Alexander von Schlippenbach likes to talk about the 'impetus of music making'. Impetus means drive, initiative, force, momentum, temperament. Their common purpose is never to stay still, to keep refining the music, working on the details, the current, the inner strength, so that the result is the greatest joy and clarity possible."
CD-recommendation: Schlippenbach Trio. Warsaw Concert. Intakt CD 275
DEU
Das Schlippenbach Trio mit Alexander von Schlippenbach, Evan Parker und Paul Lovens ist die Ikone des freien europäischen Jazz, das Trio der Innovation, der Bewahrung und steten Erneuerung der grossen Errungenschaften des freien Jazz. Das «unsterbliche Trio» nennt Alexander von Schlippenbach in den Liner Notes zur neuesten CD «Warsaw Concert» seine Band. Und Bert Noglik schreibt: «Die magische Chemie des Trios beruht auf der langen Zusammenarbeit, dem intuitiven, augenblicklich reaktionsschnellen Aufeinanderhören und Interagieren wie auch auf der Entsprechung der sich gegenseitig ergänzenden und herausfordernden Charaktere – ein Glücksfall. Alexander von Schlippenbach spricht gern vom ‹Impetus des Musizierens›. Impetus meint Antrieb, Anstoss, Ungestüm, Schwung, Temperament. Die Devise lautet: nicht stillstehen, weiter an der Musik feilen, an ihren feinen Details arbeiten, an ihrem Fluss, ihrer inneren Kraft, auf dass sich grösste Begeisterung und grösste Klarheit einstellen.»
CD-Tipp: Schlippenbach Trio. Warsaw Concert. Intakt CD 275