SQUAKK ist, seitdem Rudi Mahall, sein Kumpel aus Nürnberger Tagen, mit seiner Bassklarinette, Klarinette und Baritonsax dazu gestoßen ist, ein Vierer unter Geschäftsführung des Schlagzeugers Michael Griener. Mit dabei ist Jan Roder, Mahalls Bass-Spezl von Die Enttäuschung, Monk's Casino und Soko Steidle, aber auch schon Roders Partner bei Ulrich Gumpert. Den Squakk in Squakk vervollständigt Christof Thewes, dessen Posaunenglanz zwar neu ist auf Intakt, aber längst gut Freund mit Mahall in Quartetto Pazzo und mit Griener in Uwe Oberg's Lacy Pool und Tomas Ulrich's TransAtlantic Quartet. Willisau & Berlin (Intakt CD 231) zeigt die vier beim Schafkopfen 2012 im Berliner Studio P4 und live in Willisau 2013. Wobei abwechselnd Griener und Thewes das Blatt gemischt haben, wenn nicht, wie bei 'A Dune, Perhaps' und 'Lark's Wail', Freispiel angesagt war. Thewes' 'Nova Swing' kickt die Phantasie mit M. John Harrisons in Saudade spielender SF-Variation von Picknick am Wegesrand. Oder man geht saarländisch Bummeln 'Auf der Schnerr'. Griener hält mit mit einem schon etwas gelallten 'Trinklied'. Aus dem einen wie dem andern lässt sich alles Mögliche machen. Hier wird daraus schlitzohrige, hypervirtuose, allerlaunigste Squakkerei, die einen in die Hotspots des einstigen Harlem oder Kansas City flippert, zumindest aber in die prä-adolfisch 'verniggerten' und verdixten Clubs Berlins. Swing und Blues (explizit bei 'Blue Chili Out') sind dabei mehr als nur spurenelementar. Aber an schrägen und schmutzigen Tönen und Kapriolen übertrumpfen die vier entfesselten Dschungelboys so gut wie alle außer Spike Jones. 'Mostly Harmless' geht als Calypso zwar vom Gaspedal, aber dann ist bei 'Schlimmer Geht N/immer' wieder irrwutziges Gesprudel und Gequäke Trumpf, Katzenjammer inklusive, gefolgt von noch mehr Lerchentirili und Lurchengrowling, Dschungeltamtam und Hummeln im Hintern. Laune macht Laune, mit squakk, ohne aber.
Rigobert Dittmann, Bad Alchemie, BA 81, 2014


Stéphane Ollivier, Jazzman, Juin 2014, France


Thomas Hein, Concerto, Juni/Juli 2014, Österreich
Dieser Aufnahme merkt man an, dass sich der Schlagzeuger Michael Griener nur zögerlich und äußerst ungern als Bandleader bezeichnet. Er selbst nennt sich lieber  "Geschäftsführer". Vielleicht auch kein wirklich gelungener Begriff, aber einer, der die Rolle von Griener deutlich macht: Er ist letztverantwortlich, aber im Unterwegs-Sein muss jeder seine eigene und die beste Leistung bringen. Dass Griener dabei nicht die absolut Vorherrschaft und die Führung übernimmt, sondern seinen brillanten Mit-Musikerin Raum zum Spielen lässt, ist seine große Stärke. So entfalten sie kreative Höchstleistungen, für die Griener dann am Ende des Tages als Geschäftsführer geradestehen muss. Griener selbst erwähnt, dass ihn am Anfang seiner Schlagzeug-Karriere vor allem die Swing-Drummer fasziniert hätten. Interessant, denn genau diesen Schatten kann man noch immer hören. Nur dass eben der Swing pervertiert und durch den Fleischwolf gedreht wurde. Aber nicht radikal, sondern liebevoll, behutsam. Das hier ist keine Avantgarde, die wild um sich schlägt und alles zertrümmert, was zu traditionell ist. Sondern die Tradition wird achtsam und respektvoll inkorporiert, mit dem richtigen Händchen für spielerischen Neuerungen und Innovationen. Und auch diese werden stets geerdet von einer Band, die sich zwar ins Freitonale hinaus wagt, mit beiden Beinen aber immer fest in der Tonalität steht. Nur wer seine Wurzeln kennt, verzettelt sich nicht. Und nur wer sich hervorragend in der Jazz-Geschichte auskennt, läuft nicht Gefahr, beliebige Melodien, Skalen und Akkorde zu spielen, die schon tausend Mal da waren. Und nur wer so entspannt ist, gar nicht mehr zwanghaft nach Neuem zu suchen, lässt die Möglichkeit zu, dass sich tatsächlich etwas Neuartiges ereignet. Und solche Momente gibt es auf squakk nun wirklich genug. Zum Glück.
(mst), freistil nr. 55, 2014, Deutschland



Jürg Solothurnmann, Kulturtipp, Schweiz, September 2014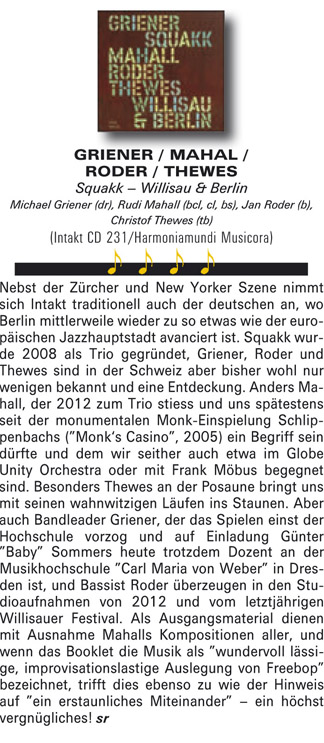 sr, Jazz'n'more, Schweiz, September 2014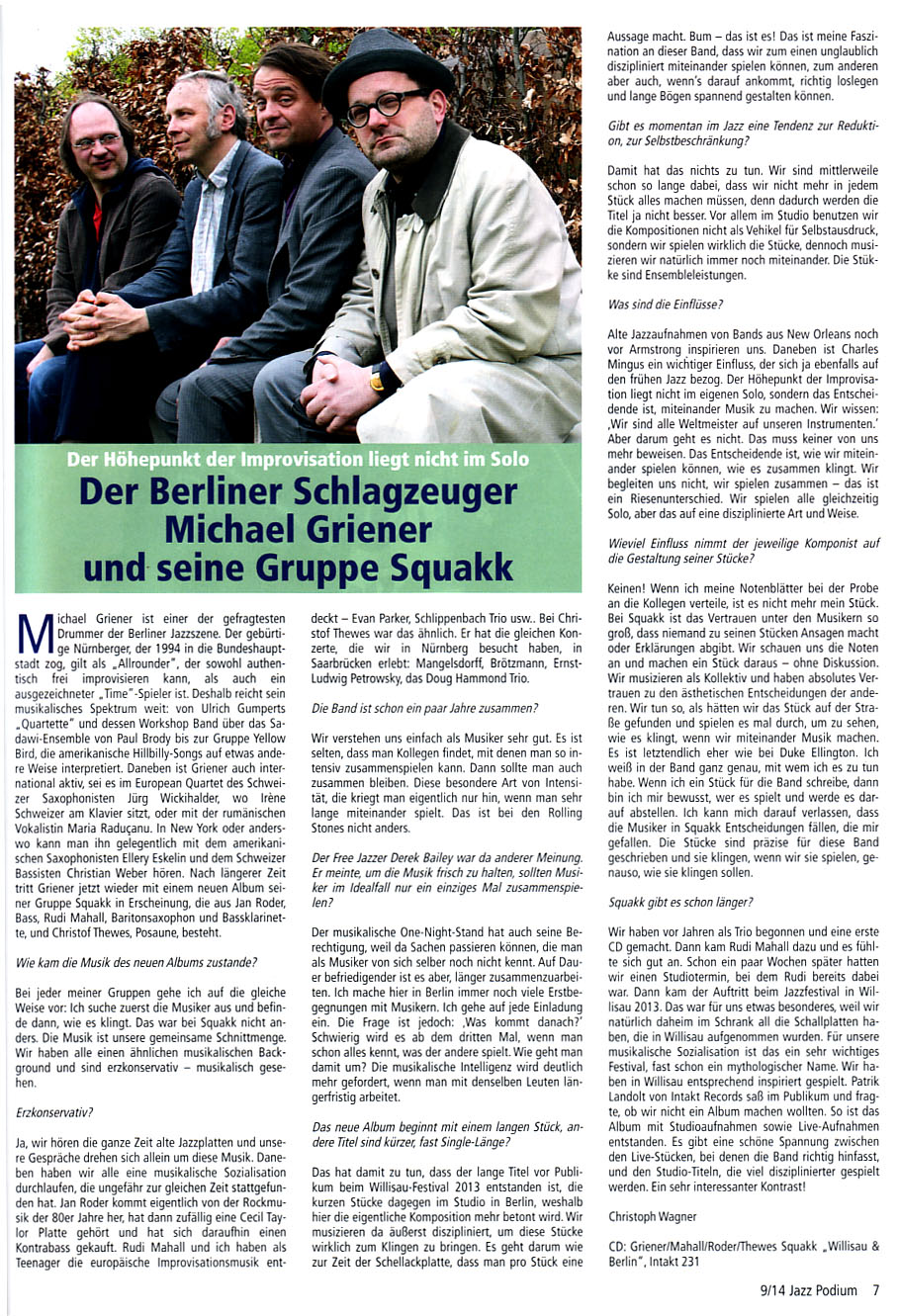 Christoph Wagner, Jazzpodium, Stuttgart, September 2014  
On retrouve le formidable Rudi Mahall dans le très solide et très ouvert quartette Squakk dirigé par le batteur allemand Michael Griener. Ce disque, à la fois maîtrisé et audacieux, fait alterner compositions des divers membres du groupe et collectives. Le public du festival de Willisau approuve ! 
Jean Buzelin, Culturjazz, France, 27 Octobre 2014
A retrofit of an existing trio, the all-German Squakk adds the acknowledged skills of Rudi Mahall on clarinet and bass clarinet plus his recorded debut as a baritone saxophonist to a band consisting of trombonist Christof Thewes, bassist Jan Roder and drummer Michael Griener.
Considering that Mahall and Roder have played together for years in Die Entäuschung; and that Thewes and the reedist are both in the Globe Unity Orchestra; means that the Squakk sound is amplified as well as changed with its new member. Good-natured Mahall, who has always included some jive in his presentation, seems perfectly at home moving from Swing Era clarinet licks to Cool School baritone smears to contemporary bass clarinet forays. With saxophone blended with trombone the band sound may resemble that of Gerry Mulligan's Quartet with Bob Brookmeyer. But paradoxically, exposing theatrical vamping from the two horns plus Griener's tom-tom prowess on "Lark's Wail" puts the band into more of a Swing Era mode than even Mulligan may have imagined. Mahall's clarinet prowess also allows him to exhibit a spindly screech tone throughout "Draw" but while still investing it with a full-bodied tone.
More crucial for establishing the band identity are "A Dune, Perhaps" and "Schlimmer Geit Nimmer/Schlimmer". Backed by Roder's walking, the former blends Thewes' capillary coloration and Mahall's jittery vibrations into modern two-beat showcase; while the latter is a stop-time exhibition, lengthy enough to gives every Squakker room to express himself. Especially impressive is how the rhythm section cunningly alters the time below the front line as plunger trombone smears and slithery reed peeps aim for a thematic climax. Roder's methodical solo is then matched by capillary stutters from Thewes, until Griener's rim shots and Mahall's pacing turns the tune back to pure swing with a crescendo of intertwining horns.
Willisau & Berlin's showpiece is the nearly 21-minute "Nova Swing", which lives up to its name in both movement and modernity. Characteristic of Squakk's skill is a sequence towards the end when Mahall's straight clarinet unrolls a mid-range solo that could have come from Benny Goodman, but is prevented from being nostalgia by appending squeaks and split tones to his narrative. Thewes' output too is both pre-and post-modern. At one point his flutters almost approximate aggressive pistol-firing; at another his mellow squeezes and swelling plunger tones reference Classic Jazz stylists. At points the brass slides and reed shrills work in broken counterpoint; elsewhere they leapfrog over one another as Roder's strings snap and Griener's rolls pumps. Eventually the tune reaches a striking climax, with round-robin solos, fast-slow, unremitting and with broken time until tough drum rumbles signal the ending.
Ken Waxman, Jazzword, December 1, 2014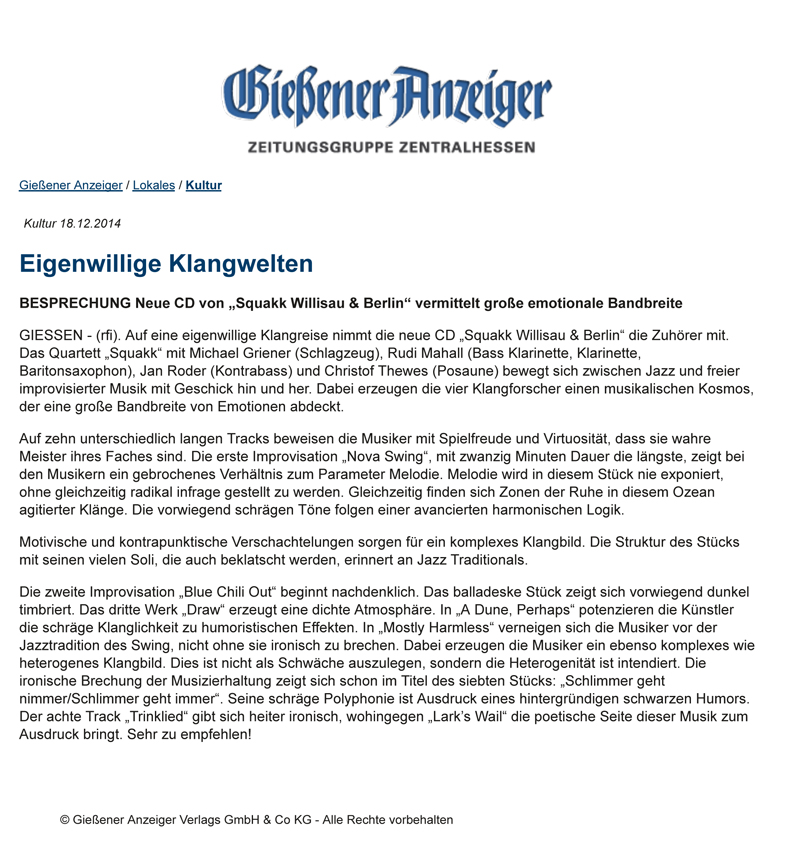 Giessener Anzeiger, 18.12. 2014
Georges Tonla Briquet, Jazzmozaiek, Belgium, 4-2014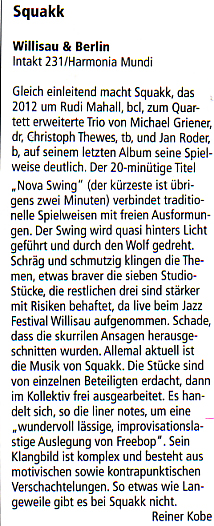 Reiner Kobe, Jazzpodium, Feb 2015
These musicians will be familiar as part of the recent, younger generation of Berlin improvisers who combine loving appropriations of various historical jazz idioms with the techniques and settings of free improvisation. While the material here isn't as overtly referential as their work (most of them) with Alex Schlippenbach, it's not far off from the zesty, craggy, almost free-bop of Die Enttauschung. The music is intensely energetic on the puckish, dashing, madcap 20-minute opener, where composer Thewes sounds righteously good alongside the wonderful Mahall. Roder throws all kinds of spanners in the works and Griener proves equally adept at texture and pulse (he and Mahall make excellent mischief throughout). The near-dirge "Blue Chili Out" makes for a nice change of pace before the tart, sprinting Griener piece "Draw" (which could almost be a Lacy tune in its structure and language). There's a smart changeup on the free improvisation "A Dune, Perhaps," with dark groaning and tone-bent low tom contrasted by some nice, tart horn statements. But while they are sensitive to pacing, and later give the listener another breather with the moody "Schlimmer" (Griener makes just-so accents to Thewes' fantastically querulous trombone), the disc's highlights are the more antic pieces like the sassy, almost Latin "Mostly Harmless," the near-dance "Trinklied" (where baritone and muted trombone intertwine with the suggestive pulse track), and Roder's "Was Aus," where the bassist polots a wending line as B-flat and trombone tussle mid-air. Fine stuff.
Jason Bivins, www.cadencemagazine.com, Volume 41, January 2015, USA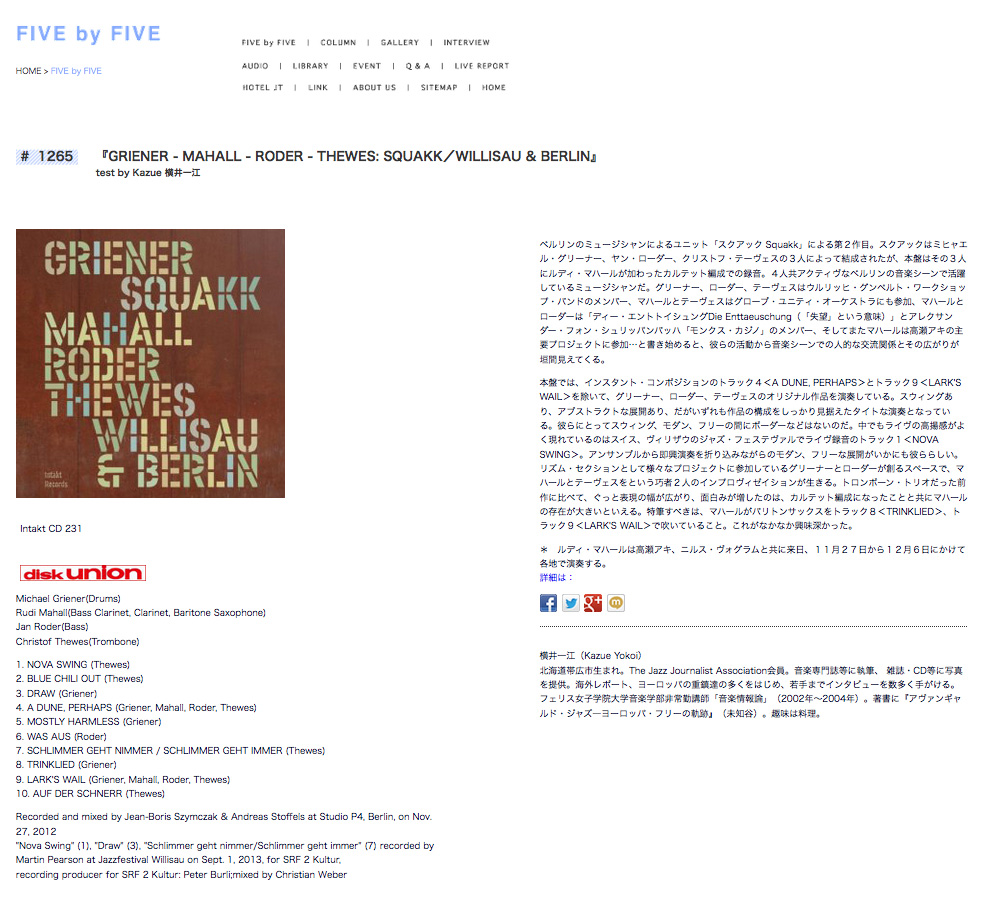 Kazue Yokoi, Jazztokyo, January 2016
Four Germans combine for a set that recalls some of the classic Anthony Braxton quartet sides with George Lewis or Ray Anderson from the 1970s. Common ground abounds in their free-bop structures and the delightful interplay as between reeds and trombone as they slip in and out of both tunes and time. There are also other precedents closer to home such as reedman Frank Gratkowski's combo with trombonist Wolter Wierbos. But whatever the inspiration, a palpable sense of fun allied to a liberal attitude to mining jazz history provide some of the dominant characteristics of this selection, pairing a live 2013 date in Switzerland with a 2012 studio session in Berlin.
Squakk has existed as a outfit for over seven years, built upon foundations forged by multiple previous collaborations. For those less familiar with the Berlin scene reedman Rudi Mahall may be most celebrated among its number from his tenure with pianist Alexander von Schlippenbach's Monks Casino, which also boasts bassist Jan Roder. Mahall's vocalized bass clarinet, reveling in explosive yelps and leaps between registers, forms part of a splendid front line with Christof Thewes' garrulous nimble trombone. On drums Michael Griener is crisp and precise, forming a finely honed unit with Roder, adept at the quicksilver recalibration which enlivens the mix of eight charts and two improvs.
Thewes' lengthy "Nova Swing" engenders deft give and take across the whole group. They speed up and slow down, touch on march styles and showcase individual talent across its 20-minute plus duration. Nine shorter cuts follows, which at times function almost as sketches. Over in just a couple of minutes, "Blue Chili Out" is a languid ballad, featuring Roder's bass as the horns mutter, while "Draw" possesses a sprightly theme established by repetition which prompts Mahall's clarinet to move from bluesy cry to braying overtones. "Was Aus" passes in a Latin-tinged rhythm replete with woozy swoons. "Schlimmer geht Nimmer/ Schlimmer geht immer" delivers more free-bop, squeezing a multitude of references into its 8 minutes including snatches of Dixieland polyphony. Like the rest of the album, it leaves a smile on the face.
John Sharpe, All About Jazz, November 16, 2015