DIE ENTTÄUSCHUNG, unter Kennern auch 'Die Erfüllung' genannt, untertreibt, wenn sie ihre neue Scheibe Vier Halbe (Intakt CD 211) nennt. Nicht weniger als 21, nun, nennen wir es "Erfrischungsgetränke", werden gezischt. Axel Dörner als Trompeter für Anfänger und für Fortgeschrittene, Uli Jennessen an den Drums, Jan Roder am Bass und Rudi Mahall an Bassklarinette & Baritonsaxophon machen natürlich keine halben Sachen. Allein schon Mahall... Als Alfred Harth, selbt ein Bassklarinettist, dem man nichts vormachen kann, kürzlich auf irgendeinem chinesischen Flughafen kibitzte, was der Rudi gerade schmökert - John Irvings Die Vierte Hand - konnte er das nur mit "Kein Wunder...!" quittieren. Dritte, vierte und einige unsichtbare Hände sind ganz nonchalant im Spiel dieses Berliner 4tets, in dessen Postbop Bert Noglik einen Spirit am Werk hört, wie ihn zuletzt Monk, Dolphy, Coleman so frisch versprühten. Federnde Rhythmik und umeinander quirlendes Gebläse, quicke Turns und eine ausgelassene Stimmung summieren sich zur Empfehlung, sich Ent-täuschung mit Bindestrich vorzustellen. Neben Gänsefüßchen und Bindestrichen gibt es zahllose weitere Kürzel, um 'Aqua Satin Flame' auf dem Bariton mit viel Feeling zu knarren, keck 'Das Jan vom Stück' zu quäken oder den 'Children's Blues' so klingen zu lassen, als würde am Spielplatz ein Schafott drohen. 'Möbelrücken' ist angesagt, um im Haus des Jazz wieder freie Sicht zu bekommen über den totgespielten und -gehörten Plunder hinaus. 'Falsches Publikum' wird dabei 'Vermöbelt', nicht brutal, nur so, dass der crashend kapriolende Jennessen die Lacher auf seiner Seite hat (darunter sogar einige der vermö­belten selbst). Dörner nuckelt die Jazzgeschichte rückwärts, alles wie auf Anfang, tau­frisch genug für ein neues Heureka! Da darf bei 'Jitterbug Five' auch schon mal Fats Wallers Ohrwurm geklaut, und mit Kuhglocke gescheppert werden, 'Gekannt' ist dafür gleich wieder nagelneu und in seinen Tempiwechseln ein großer Spaß für den Bass. Pfiffiger als mit diesen mit verblüffender Spielkunst und ansteckender Spielfreude gewürzten, durchwegs im bündigen ca. 3-Min-Format gehaltenen Jazzessenzen kann man der so verblendeten wie bornierten Vorstellung, schneller, heller oder sonstwie weiter zu sein als vor 50 Jahren, kaum zuprosten.
Rigo Dittmann, Bad Alchemy 76, 2013
Even before this quartet joined forces with Alex von Schlippenbach for his Monk's Casino project, they had been recording since 1995 and have continued to record and evolve. This is their sixth disc and they remain a most enthusiastic bunch. Both hornmen keep quite busy playing in a wide variety of contexts throughout the year. Mr. Mahal works with Aki Takase & Simon Nabatov as well as bands Gunter Adler and Soko Steidle. Even more surprising is that Axel Dorner moves from lower case to explosive settings like John Butcher & Keith Rowe to Vandermark's Territory Band. Bassist Jan Roder has a solo effort out and plays with Silke Eberhard and Ulrich Gumpert.
All of the 21 pieces on this disc are relatively short and all four members contributed compositions. The pieces cover a variety of stylistic ideas or genres. Mr. Mahall plays bari sax here, something he doesn't do often enough on other discs. On "Verzahit" Uli plays mostly brushes on his snare while the bass clarinet and trumpet spin simultaneously solos together. Each piece involves different structural ideas and combinations of instruments. For "Falsches Publikum" the drummer keeps a dialogue or solo going on in between spurts of written horn lines. Very Dolphy-like. The quartet take the theme from "Jitterbug Waltz" and chop it up so that we just get a part of it and expand it into something else. Since all but one of the pieces is under five minutes, the quartet is consistently showing how ell they can adapt to complex structures and ideas. And at nearly 71 minutes long, there is a great deal to enjoy here from all over the exploratory spectrum.
Bruce Lee Gallanter, Downtown Music Gallery New York City, January 2013, USA
Helt siden slutten av 90-tallet har de meget allsidige og dyktige herrene Axel Dörner (trompet), Uli Jennessen (trommer), Rudi Mahall (bassklarinett og barytonsaksofon) og Jan Roder (bass) hatt ei svært hyggelig og kreativ leikegrind de har kalt Die Enttäuschung – noen som løst oversatt betyr noe i retning av ikke-lureri. Hvis det er riktig forstått så er det akkurat det bandet holder på med: De driver med ekte vare og lurer verken seg sjøl eller noen av oss andre.
Her hjemme har vi møtt de fire Berlin-musikantene enten i denne konstellasjonen eller sammen med Alexander von Schlippenbach i hans unike Monk-prosjekt eller, for Dörner og Mahalls del, i Ole Morten Vågans drømmeband, The Deciders.
Dette er kvartettens tredje utgivelse på det meget oppegående sveitsiske selskapet Intakt Records. De godt og vel 70 minuttene består av 21 låter skrevet av alle fire – hver for seg. Det betyr at låtene er relativt korte – fra vel to til vel fem minutter – og i sitt foretrukne fribop-landskap er alle meget dyktige til å få sagt det de skal på knapp tid. Her er det ikke snakk om liring uten mål og mening.
Det sier seg sjøl at dette er musikanter som kjenner hverandre svært godt etter hvert og det bærer da også musikken tydelig preg av – alle vet hvor de andre vil og her er det all mulig hjelp å få på veien dit. Noen av soloutfluktene foregår individuelt, noe foregår kollektivt – uansett er de fire like komfortable.
Die Enttäuschung er i mine ører noe av det mest originale og spennende som finnes på det europeiske jazzkartet. "Vier Halbe" er en meget god bekreftelse på det.
TOR HAMMERØ, Side 2, 22.01.13, Norway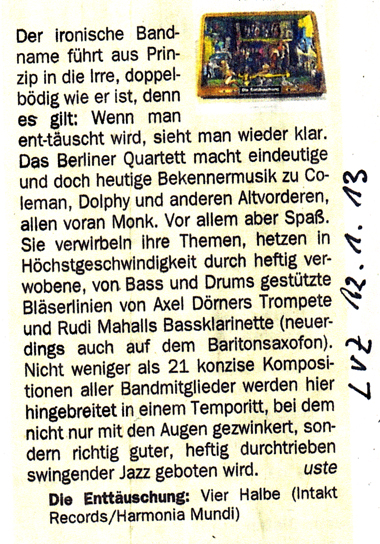 Ulrich Steinmetzger, Leipziger Volkszeitung, 12. Jan. 2013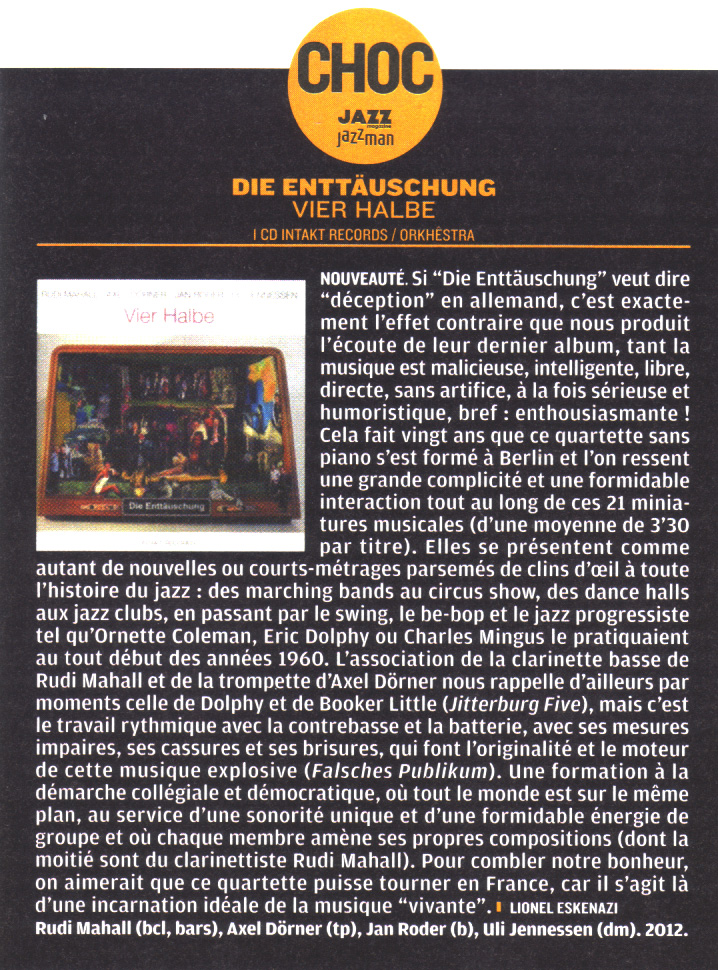 Lionel Eskenazi, Jazzman/Jazzmagazine, Paris, Fevrier 2013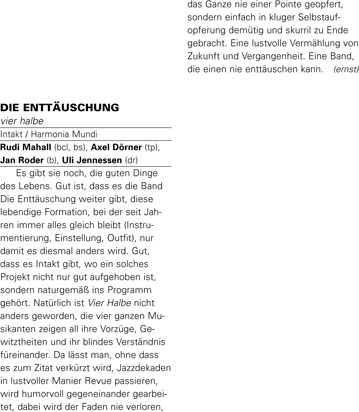 ernst. Freistil, Österreich, Februar 2013
Het is het zesde album van deze Berlijnse combo sinds 1995, een combo die nog steeds op topniveau vermakelijk iets te vertellen heeft ook al weten veel recensenten met de bandnaam en de hilarische titels van de stukken vaak geen raad. Rudi Mahall (basklarinet, bariton-saxofoon), Axel Dörner (trompet), Jan Roder (bass), Uli Jennessen (drums).
Allereerst nog over de bandnaam: Die Enttäuschung, De Ontgoocheling, De Teleurstelling? Afgelopen dus met het goochelen, het voorspiegelen en het misleiden. Die Ent-Täuschung is dus een ontfake-company. 21 nieuwe stukken ontfaken dus*. En dan nog de titels. Sommigen zijn zo simpel als eenvoudig zoals Hello My Loneliness, Children's Blues of The Easy Going … ja, Engels kunnen we tegenwoordig allemaal heel goed en het is dan ook meteen een belangrijke bijdrage aan het toegankelijker maken van de plaat (ook een oer-Duitse band uit Berlijn ontkomt er tegenwoordig niet meer aan en laat zien dat inmiddels zelfs de natuurlijk humorloze Duitsers de grap daarvan inzien). Verder is er met een beetje raadvaardigheid ook nog uit op te maken dat een trompet- en slagwerkcursus in het album ingebouwd zitten. Maar bij Die Übergebundenen, Hereich of Vermöbelt zullen de meeste nonnatives toch afhaken of de mist ingaan. Er zitten gelukkig ook titels voor licht gevorderden in zoals Falsches Publikum of Verzählt.
De naam van het album slaat niet op de musici maar is de titel van een stuk uit het album. En dan de muziek zelf! 21 stukken, in de meeste gevallen niet langer dan drie minuten, in een enkel geval vier of vijf. 21 stukken, hortend, kantig. Hortend, zigzaggend. Het lijkt alsof iedereen vliegensvlug door de korte motiefjes heen wil zoeven. Wat dikwijls ook gebeurt. Echter nooit ten koste van de duidelijkheid in de articulatie, integendeel. Het kantig hortend en stotende zit er zo diep ingebakken in dat een wat smeuïger lijn bij voorbaat kansloos lijkt. Lijkt, want die zitten er wel degelijk in en dat maakt deze muziek zo geniaal. Het wordt voor de luisteraar snel duidelijk waar de struikelende stops and go's, de signaaltonen, de ongewone stiltes en ritmische verplaatsingen vandaan komen. Het is dan wel hun inmiddels zeer eigen adaptatie.
Ook de klank is radicaal gereduceerd tot de zuiver fysieke instrumentenklank, droog, verregaand galmloos, een geluid uit de tijd. Het is een spel met omkeringen. Terwijl de jazz waar deze muziek op zich op baseert, een geniaal hipp outsider-image had, krijgt het image van Die Enttäuschung iets zeer alledaags kreukeligs, bijna kleinburgerlijk lulligs en is juist daardoor des te onderscheidender. Onhipp hipp. Prachtlulligheid. Geen poging tot sompig heroïsme of tot in den treure uitrekken van oubollige jazz-iconografie. Ik zag de groep ooit op de Hauptbahnhof van Duisburg staan, perfect in die omgeving passend en toch onder- scheidend! Hoe kun je iets van het alledaagse en tegelijk het heroïsche verleden van de jazz overbrengen zonder hopeloos gedateerd over te komen? Zo dus! Voor de luisteraar zitten ze steeds haarscherp op het randje van gepruts. En dat, hun meesterlijk balanceren, is de bron van het luisterplezier. Raffinement, pret, enorme vaart en speelplezier gaan hand in hand.
De opener Die Übergebundenen trakteert op bizarre accenten en swingt tegelijk als een tierelier (met Rudi Mahall op bariton). In Verzählt is de belangrijkste impuls een valse start – in de lijn van Monks lijfspreuk dat het erom gaat de goede fouten te maken. Aqua Satin Flame klinkt als schuifpaneel tussen Oliver Nelsons The Blues And The Abstract Truth en Ellingtons Satin Doll. In Das Jan vom Stück loopt juist niets in de pas en komt de luisteraar aan Steve Lacy niet voorbij. Deze referenties worden niet hoorbaar dankzij imitatie maar juist door het doorklinken van essenties. Bij Vermöbelt wordt in de zin van het woord flink erop losgemept en heftig gejankt. De verbeelding van de luisteraar komt niets tekort. En de uptempo Jitterbug Five is niet voor niets een heftig groovend geval (Cab Calloway als voorvader van de JItterbug en verspreiding o.a. via de film Groovie Movie (1944)). En zo worden er nog 14 andere op even originele wijze aan elkaar gerijgd.
* Zelfs als de puntjes op de 'a' weggelaten worden – wat vaak genoeg gebeurt – heeft het nog een grappig effect: Ent-Tauschung. Het is dus afgelopen met het uitruilen, afgelopen met de gedaanteverwisseling. Je zult het moet met het jezelfige moeten doen.
Henning Bolte, www.writteninmusic.com, 02 februari 2013
Neue Freunde
ZEIT-Mitarbeiter empfehlen die spannendsten CDs und DVDs für den Monat Februar – aus Jazz, Klassik, Pop und Film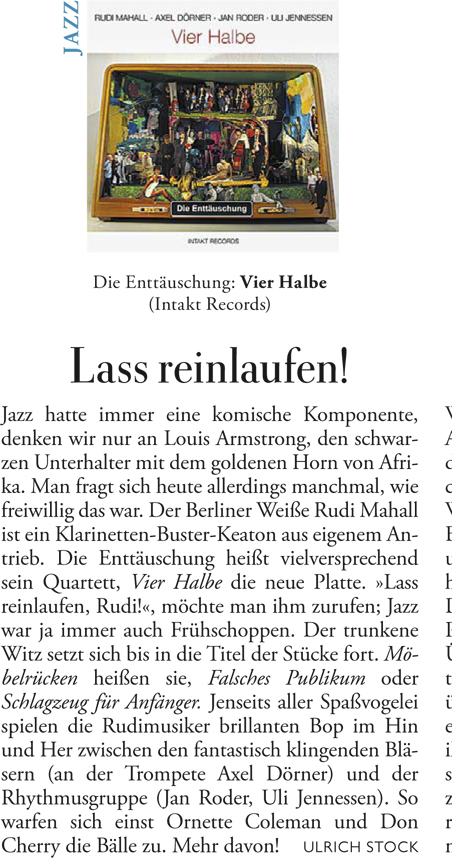 Ulrich Stock, Die Zeit, 7. Februar 2013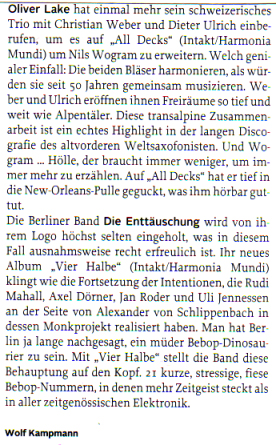 Wolf Kampmann, Jazzthing, Feb/März 2013


schu, Concerto, Österreich, 1-2013

Pirmin Bossart, Kulturtipp 5/13, Schweiz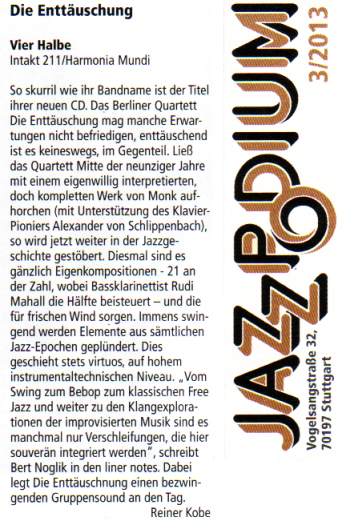 Reiner Robe, Jazzpodium, März 2013
Pirmin Bossart, Jazz 'n' More, März/April 2013, Schweiz
Klaus Hübner, WESTZEIT, Nr. 03 (März) 2013, Germany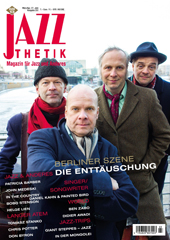 Rolf Thomas, Jazzthetik, Titel, Deutschland, März/April 2013
Germany's Die Enttäuschung ingeniously bridge jazz's past and future, again
There's something modest and homemade about the surface of the music made by the veteran German jazz quartet Die Enttäuschung. All four members of the Berlin band are fantastic musicians, and there's a nonchalant virtuosity at work when they play, as heard on their brand-new album Vier Halbe (Intakt), but its knotty post-bop feels small and intimate even at his most raucous and woolly. As usual, the cover art for the new album features a witty collage—kind of an overstuffed Joseph Cornell box—with tiny images of the group. These guys are not egoists, a fact that can be felt most profoundly in the actual music.
Trumpeter Axel Dörner and bass clarinetist Rudi Mahall have never sounded better, anticipating, complementing, and prodding what the other does at all times, while the rhythm section of bassist Jan Roder and drummer Uli Jennessen is pliant, bouncy, and sleek, expertly supporting the frontline action. Various members of the group composed all 21 of the concise, pithy tunes here—although Jennessen's "Jitterbug Five" is little more than Fats Waller's "Jitterbug Waltz" played in 5/8—and the spirit harkens back to the heyday of bebop, even though the sour harmonies, loosey-goosey horn lines, and extended techniques (such as Dörner's trademark car-engine-turning-over sputter) are thoroughly contemporary. Mahall's wonderfully jagged opener "Die Übergebundenen," for example, has the halting rhythmic feel of Monk's "Evidence," and the solos he and the trumpeter deliver (with the former on baritone saxophone) could feel a bit retro if it weren't for the looseness of the theme statement. Dörner's "Verzält," on the other hand, is a cogent series of episodes—terse solo statements, mutlilinear improvisation, long tones, stop-start fragments—but it feels just as natural and alive as the first piece.
What makes this band so special is how it perfectly reconciles its deep rooting in jazz history—the members have masterfully internalized that language—and free jazz impulses (this is the band, after all, that played behind the brilliant pianist Alexander von Schlippenbach on his Monk's Casino project, where every extant Thelonious Monk composition was recorded for one three-disc collection). Even as they warp bebop tropes, it never feels like a postmodern tweak a la Mostly Other People Do the Killing. The group instead demonstrates that there's no good reason jazz's past can't happily and innovatively coexist with its present. These musicians clearly enjoy writing catchy little melodies and tart harmonies in an old-school vein, but the group has no interest in merely aping the past, so its arrangements and improvisations jump all around, from era to era, and utilize foreign vocabularies at will. These various clashes create a wonderful tension that gives the music its greatest charge. Yet at the same time, the playing is so strong and original, that focusing on smaller components—a solo here, a terse unison passage there—is equally rewarding. It's a holistic package where everything has its purpose, and as the band approaches its third decade together, the quartet only seem to be getting better and more inspired. With the possible exception of the Scandinavian quintet Atomic, I don't know if there's a better band truly representing the fundamental aesthetics of jazz—in any case, this might be the best record I've heard this year. Below you can check out a typically great track, "Eine Halbe."
Peter Margasak, Chicago Reader, USA, March 3, 2013

Du jazz européen contemporain et du meilleur, voilà ce que propose le quartette allemand Die Enttäuschung, qui n'est autre que le quintette "monkien" d'Alexander von Schlippenbach sans le pianiste-leader. Axel Dörner (trompette) et Rudi Mahall (clarinette basse) figurent parmi les plus importants solistes européens sur leur instrument respectif. Soutenus par une "vraie" rythmique, ils font circuler leur jeu en une succession d'échanges et d'enchevêtrements, comme le faisaient, entre autres, Don Cherry avec Ornette Coleman ou avec Dewey Redman (dans Old and New Dreams), ou Ted Curson et Eric Dolphy avec Mingus. La preuve éclatante que l'on peut encore poursuivre cette grande tradition du jazz moderne en s'en inspirant tout en s'en affranchissant. Une musique d'une grande fraîcheur et d'une égale force, et qui plus est, intelligente, pleine de trouvailles et non dépourvue d'humour. OUI !
Jean Buzelin, Culturjazz, France, March 2013

Op de klanken van basklarinet, trompet, contrabas en drums wil dit kwartet de ganse jazzgeschiedenis sublimeren, protesteren ze zogenaamd tegen de verstarring van de gangbare jazz, diens afstervende ledematen of zelfs vergeten oorsprong; zoniet de daartegenover staande imitatiedrang. In de wat arrogante linernotes worden ze zelfzeker afgeschilderd als de soldaten van een nieuw alternatief. Dit zit er zwaar over, want het viertal speelt met een goede ken- nis van die jazzmaterie, de koppigheid van de klassieke avant-garde, doch met duidelijke echo's van Amerikaanse New Thing en de Germaanse vrije impromentaliteit. Swingbewegingen vormen grillig de ondertoon van deze muziek,wat het wel degelijk tot de jazzcultuur doet behoren. Dus niets nieuws onder de zon. Van een afdoende repliek op al het reeds gebeurde in de jazz of impromuziek is geen sprake. Men had beter de linernotes weggelaten en de musici alleen voor zichzelf laten spreken.
Chris Joris, Jazzmozaïek, Nr. 1/2013, Belgium



Thierry Lepin, Jazznews, France, Mars 2013
Bjarne Søltoft, Jazznytt, Nr. 1 / 2013, Norway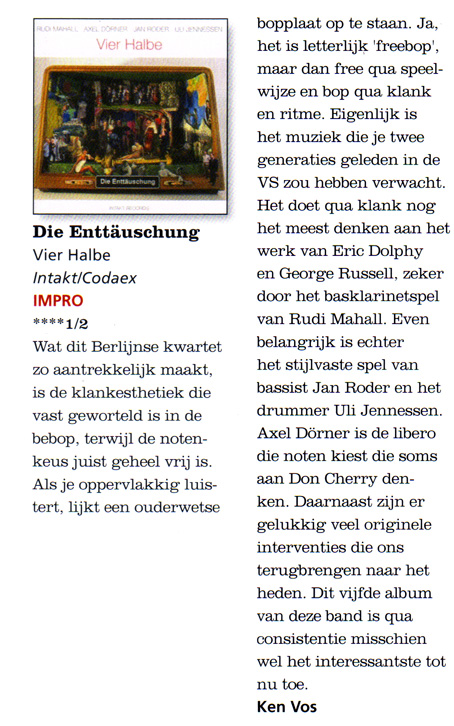 Ken Vos, Jazzism, Mei 2013, Nederlande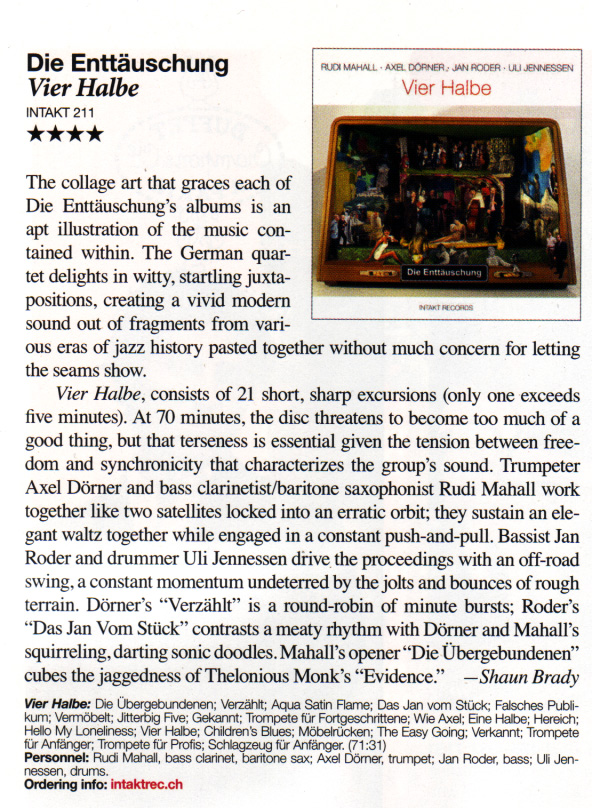 Shaun Brady, Downbeat, USA, June 2013
Und sie ertappten sich, wie sie erschöpft von der anstrengenden Entleerung im Bett lagen und rauchten – keinen Tabak natürlich, sondern ihre Körper ließen Dampf ab –, und ihre Zehen bauten kleine Zelte unter der Bettdecke, in denen schienen kleinere Wesen zu tanzen. Oder waren das vielmehr kleine Hügel, stetig zitternd-zuckenden Vulkanen gleich, die sich ununterbrochen bewegten und die kurz vorm erneuten Ausbruch standen? Die Ursache war Ihnen nicht sofort klar, bald aber doch: Im Radio aus der Küche spielte seit geraumer Zeit das neue Album der Berliner Jazzband "Die Enttäuschung". Und obwohl da manchmal etwas zu kratzen, etwas schief in den Angeln zu hängen und manchmal gar umzufallen schien, war es dieser sattenfixe Rhythmus, der sich den Weg durch ihre ermatteten Ohren bis zu den schon wieder wachen Füßen gebahnt hatte. Als sie es erkannt hatten, sahen sie sich an und lachten. "Schon wieder", sagten sie zueinander, und "Wie geil." Dass das noch geht mit der neuen Musik, das war in einem lichten und intimen Moment des Lebens derart klargeworden, dass es geradezu öffentlich transparent, ja sozial luzid war. Mehr brauchte es gerade gar nicht. Aber es braucht Aufmerksamkeit, und es braucht Mut.
Honker: Music made my Day, Terz, Düsseldorf, Juli 2013
Sixty years after the fact who would have guessed that the most stimulating variant of the legendary Gerry Mulligan piano-less quartet would appear in POMO form from Berlin's Die Enttäuschung?
The group members – trumpeter Axel Dörner, reedist Rudi Mahall, bassist Jan Roder and drummer Uli Jennessen – has in the past become known for interpretations of Hard Bop compositions, most notably Thelonious Monk's, as well as crisply performing their own tunes. Yet on this program of 21 [!] pieces composed individually by all band members, Mahall's reliance on the baritone saxophone as well as his usual bass clarinet puts the group firmly in Mulligan quartet territory. Adding to the resemblance is that Dörner, whose swallowed and dissident tones often reach the very edge of avant-gardism, mostly keeps his solos in a range so comfortable he could have worked in any West Coast band circa 1955. The mostly brief compositions –only five come anywhere near the five minute mark – evolve with maximum swing as well, with Jennessen proving himself incredibly apt writing in that Cool Jazz style.
There's actually also a little known a Mulligan-era connection to Die Enttäuschung. Trumpeter Jon Eardley (1928-1991), who played in the baritone saxophonist's combo from 1954 to 1957, later moved to Europe and joined Köln's WDR Big Band. It was there that Dörner took lessons with him for a time. Certainly the trumpeter's playing here encompasses the grace and groove of Eardley in several sequences.
Mahall's "Die Übergebundenen" for example exposes the trumpeter's flutter tonguing during harmonic exchanges with the composer's baritone tongue-slurps. Meanwhile the balladic "Aqua Satin Flame ", composed by the drummer, unites Dörner's bent grace notes and Mahall's low-pitched tone expositions in gratifying counterpoint. Jennessen's no slouch as a percussionist either, adding cross pumping and thumping accents to many of the tunes, while Roder's time-keeping frequently expands to take in slithering and slippery string slaps, sometimes in tandem with Mahall's contrapuntal or sympathetic snorts.
Roder's hard pulsations are put to good use on Jennessen's "Jitterbug Five", a sophisticated contrafact of the Fats Waller composition. Not only does the superimposed original head eventually give way to a reading of "Jitterbug Waltz", but with cowbell clanks directing the action, the narrative become more agitated and staccatissimo until it's finally deconstructed. Jennessen demonstrates his skill with ratamacues in a shuffle rhythm, as the reedist's contralto lines presage a climatic crescendo from all.
Everyone gets into the act as well. Roder demonstrates his skill as a composer with "The Easy Going", which parlays a Chico Hamilton Quintet-like sonic squirm into a multi-faceted interlude. Without losing the narrative thread, the horn players' solos are respectively capillary rococo and reed-biting, with Mahall's throat-clearing gruffness finally signaling the completion. In the same fashion Dörner's uncharacteristic relaxed and moderato textures throughout are reflected in his compositions. "Gekannt" for instance finds the composer's quicksilver grace notes uniting with Mahall's pointillist smears until a Mulligan4-like melody oozes out. Tightened by harmonized horns, the narrative eventually circles back to the head signaled by cow-bell pops and a walking bass line.
All and all, probably Vier Halbe's more characteristic piece is "Hello My Loneliness" composed by Jennessen. Demonstrating the careful instrumental balance that's endemic throughout, an intricate double bass intro gives way to linear broken chords from the horns, both of whom output solos that are as flighty as they are melismatic.
An exceptional achievement all around, the CD succeeds is being quirkily POMO without insulting its ostensible source material. And who knows, if hard-core West Coast Jazz fan hear it, they may discover they like contemporary improvised music as well.
Ken Waxman, Jazzword, Canada, August 2013