ALEXANDER VON SCHLIPPENBACH
GLOBE UNITY ORCHESTRA

GLOBE UNITY – 40 YEARS

.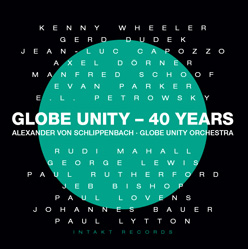 Kenny Wheeler tp, flh
Manfred Schoof tp, flh
Jean Luc Capozzo tp, flh
Axel Dörner tp

Evan Parker ss, ts
Gerd Dudek ss, ts, cl, fl
Ernst-Ludwig Petrowsky as,cl, fl
Rudi Mahall bcl

George Lewis tb
Paul Rutherford tb
Jeb Bishop tb
Johannes Bauer tb

Alexander von Schlippenbach p

Paul Lovens dr
Paul Lytton dr

1. Globe Unity Forty Years Alexander von Schlippenbach
2. Out of Burtons Songbooks Willem Breuker
3. Bavarian Calypso Alexander von Schlippenbach
4. Nodago Kenny Wheeler
5. The Dumps Steve Lacy
6. The Forge Alexander von Schlippenbach

Recorded at SWR Studio in Baden-Baden and at the concert at Jazzfest Berlin
by Alfred Habelitz, Clemens Haas, November 1, 2 and 4 (Jazzfest Berlin), 2006.
Cover art, Graphic design: Jonas Schoder. Liner notes: George Lewis, Bert Noglik.
Photos: Laurence Svirchev, Peter Bastian. Painting: Marina Kern
Intakt CD 133


Globe Unity Orchestra. 40 Years. Berlin 2006. Photo:Laurence Svirchev
Vierzig Jahre nach der Gründung des Orchesters, nach den Skandalen um die Konzerte des Globe Unity Orchestras, versammelte Alexander von Schlippenbach eine Jubiläumsband mit Gründungsmitgliedern, aber auch mit Jazzmusikern der jüngeren Generation. Im Tonstudio in Baden-Baden (SWR) sowie am JazzFest Berlin 2006 nahm das Orchester diese Platte auf. Globe Unity - 40 Years ist ein Revue; ein Gang durch die Geschichte des Orchesters mit Stücken von Alexander von Schlippenbach, Steve Lacy, Willem Breuker und Kenny Wheeler sowie wunderbaren freien Improvisationen.

«Globe Unity ist angekommen im 21. Jahrhundert. Eben im heißen Feuer des Augenblicks… In der Tat handelt es sich um einen Energieschub, der es ermöglicht, die Wirklichkeit neu und intensiver zu erleben. Hier und jetzt. Globe Unity Forever!» Bert Noglik

«Ich bin sehr stolz darauf, Teil dieser Geschichte zu sein, und selbst in diesem Moment möchte ich hier mit Ihnen, liebe Hörerinnen und Hörer, den 40. Geburtstag dieses einzigartigen, wunderbaren Ensembles feiern. George Lewis
The Globe Unity Orchestra's music is still like a promise. A commitment to a future-oriented process. Belief in an always developing form. At the same time, quite real sounds and rhythms are produced in a space they fill with unexpected energy. This is it! Here and now. In the context of musical history, forty years may prove comparatively brief, but they represent most of the creative existence of a human life.

«In the hot fire of the moment. And it does involve a burst of energy that makes new, more intense experiences possible. Here and now. Globe Unity Forever! Bert Noglik
I am very proud to be a part of this history, I want to celebrate, along with you, the listener, the fortieth anniversary of this unique, wonderful ensemble.» George Lewis
MAILORDER-PRICE:
Schweiz: 30 SFr. plus 3 SFr. Porto
Deutschland/Österreich: 18 Euro plus 3 Euro Porto/Versand
International: VISA / MASTER: 30 SFr. plus 5 SFr. Postage
Order adress:Intakt Records, Postfach 468, 8024 Zürich, intakt@intaktrec.ch Fax: 0041-44-383 82 33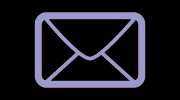 Please click here to order
Alexander von Schlippenbach:all Intakt CDs

George E. Lewis. GLOBE UNITY AND THE LITTLE RED HEN. Liner Notes Intakt CD 133 (engl + dt)

Bert Noglik.TWELVE TONE TALES. Liner Notes (dt/eng)
Bill Shoemaker. TWELVE TONE TALES. Liner Notes (dt/eng)
Alexander von Schlippenbach about MONK'S CASINO (dt/eng)

John Corbett about MONK'S CASINO (dt/eng)

Bert Noglik über MONK'S CASINO (dt)