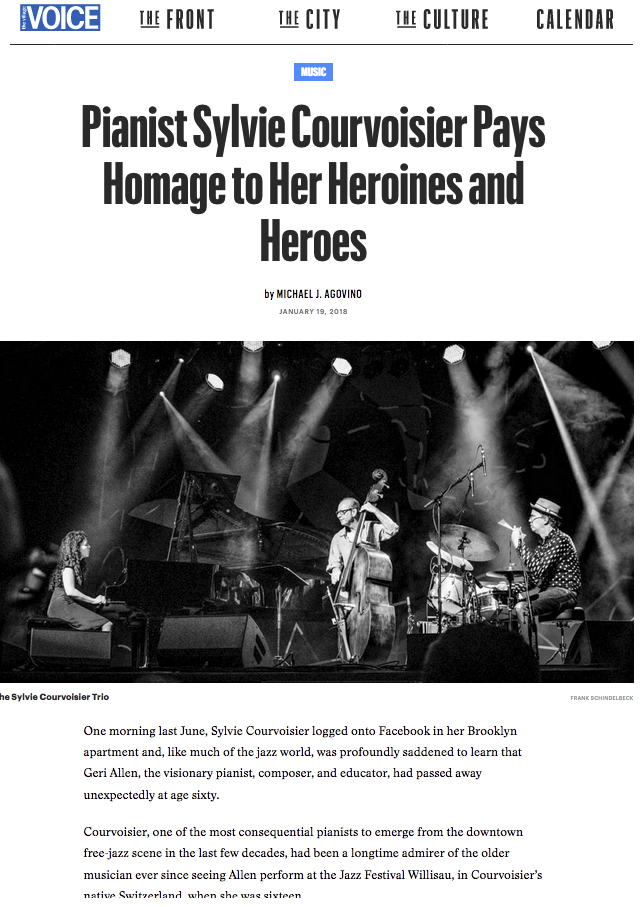 Pianist Sylvie Courvoisier Pays Homage to Her Heroines and Heroes
by Michael J. Agovino
January 19, 2018
One morning last June, Sylvie Courvoisier logged onto Facebook in her Brooklyn apartment and, like much of the jazz world, was profoundly saddened to learn that Geri Allen, the visionary pianist, composer, and educator, had passed away unexpectedly at age sixty.
Courvoisier, one of the most consequential pianists to emerge from the downtown free-jazz scene in the last few decades, had been a longtime admirer of the older musician ever since seeing Allen perform at the Jazz Festival Willisau, in Courvoisier's native Switzerland, when she was sixteen.
Her father, Antoine, a travel agent by day and amateur boogie-woogie pianist on weekends, filled the Courvoisier home with music and taught Sylvie to appreciate swinging rhythms and melody, though he never encouraged a career in music, and certainly not in free jazz. Still, she went to the conservatory in Lausanne at eighteen, where she was raised. Courvoisier père never came around to his daughter's kind of exploratory jazz entirely, but they remained close, and in April of last year she took him to see Geri Allen perform in Cully, just down the road from their hometown.

"She sounded amazing," says Courvoisier. "And I talked to her a little after the gig. I had no clue she was sick. When Geri passed, I was so shocked. She changed my way of seeing the music and was also kind of a role model, being a woman, a pianist."

Courvoisier had finished recording her latest album days before the somber news, and, as an homage, dedicated one of the nine tracks to Allen, naming it "D'Agala," which she also titled the album, out January 19 on Intakt. The name comes from a Sicilian red wine, Terre d'Agala, and Courvoisier has always loved the name (and the wine, too). The song, a kind of abstract ballad, and the album, is vintage Courvoisier, a thoughtful admixture of earthy, supple writing and astringent improvisation, all of a certain New York terroir.

Courvoisier recorded the collection with bassist Drew Gress and drummer Kenny Wollesen, fellow veterans of the downtown scene who date back to the original Knitting Factory on Houston Street, and became mainstays at Tonic on the Lower East Side and the Stone on Avenue C, where Courvoisier plays a residency at the Stone February 6–11. The downtown scene was defined by a free-leaning eclecticism, descendant of the Loft era in the 1970s. It's where the David S. Ware Quartet would play one night, John Zorn's Masada the next. By 2000, Courvoisier was playing with Mephista, an improvisational trio with drummer Susie Ibarra and electronics master Ikue Mori. The music, and the sensibility, stood in opposition to the traditional revival going on at the time in the more staid jazz clubs and at Lincoln Center. Since then, those rigid walls have slowly crumbled.    

Wollesen, in the free jazz tradition (read: Henry Threadgill and Cooper-Moore), constructs homemade instruments, and two of his "Wollesonics," as he calls them, are overdubbed on the plaintive title track, where he creates a slow, rhythmic squeaking sound.
"He sounds fantastic on this tune," Courvoisier says. "He's not swinging at all, but at the same time he's really swinging a lot, because it's this weird machine he constructed with a crank, and he's cranking it. It's nothing the way Geri plays, it's just a thought for her.… I didn't want to do something with an ostinato for Geri, I wanted to do something very poetic, and very simple with my right hand."

Besides the piece for Allen, Courvoisier dedicates each of the other eight pieces to those she's drawn inspiration from, like John Abercrombie, the jazz guitar giant, and Simone Veil, the French politician, women's rights advocate, and Holocaust survivor, both of whom also died last year.

On the postmodern opener, "Imprint Double," for her father, Courvoisier reimagines his favored shuffle style into something buoyant but avant-garde — her left hand thunderous, while her right tinkles — before returning to her off-kilter shuffle. It's a stunning seven-minute tour de force. Ornette Coleman is remembered on "Éclats for Ornette," where Courvoisier comes out swinging and then turns the piece into something freer, with a technique that recalls the signature flourishes of one the most original pianists of the last quarter of the twentieth century, Don Pullen. On "Bourgeois's Spider," for the sculptor Louise Bourgeois, Courvoisier plays the inside of the piano with, she says, whatever happened to be within arm's reach: a drumstick, tape, or her own fingers, plucking it pizzicato. What could've been a conceptual mess holds together beautifully, thanks in no small part to Wollesen and Gress, her triomates of four years.  

"They both listen to what you really want," she says. "It worked from the beginning when I played with them. I think we've developed our own way of improvising, and we've begun to have the sound of a group. I'm really bad at talking" — she's not, by the way — "and I think I don't need to say one word with them. We understand each other."
This year, Courvoisier will turn fifty, midcareer for sure, but one of the many qualities of jazz is that it doesn't age-discriminate; musicians often get better, and proper due, as they get older. And she'll be as busy as ever in 2018. She was at Winter Jazzfest last week, and besides her upcoming residency at the Stone, she'll tour Europe in the spring. She'll also be appearing on two new releases — one with Ken Vandermark, Nate Wooley, and Tom Rainey; another with Rainey and Ingrid Laubrock  — and will also record an album with the superb violinist Mark Feldman, her husband, whom she collaborates with frequently, as on their splendid 2013 album Live at Théâtre Vidy-Lausanne. "I think we share the same aesthetic," she says. "He's clear in his mind of what works and what doesn't work."
Feldman was a major reason Courvoisier moved to New York in 1998, and looking back, she says, she's glad she made that move. "When I was young, I had all these ideas, but now I think I have the tools to do those ideas. I think in my piano playing, I feel that I can express what I want to say. And also, the writing is getting clearer. I'm happy I moved to New York because that obliged me to work with different musicians, and great musicians — always different styles. I grew up a lot living here."

Sylvie Courvoisier will perform at the Stone from February 6 to 11.
Michael J. Agovino, The Village Voice, New York, January 19, 2018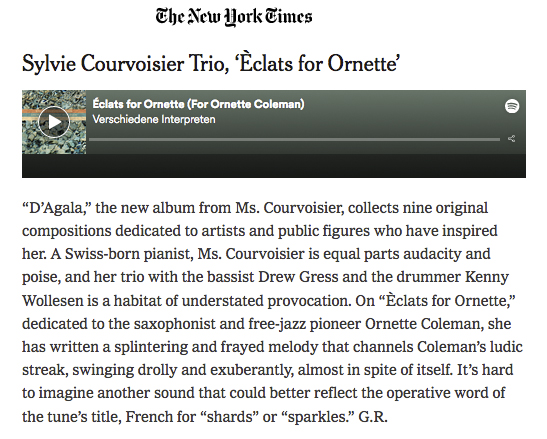 Giovanni Russonello, The New York Times, Jan. 26, 2018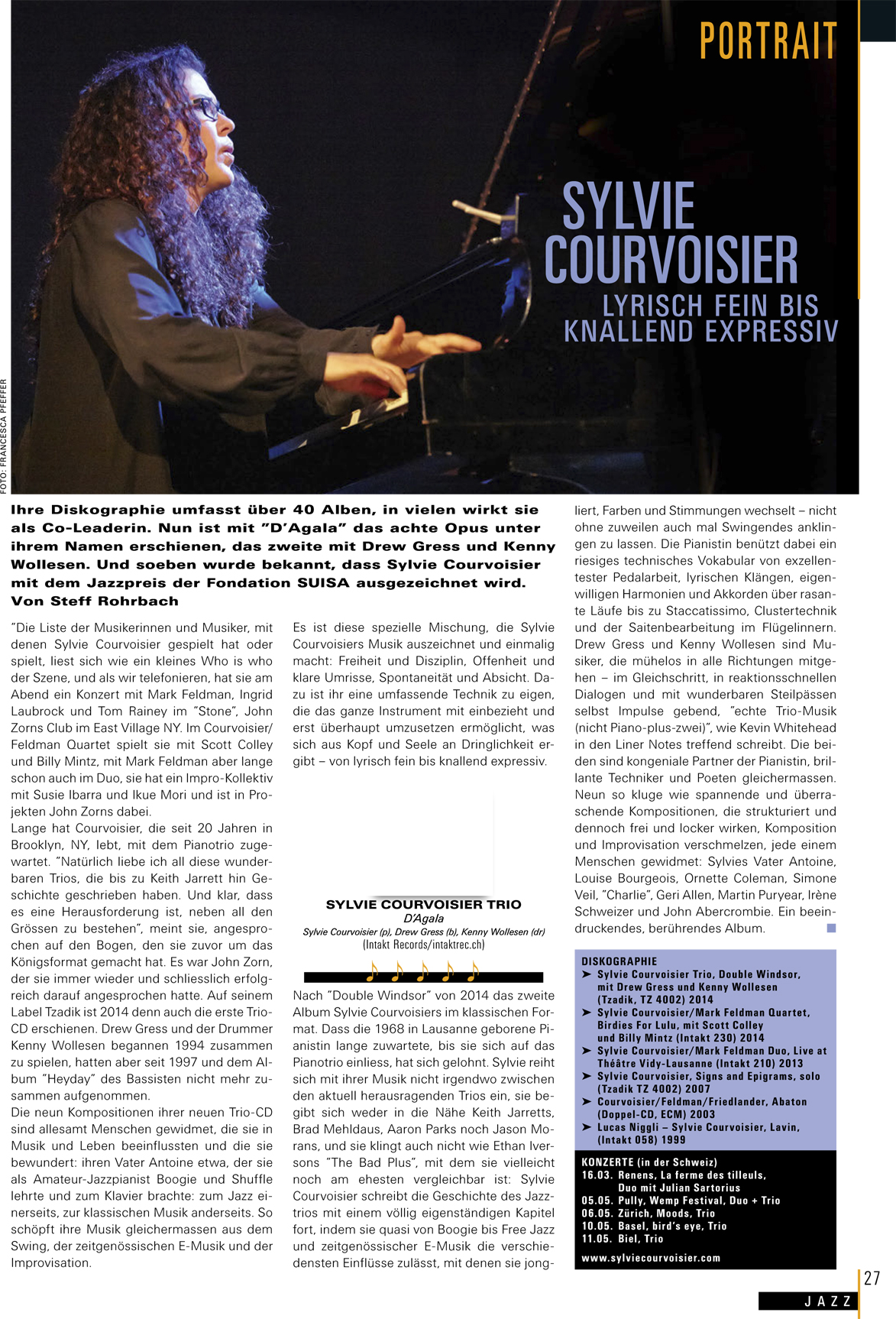 Steff Rohrbach, Jazz'n'more, Schweiz, Januar 2018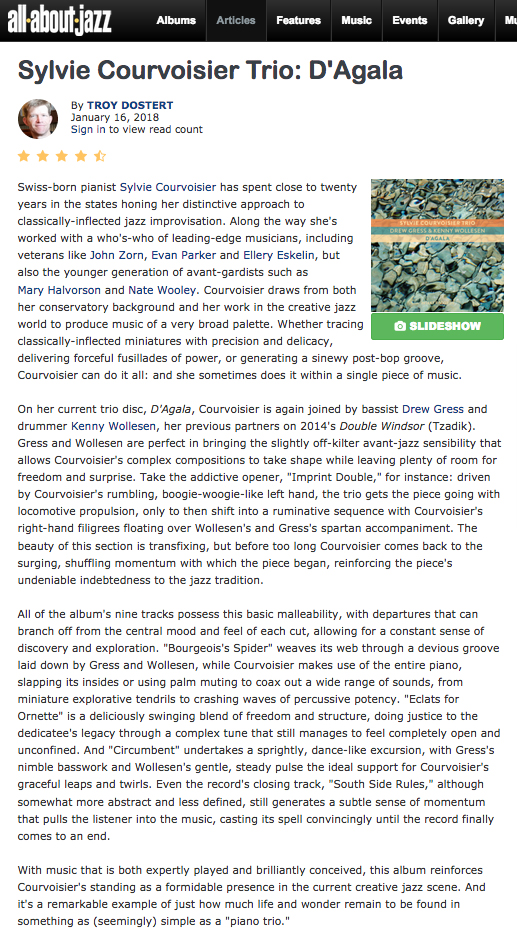 Troy Dostert, All About Jazz, January 16, 2018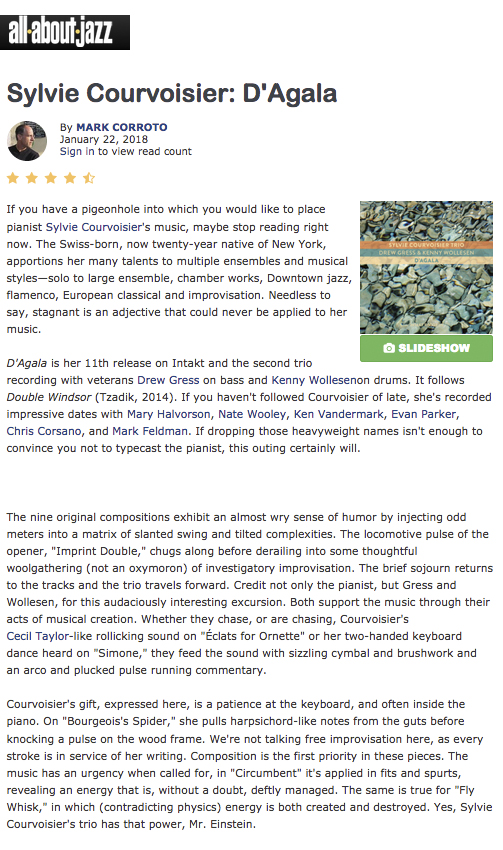 Mark Corroto, All About Jazz, January 22, 2018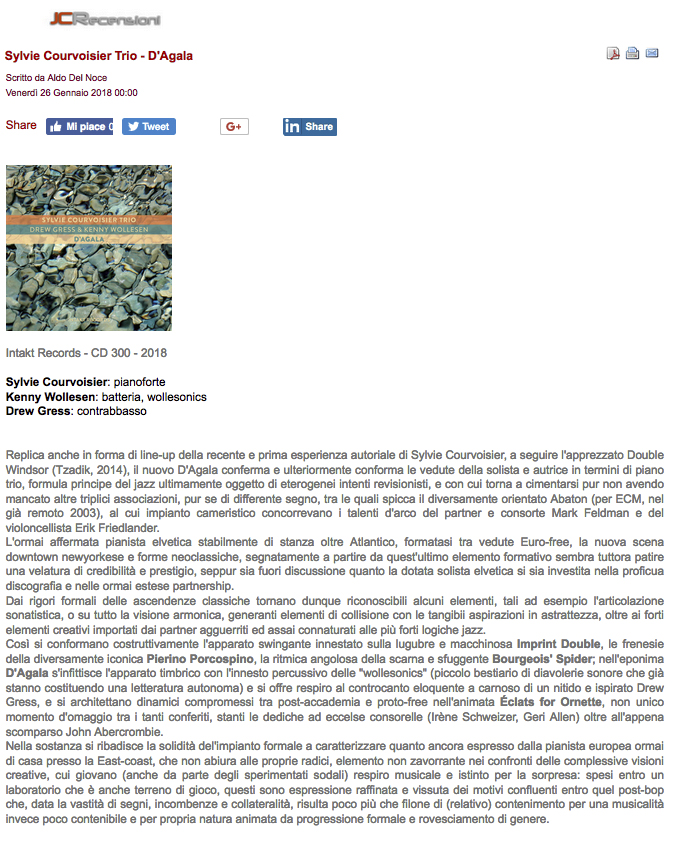 Aldo Del Noce, JazzConvention, 26 Gennaio 2018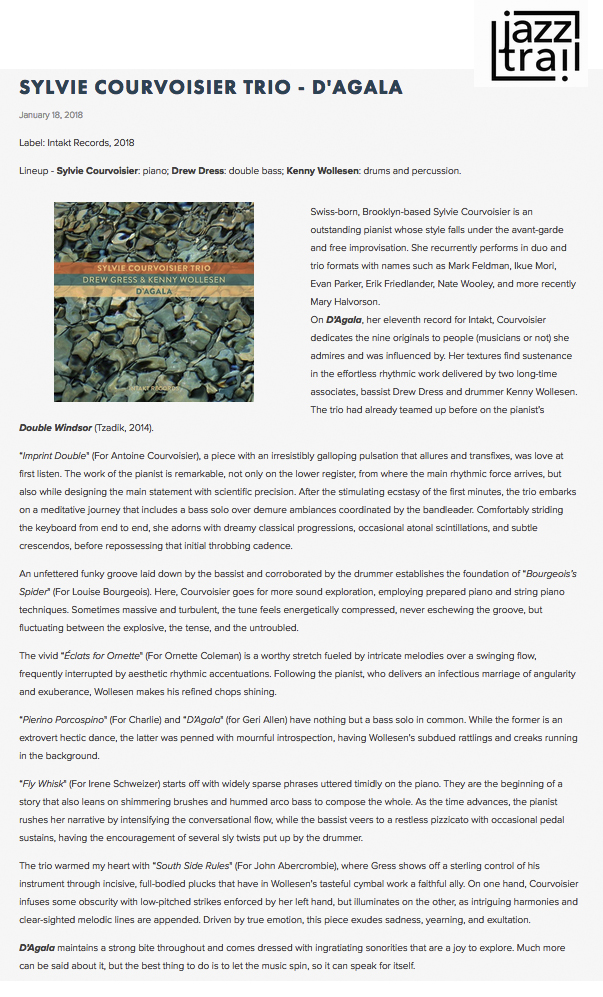 Filipe Freitas, Jazztrail, New York, January 18, 2018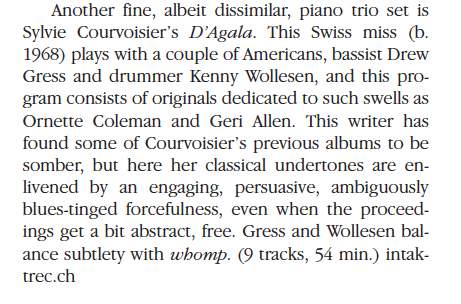 Mark Keresman, Icon, Chicago, February 2018

Key Friedrichs, Klenkes, Aachen, 30. Januar 2018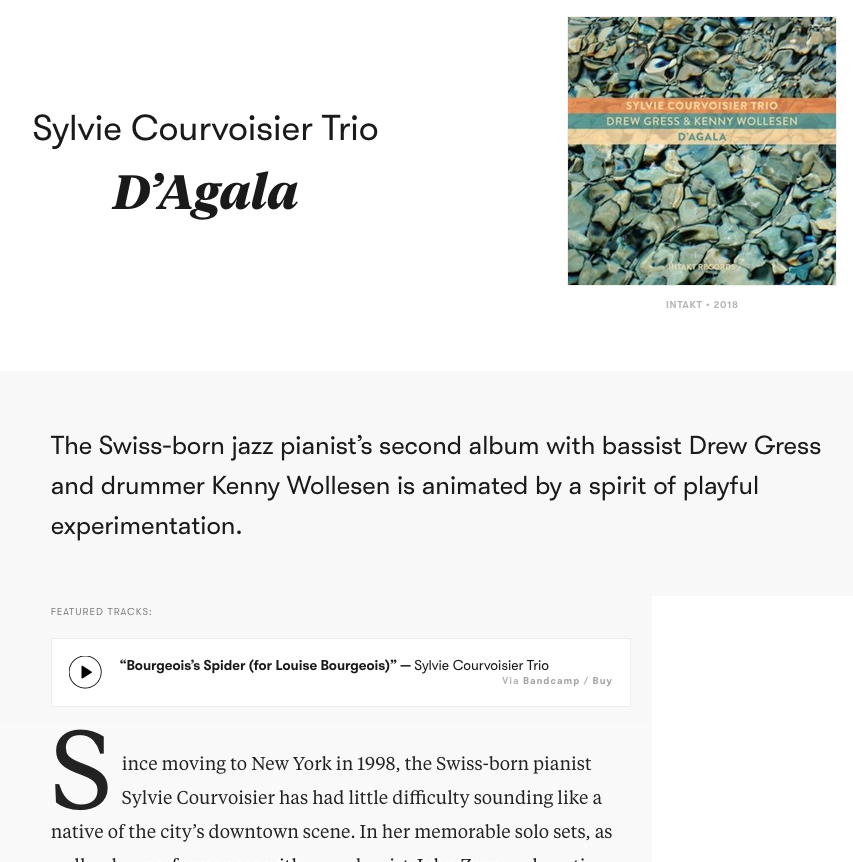 The Swiss-born jazz pianist's second album with bassist Drew Gress and drummer Kenny Wollesen is animated by a spirit of playful experimentation.
Since moving to New York in 1998, the Swiss-born pianist Sylvie Courvoisier has had little difficulty sounding like a native of the city's downtown scene. In her memorable solo sets, as well as her performances with saxophonist John Zorn and onetime DNA drummer Ikue Mori, she has helped define the sound of the piano for an era and a locale.
Like numerous other contemporary pianists, she plays not only the keys, but also the inside of the instrument—sweeping the strings directly, or plying them with a variety of objects. She can do this with a touch that seems just as informed by jazz balladry as it is by John Cage's experimentalism. And because she's a leading improviser in contemporary avant-garde circles, she's also more than able to distinguish herself in a din factory.
Courvoisier's displays of power seem all the more forceful thanks to the gorgeous sounds she fashions at the other end of the dynamic spectrum. This adaptability makes her a prized collaborator, but it might also have delayed Courvoisier's entrance into some of the more familiar formats of small-group jazz.

It took until 2014's Double Windsor for Courvoisier's fans to hear her take on the classic piano-trio album. The group behind that debut, which includes bassist Drew Gress and drummer Kenny Wollesen, earned some feverish reviews. Four years later, we have a follow-up. Clearly, the time between releases is not a writer's block issue, as Courvoisier has remained active in a rich variety of other ensembles (including a 2017 collaborative project with guitarist Mary Halvorson). Instead, it seems likely that Courvoisier has been carefully honing new material for this particular group.
Opening track "Imprint Double (for Antoine Courvoisier)" reveals the album's affinity for smartly executed pivots. The composition begins with the pianist obsessing over a three-note motif in a gravely low octave. But she quickly complicates the grim feel of these tones by dropping in additional, dense chords that suggest a syncopated strut. When the bassist and drummer join in, the song's swinging sensibility is securely established. Even when the piece halts its momentum—making space for hypnotic, new melodic fragments—this core sense of playfulness never disappears.
The rest of the album follows a similar strategy, down to song titles that are outfitted with dedications. "Bourgeois's Spider (for Louise Bourgeois)" allows Courvoisier to range across a wild array of pianistic effects: you can hear strums of the strings, as well as knocks against the instrument's wooden body. During the second half of the track, the pianist swaps out her pointillistic noises for some gentler clouds of minimalist repetition. Her arrangement allows this unusual sequence of sounds to hover over chilled-out rhythm section grooves. On paper, such pairings may seem abrupt or ill-matched, but the skill of this band resides in the way it makes unlikely reversals seem second-nature.
Courvoisier's piece "Éclats for Ornette" offers a nod to the late composer and saxophonist Ornette Coleman. In its early seconds, a short, excitable theme bursts out. Traces of the same figure can also be heard in some of Courvoisier's most out-there stretches, during a subsequent solo. Since Coleman was a widely beloved pioneer of new ecstatic styles in the avant-garde, you can't invoke his name in a title without some risk. But here, as on much of this album, Courvoisier and her group balance structure and wildness in a way that is easy to admire.
Seth Colter Walls, Pitchfork, February 1 2018
Intakt Records, label de Zurich, possède un catalogue qui défriche volontiers les sentiers de traverses. Petit coup d'œil sur les dernières productions du label suisse. Un large éventail de projets aventureux.
Claude Loxhay, Jazzhalo, Belgium, Janvier 2018

Raul da Gama, Jazzdagama, Feb 1, 2018


Reiner Kobe, Jazzpodium, Februar 2018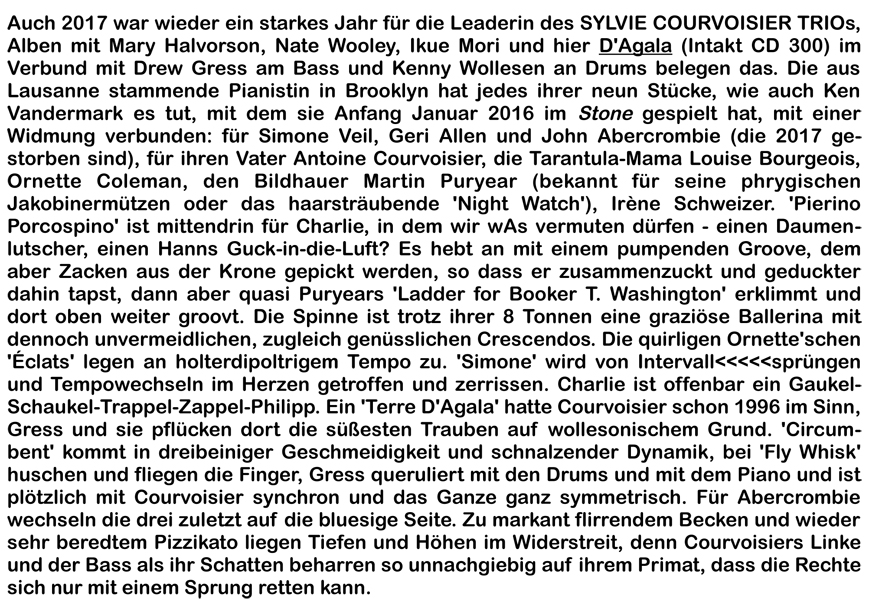 Rigobert Dittmann, Bad Alchemy, BA 97, 2018

Tor Hammerø, Tor de Jazz, February 14, 2018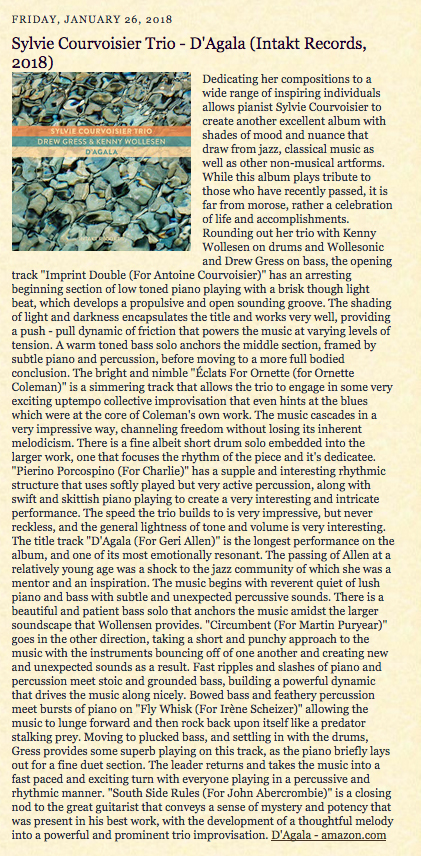 Tim Niland, Jazz and Blues, January 26, 2018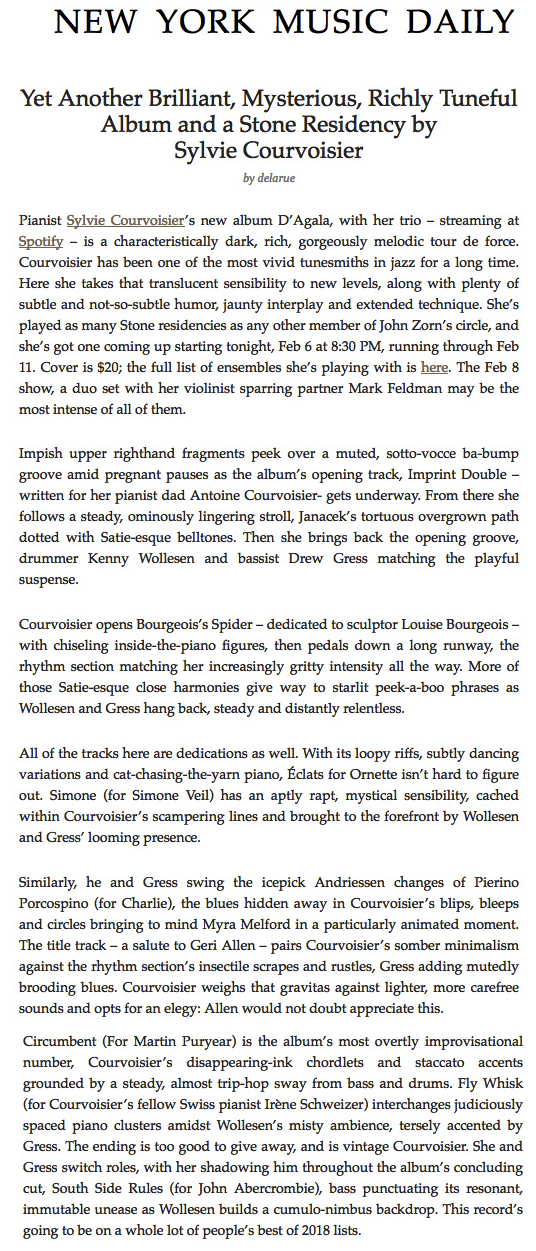 New York Music Daily, February 6, 2018
Sylvie Courvoisier Trio – D'Agala
Bekijk alle berichten van Opduvel
"Some people appraoch the instrument like it's a cathedral. Sylvie Courvoisier sometimes treats it like a playground." Het zijn de eerste regels van de liner notes van Kevin Whitehead bij de nieuwe cd van de Zwitserse maar al jaren in New York bivakkerende pianiste. Het zijn rake woorden, want wat Courvoisier samen met bassist Drew Gress en Kenny Wollesen laat horen op D'Agala getuigt soms van bijna kinderlijke speelsheid. Maar dan wel verpakt in volwassen muziek met inhoud en stijl.
De drie leden van het trio zijn allemaal bekenden van John Zorn. Zo komen zij allen voor in de Book Of Angels-serie, waarin verschillende muzikanten, veelal afkomstig uit de New Yorkse avant-garde jazzscene, hun interpretaties geven van de kleine composities van Zorn. Hij was ook degene die Courvoisier aanmoedigde een pianotrio te beginnen. Met Gress en Wollesen heeft zij goud in handen, want de bassist en drummer voelen het sublieme en fantasievolle spel van de pianiste perfect aan.
Courvoisier is een ervaren muzikant die perfect past in de vooruitstrevende jazzscene aan de Amerikaanse oostkust, maar die in Europese kringen ook nog steeds haar draai weet te vinden. Haar veelzijdigheid komt tot uiting in de samenwerkingen die zij tot nu toe is aangegaan met uiteenlopende muzikanten als violist Mark Feldman, draaiorgelspeler Pierre Charial, bassiste Joëlle Léandre, cellist Erik Friedlander, trompettist Nate Wooley, drummer Chris Corsano, saxofonist Ellery Eskelin, elektronica-muzikante Ikue Mori en gitariste Mary Halvorson.
D'Agala is niet het eerste album van het Sylvie Courvoisier Trio, want in 2014 verscheen het debuut Double Windsor, waarop de soepele muzikaliteit van het drietal in negen stukken ten gehore wordt gebracht. Op het nieuwe album komen er nog negen bij. Het resultaat is even fraai als destijds, zo niet fraaier. Elk stuk is opgedragen aan een persoon, zoals Courvoisiers vader Antoine, kunstenares Louise Bourgeois, saxofonist Ornette Coleman, pianiste Irène Schweizer en de tijdens het maken van dit album overleden pianiste Geri Allen en gitarist John Abercrombie.
Courvoisier toont haar donkere kant in het begin van opener 'Imprint Double (for Antoine Courvoisier)': zware pianotonen voeren de boventoon, wat prachtig samengaat met het lichte drumspel met brushes van Wollesen. Verderop wisselt de pianist snelle loopjes af met lange noten en weer even verder wordt een rustige melodie ten gehore gebracht. Er gebeurt veel in korte tijd en toch is geen sprake van chaotische of nerveuze muziek. Het basspel van Gress is melodieus en Wollesen gebruikt kleine toms. In een cadens gebruikt Courvoisier de uiteinden van het klavier.
Maar niet alleen het klavier wordt door de Zwitserse bespeeld, in 'Bourgeois's Spider (for Louise Bourgeois)', spannend ingeleid door bas en drums, bespeelt zij de snaren rechtstreeks en maakt zij slaande en schurende geluiden. De snaren worden plukkend, strelend en rommelend beroerd. Ter afwisseling zijn ook sprankelende, donkere en rinkelende pianoklanken te horen in het intrigerende stuk. De speelsheid van het spel van Courvoisier wordt in alle glorie tentoongespreid. De ritmesectie kent zijn plaats en speelt sober.
In 'D'Agala (for Geri Allen)' zijn de rollen heel anders verdeeld. De piano speelt aanvankelijk een sobere en sombere melodie, soms unisono met de bas, terwijl Wollesen op subtiele wijze voor ontregeling zorgt. Verderop is de solerende rol weggelegd voor Gress, die zijn melodische vernuft demonstreert. Maar uiteraard is Courvoisier ook hier in charge, bewijzend dat zij ook in langzaam tempo en meer conventioneel spelend goed tot haar recht komt.
Daar staan jazzy stukken als 'Éclats For Ornette (for Ornette Coleman)' tegenover, waarin de ritmesectie plooibaar beweegt en Courvoisier in snel tempo kan laten horen wat voor grandioos soliste zij is: ritmisch vloeiend en met een schitterend gevoel voor melodie. Dat komt ook tot uiting in 'Simone (for Simone Veil)', maar dat stuk slaat na anderhalve minuut om, om plaats te maken voor een stilstaande passage met onderzoekend spel. In 'Pierino Porcospino (for Charlie)' is het spel hoekiger en valt Wollesens fijngevoelige spel met brushes op de snare op. In 'Circumbent (for Martin Puryear)' is een gebroken basloopje opmerkelijk.
In 'Fly Whisk (for Irène Schweizer)' krijgen Gress en Wollesen ruimte voor een duet, waarin de bassist zijn mooie diepe toon, eclatante techniek en gevoel voor esthetiek etaleert en de drummer vooral excelleert op cimbalen, wat hij aan het eind nog even showt in duet met Courvoisier. 'South Side Rules (for John Abercrombie)' start met bas en drums, Gress melodisch in de weer en Wollesen met ruisende bekkens. Het is een spannende ondergrond voor Courvoisier, die er rustgevend pianospel overheen legt, daardoor de bassist gelegenheid gevend zijn soepele basspel naar voren te brengen. Het contrast tussen spanning en rust houdt je aan de speakers gekluisterd.
Het Sylvie Courvoisier brengt avant-garde kamerjazz van uitzonderlijke klasse. D'Agala laat op de eerste plaats horen wat voor een formidabel pianiste Courvoisier is, maar haar spel schittert mede dankzij de buitengewoon soepele ritmesectie, die zich nergens op lijkt te dringen maar zeer duidelijk aanwezig is. De composities klinken aangenaam, maar zijn niet te voor de hand liggend en bieden ruimte voor speldenprikken. Heerlijke plaat.
Opduvel, 9. Februar 2018
Christian Bakonyi, Concerto, Österreich, Februar-März 2018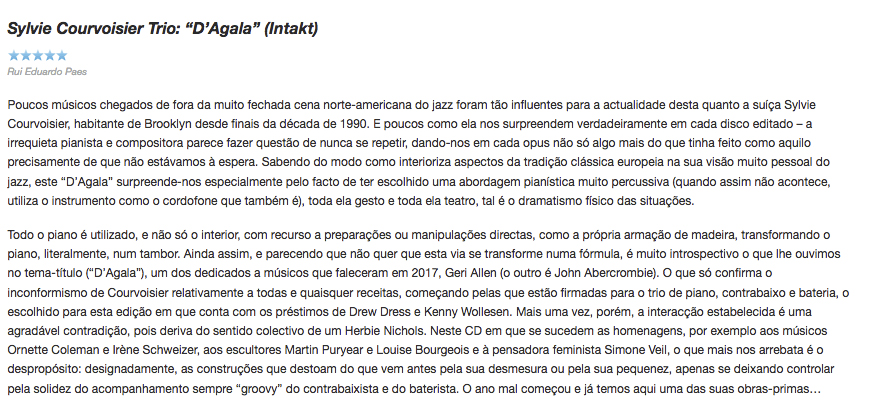 Rui Eduardo Paes, Jazz pt, Portugal, Februar 2018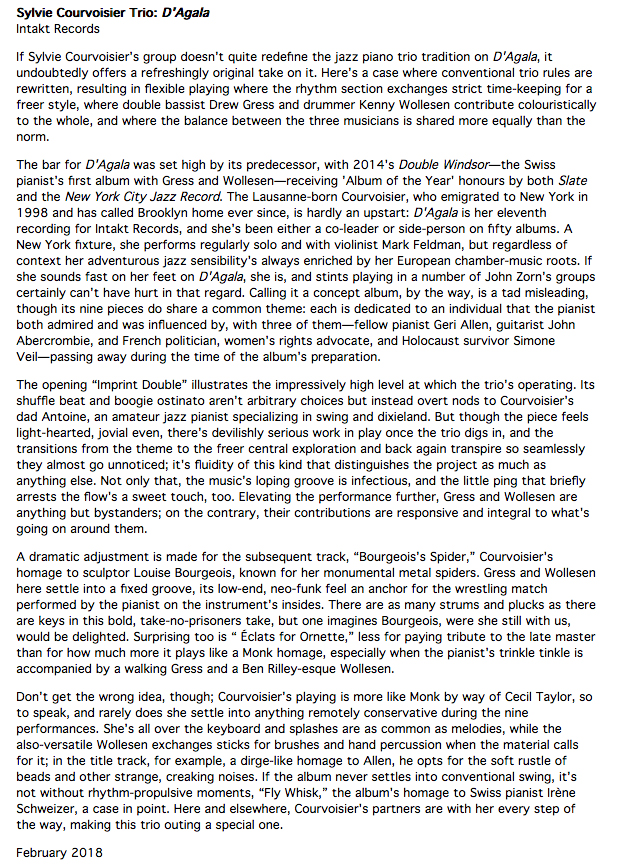 Textura, Canada, February 2018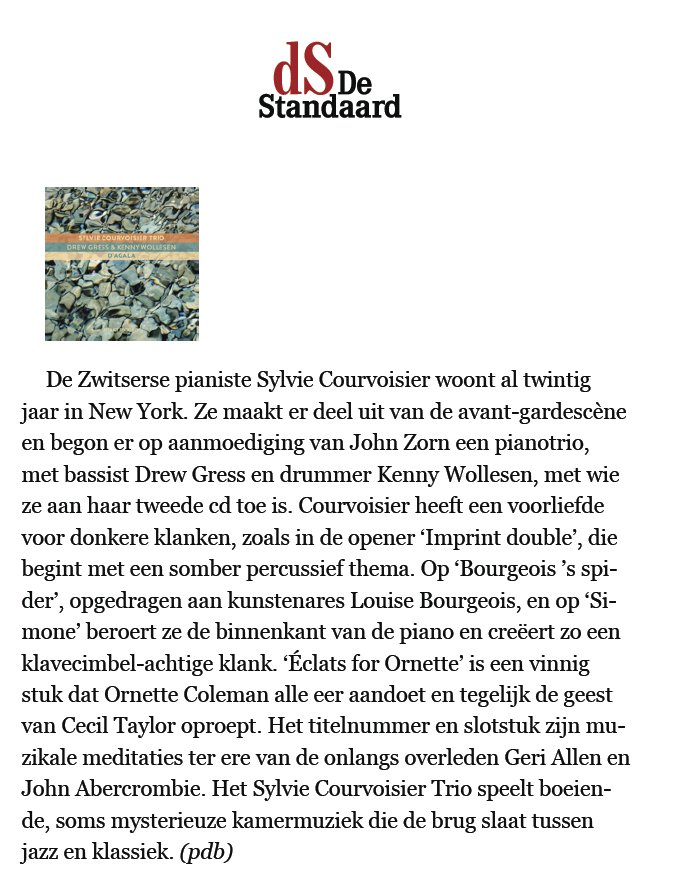 pdb, DeStandaard, Netherlands, 31. Januar 2018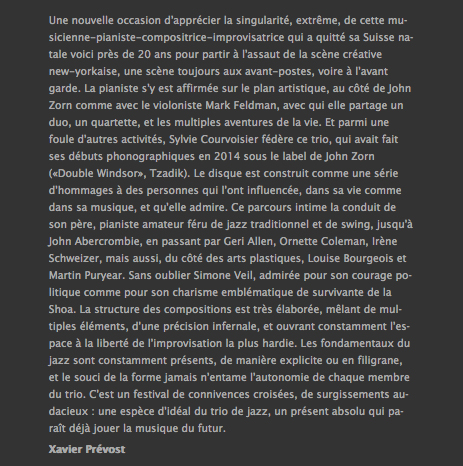 Xavier Prévost, lesdnj.over-blog, Février 2018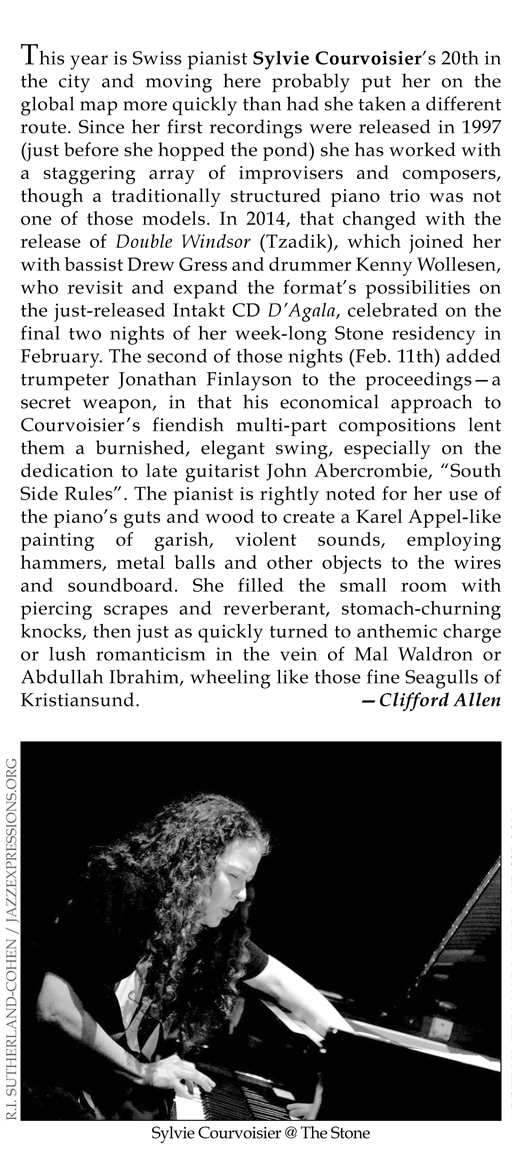 Clifford Allen, New York City Record, March 2018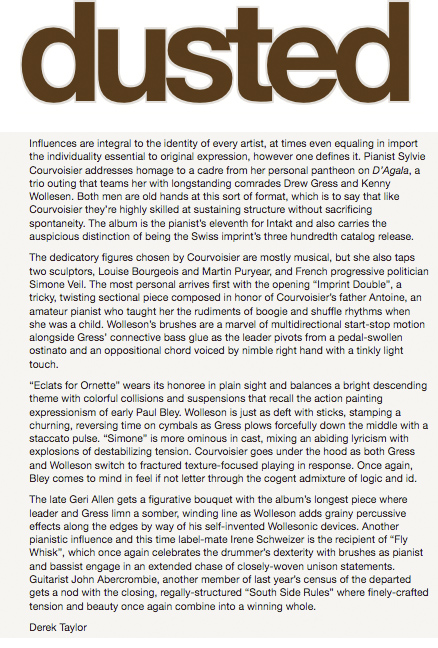 Derek Taylor, Dusted, USA, February 23, 2018
Thierry Quénum, Jazzmagazine, Mars 2018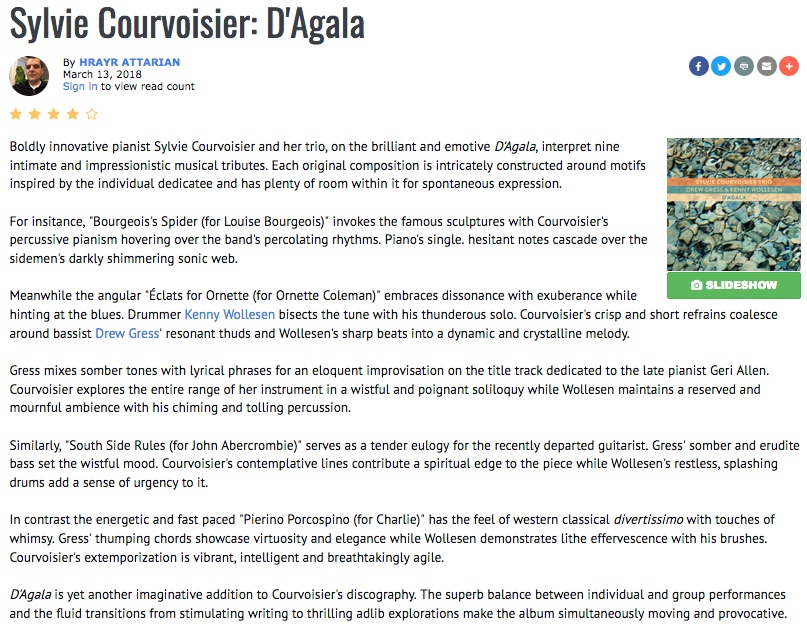 Hrayra Attarian, All About Jazz, March 13, 2018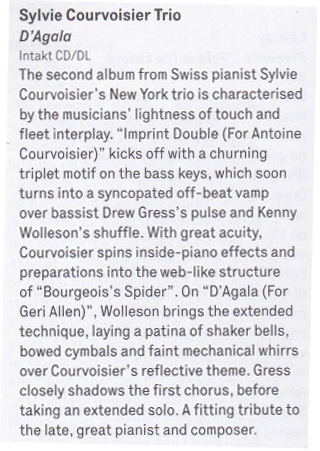 Stuwart Smith, The Wire, London, Märch 2018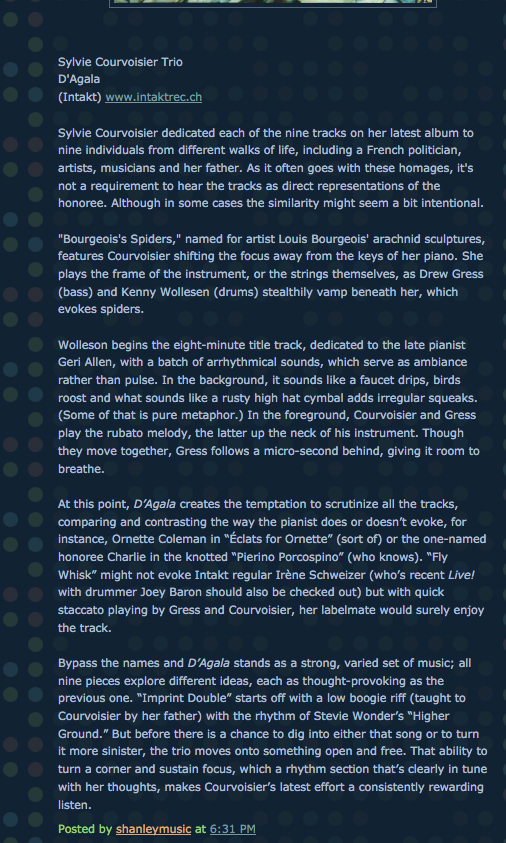 Shanleyonmusic, March 12, 2018
Georges Tonla-Briquet, Jazzenzo, Jazz magazine, 03 Maart 2018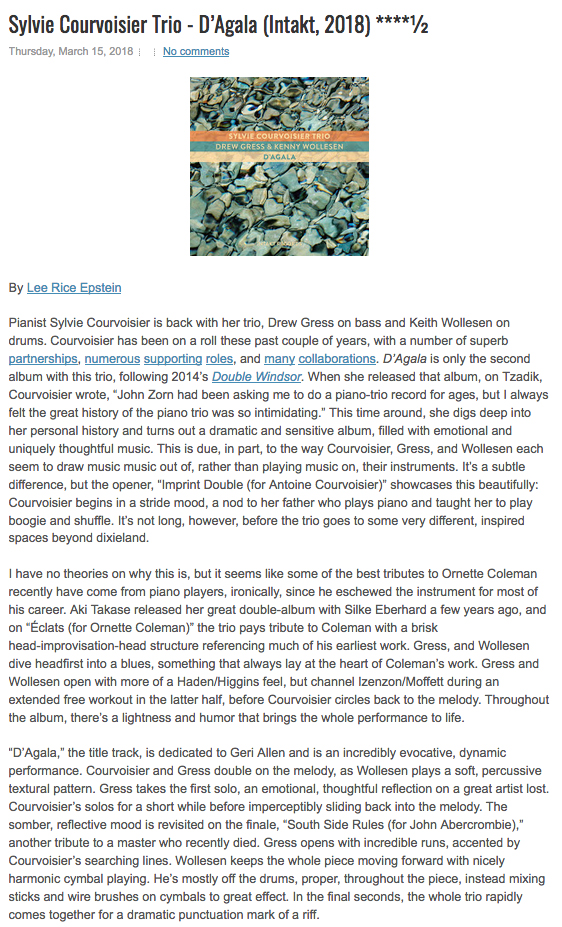 Lee Rice Epstein, The Free Jazz Collective, Thursday, March 15, 2018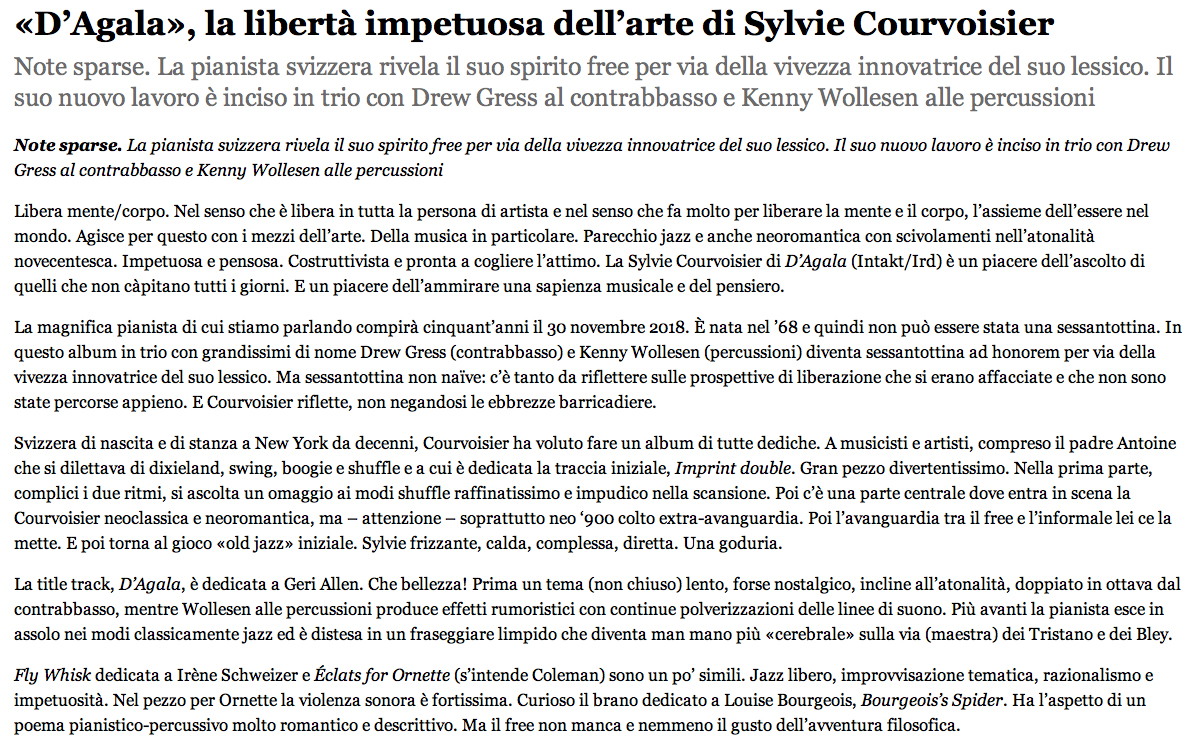 Il Manifesto, Italia, 12 mar 2018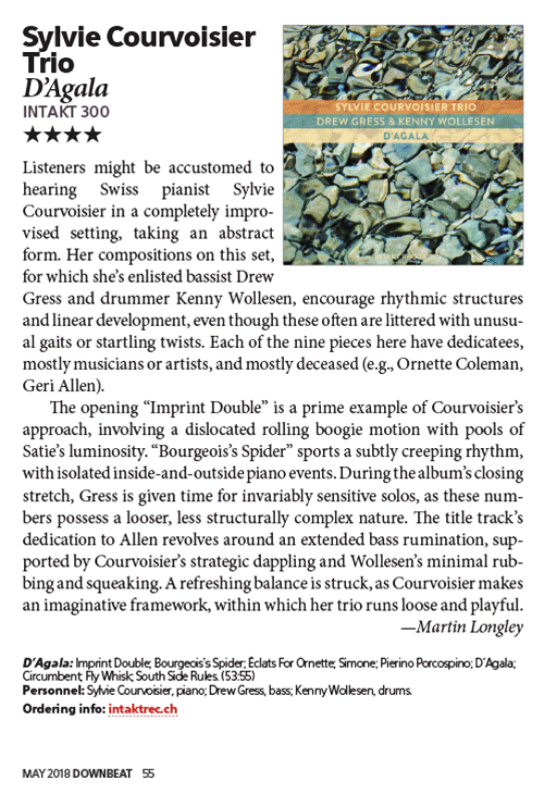 Martin Longley, Downbeat, May 2018

Sergio Piccirilli, El intrus, 31 de marzo 2018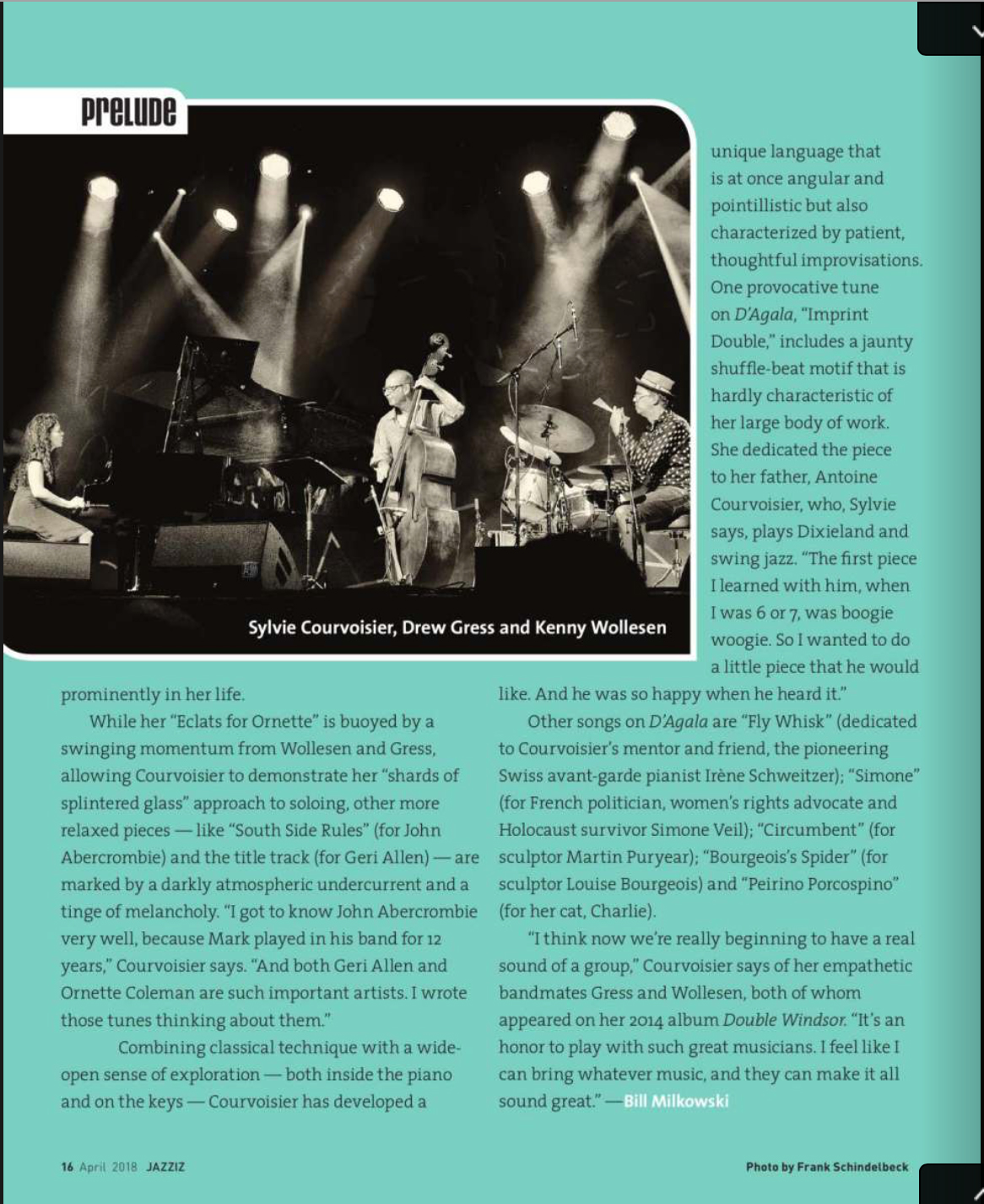 Bill Milkowski, Jazziz, April 2018
JCF, Tim Out Lisboa, 28. Marco - 3. April 2018
Just as Arnold Schoenberg was integral to emancipated dissonance, composer and pianist Sylvie Courvoisier is playing her part in liberating the piano trio. The complex and historically fraught processes begun with Herbie Nichols and Cecil Taylor continue, gloriously unabated, on her eleventh album for Intakt, a disc of homages in the best possible sense of the concept. Too often, homage lacks the originality it's supposed to champion, but, in executing these stellar compositions, Courvoisier, drummer Kenny Wollesen and bassist Drew Gress ensure that history and music are served with integrity.
            Via interview with the composer, Kevin Whitehead's superb liner notes inform us that Antoine Courvoisier, Sylvie's father, taught her boogie and shuffle piano from a young age, but here is the brilliance of Courvoisier's take on homage. In "Imprint Double," shuffle is evoked rather than becoming a constant and quickly stale trope. It emerges only to be subsumed in a hailstorm of notes, what Whitehead, in a rare laugh-out-loud moment, labels flyshit. True, the music is often dense and complicated, but there is plenty of room to breathe, pauses for contemplation immediately following those crazy rhythms that conjure shades of Frank Zappa's Black Page. "Éclats for Ornette," Courvoisier's dedication to Ornette Coleman, harnesses that maverick's swing and freedom without apeing his melodic, or harmelodic, constructs, and even swing is interrupted, in the spirit of Anthony Braxton, by rhythmic intricacies and moments of pause, especially a blazing, cymbal-sizzling and interregistral F-major chord. The tune is actually full of tonal implication, which is touching in its ironic veracity. Like Coleman, Courvoisier is a musician for whom freedom and allegiance are two sides of a coin, but both make music where the former is discussed with far more frequency. The trio is tight, tighter than its recording history alone might suggest, but, again ironically, loose in the most convincing sense. This is its second album, but the group plays with the singular and telepathic intent of a long-fostered combo. The three can build waves of dialogic timbre, as on the elegiac "South Side Rules," for the then-recently departed John Abercrombie, but they can also start and stop on the proverbial dime. Listen to the opening moments of "Fly Whisk," dedicated to piano pioneer Irène Schweizer, in which piano and bass play with such unity that the instruments conjoin, emerging as a single mellifluous but percussive unit. Just as impressive is the labyrinthine Wollesen and Gress interactions later in the same track. Gress and Courvoisier dominate the haunting title track, this time for the late and lamented Geri Allen, with beautifully airy percussion work from Wollesen, but on exactly which instruments is difficult to discern. This is a group wending its way far beyond the confines of piano trio hierarchy, boldly exploring the outer reaches of genre, meter and timbre in the process.
            Courvoisier's playing is, as always, breathtaking. Dig her hammered neo-Stravinskian chords in "Fly Whisk," seemingly Rite of Spring references, or the stunning delicacy with which she mixes keystroke and pluck against Gress's arco work in the gorgeous and elusive "Simone." The recording is as great as the playing, the notes are on a par with both, and the whole is as fitting an homage to all concerned and to the evolving art of the piano trio as could be desired.
Marc Medwin, Fanfare, Geneve, April 2018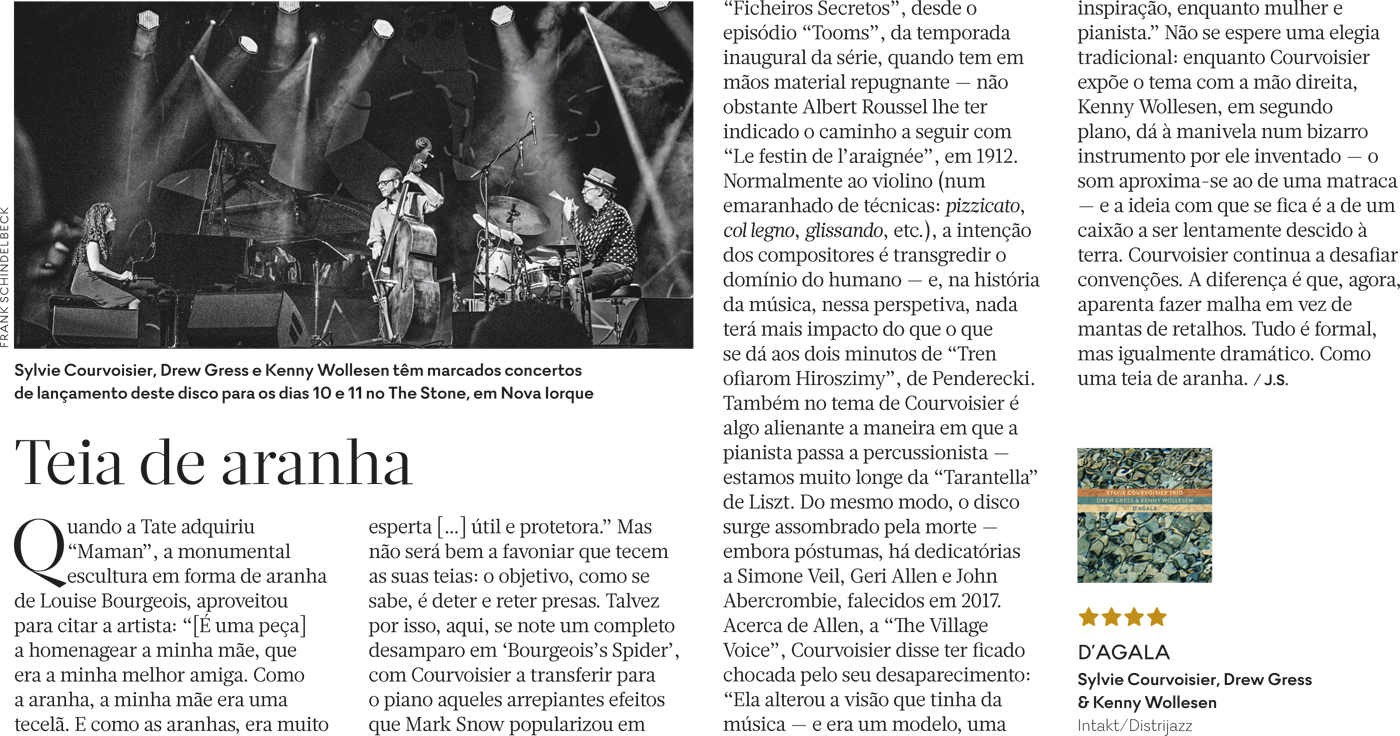 J.S., Expresso, Portugal, 3.2.2018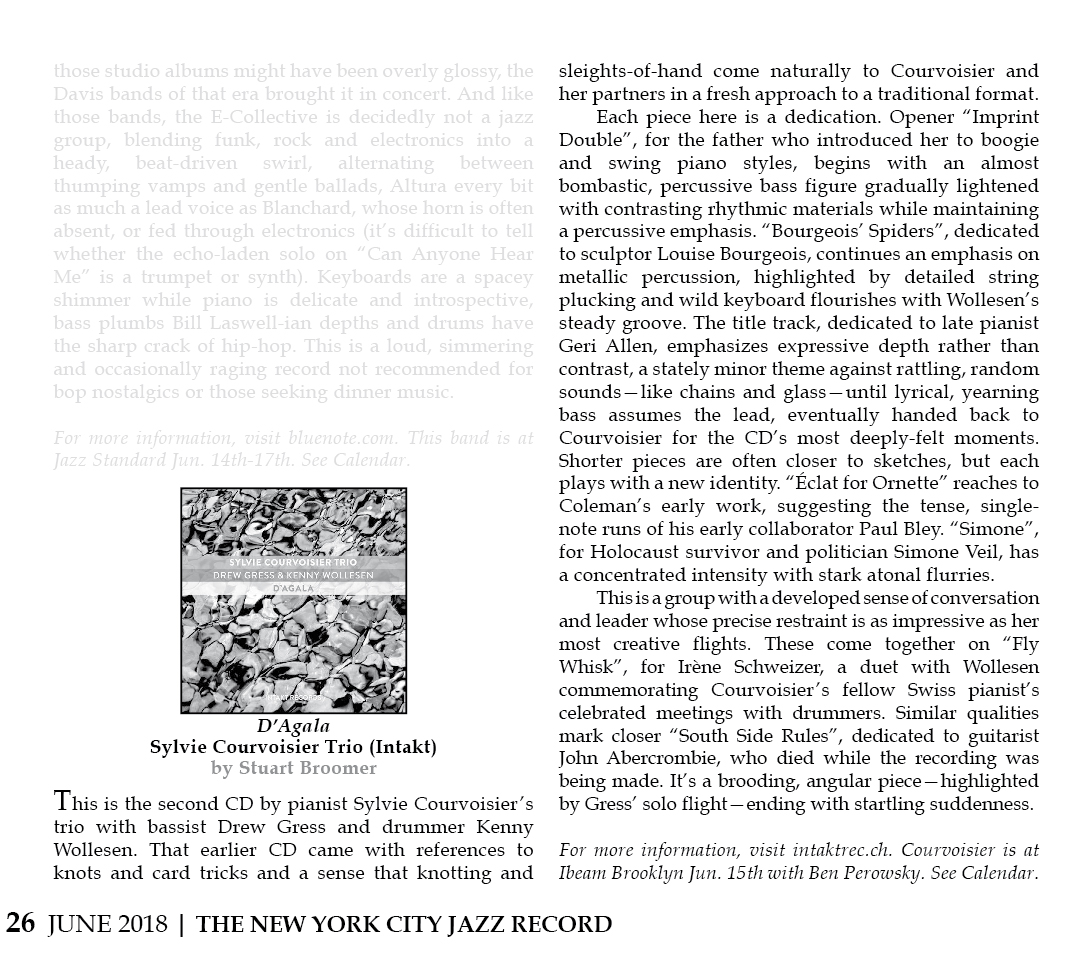 Stuart Broomer, New York City Jazz Record, June 2018
La Scena Musicale, Jun-Aug 2018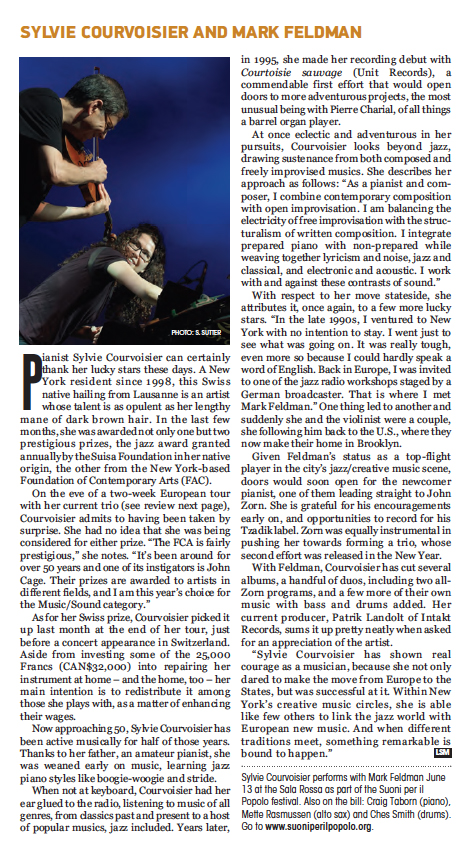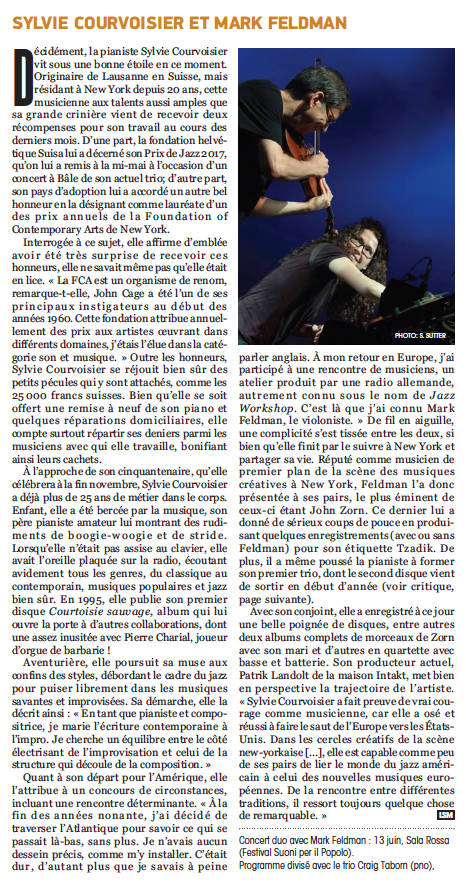 Marc Chénard, La Scena Musicale, Jun-Aug 2018
Nicolas Dourlhès, Citizen Jazz, May, 2018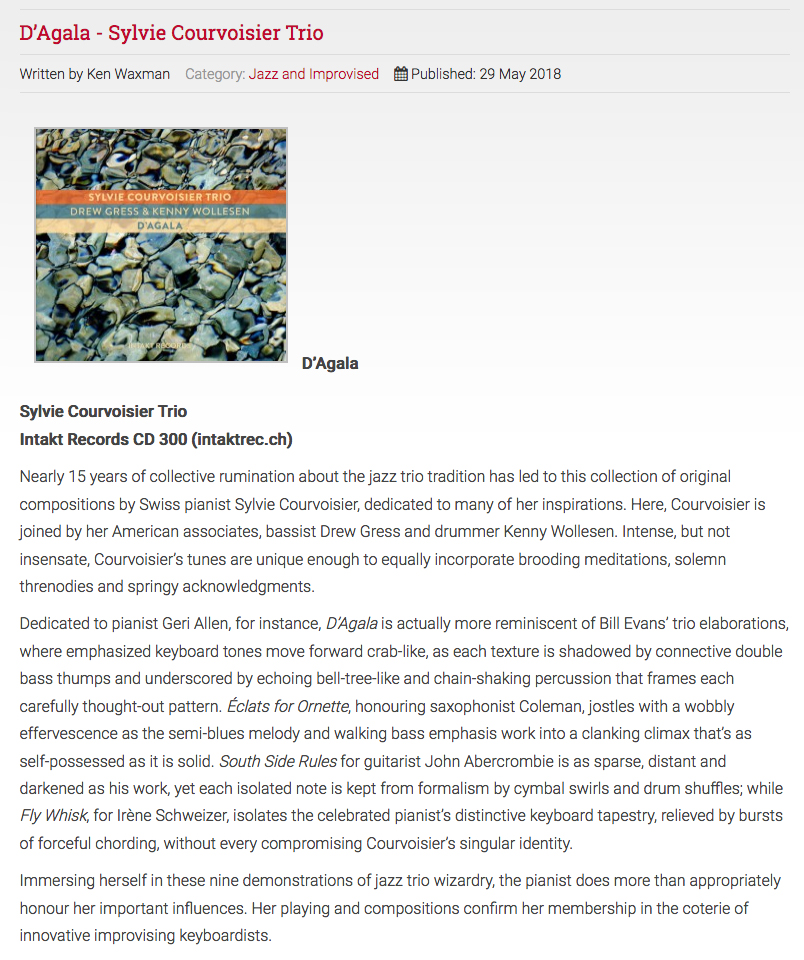 Ken Waxman, The Whole Note, 29 May 2018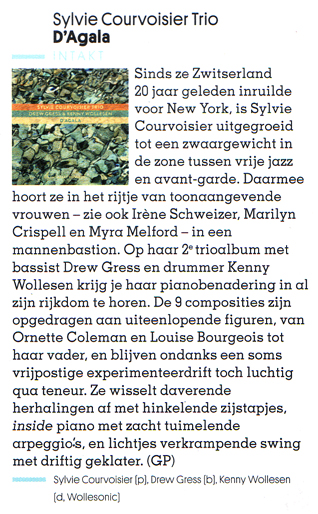 Guy Peters, Jazz & Mo Magazine, June 2018

Jean Buzelin, CultureJazz.fr, Aug 2018
Shola Keenan, Social Justice Magazine, Sept 2018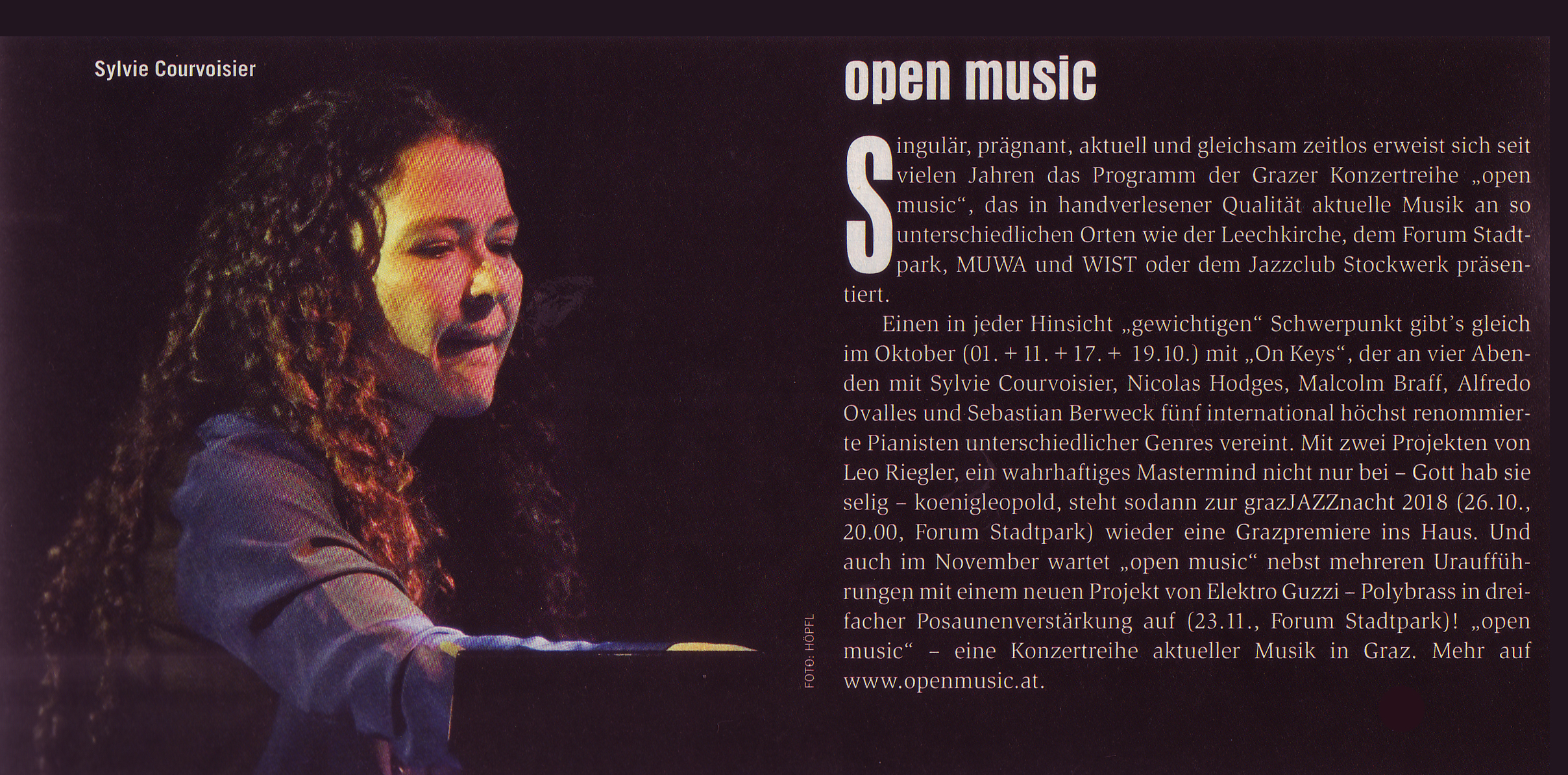 Concerto Magazine #5, Oct 2018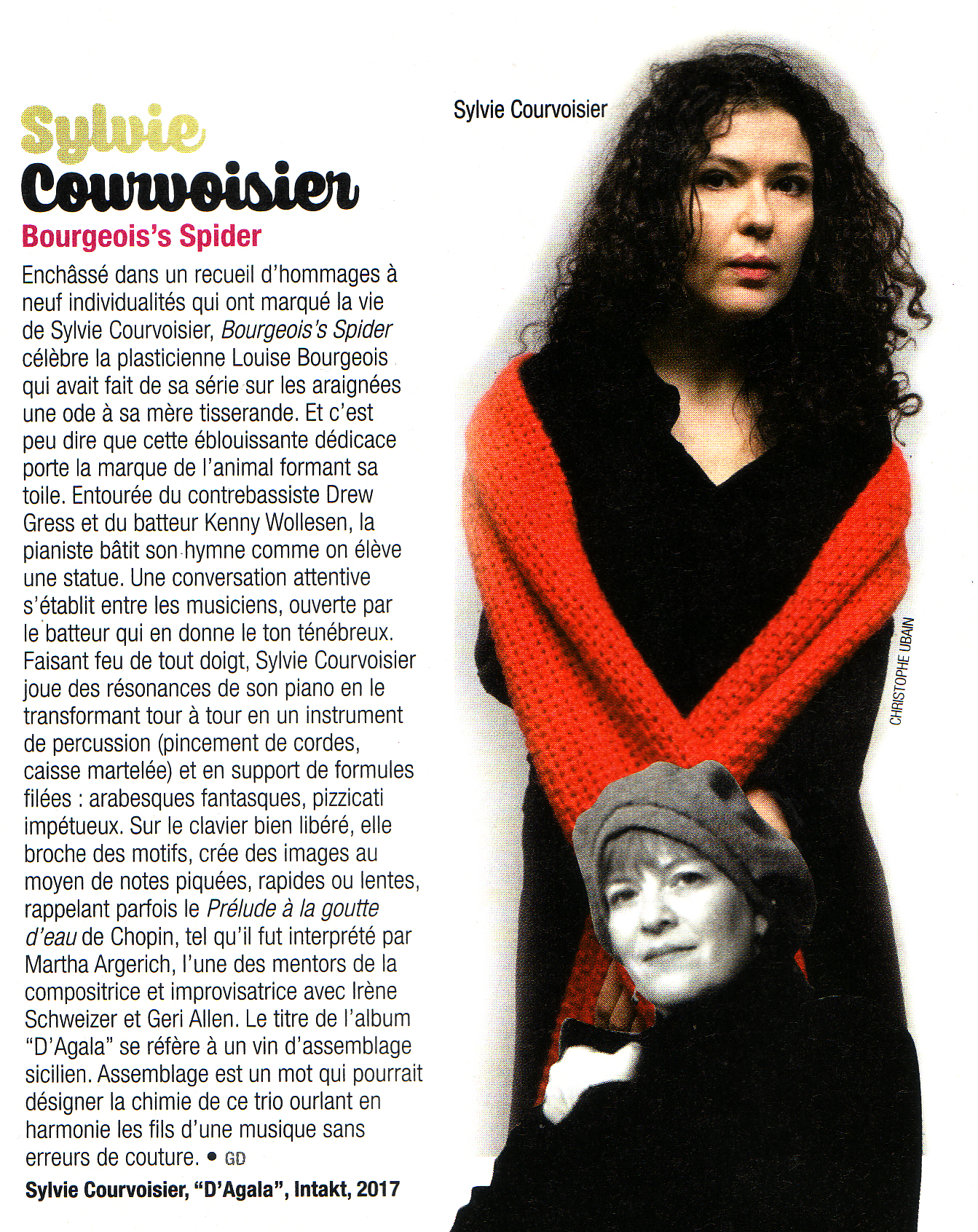 Guy Darol, Jazz Magazine FR, Oct 2018
Troy Dostert, All About Jazz, Dec 3 2018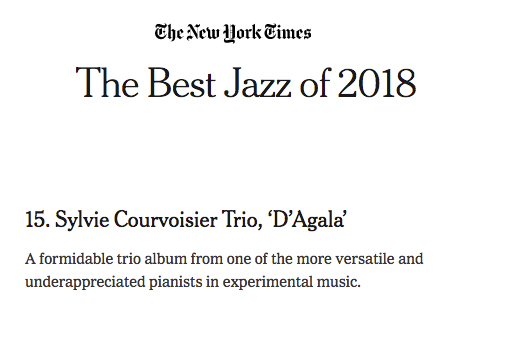 New York Times, Dec. 6, 2018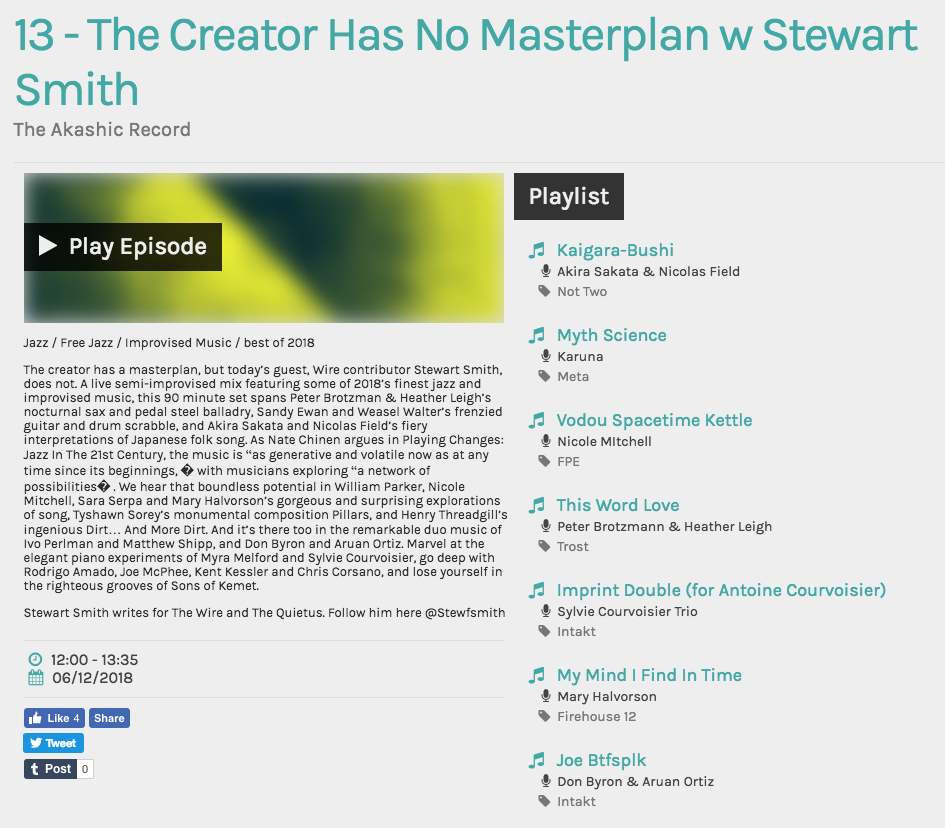 Stewart Smith, Subcity Radio, Dec 6 2018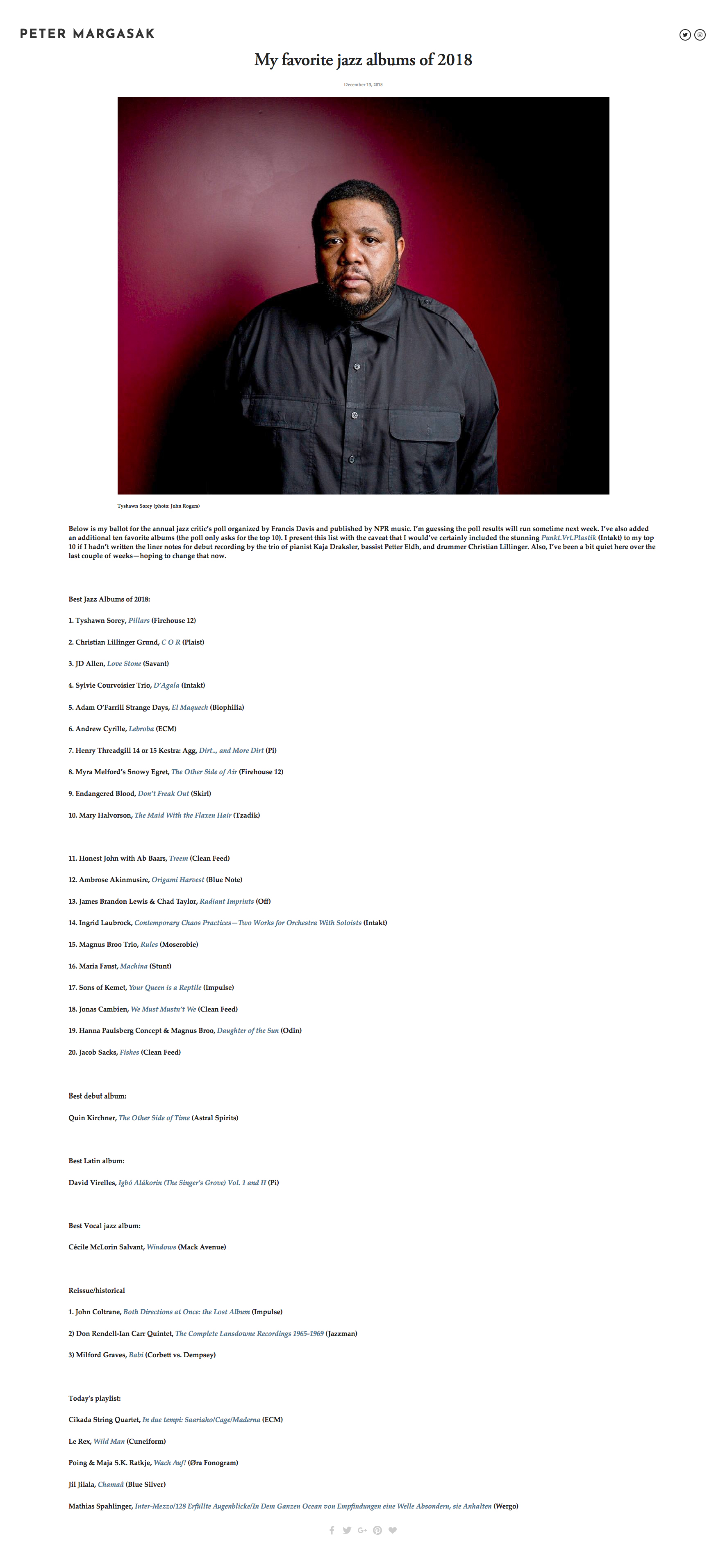 Peter Margasak, petermargasak.com, Dec 2018

Chris Barton, The Los Angeles Times, Dec 20 2018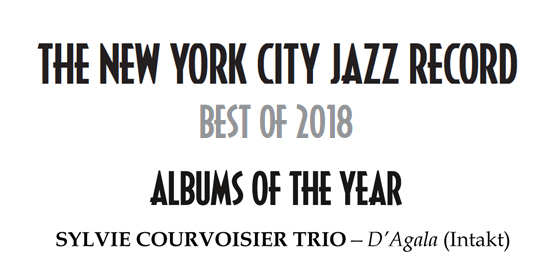 Andrey Henkin, The New York City Jazz Record, Jan 2019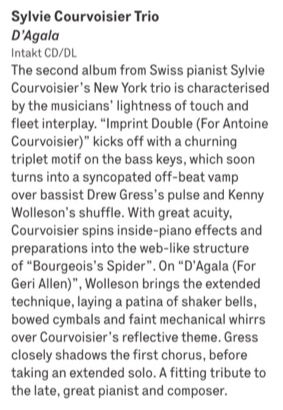 Stewart Smith, Wire Magazine, Jan 2018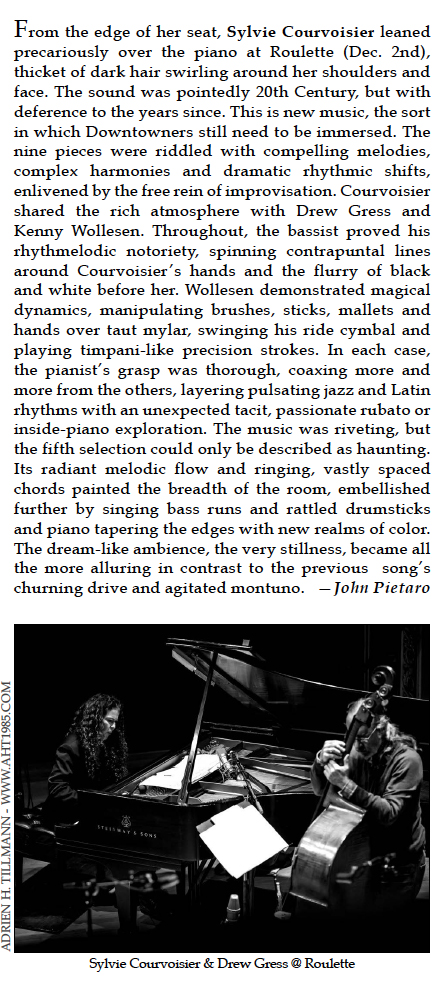 John Pietaro, The New York City Jazz Record, Dec 2018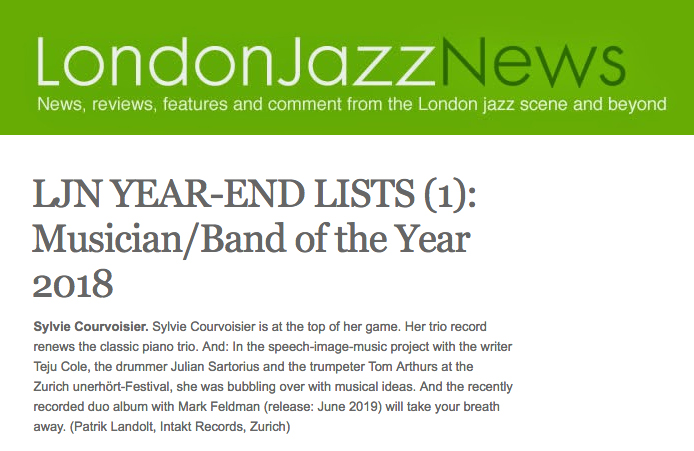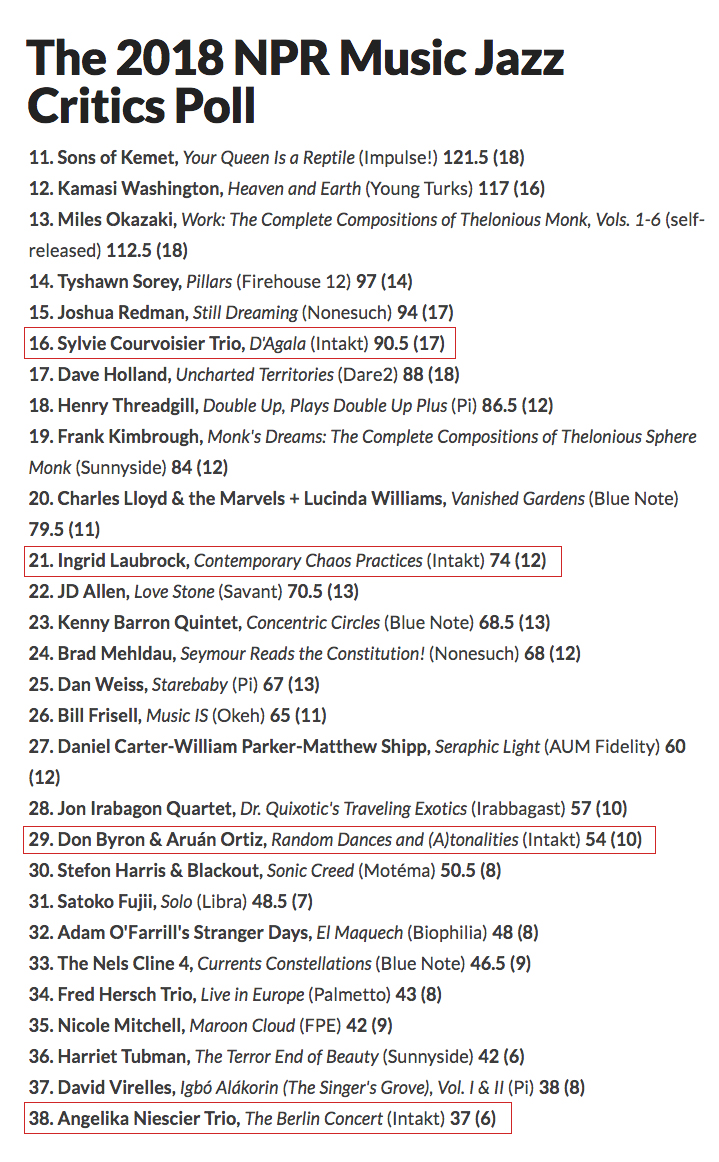 Francis Davis, The NPR Music Jazz Critics Poll 2018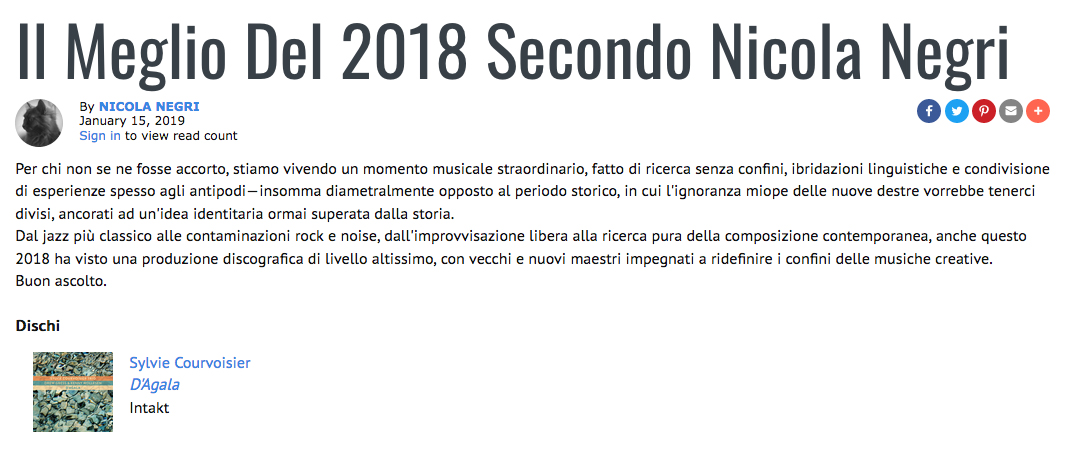 Nicola Negri, All About Jazz Best of 2018, Jan 15 2019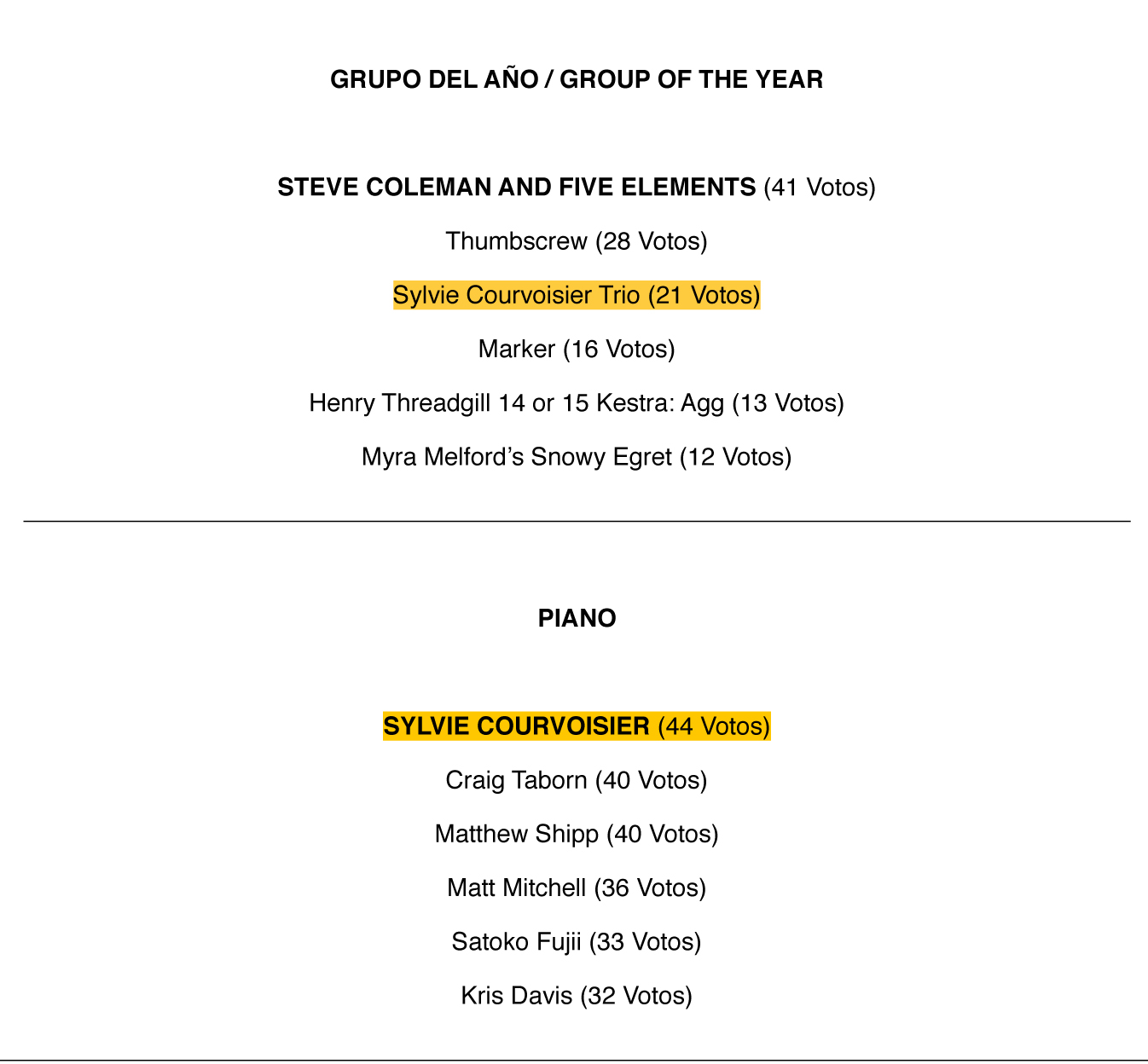 "Groups of the Year"/"Pianists of the Year", El Intruso, Jan 2019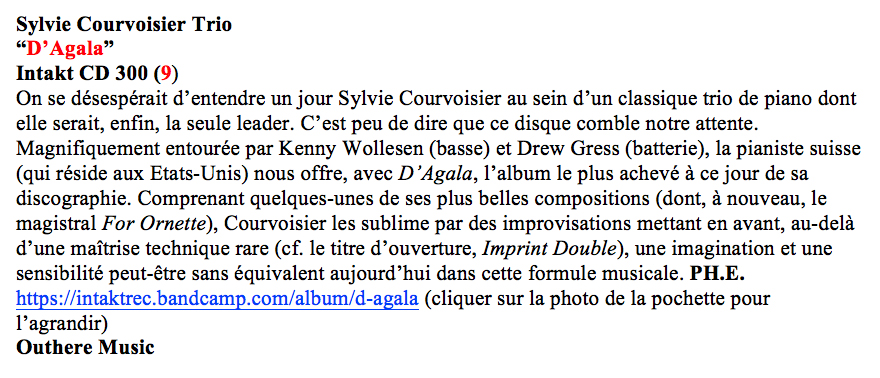 Outhere Music, Jan 2019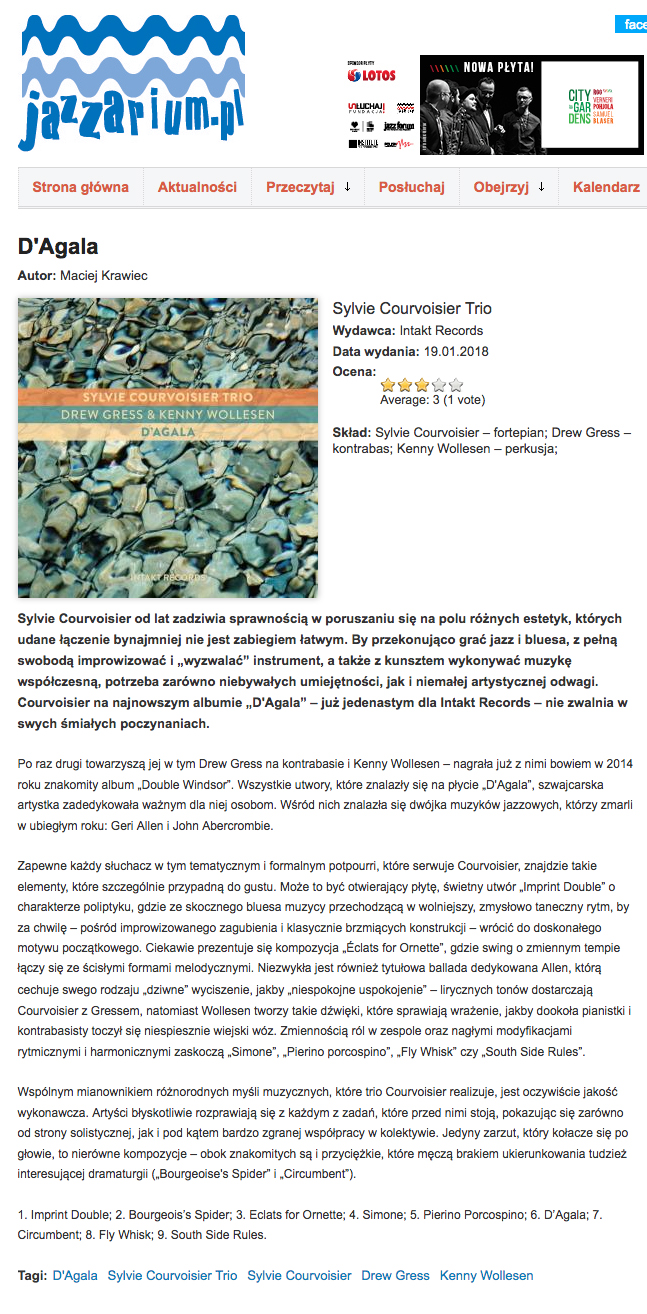 Maciej Krawiec, jazzarium.pl, Jan 2019


Luc Bouquet, Improjazz, Février, 2019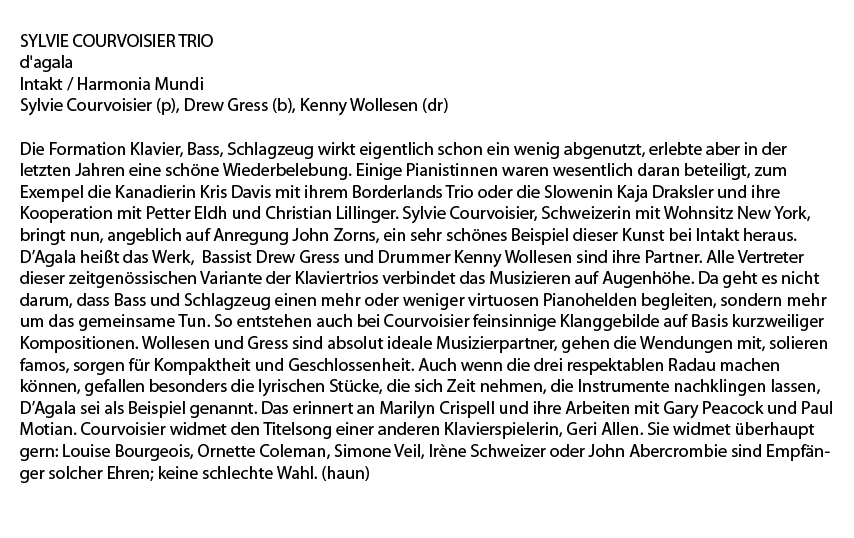 Freistil Magazine #83, Feb 2019
Danny De Bock, Jazzhalo.be, 2019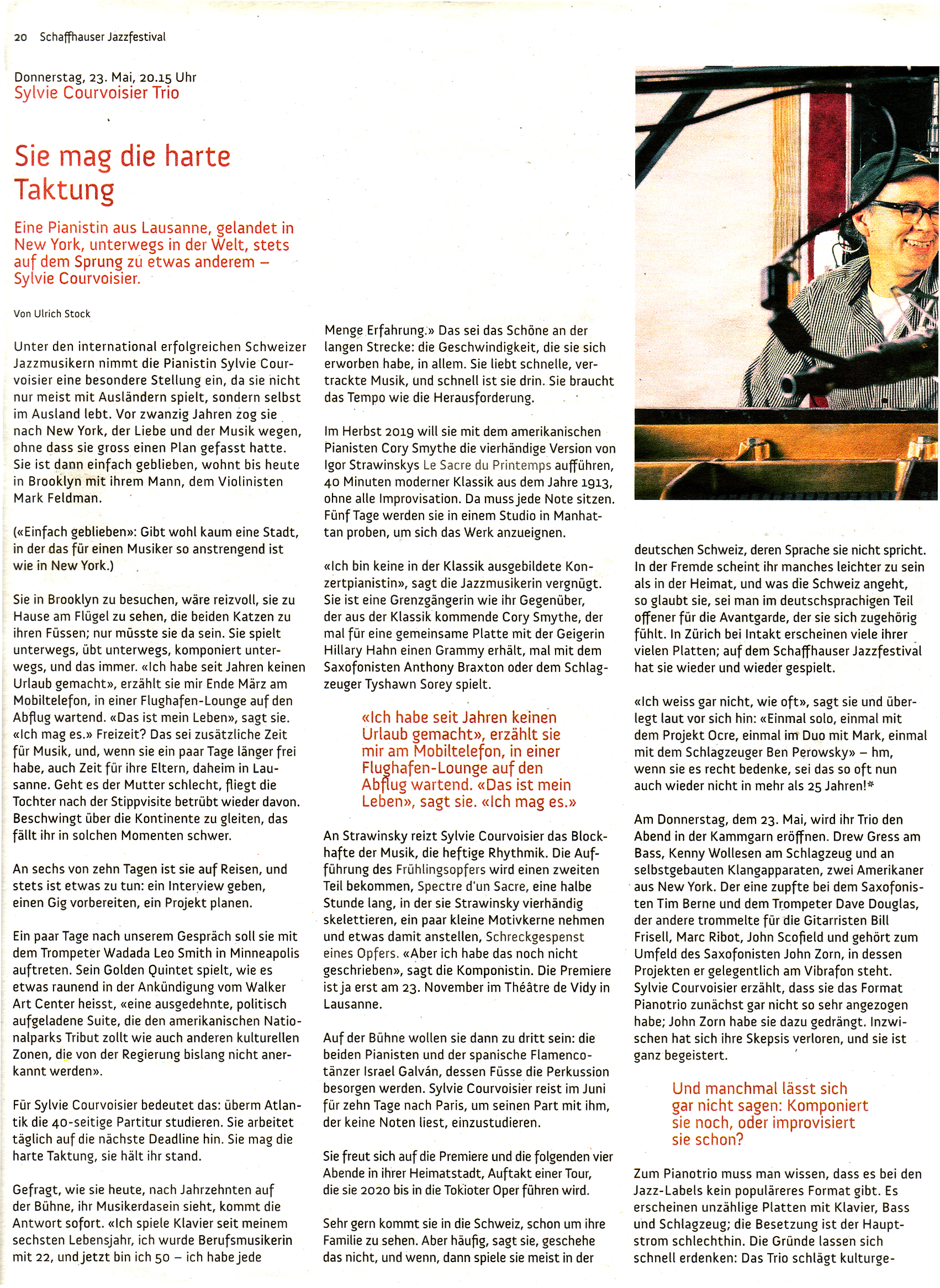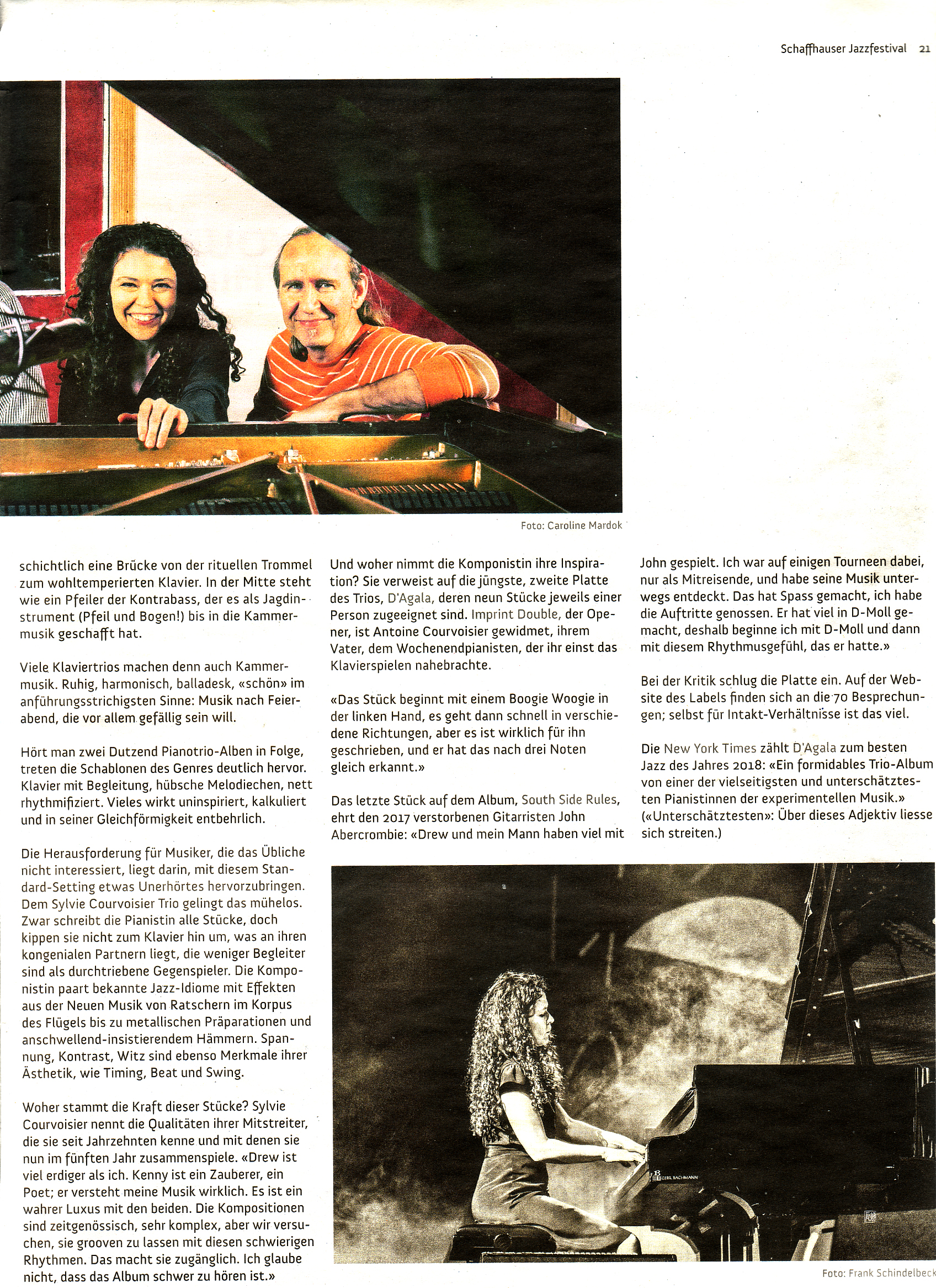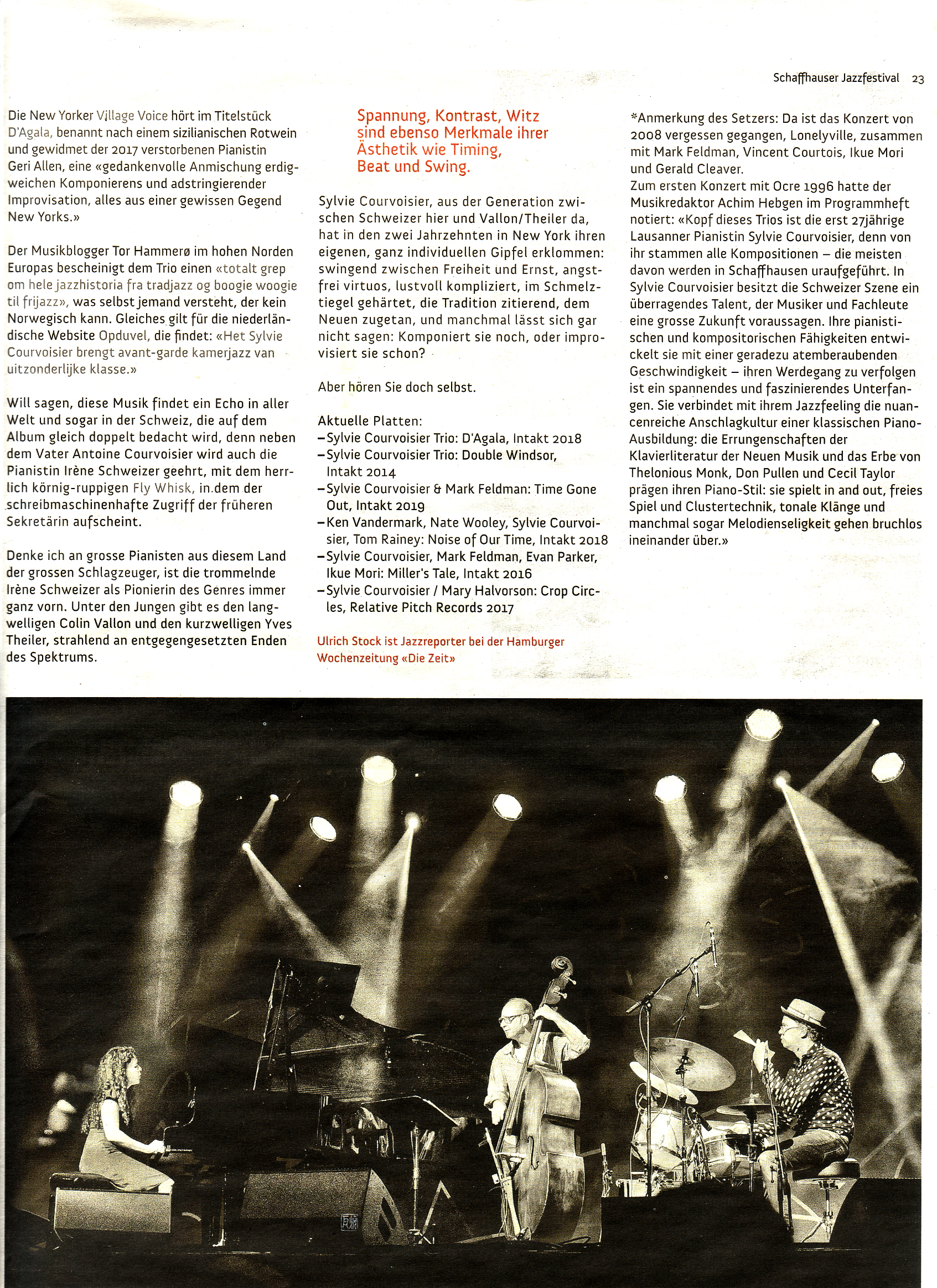 Ulrich Stock. Progammheft 30. Schaffhauser Jazzfestival. Beilage Wochenzeitung, Schaffhauser AZ, Schaffhauser Nachrichten, Mai 2019
Ulrich Stock, DIE ZEIT, 23. Mai 2019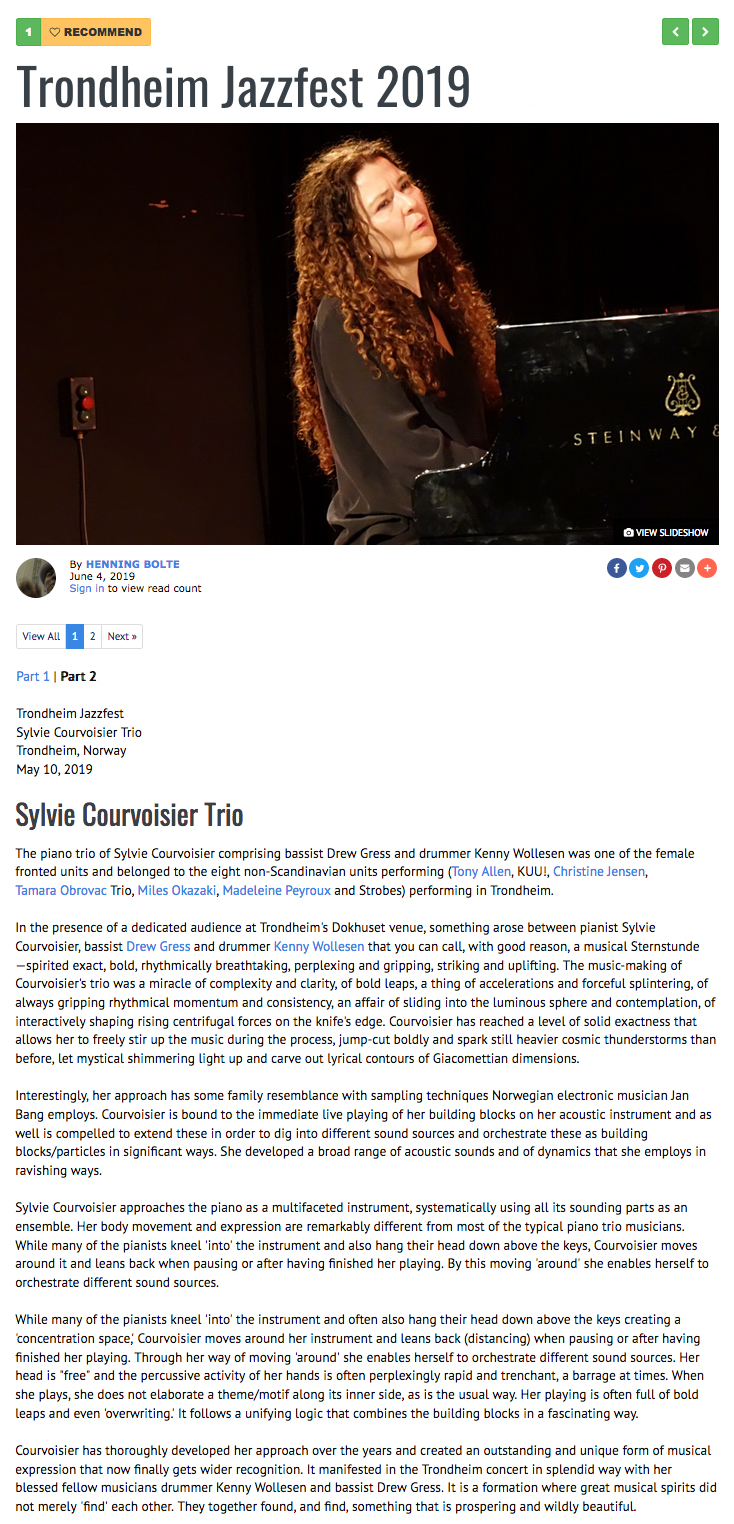 Henning Bolte, All About Jazz, Jun 4 2019

Max Granvil, Blog de Garenne, Oct 15 2020 (FR)