Nell'arco di un tempo assai breve Ingrid Laubrock, tedesca autodidatta precocemente migrata alla volta di Londra per un "concreto" praticantato da musicista di strada ma non tardante ad inserirsi fattivamente entro locali formazioni di ibrido stile, si è radicata sulla East Coast imponendovisi fattivamente tra le più attive figure del nuovo free, animatrice o co-protagonista ormai di decine d'incisioni, voce stabile degli ensemble di Anthony Braxton e particolarmente in causa nella scena creativa newyorkese dell'ultima e penultima generazione.
Si concede adesso una licenza dagli abituali ensemble (Anti House, Sleepthief, Tom Rainey trio e le sempre nuove quanto ormai incalcolabili line-up) ma non certo una sosta creativa, allestendo una formazione all-new che chiama a raccolta personalità di profilo vario ma comunque d'alto spessore, devolvendosi ad un settetto aderente alle forme più speculative dell'odierno avant-jazz, in particolare rispondendo ad un programma su commissione del Vision Fest di New York.
«Incaricata di assemblare una nuova band, non ho esitato coinvolgendo alcuni dei miei musicisti favoriti: Craig Taborn, Miya Masaoka, Tyshawn Sorey, Dan Peck and Sam Pluta, immaginando immediatamente la musica e, in ragione dei diversi background rispettivi e delle possibilità strumentali, ho allestito una partitura principalmente grafica e molto gestuale – più la "forma" di un pezzo che la sua tradizionale notazione. Questo brano è stato quindi accorciato nella title-track di questo album, Serpentines. Mi resi conto della mancanza di un altro strumento a fiato e, poiché ho sempre adorato la combinazione del sax con la tromba piccolo, fu facile la scelta di aggregare alla band l'incredibile Peter Evans, che suona in tre dei quattro brani.»
Così ha voluto introdurci di persona Ingrid Laubrock (come ormai di consueto), per una volta dissociata dal consorte Tom Rainey (nonché dalla ricorrente partner Mary Halvorson), per investirsi in un progettuale affresco di cui alle premesse, in cui i dotatissimi solisti s'installano con egualitarismo nel patchwork istantaneo, vivacizzato da frizzanti energie e colori effimeri ma di nitida tinta, cui contribuiscono gli alieni suoni del nipponico koto, ottoni di varia gravità e le sibilanti elettroniche, il tutto solcato da segni ed intuizioni, metallici ed eolici, della titolare.
Questa instancabile "musical border-crosser" volta dunque ulteriormente pagina verso un ulteriore livello di ricerca, molto intriso dello stato rappresentativo delle attuali post-avanguardie che, non soltanto per il ben amministrato assortimento delle timbriche quanto per la naturale propensione alla riconsiderazione della forma da parte di tutti i partecipanti, riesce con efficacia ad allestire un laboratorio spettacolare d'energie via via più frizzanti, abili ad organizzarsi entro un ben abitato corpo teatrante, in una tensione collettiva che è testimonianza spontanea della vitalità del fronte "open".
Aldo Del Noce, www.jazzconvention.net, 28 Ottobre 2016, Italy
Aufs Brooklyner Vision Festival 2015 war INGRID LAUBROCK eingeladen worden, um
etwas Besonderes zu bieten. Und ihr Sextett mit Koto (Miya Masaoka), Electronics
(Sam Pluta vom Peter Evans Quintet), Tuba (Dan Peck von Laubrocks Ubatuba) neben
Piano (Craig Taborn), Drums (Tyshawn Sorey) und ihr selbst an Tenor- & Sopranosaxophon
ist zweifellos außergewöhnlich. Für die Studioeinspielung von Serpentine
(Intakt CD 272) lud sie zusätzlich noch Peter Evans an Piccolotrompete & Trompete
ein. Die Musik, die sie sich dafür ausdachte, ist auf die Möglichkeiten der japanischen
Wölbbrettzither abgestimmt, auf den Reiz von Hoch-Tief-Kontrasten, auf die Manipulationspotenz
der Electronics und insbesondere die selbstbestimmt füllbaren Freiräume,
die ihre Konstrukte den Spielern einräumen, ja sogar abverlangen. Ähnlich wie bei
ihrem SWR NewJazz Meeting-Oktett 2011 verschwindet das Trennende zwischen
NowJazz und Neuer Musik in einer klangfarbreichen elektroakustischen Morphologie.
Was Farbigkeit und Kontrastreichtum angeht, so lassen die Bernhardiner-Pinscher-
Flirts der blubbernden Tuba mit der funkelnden Koto oder dem Glockenspielklingklang
von Laubrock und die Klangeffekte als solche, insbesondere die rauschende Gischt
und die granularen 'Störungen' von Pluta, an Wunderlichkeit nichts zu wünschen übrig.
Auch die squirreligen Kapriolen etwa von Piccolo und Soprano bzw. Piano und Tuba
bei 'Squirrel' erfüllen die großen Erwartungen als inspiriertes 'Yes we can'. Was bei den
Verlaufsformen, die durch Tempowechsel und durch die Zergliederung des Gesamtklangkörpers
in wechselnde Binnenkonferenzen gesteuert werden, vermisst werden
könnte, versuche ich mit dem Begriff Verlaufsform anzudeuten. Doch auch wer einen
architektonischen Entwurf und vertikale Vektoren favorisiert, sollte nicht überhören,
wie delikat Laubrock & Co. sich in 'Pothole Analytics Pt. 1' vertiefen (aber beim
spritzigen 'Pt. 2' nur peu à peu zur Ruhe kommen). Wie urig die Tuba bei 'Chip in Brain'
brummt, und wie die Trompete elektronische Untiefen überstrahlt. Oder wie spannungsvoll
alle miteinander beim Titelstück mit zarten Gespinsten ein Mysteryambiente
entfalten. Mich jedenfalls zieht Masaokas träumerisches Biegen der Kotosaiten und wie
sich Taborn da dazu träumt in seinen Bann. Dass Laubrock genau diesen Moment als
Ausklang offeriert, verrät viel über ihre 'Serpentinen'-Ästhetik. Es geht immer so vor
sich hin, und doch landet man zuletzt oben in dünner Luft und sublimer Offenheit.
Rigobert Dittmann, Bad Alchemy 92, Deutschland, 2016
Featuring Ingrid Laubrock on tenor & soprano saxes &
compositions, Peter Evans on trumpets, Dan Peck on tuba, Miya Masaoka on
koto, Craig Taborn on piano, Sam Pluta on electronics and Tyshawn Sorey on
drums. I caught an early version of this piece at the Vision Festival last
year and wasn't sure what to think so I had to listen more closely to this
disc a few times to hear what it is the I like so much about it. Ms.
Laubrock continues to grow in leaps and bounds, with each project or band
very different from anything previous. The unusual instrumentation of
saxes/trumpets/tuba/koto/piano/electronics and drums is certainly unique.
Opening with "Pothole Analytics" in 2 parts, the music is sparse yet
carefully laid out, like minimal strokes of paint on an empty frame.
Gradually layers of lines erupt, tight fragments, thoughtfully constructed.
The music is closer to the modern chamber music approach of Anthony
Braxton, who Ms. Laubrock has collaborated with. Tuba man Dan Peck is an
immensely diverse musicians who works in both chamber ensembles and his own
loud, metal-sounding trio. His growling tuba drone is at the center of
"Chip in Brain", another suspense-filled minimalist work which is superbly
hypnotic, with exquisite koto, trumpet, glockenspiel and hushed electronics
floating in the atmosphere. What makes this disc so special is that it
sounds as if Ms. Laubrock spent a good deal of time making sure each note
or sound is well-placed, cautious yet effective. Besides pushing herself to
take chances and experiment with her saxes, Ms. Laubrock has become of the
most inventive and unpredictable composers within the current,
ever-evolving Downtown Scene. Bravo!
Bruce Lee Gallanter, DowntownMusicGallery, November 11, 2016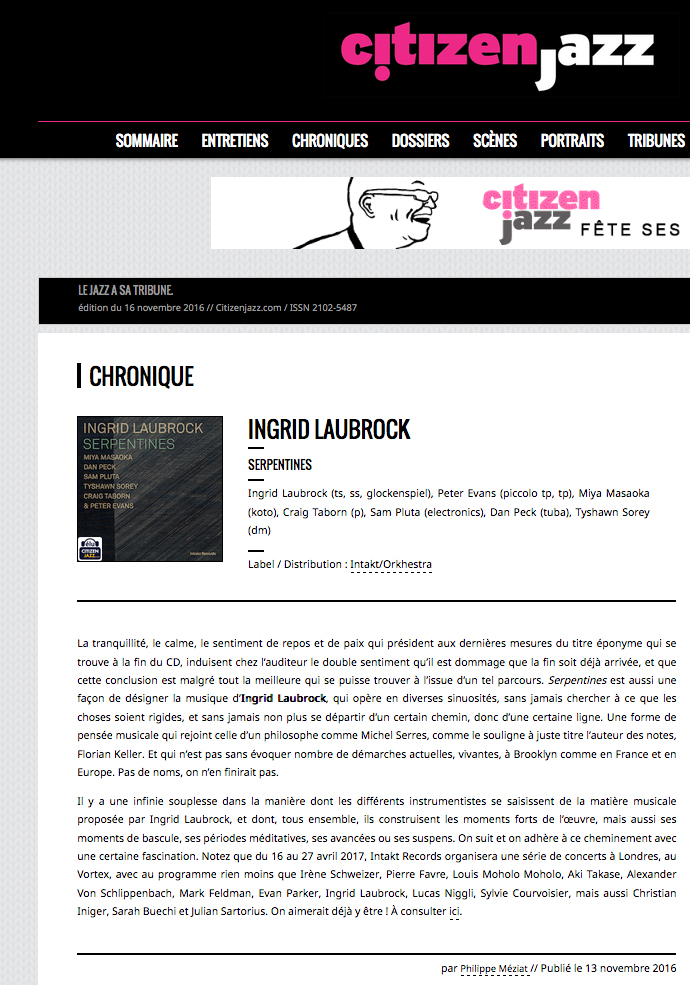 Philippe Méziat, Citizenjazz, France, Publié le 13 novembre 2016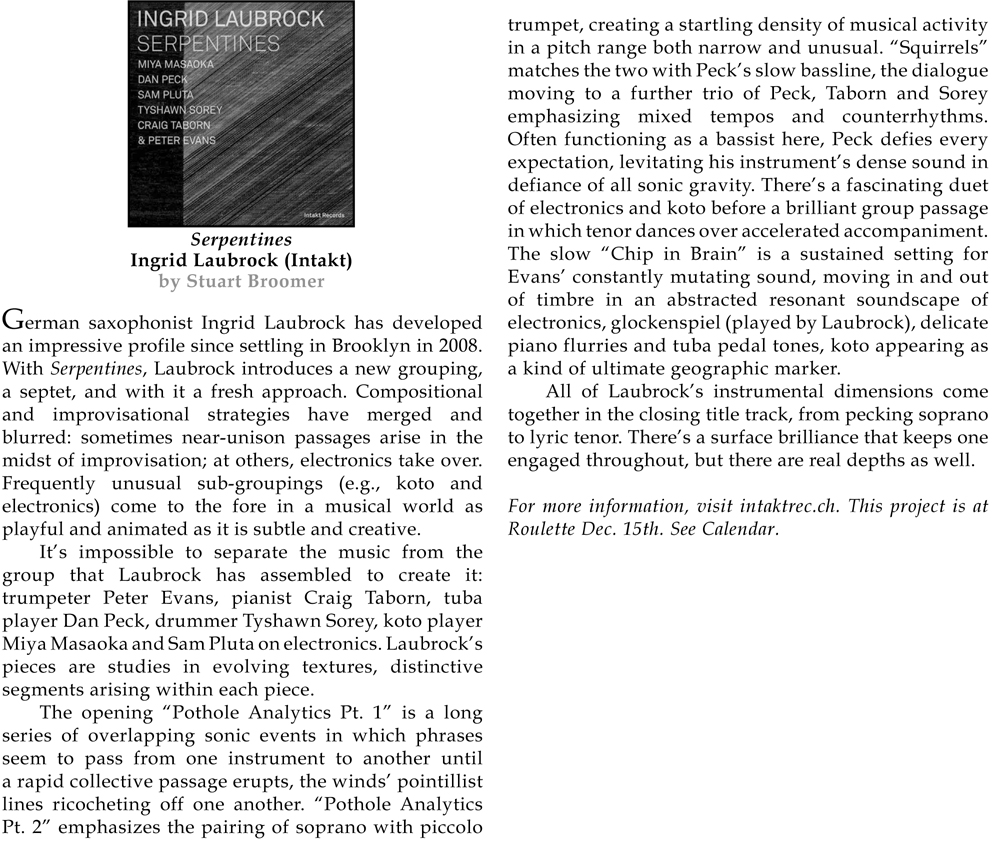 Stuart Broomer, New York City Jazz Record, December 2016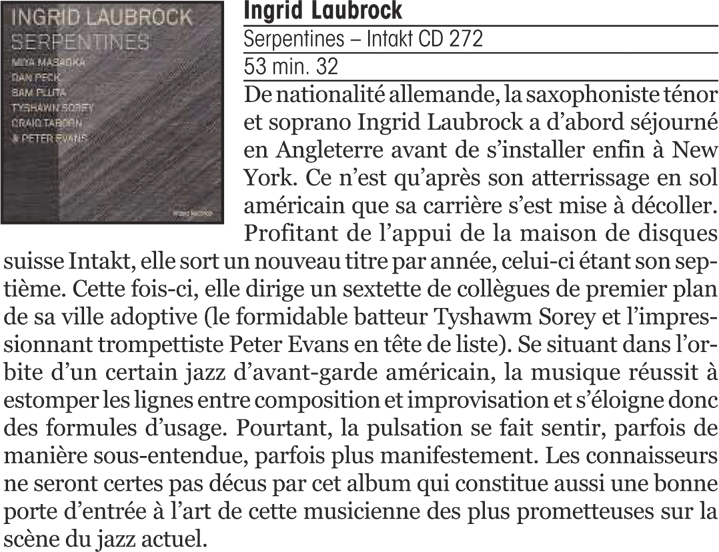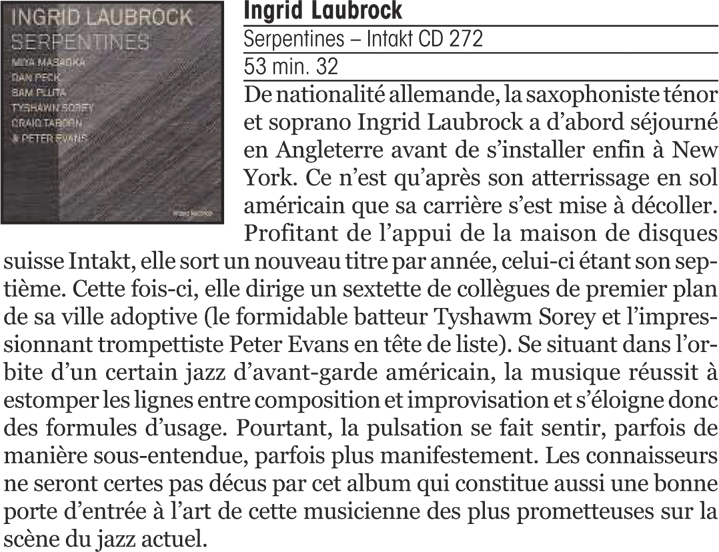 Marc Chenard, La Scena Musicale, Canada, December 2916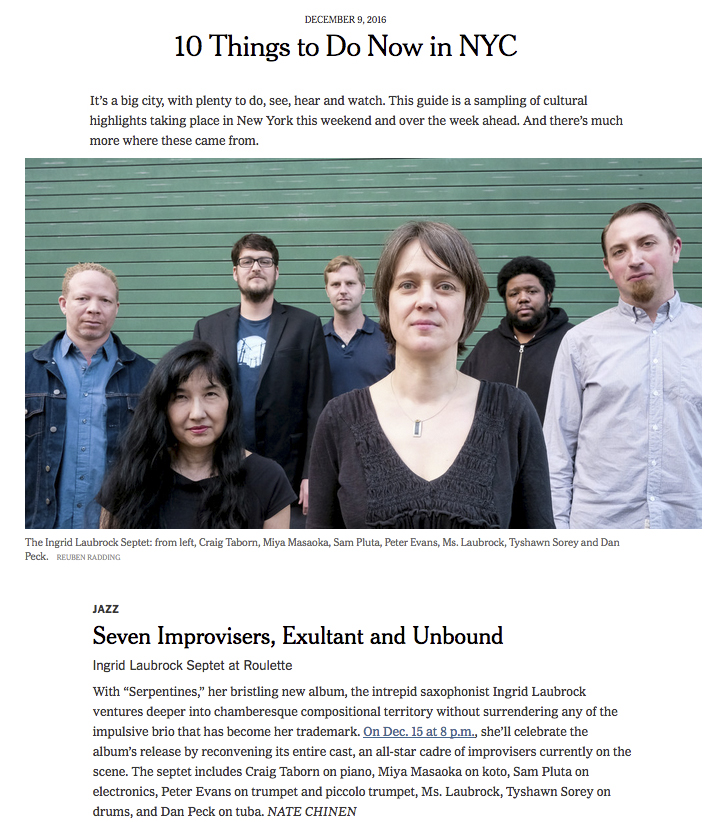 Nate Chinen, New York Times, Dec. 9, 2016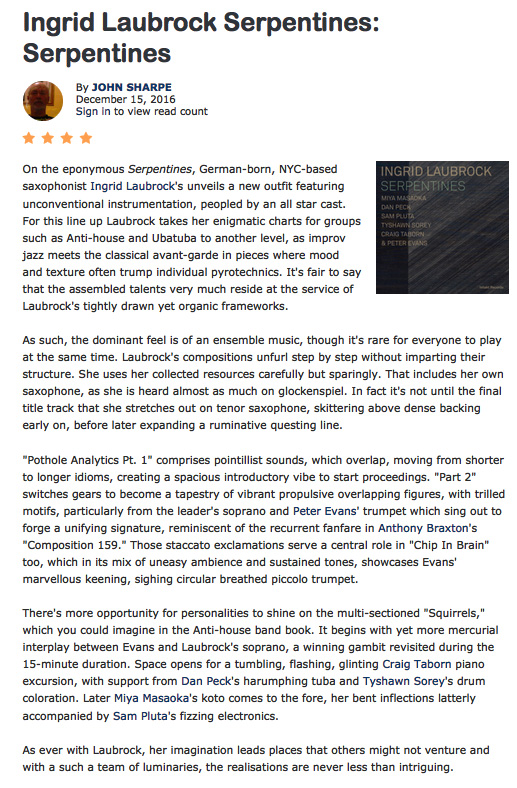 John Sharpe, All About Jazz, December 15, 2016
Best of 2016 CKUT in Montrea, Canada

tHO, Concerto, Österreich, Dezember 2016
Ingrid Laubrock, free d'excellence à JazzDor
Quel réjouissance de constater que le quartet free sans basse se compose chez Laubrock de trois femmes!
La cosmogonie musicale de la saxophoniste (ténor et soprano) Ingrid Laubrock, née en 1970, qui quitta son petit village allemand, pour s'installer en 2008 à Brooklyn, fédère la galaxie du jazz contemporain de la Grosse Pomme. On aura compris l'évidence quand, invitée pour la seconde fois à Strasbourg (après 2015 dans le quintet Capricorn Climber de Kris Davis), par le festival Jazzdor le 5 novembre 2016, la compositrice a catalysé son groupe de bout en bout. Et tétanisé la soirée. A la fois consciencieuse, droit dans son sax, et totalement déchaînée, l'épouse du batteur Tom Rainey (partie prenante du plateau), s'est transformée en épicentre d'un concert écouté bouche béé par une salle dont l'ovation s'est prolongée. On ne s'est pas privé de louer ici de Laubrock les contrôles inspirés des diverses formations Anti-House (toutes sur le label suisse INTAKT), la pureté du son, notamment dans les chorus a capella, la richesse des improvisations, la connivence quasi-fusionnelle avec les figures qui l'accompagnent (ici, rue de l'Abreuvoir, au CEAAC, l'une des antres du festival Jazzdor : Kris Davis au piano; Mary Halvorson à la guitare, et Tom Rainey).
Quel réjouissance de constater que le quartet free sans basse se compose chez Laubrock de trois femmes! Généralement Laubrock, auteure de la quasi-totalité des thèmes, ouvre le feu. A son compte les premières claques. Décollage instantané de la formation. Ce qui frappe, dans les développements, les péripéties des discours, les solutions inventées, c'est combien les solistes retombent sur leurs pattes, comme des chats en goguette. Pour les accueillir, souvent des unissons avec Halvorson, ou Davis, voire des enchevêtrements à trois. Les interactions entre Laubrock, la pianiste Kris Davis et la guitariste Mary Halvorson frisent la fusion totale. Ces deux dernières, héritières du compositeur Anthony Braxton, posent les mélodies comme dans un conte de fées post-free de la meilleure veine. Au soprano, le son cristallin rappelle que Steve Lacy n'a pas joué dans le vide. Les phrases subjuguent. Envie que le solo s'interrompe le plus tard possible. A la guitare, Mary Halvorson joue de plusieurs pédales, conclut parfois les morceaux par une réverbe qui s'évanouit comme un passant qui s'éloigne dans la brume. On se croirait dans un polar de Howard Hawks. Plus tard, la palette d'Halvorson nous plonge dans un autre émerveillement : un sample au bottle-neck, sur lequel la Bostonienne d'origine sertit un glissement superposé de blues, à nouveau au bottle-neck. Kris Davis entrecoupe de dissonances. Laubrock enrichit l'improvisation d'une rafale de spasmes. Le bonheur.
En final, avec de superbes arpèges en unisson, Laubrock/Halvorson/Davis ajoutent encore de nouveaux timbres à la collection. Enchanté, Tom Rainey salue à sa manière en froissant dans le tempo les feuilles de la partition. Sidéré, le public ne peut que se régaler, s'accroche à la moindre note, réserve les applaudissements pour la fin pour n'en pas louper un souffle. La densité de l'ensemble époustoufle. Impossible de vous énoncer les titres des morceaux (Laubrock me glissera après la prestation : «j'ai réservé les morceaux pour ce concert, je ne les ai pas encore nommés, mais je vous assure c'est pour bientôt»)! Laubrock garde le morceau Squirrel pour l'emballement final. Le soprano agile bondit, se pose plus haut sur un arpège de la guitariste, remonte encore sur les phrases de Kris Davis. Une heure s'est écoulée : la musique surprend encore. On se repose en haut d'un chêne... Quand Tom Rainey nous expédie vers les nuages. Quel alphabet incroyable! Les mains, les doigts, la sono, le mur, le sac de baguettes : tout solide bon aux mains du percussionniste à amplifier le plaisir. Personne n'a envie d'en sortir. Le public se retourne comme sur son matelas un jour de grasse. Tente de relancer un deuxième rappel. Ingrid Laubrock, à regret, annonce la fermeture du programme. Celle qui m'avoue avoir choisi le ténor pour faire la manche dans le métro («clairement plus pratique que le piano») continue sa route. On ne rechignera certainement pas à la suivre.
Bruno Pfeiffer, Libération, 4 décembre 2016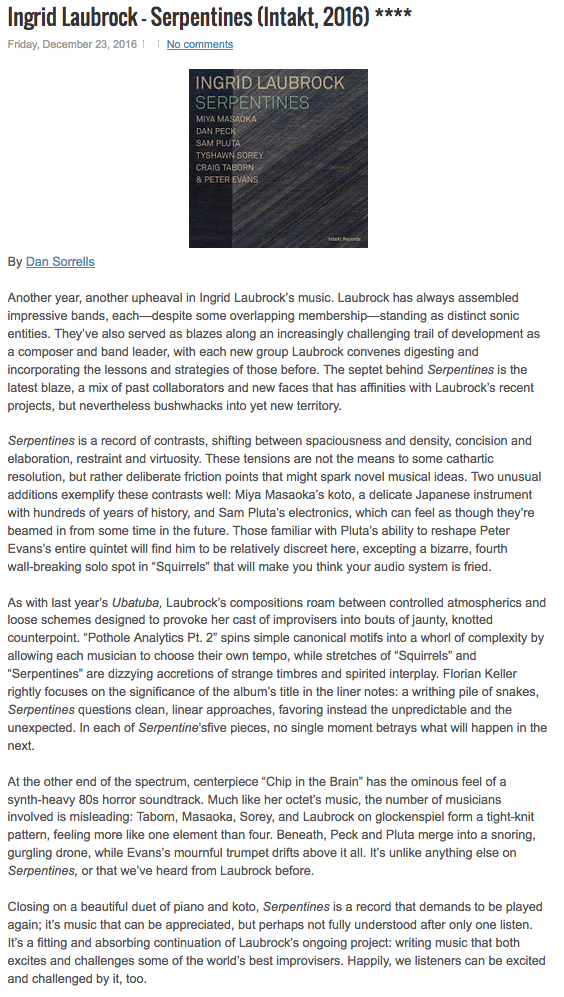 Dan Sorrells, freejazzblog, December 23, 2016
Avec Ubatuba, Ingrid Laubrock avait entamé une mutation qui semble irréversible. La musicienne allemande, renommée pour son Anti-House ou encore pour son trio avec Tom Rainey et Mary Halvorson, ce sont de saxophone à la fois chaleureux et légèrement écorché recherche les associations inouïes et les constructions complexes. Elle délaisse même la primauté du jeu pour celui de la direction où les relations particulières entre chaque musicien est la base d'un jeu d'assemblage à la fois abstrait et indiscutable qui tient du jeu de mouvement.
Sur Serpentines, son nouvel album avec un septet inédit (même si le tubiste Dan Peck est toujours fidèlement là), les deux parties de "Pothole Analytics" qui ouvrent l'album en sont de parfait exemple ; le jeu minimaliste et atonal semble passer d'un musicien à l'autre comme une balle qu'on reprend de volée.
Il y a quelques pas de deux, et même des crunches endiablés pour se disputer le passage, mais ce sont des instants très joueurs. La trompette de Peter Evans, habitué à animer Mostly Other People Do The Killing est particulièrement en pointe lorsqu'il s'agit de férailler avec le ténor ou le soprano de Laubrock. Il ne rechigne pas non plus à se lover entre les cordes de la joueuse de koto Miya Masaoka. Pour le reste, il laisse Dan Peck et le pianiste Craig Taborn s'occuper du travail discret mais indispensable de l'amalgame entre toutes ces petites cellules qui pourraient, sans cela, sembler totalement éparpillées.
Masaoka est certainement la grande trouvaille de cet album, avec l'électronicien Sam Pluta qui a souvent joué avec Peter Evans et agrémente l'album de sons inédits. Le koto a ceci d'inédit qui apporte des sonorités finalement peu éloignées de ce que Mary Halvorson peut proposer par ailleurs chez Laubrock.
C'est cependant une couleur différente, qui prend même des atours tout à fait poétique sur le long "Serpentines" qui clôt l'album sur une forme d'apaisement et de concorde entre Taborn, Laubrock et Masaoka.
Serpentine colle bien à cette musique d'Ingrid Laubrock. Elle cherche, elle louvoie, elle entame des virages inattendus, mais jamais elle ne se semble se perdre. La saxophoniste garde cette attitude qui fait sa renomée depuis plus d'une décennie.
Celle d'une musicienne qui trace sa route sans hésiter mais en serpentant, en prenant son temps, en négociant avec la plus grande attention chacune des trajectoires qui sont soulignées avec beaucoup d'à-propos par la batterie de Tishawn Sorey qui privilégie le relief et la sculpture plutôt que la pulsation. "Squirrels" est ainsi l'occasion de petites explosions sporadiques qui viennent à former un tout implacable mais résolument mouvant.
Certains pourrait songer que tout ceci est froid et cérébral. Ce disque démentira ce trait qu'on est en droit de trouver franchement injuste. Ingrid Laubrock fait partie de ces musiciens à la discographie sans accroc. On pourrait même avancer que si Anti-House était un exemple de musique centripète, qui ramenait tout vers le noyau, Serpentines  est une définition du centrifuge, qui projette vers l'altérité.
Anti-House, nous l'écrivions, est la maison de Laubrock. Ici, elle va visiter le vaste monde, en quelque sorte.
On est ravi de la voir perdurer dans cette voie que l'on peut largement attribuer à son travail au long court entamé avec Braxton, qui a tendance a s'accélérer avec le temps et à infuser sa musique avec bonheur. Ainsi, "Chip in Brain" est le sommet de cet album s'y réfère à petite touche, notamment lorsque Pluta vient altérer de sons puissants et transcendants une passementerie subtile.
On est ravi de cet album joliment versatile et joyeusement serpentin. Encore une grande réussite d'Intakt Records.
Franpi, Sun Ship, 30 décembre 2016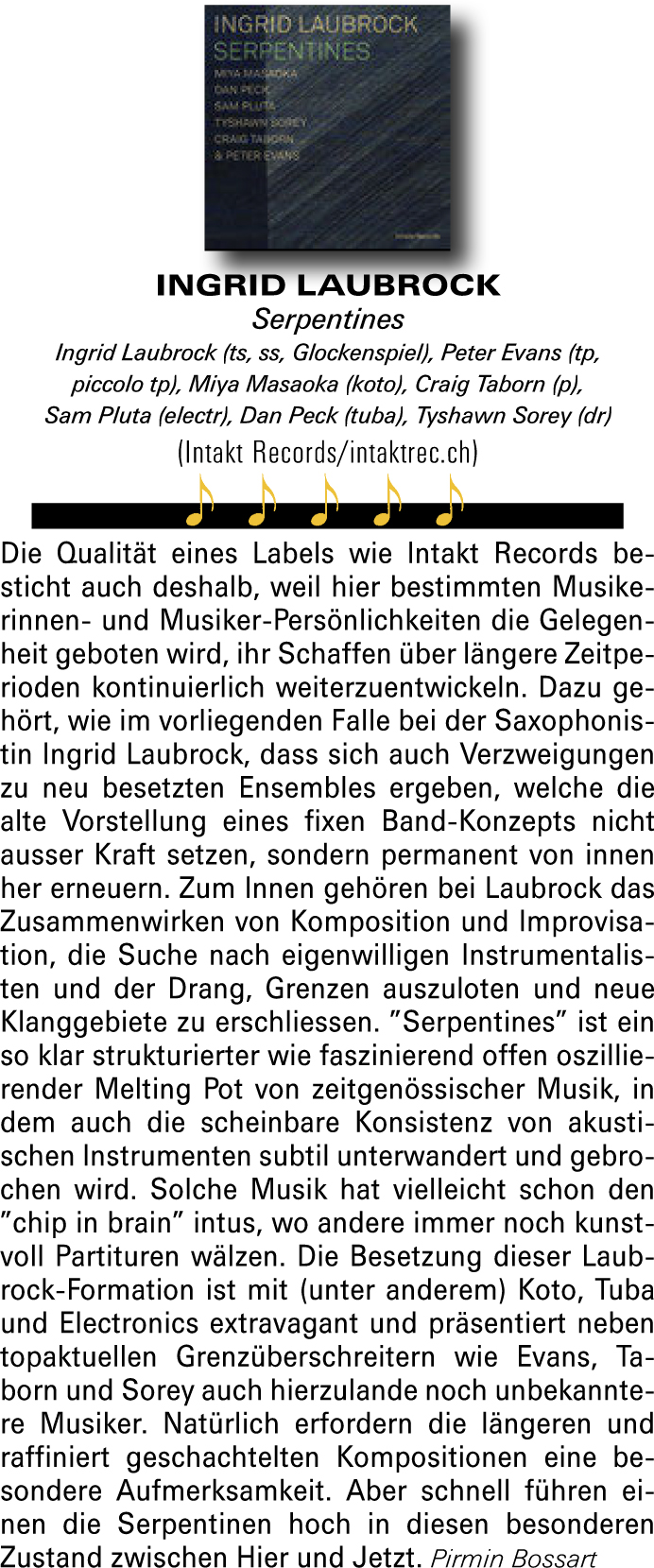 Pirmin Bossart, Jazznmore, 1-2 2017

Henning Bolte, Jazzthetik, Januar 2017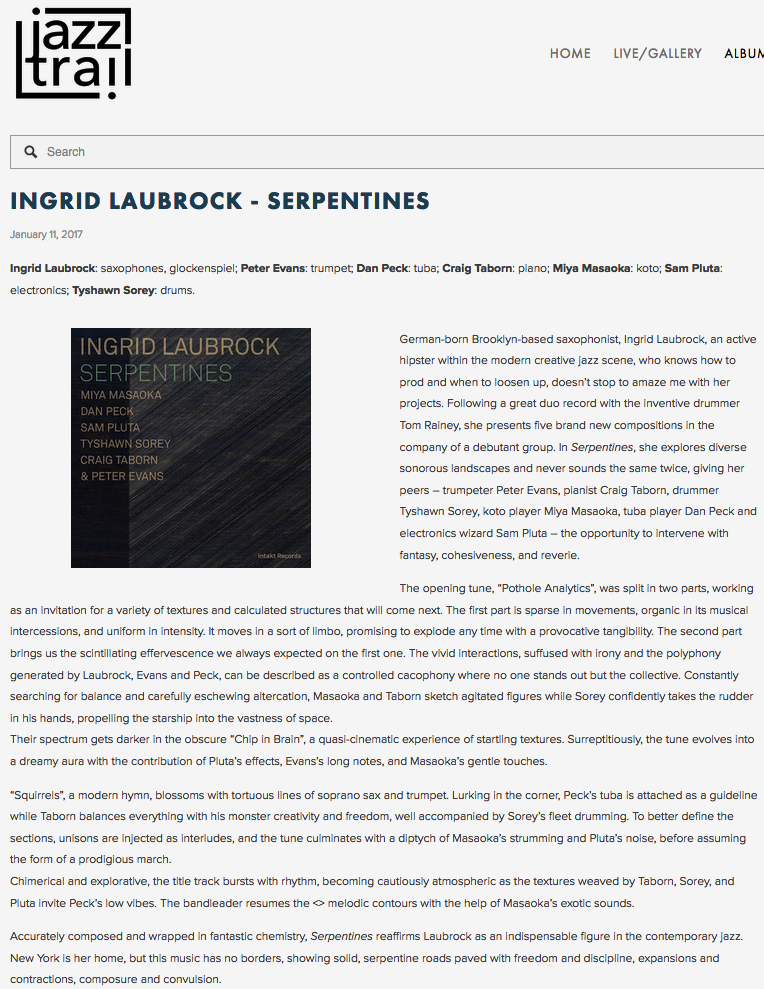 Filipe Freitas, Jazz Trail NYC, 2017.1.11.

Selwyn Harris, Jazzwise, London, February 2017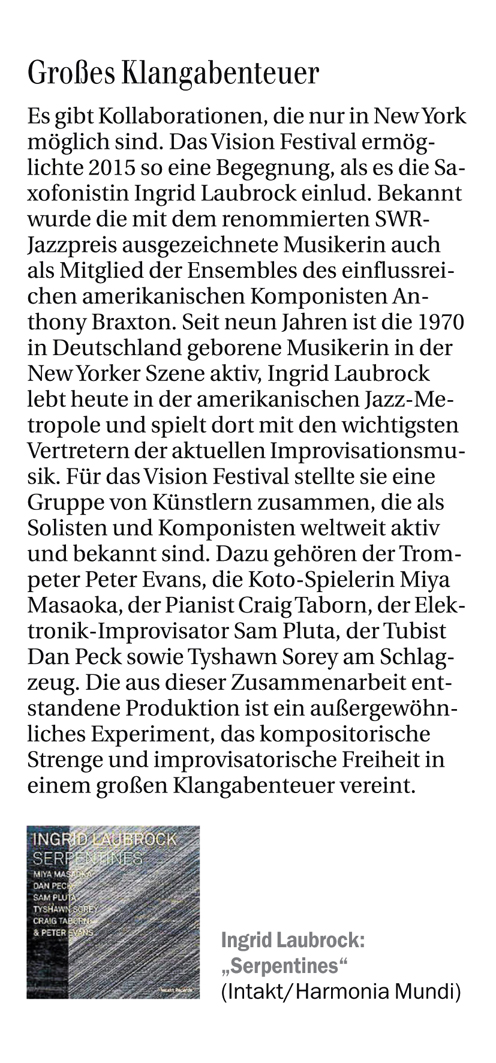 Christian Broecking, Berliner Zeitung, 22. Januar 2017
Rolf Thomas, Jazzthing, Februar 2017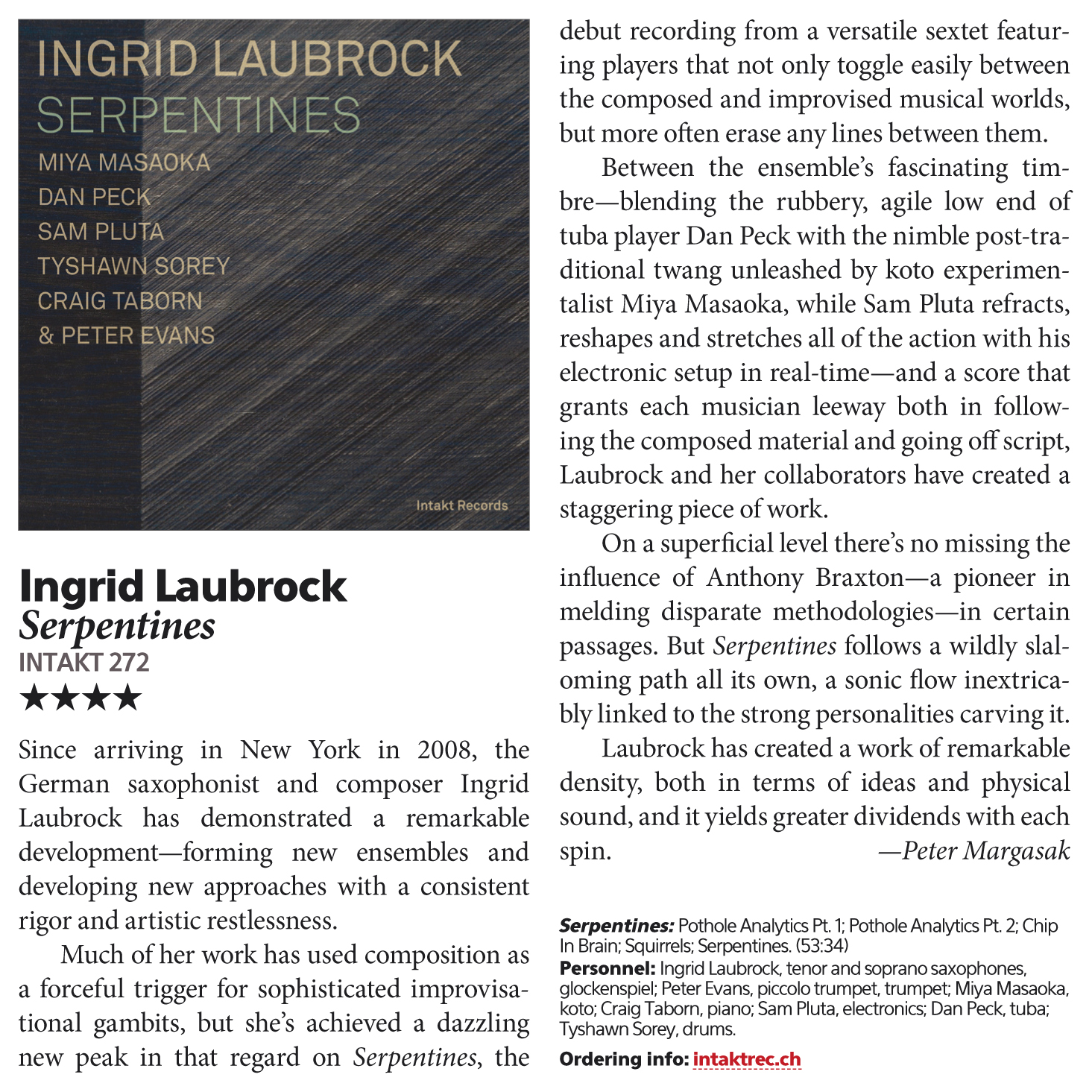 Peter Margasak, Downbeat, March 2017
As I began this post last night, the Grammy Awards were being handed out. Downloads of music were reportedly greater than CDs sales over the past year. That means most people listen to the music in a completely different way than they did ten or more years ago. Albums don't really matter, and forget about cover art. That went out with the 20th centure.
Don't mention this to anyone in Europe, especially the jazz fans. On further thought, do tell them. I'd like to hear what their reaction is. They'd probably say we Americans don't appreciate a good thing, treating music like disposable, expendable bits of entertainment.
While record labels continue to be antiquated by the general public in the states, one label in Switzerland continues to churn out albums at such a rate that even their devoted supporters (Hi!) have trouble keeping up with them. A quick look at this blog will show that I get the chance to write about a release once in a while, but there are plenty more out there. Aside from the ones I reviewed in the past twelve months, I dug the Fred Frith Trio's Another Day in Fucking Paradise (for, among other things, a great album title), the Musical Monsters disc (which unearthed a 1981 performance by Don Cherry, John Tchicai, Irene Schweizer, Leon Fancioli and Pierre Favre) and Jim Black's The Constant. Black also just released a new electric project called Malamute (look for my review in an upcoming JazzTimes).
Saxophonist Ingrid Laubrock released her Serpentines project in November, followed this month by her collaboration with bassist Stephan Crump and pianist Cory Smythe, Planktonic Finales. Both discs complement each other while also showing different sides of the creative composer and improviser. Any label that will invest in an adventurous artist in that short a time period isn't going to have any regard for mass acceptance or sales anyway, just the music.
Serpentines puts Laubrock's tenor and soprano (and bits of glockenspiel) in the company of Peter Evans (trumpet, piccolo trumpet), Craig Taborn (piano) and Tyshawn Sorey (drums). Rather than utilizing a bassist, Laubrock brought in Dan Peck on tuba. Also along for the adventure are Sam Pluta (electronics) and Miya Masaoka (koto), who float in and out of the five tracks. Come to think of it, most of the players do that as well. The two-part "Pothole Analytics" begins with pointillistic sounds from the horns, jutting out without really cohering just yet. Things start to gel in part two, with soprano, trumpet, tuba and piano moving in parallel lines. Even Sorey, who can fit into any setting, seems to have a written part that drives things along. As quickly as things picked up, they also die down in the final minute.
"Squirrels" could have been banded into two tracks, like "Pothole Analytics" since the 15-minute piece has two distinct parts. After another rollicking soprano/piccolo trumpet conversation that appears to move from free to structured, the second half of the piece gets spare and open. Peck's tuba and Masaoka's koto create a pensive sound to which Pluta adds some electric static. Sometimes musical, sometimes noisy, it adds to sound and, at one point, makes the disc sound like it's defective. The rest of the band slowly eases in, with Laubrock casually joining the crew to close it up.
The group stretches out on the other two tracks with some fine moments, though things come up a little short. "Chip in Brain" is a dark tone poem built largely on low, long tones from Peck. The combination of Taborn and Masaoko create some harplike sounds but as Evans moves from intermittent blasts to his own long tones, things never completely catch fire. The title track starts at a high level - with two minutes of free band blowing. Then things pull back to feature the piano and koto in an understated combination. It's engaging in its spareness but it doesn't end on any type of grand statement; it merely winds down.
Stephan Crump (who plays with Vijay Iyer and leads his own Rosetta Trio and quartet Rhombal) has released several intimate, free improvised discs for Intakt (with Steve Lehman and in Secret Keeper with Mary Halvorson). The seeds for Planktonic Finales were sown when Laubrock invited Crump and pianist Cory Smythe to her rehearsal space to play. Smythe has a background in classical music but played on Tyshawn Sorey's two recent albums, proving his flexibility as an improviser. The natural chemistry between the players worked so well that they attempted to recreate it - or perhaps continue it - by going into the studio.
In some ways, Planktonic Finales resembles Serpentines. It often moves slowly, casually, so as not to rush anything. "With Eyes Peeled" opens the album like an exposition, with each player figuring out the space between them. But more direction comes with each track, as if the whole set was originally recorded as a complete 54-minute piece and divided into 11 tracks later.
When Laubrock switches to soprano on "Sinew Modulations" her languid tenor sound is likewise transformed into a plucky attack, followed by some walking bass from Crump and some Monk-like interjections from Smythe. On "Through the Forest," the piano rises and falls, abruptly dropping out at one point, which gives the music a good accent. After exploring the space methodically for awhile, the trio finally cuts loose and wails on "Bite Bright Sunlight," but in another sly maneuver, they stop just shy of two minutes, knowing there are other roads to take.
Both of these albums keep the surprises coming. Some of them might not be discovered until you've made several returns to the disc. That type of approach might not be rewarded with statuettes, but as long as it keeps coming, let's consider ourselves lucky.
Mike Shanley, Monday, February 13, 2017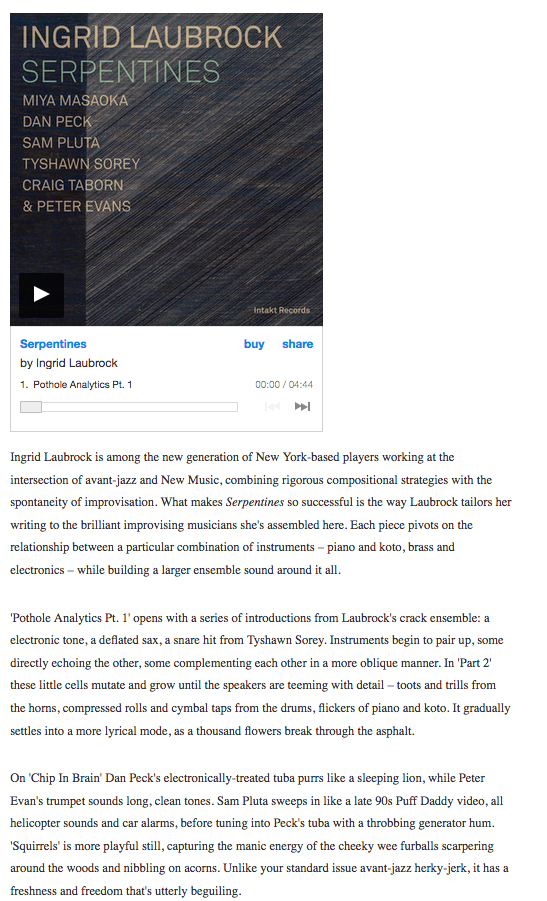 Stewart Smith, The Quietus, February 20th, 2017
Kay Friedrichs, Klenkes, 2-2017

Mischa Andriessen, Jazzmozaiek, Belgium, March 2017

Pierre Tenne, Jazz News, France, 2017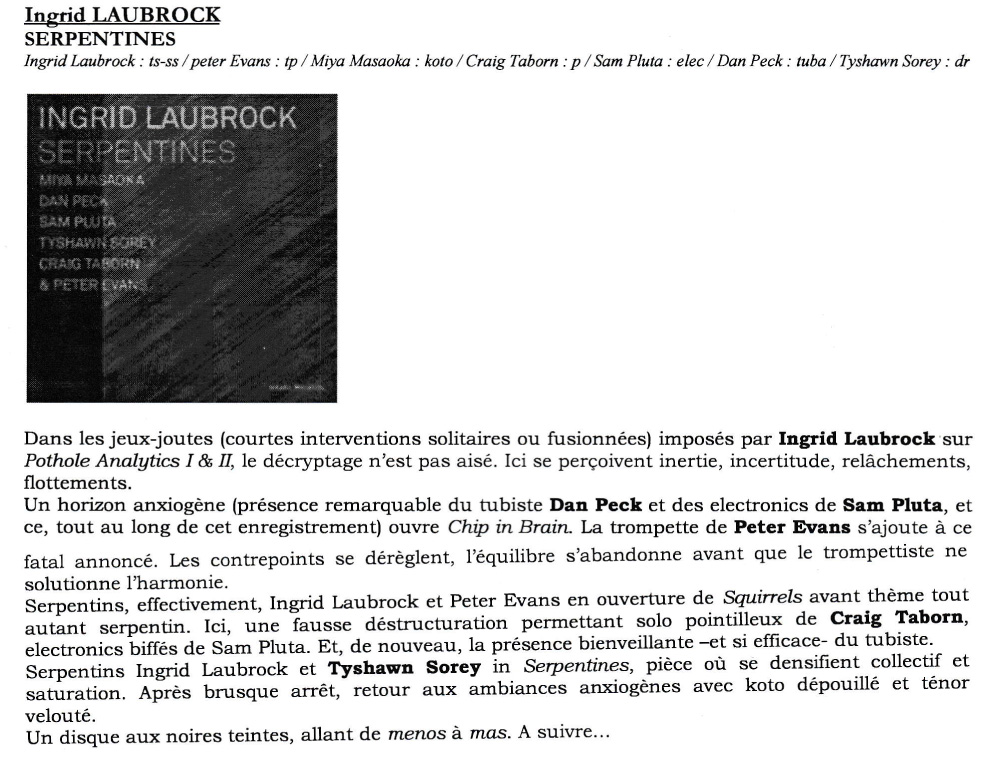 Luc Bouquet, Improjazz Nr. 234, France, 2017
If a virtuoso storm is created throughout this recording it is because of the stellar nature of this ensemble led by saxophonist Ingrid Laubrock. It's almost as if trumpet and koto duel with piano, tuba, drums and electronics while the saxophones and glockenspiel of Ingrid Laubrock is the glue that holds all of the seemingly disparate pieces together providing an occasional astringent edge to a curvaceous melody or extra heft to low, sustained notes played by Dan Peck on tuba in support of the horns. However, while Laubrock capably commands her part, her playing is also extremely pliant and she is often heard to yield to the more incisive phrasing and intonation of Peter Evans' trumpet or Craig Taborn's piano. And all of the musicians in this magnificent ensemble benefit from more detailed engineering in contrast to many recordings of other medium-sized groups' overly reverberant acoustics.
Raul da Gama (from "The Intakt Adventure Continues"), jazzdagama.com, May 1, 2017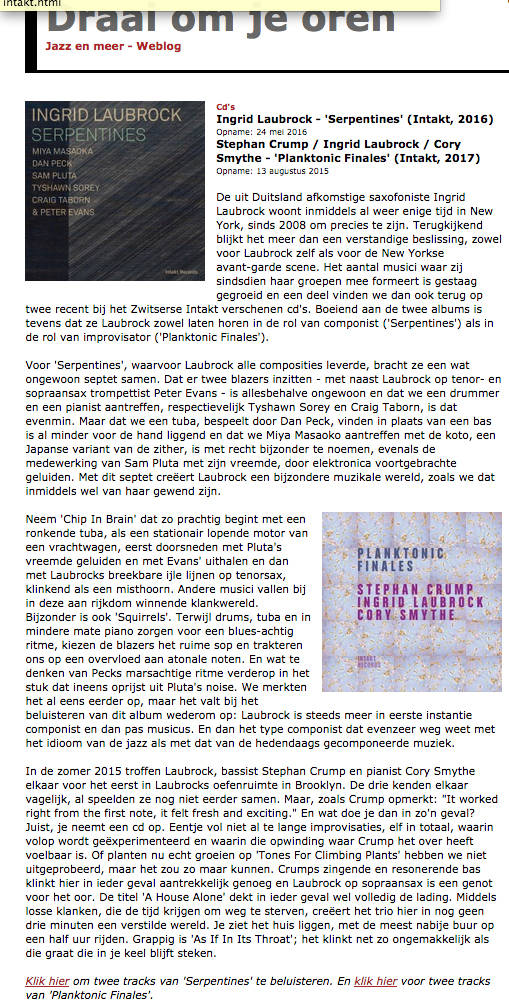 Ben Taffijn, Draai om je oren, Jazz en meer - Weblog, donderdag 24 augustus 2017
Peter Margasak, Chicago Reader, October 05, 2017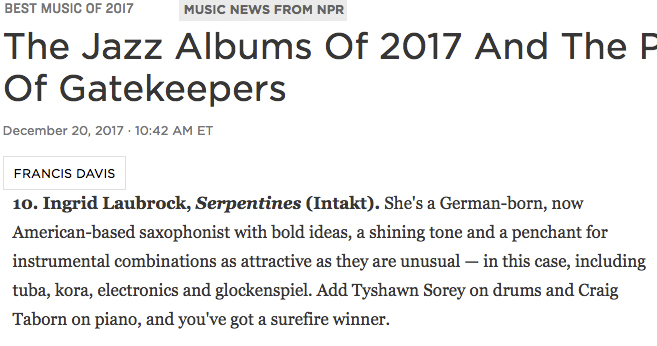 Francis Davis, npr music, The Jazz Albums of 2017, December 20, 2017