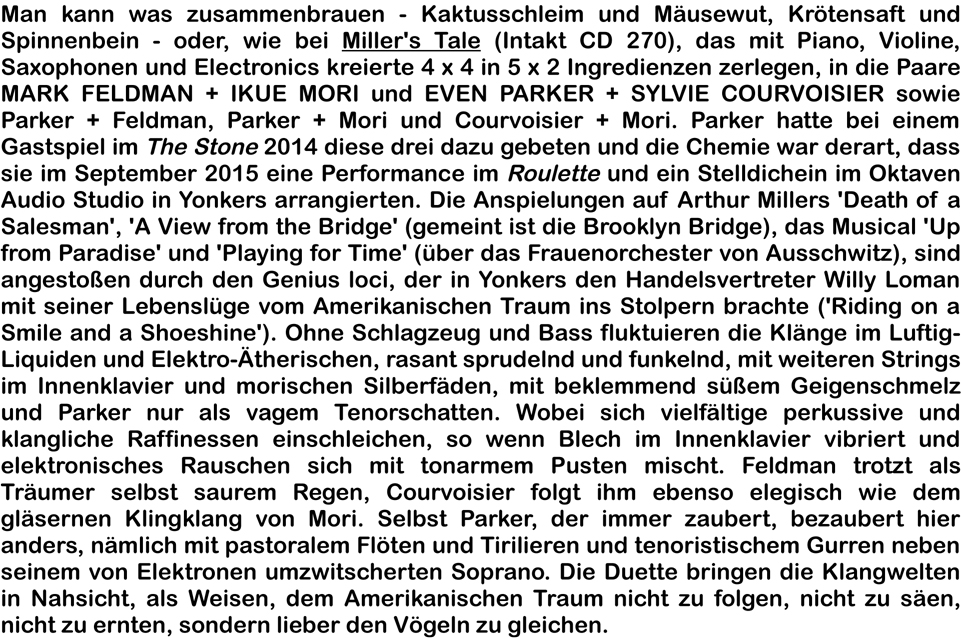 Rigobert Dittmann, Bad Alchemy, BA 90_2016
Vivido affresco elettroacustico, combinazione di talenti ed istinti di quattro differenti interpreti del suono liberato, Milller's Tale è più che una "rinnovata versione" del quartetto di Courvoisier & Feldman: non che le altre incarnazioni fossero costrittive o di tono minore (arruolando tipi tosti peraltro, quali Gerry Hemingway o Scott Colley tra gli altri) ma è dalle speciali sinergie di queste personalità che sortisce un campionario creativo di corposo interesse.

Non poteva certo fungere da attrattivo belletto la partecipazione del vulcanico Evan Parker (nessun bisogno di presentazioni, fino a qui), ma l'ensemble s'integra di speciale valore aggiunto completandosi con la performer elettronica Ikue Mori, che nell'ambito almeno del mondo di Courvoisier ricordiamo entro il quintetto di Lonelyville, e soprattutto in un trio comprendente anche la decana Lotte Anker.

Questa apporta dal suo laptop frizzante colore ed eccentrico estro ad un soundscape mai dormiente, tinteggiato e scolpito dagli interventi assertivi e brucianti delle ance di Parker, dalle frementi fibre del violino di Feldman, nonché dalle sottili campiture e dalle acrobatiche estensioni tonali della tastiera di Courvoisier.
Traendo una libera ispirazione da pièces del drammaturgo Arthur Miller (che titolano le singole tracks, oltre a suonare variamente familiari, da Death of a Salesman a A View from the Bridge e via dicendo), i quattro si riuniscono per una session di totale e non pre-ordinata improvvisazione, in quattro cimenti in formazione completa, quindi cinque duo in varia combinazione, con eterogeneo, spesso sorprendente esito formale, in cui non si attenua il tono dell'esplorazione e dei reciproci ascolto e scambio, conformando volatili sculture sonore nella cui essenza disinvoltura formale non esclude senso drammatico e istinto per la bellezza.

Aldo Del Noce, www.jazzconvention.net, 13 Giugno 2016
SYLVIE COURVOISIER / MARK FELDMAN / IKUE MORI / EVAN PARKER - Miller's Tale
(Intakt 270; Switzerland) Miller's Tale is the high point of the
collaboration of the distinctive musicians Sylvie Courvoisier, Mark
Feldman, Evan Parker and Ikue Mori. In September 2015, they recorded the
fully improvised pieces for this album. The album's track sequencing of
first four whole group pieces followed by five duo pieces offer multi-faced
aural impressions and a rich listening experience. Henning Bolte writes in
the liner notes: "Our ears usually first adhere to the known, the familiar.
But they 'squint' to something thrilling, to beautifully disturbing things,
something extra to enjoy as listeners. Its attractiveness is strongly
related to the quality of the known/unknown interweaving in the music. The
sensible pleasure of the four musicians in Miller's Tale offers numerous
arousing moments to personally connect with the music."
Featuring Sylvie Courvoisier on piano, Mark Feldman on violin, Evan
Parker on soprano & tenor sax and Ikue Mori on electronics. This quartet
together once (in duos & trios) during an Evan Parker residency at The
Stone and decided to record a quartet improv session in a studio one year
later. The results are astonishing, half quartet pieces and half duos, all
amazing. Ms. Courvoisier is a master of working her magic playing inside
the piano and she is central to what makes this session so special. Both
Sylvie and Ikue are sonic sorceresses, creating strange and marvelous
sounds together. Mr. Parker on both saxes and Mr. Feldman on violin also
weave their lines amongst the fascinating electro-acoustic blend. This is
high end improv at its best and most compelling. Their sonic web casts a
mysterious spell which can't be denied. Superb!
Bruce Lee Gallanter, Downtown Music Gallery, New York, July 2016
En 2014, ces musiciens s'étaient rencontrés pour une résidence au Stone de New York en une série de duos, et un set en quartette. Un an plus tard, la veille d'un concert au Roulette de Brooklyn, les voici en studio à Yonkers, en quartette, et aussi pour une série de duos. Comme c'est dans cette ville que le personnage principal de Mort d'un commis voyageur , la pièce d'Arthur Miller, provoque volontairement l'accident qui lui sera fatal, les musiciens ont divisé leurs improvisations en autant de séquences dont les titres renvoient à cette pièce. Et le titre de l'album évoque ce « Conte de Miller ». Quatre plages en quartette précèdent sur le CD cinq duos. Les instruments entrent en scène les uns après les autres, dans la vigueur de l'échange, et la liberté de l'improvisation. L'attention mutuelle est palpable, l'engagement collectif total, et l'on se laisse porter de bout en bout par ce jeu parfois dangereux, toujours empathique (mais pas emphatique!). Dans les improvisations en quartette comme dans les duos la forme s'élabore, comme par magie, et l'on se prend en fin de plage à la percevoir par rétrospection, comme si tout cela s'était composé par un dessein collectif. Pour avoir beaucoup écouté, et depuis des lustres, de la musique (totalement) improvisée, idiomatique ou non, je me suis souvent fait la réflexion suivante : certaines de ces improvisations sont plus lisibles, plus accessibles, quand on les goûte au concert (ou en captation vidéo, quoique je ne sois pas friand des vidéos musicales). Mais ici on est dans l'un de ces cas, somme toute assez rares, où l'évidence musicale est telle qu'elle s'impose par la seule médiation de l'enregistrement sonore. Et je dois dire qu'avec ce disque, j'ai été embarqué dès l'abord, et transporté jusqu'à la fin de la plage conclusive. Je ne vois rien d'autre à dire que vous suggérer, vous aussi, de faire ce voyage, qui vaut vraiment d'être entrepris.
Xavier Prévost, lesdnj.com, France, July 2016

David Cristol, Jazzmagazine, France, August 2016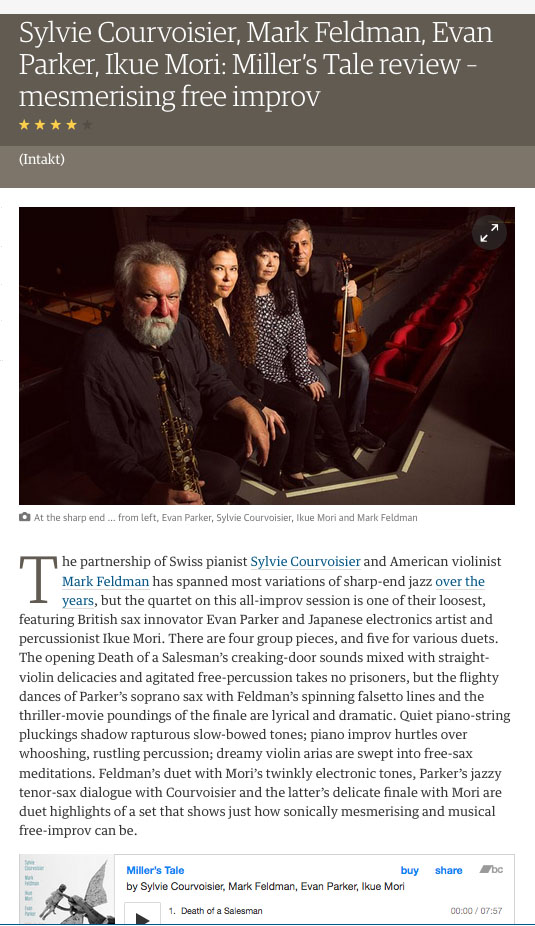 John Fordham, The Guardian, July 21, 2016

John Sharp, New York City Jazz Record, August 2016
This is an exquisite session by a supremely well-balanced electronic-acoustic quartet.
The lynchpin of the group might be Swiss pianist Sylvie Courvoisier, if only because of her recent duets with one bandmate, British saxophonist Evan Parker (2014's Either And Or on Relative Pitch), and longstanding relationships with the others, American violinist Mark Feldman and Japanese electronics artist Ikue Mori.
The first half of Miller's Tale (Intakt) brings this international cast together on four fully improvised quartet pieces. The second presents duets by every potenreal pairing but Courvoisier/Feldman (a partnership already represented by five previous duo and small ensemble recordings on Intakt alone).
The set begins with the quartet's most dramatic and invigorating performance, and ends in the intimacy of the duets. The gradual sharpening of focus has a truly entrancing effect.
"Death of a Salesman" is a mesh of creaky, scrabbling and soaring violin, Mori's shattered glass electronica, damped piano frame percussions and harp strums, and Parker's serpentine saxophony. The whole thing is launched skyward by Parker and Feldman's unison lyrical ascension, but ballasted by Courvoisier's pounding bass notes.
After such drama, "A View from the Bridge" weighs Mori's fractured electronic birdsong against a tension between Parker's snaking sax lines and gravid chamber-music piano and violin.
"The American Dream" – the longest piece by far at 13:30 – begins as a forthright Courvoisier/Mori dialogue, with (presumably sampled) snare drum hits mirroring the stress tensions in Courvoisier's animated improv. This intro is bought to a hush by Parker's monotone circular breathing, which sets the scene for a mournfully lyrical Feldman solo that's shadowed by wisps of rustling and chirruping electronica, and bolstered by a solemn and sensitive piano accompaniment.
The last of the quartet pieces, "Up from Paradise", is exceedingly gentle, with Parker's tender lead soprano cushioned by an electronic aureole as it unfolds in curlicues of circulated breath to the accompaniment of plucked strings, then yields to Courvoisier's piano – brittle ivory glints against electronic wisps and slithers of strings and sax.
The five duets further heighten the listener's receptiveness by accentuating specific tonal relationships: the constancy of the violin's tactility when set against the capriciousness of Mori's typically frangible electronics, and Mori's ability to mould and sustain sounds versus the violinist's gestural temporality; the initially confrontational, targeted impacts of Courvoisier's and Parker's steely pas de deux, versus Parker and Feldman's slithery, lyrical entwining; Mori's shapeshifting, as she puts Parker's versatility and mastery of technique to the test, then acts as a future-Orientalist prism for the refraction of Courvoisier's elegant classicism.
This is improvised music as its most refined. Everything's beautifully captured, rendering the ensemble's every expressive subtlety of sound or allusion as ravishment.
Tim Owen, Dalston Sound, London, August 2, 2016



Martin Schuster, Concerto, Österreich, 4-16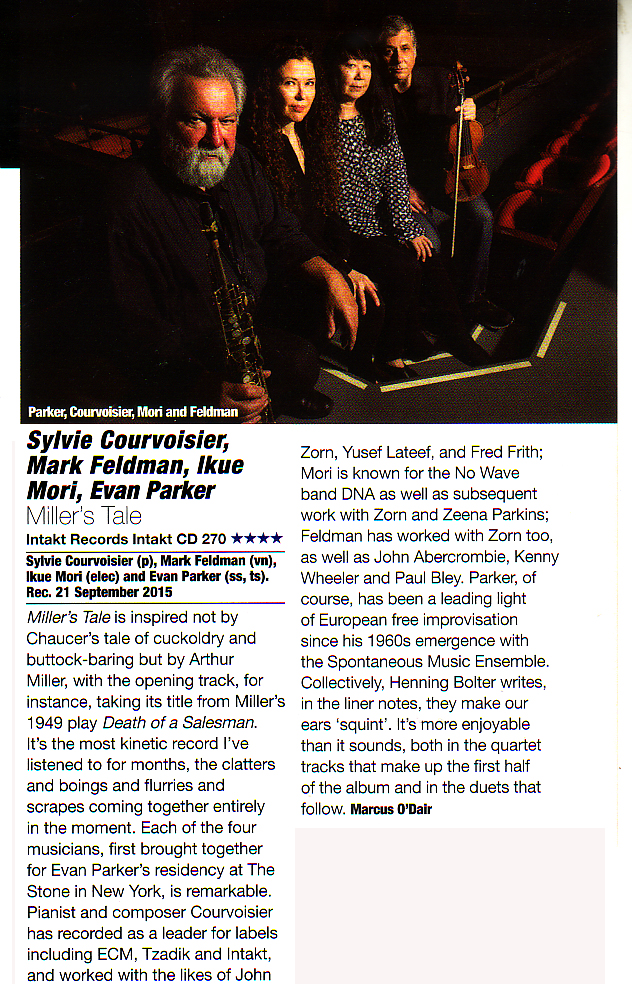 Marcus O'Dair, Jazzwise, London, September 2016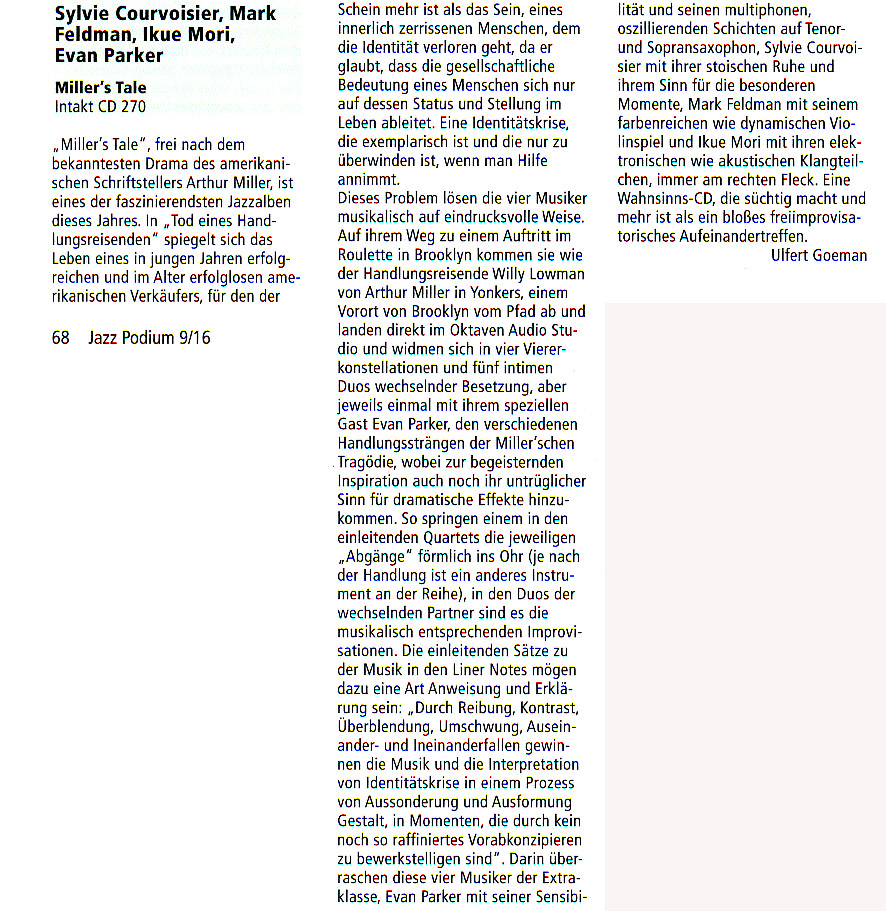 Ulfert Goeman, Jazzpodium, September 270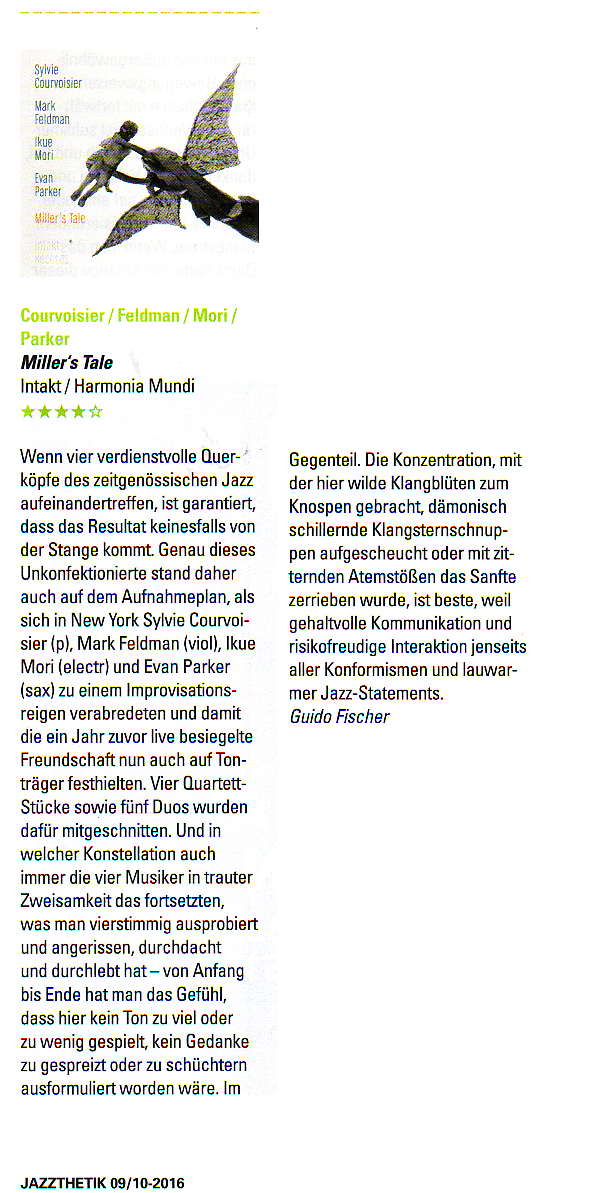 Guido Fischer, Jazzthetik, September-Oktober 2016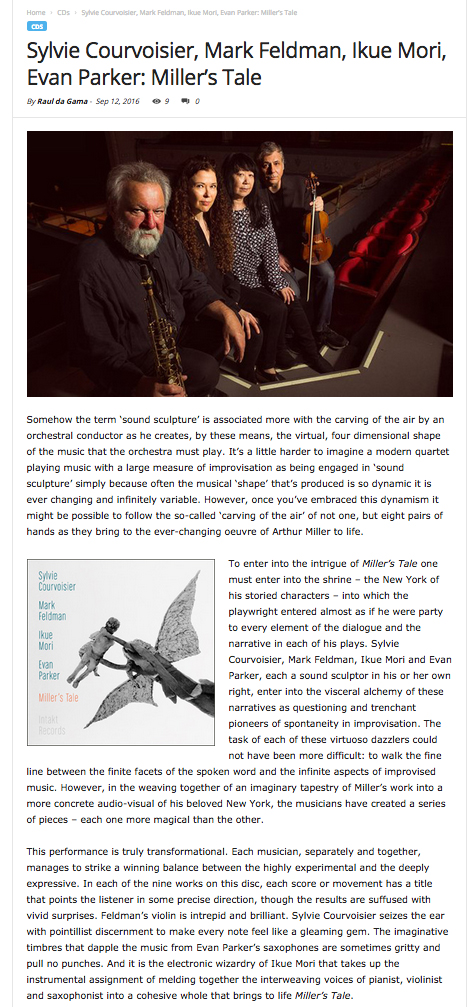 Raul da Gama, Jazzdagama, Sept. 12, 2016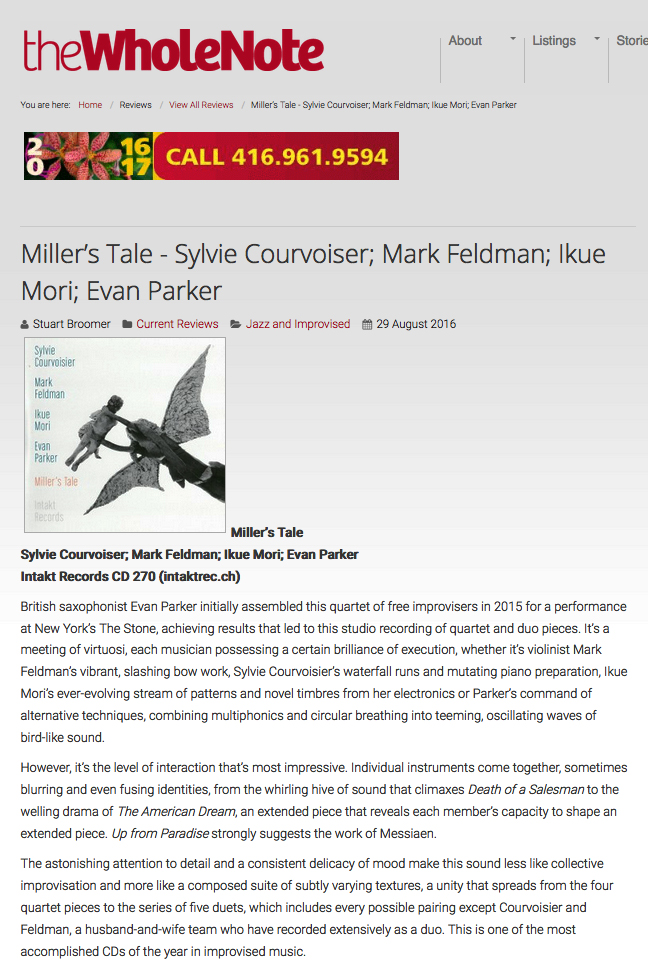 Stuart Broomer, The Whole Note, August 29, 2016
z'kay,Klenkes, Stadtmagazin Aachen, 30. August 2016
En duo ou en quartet, et à chaque fois sous l'influence du Death of a Salesman d'Arthur Miller, Sylvie Courvoisier, Mark Feldman, Ikue Mori et Evan Parker poursuivent une aventure débutée quelques mois plus tôt au Stone new-yorkais.
En quartet, rapides et pressés, acharnés de la trille, ils adorent juxtaposer leurs élans, coordonner leur descentes, affirmer leurs réparties et s'acharner en souffle, clavier et archet continus. En mode lenteur, ils partagent les conflits, le saxophoniste et son phrasé mélodique temporisant les ébats.
En duos, les tempéraments se resserrent : Feldman-Mori entre sirènes et crépitements ; Courvoisier-Parker, conquérants et fermes ; Feldman-Parker, crissant et affutant le contrepoint ; Mori-Parker, gamins gambadant dans la boutique aux jouets cassés ; Mori-Courvoisier, charmants monstres soniques s'essayant à l'harmonie. Pourvu que ça dure !
Luc Bouquet © Le son du grisli, Octobre 2016

Jean Buzelin. Disques, livres & Co » Chroniques 2016. 14 Octobre 2016.
Quatre pièces en quartet, suivies de cinq en duo, constituent la matière musicale de ce disque, enregistré l'année dernière à New York. Si la pianiste et son époux violoniste nous ont habitué à leur dialogue, si Ikue Mori fréquente souvent les mêmes scènes qu'eux - au Stone par exemple, mais aussi dans des formations comme Mephista (avec Susie Ibarra) - la présence d'Evan Parker est plus étonnante, et donc très excitante a priori. Le titre du disque renvoie donc à Arthur Miller et à sa fameuse pièce Mort d'un commis voyageur, tout comme le premier morceau interprété appelé « Death Of A Salesman ».
J'aime particulièrement dans ce disque la musique qui vient dans « The American Dream ». Parce que Mark Feldman y est une fois de plus merveilleux de retenue et de classe, et que ce qu'il apporte à partir d'une évocation assez précise du Concerto À La Mémoire d'un Ange de Berg induit chez tous ses partenaires une hauteur de musique bienvenue. Et, en lieu et place d'une sempiternelle « improvised music » arrive alors la construction instantanée d'une véritable composition, d'une grande beauté formelle. Je rappelle en effet - au risque de ne pas me faire des amis - que le fait de nommer toute improvisation radicale « composition instantanée » ne suffit pas à en faire une oeuvre. Encore faut-il que ça tienne, si vous voyez ce que je veux dire. « Up From Paradise » qui suit se tient dans cette même veine, et le dialogue Feldman/Courvoisier y est à son meilleur, avec ce qu'Ikue Mori amène, avec sa finesse habituelle. Écoutez ces deux pièces (3 et 4) et prenez plaisir à ces fulgurantes beautés.
Les duos qui suivent n'épuisent pas toutes les figures possibles (il y en a six, si j'ai bien compté, manque donc le duo Courvoisier/Feldman évidemment). « Riding On A Smile And A Shoeshine » (Feldman/Mori) est tout simplement sublime, « Playing For Time » donne l'occasion d'entendre Evan Parker au ténor d'une façon qu'on croyait oubliée, ou perdue, et Sylvie s'y amuse manifestement beaucoup. Les autres duos sont également passionnants. Avec son trio « jazz » (avec Kenny Wollensen et Drew Gress) et maintenant ce quartet « ouvert », sans oublier toutes les formations dans lesquelles elle intervient, Sylvie Courvoisier est bien l'une des musiciennes les plus importantes du moment. Et de demain. Écoutez, pour finir, son duo avec Ikue, qui termine le disque : « A Fountain Pen ».
Philippe Méziat, Citizenjazz, France, Publié le 10 juillet 2016
Vier echte Weltstars der freien Musikszene haben sich zusammengetan und einen ganz hervorragenden Tonträger für das Schweizer Label Intakt produziert. Miller's Tale nennen die Klavierspielerin Sylvie Courvoisier, Geiger Mark Feldman, Saxofonist Evan Parker und die Elektronikerin Ikue Mori ihr neues Werk, das vier beziehungsreiche Quartette und fünf knackig-kompakte Duos vereint. Das Konzept des Albums garantiert Abwechslung und eine feine, allgemein gültige Differenzierung der durchaus unterschiedlichen Herangehensweisen. Das Werk Arthur Millers ist der zentrale Bezugspunkt der Platte. Es ist, als würden eine Schweizerin, ein Amerikaner, eine Japanerin und ein Brite über den amerikanischen Traum räsonieren. Death of a Salesman, A View from the Bridge oder Riding on a Smile and a Shoeshine sind die passenden Titel. Die freizügigen und inspirierten Sounds lassen zahlreiche Interpretationen offen. Das darf einmal nachdenklich und fast still sein, wie im Duo von Mori und Feldmann, oder auch intensiv und brennend, wie im längsten Stück, The American Dream, einer spontanen Kollektivimprovisation des Quartetts. Allein das langsam verhallende Ende des Cuts mit einer Geige zum Weinen und einem Saxofon zum Niederknien rechtfertigen Jubel und höchste Anerkennung.
Christoph Haunschmid, Freistil 71, 2017, Österreich
Derek Stone, The Free Jazz Collective, February 20, 2017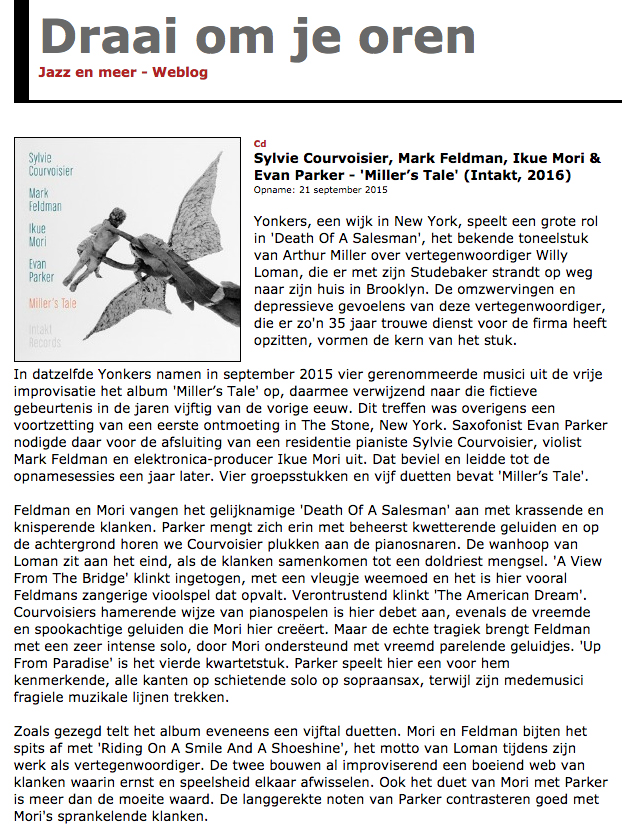 Ben Taffljn, Jazz en meer, 26 mai 2017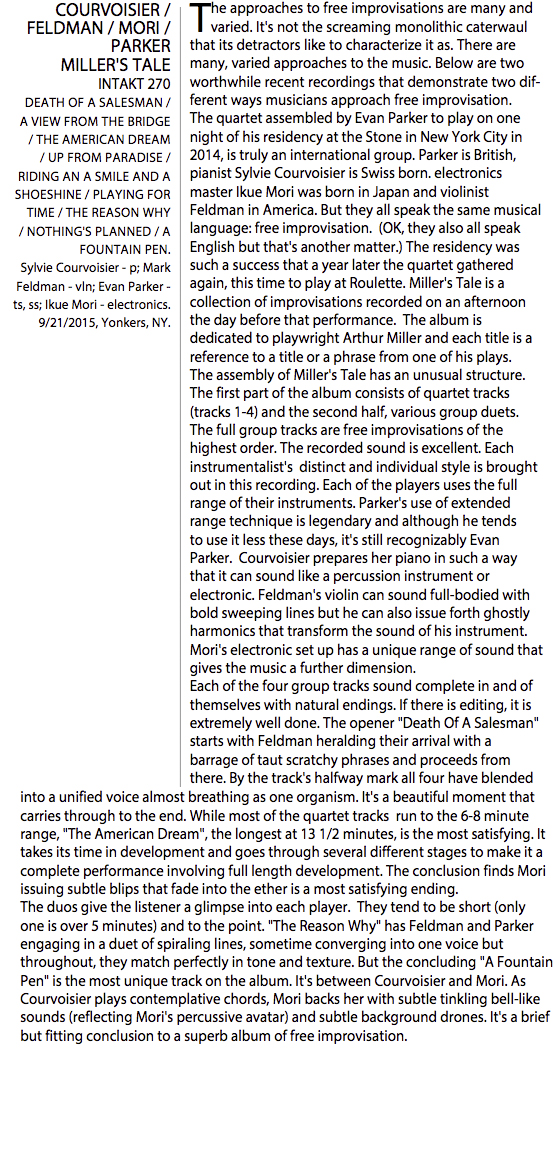 Robert Iannapollo, Cadance Magazine, July-August-September 2017