Das Bekannte im Unbekannten, das Unbekannte im Bekannten, eine ewige Suche. GARY PEACOCK, ein ruhmreicher Veteran der ersten Expeditionen der Enterprise - auch mit Roswell Rudd auf "New York Eye And Ear Control" (1966) - pflückt es auch 50 Jahre nach den frühen Abenteuern und First Encounters noch von den Saiten seines Kontra­basses. Sein Ton auf etwa "December Poems" (1978), "Guamba" (1987) oder "Nothing ever was, anyway" (1997) gehört zum Kronschatz von ECM, maßgebend und unübertrefflich. Bei der 97er Einspielung von Musik von Peacocks Ex Annette saß MARILYN CRISPELL am Piano, Paul Motion an den Drums. In Motion (Intakt CD 264) könnte heißen: In Bewegung bleiben (à la Paul und mit E-Motion). Wieder mit Crispell und mit RICHARD POOLE, einem Perkussionisten von nahezu mystischer Sensibilität, der 1988 noch mit der ESP-Legende Lowell Davidson gespielt hat, der wiederum in seiner Blütezeit Mitte der 60er ein Trio mit Peacock gebildet hatte. Ganz zart betupft er bei 'Ahzân' das feine Rühren an den Schleier der Maya und die flehende Intensität, die Peacock evoziert. Der 'Backseat of the Galaxy' ist Pooles Lieblingsplatz, von wo er silbrig flirren, flockig klicken, knattrig rattern oder ein hintergründiges Donnergrollen pochen kann. Crispell tappst katzenpfotige Zwölftonaleatorik und sprudelt quecksilbrige Läufe zu Peacocks alchemisti­schen Formeln und lyrischen Lais, in die ur­plötzliche Attacken hageln. Zu Crispells Intakt-Odysseen und Klagliedern mit Barry Guy & Paul Lytton bilden die tagträumerischen Trips ins westafrikanische 'Serakunda' und zur 'Isle of Nowhere' und insbesondere die gedankenversunkene 'And Yet'-Bluesiness eine faszinierende Parallele. Wenn Motion das Motto ist, dann meint das hier neben der rösselsprung­geübten Intelligenz allemal auch die Konzentrik der Empathie.
Rigo Dittmann, Bad Alchemy 89 , 2016
Se poco vi è da commentare (o già tanto si ritenga di conoscere) su due enormi figure quali Marilyn Crispell e Gary Peacock, non apparirà egualmente immediato l'identikit del batterista Richard Poole, forte giusto di una manciata di incisioni e titolare di uno scarno website in cui in termini alquanto asciutti s'inquadra quale "compositore, collaboratore e performer".
Non riescono di ulteriore soccorso le note di copertina, incentrate sulla tematica stilistica, ma il titolo potrebbe fornire più elementi di sospetto e all'ascolto non occorreranno spiccate doti sensitive nel comprendere come qui tornino ad espandersi i panorami già affrescati in incisioni quali Nothing ever was, anyway, o successivamente Amaryllis, sensazionali prove in cui i due grandi veterani si triangolavano con lo scomparso maestro Paul Motian, la cui incarnazione appare dunque affidata al meno popolare ma comunque talentuoso confratello, di cui si ricorda come memorabile almeno un'esperienza ad armi pari in duo con Paul Bley.
D'incontro con la solida, eloquente plastica di un Peacock in sontuosa forma, e l'ispirazione impressionista e il chiaroscurale tocco di Crispell, Poole articolando fremito di pelli e schegge di metallo sortisce abile nel riconfigurare il petroso e umorale drumming dell'indimenticato maestro di percussione e anarchia ritmica: i tre attraversano diversificati panorami acustici sovente di dominante metafisica, non latitando suggestive eco della forma classica, avvicendate a dimensioni free di prevalente caratura istintuale ed estensivo respiro, ed In Motion non richiama dunque soltanto in guisa di citazione i più energetici segni delle ultime (e più personali) esperienze del batterista armeno-americano, ma è toccante trasvolata su una visione del piano-trio parallela, o incarnandone comunque le visioni più eversive e centrifughe rispetto al reseau stilistico comunemente più inteso, non rinunciando al nucleare lirismo ma conformando per impeti, languori, ispirazioni istantanee e sottili una libera costruttività, meno accessibile nella breve misura ma certo di sfaccettato carattere ed ampia prospettiva.
Ulteriore passo nell'acquisizione da parte dell'ormai iperattiva etichetta elvetica di due nuovi nomi in portafoglio, nel sancire un appuntamento di grande (e rispettosa) emulazione stilistica entro una produzione di speciale fruibilità e da consigliare.
Aldo Del Noce, Jazzconvention, Italia, 24 Febbraio 2016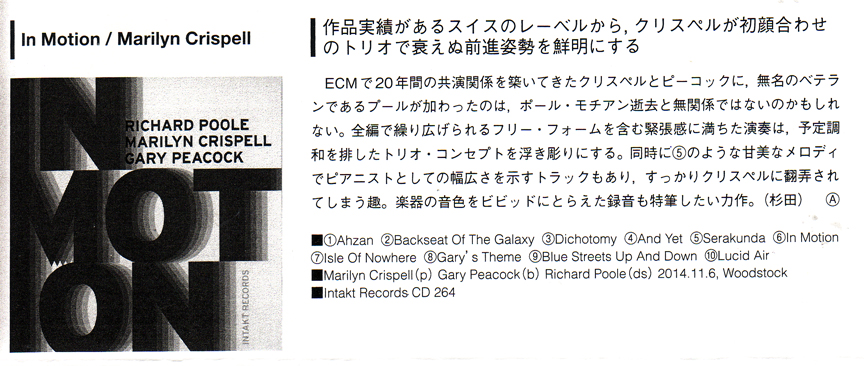 Hiroki Sugita, JazzJapan, April 2016

Volker Doberstein, Jazzpodium, April 2016

Juri Giannini, Concerto, April 2016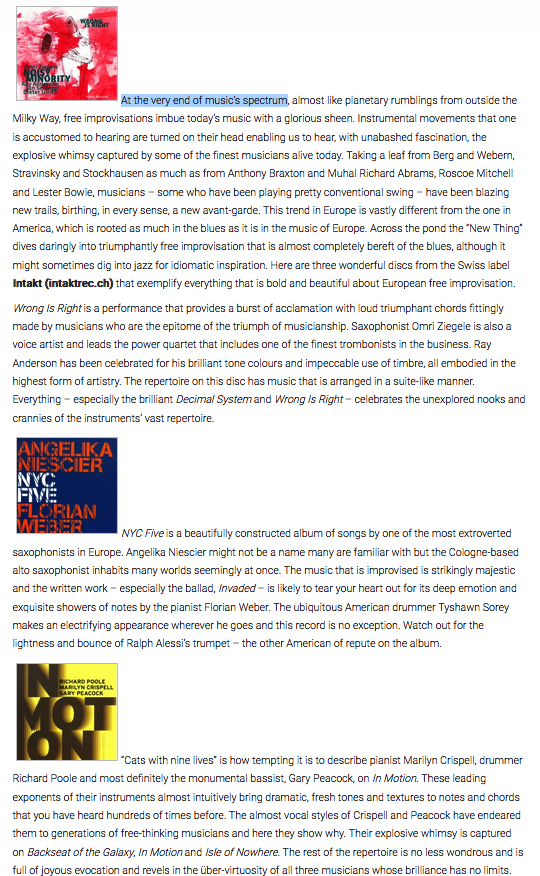 Raoul da Gama, The Whole Note, April 2016
Ein Trio mit drei ebenso arrivierten wie routinierten Größen der gegenwärtigen Freejazz- und Impro-Szene präsentiert mit In Motion einen ausgesprochen anregenden und abwechslungsreichen Silberling, vom Schweizer Label Intakt gewohnt sorgfältig produziert. Es beginnt mit einem langen Duo zwischen dem Bass Peacocks und dem Klavier Crispells, in gleicher Weise eng verschmolzen wie mit kühner Architektur. Erst ganz am Ende mischt Richard Pooles sparsames Schlagzeug ein wenig mit. In Motion erinnert, und darauf weist auch das Booklet hin, an die gefeierte Trio-Veröffentlichung Nothing ever was, anyway mit Paul Motian statt Poole am Schlagzeug. Ein wesentlicher Unterschied: Auf dem ECM-Klassiker wurde ausschließlich die Musik Annette Peacocks performt, In Motion ist weitgehend improvisiert. Egal, Meisterwerke sind ohnehin alle beide, mit unverwechselbarer Persönlichkeit, großer Poesie und schlichter Schönheit.
haun, Freistil 66, Österreich, 2016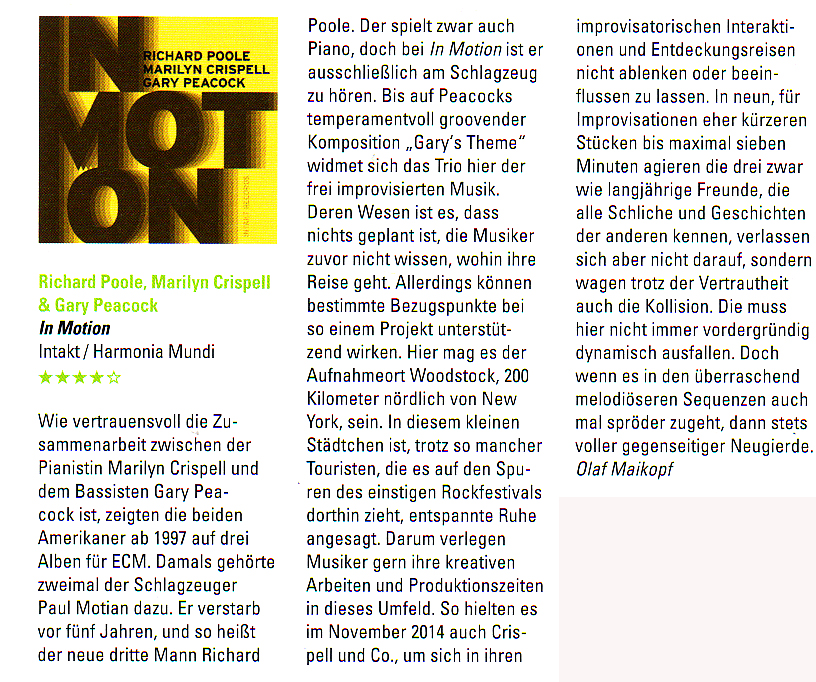 Olaf Maikopf, Jazzthetik, Mai 2016
In Motion è un disco sorprendente, con cui la Marilyn Crispell oltrepassa il proprio orizzonte espressivo di riferimento. Sin dal brano iniziale, si ha la sensazione di ascoltare qualcosa di diverso rispetto ai suoi precedenti percorsi iconoclastici. Cambia l'aura, in continua oscillazione tra trame formali ed informali, tra fraseggio lirico e flusso ritmico fluttuante. Rimangono inalterati i procedimenti interpretativi, improntanti ad un sontuoso gioco di improvvisazione estemporanea.

Il CD lascia il segno per contenuti e modalità espressive, dove l'indeterminatezza regna comunque sovrana. In ogni brano proposto riluce una singola idea, nel segno della volatile progettualità. Emerge il fraseggio limpido e classico, seguito dall'andamento tempestoso e lo sviluppo fosco della cellula tematica.

C'è pure spazio per il tema reiterato di ascendenza monkiana e per il robusto swing di "Gary's Theme." Emerge una forza motoria tripartita, da cui fuoriesce un'essenza personale e geniale del fare musica. Una menzione merita Gary Peacock, della cui fantasia e ricchezza espressiva si rimane sempre ammirati.
Maurizio Zerbo, All About Jazz Italia, May 19, 20
Drummer Richard Poole deserves immediate approbation for the extremely fast company kept on In Motion. Crispell and Peacock aren't just known commodities in improvised music; they are each on the level of living legends. The pianist was one quarter of one of the most renowned and influential ensembles of the last half-century, the Anthony Braxton Quartet. Peacock's vita is even more storied and contains entries from Albert Ayler to Tony Williams with a veritable alphabet of accomplished improvisers between. Poole's profile may register but a fraction of his prestigious, rapport-sharing colleagues, but with his name first on the figurative marquee his participation is that of an equal.
Even weighing the artistic eminence of such heavy collaborators, any relative restraint on Poole's part shouldn't be mistaken for reticence or trepidation at the prospect of this first meeting. Crispell and Peacock have initial minute-and-a-half of the opening "Ahzan" to themselves, roving through a loosely etched theme shrouded with gravitas. Poole's quiet entry consists of accents at first, developing gradually into a skeletal commentary spoken many with cymbals. Nine more pieces follow with all but "Gary's Theme" collectively improvised. Two, "Backseat of the Galaxy" and "Blue Streets Up and Down", are built from referential lines by poet Frank Parker. On the latter Poole's mallets and ride cymbal combine in a swirling maelstrom from which first Peacock and then Crispell fashion furrowed and staggered responses.
The full, gargantuan girth of Peacock's strings ushers in the title-specific "Dichotomy" with an improvisation steeped in cleanly resonating stops and strums that make the most of studio acoustics. Poole and Crispell arrive with a collective crash of dissonance that contrasts with their colleague's structured and disciplined patterns and an alternating dialogue of rhetorical order and chaos ensues. "And Yet" dials back the roles Poole and Peacock to colorists, shading and shadowing a stark chordal progression from Crispell while "Serakunda" returns the equilibrium of the trio with brushes replacing sticks and Peacock impossibly sounding even bigger than before against the elegant relief of an elastic piano motif.
The title piece sprouts from a dancing pattern by Crispell answered by Poole and Peacock in fits and starts. Velocity ramps and retreats over the span of a dizzying seven minutes, but even when density reaches an apogee all three players are clearly discernible and discrete within the frothing fray. "Isle of Nowhere" relies on contrastive tissue again with another beautiful melody from Crispell accentuated by the verdant interplay of Peacock and Poole. Arguably the bassist's most signature piece, "Gary's Theme" follows suit with a tractable line primed for expeditious extrapolation by both composer and Crispell in contrapuntal colloquy as Poole deftly paints in the rhythmic blanks. Together, these three players lend credence to the old (if contested and reductive) adage that free improvisation yields the finest results when realized between fresh acquaintances.
Derek Taylor, Dusted Magazine, Chicago, March 24, 2016
Trommeslageren Richard Poole, er en helt ukjent musiker for undertegnede. Men de to andre musikerne på denne innspillingen skulle være velkjente for de fleste av våre lesere. Pianisten Marilyn Crispell er en av USAs mest velrenomerte moderne jazzpianister, som har spilt med en rekke av de største navnene innenfor 70-tallets jazz og framover. Hun har gjort plater med Roscoe Mitchell, Wadada Leo Smith, Antohony Braxton, Reggie Workman, Barry Guy, Mats Gustafsson, Raymond Strid, Evan Parker, Joelle Leandre, Gunhild Seim & Time Jungle og en rekke andre. Gary Peacock kjenner vi kanskje best fra triosamarbeidet med Keith Jarrett, pluss en rekke andre interessante prosjekter.
På «In Motion» gjør de låter skrevet i samarbeide av de tre, pluss «Gary's Theme» av Peacock.
Crispell og Peacock møttes første gang i selskap med trommeslageren Paul Motian for over 20 år siden, da de gjorde Crispells fine «Nothing ever was, anyway» på ECM, som var en samling komposisjoner av Anette Peacock.
Men nå, etter Motians bortgang, ville de gjerne møtes igjen i studio, og da passet det godt å introdusere Poole for et større publikum.
Fra starten av, med «Ahzãn» til avslutningen «Lucis Air» foregår alt i et medium eller balladetempo, hvor det er god plass for de tre til å vise seg fram. Men innimellom, som i et parti av trejesporet «Dichotomy» tar de solid av, men det varer bare i korte perioder. Spesielt merker vi oss Crispells fine og frie pianospill, sammen med Peacocks solide bass-spill. Noen av hans soloer er rett og slett fantastiske! Poole blir den som ligger bak og fargelegger det hele på en utmerket måte.
Vi får 10 komposisjoner, som til å være improvisert fram i studio der og da, låter rett og slett strålende.
Jan Granlie, Salt Peanuts – a pan-Nordic/Baltic website, 13. mars 2016
Improvised music is often described in terms of a conversation between the musicians. In this case they speak eloquently and emotionally. Pianist Marilyn Crispell and bassist Gary Peacock first played together with Paul Motion in the 1990s, and have both been improvising much longer. Multi-instrumentalist Richard Poole - here playing drums – is an improviser of a similar vintage
Of the ten tracks, nine were freely improvised, the sole exception being Peacock's Gary's Theme. Many of the pieces, such as And Yet, Serakunda and Isle of Nowhere have the feel of fully formed, composed tunes: And Yet sounds like a slow deconstruction of a theme by Thelonious Monk; Serakunda even has a slow, loping swing meted out by Poole's subtle brushwork, with a slow melodic line from Crispell. Isle of Nowhere is another slow, melodic piece which at times hints at Errol Garner's Misty before developing in a freer style.
Other pieces have more of the uncertain exploration one might expect from free improvisation. Dichotomy features some lovely melodic solo bass playing from Peacock, punctuated by energetic percussive outbursts from Crispell and Poole. On the title track, In Motion, there's a lively interplay between the three musicians as the music moves in different directions. Blue Streets Up and Down and Lucid Air both continue the conversation in its more gentle, lyrical form. The album closes as it began, with the soft questioning of Crispell's piano.
Patrick Hadfield, Londonjazznews, April 16, 2016

Stewart Smith, The Wire, June 2016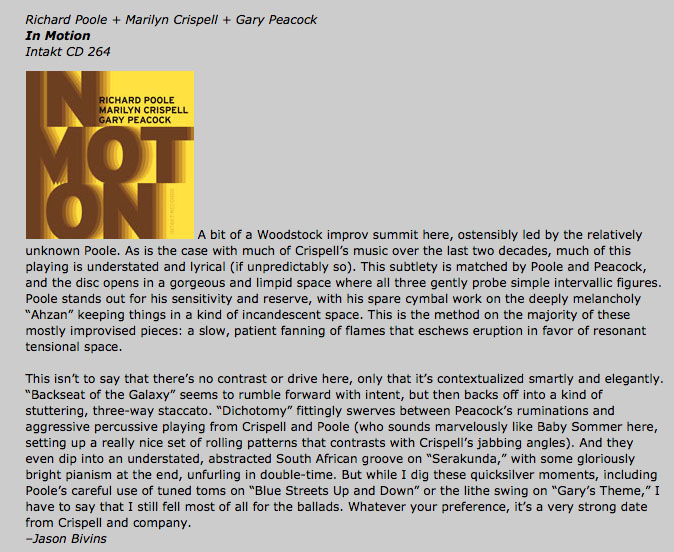 Jason Bivins, Point of Departure, USA, Juli 2016

Jürg Solothurnmann, Kulturtipp, Zürich, 17-2016

Jean Buzelin. Disques, livres & Co » Chroniques 2016. 14 Octobre 2016.
Qui ? Qui si ce n'est ces beaux enfoirés d'Intakt pour sortir un trio aussi excitant dans un silence assourdissant ? Parce que ce line up, avouons-le, ferait tressaillir n'importe quel dilettante moyen de jazz improvisé ; avec un petit moins pour l'Anglais Richard Poole à la batterie, un peu moins glorifié que les deux autres, sans que cela ne dise rien de son talent.
Présentation liminaire pour ceux qui ignoreraient encore qui sont ces gens-là. Journée de la femme (raaaaaah!) et galanterie obligent, débutons par Mrs Crispell. Du haut de ces quasi sept décennies, la pianiste américaine peut afficher sans rougir une discographie ponctuée de hauts faits – collaborations avec Tim Berne et Hamid Drake notamment, un beau duo avec Joseph Jarman il y a vingt ans déjà, et beaucoup de très bon en son nom seul: vraiment bien. Géomètre discrète et magistrale des musiques improvisées et free, Crispell n'en finit plus d'y apporter une voix singulière qui fait la part belle à un piano étonnamment mélodique, et de plus en plus lorsqu'on réécoute ses enregistrements plus proches de Cecil Taylor qui entamèrent sa carrière dans les années 80. Eloge de la lenteur et de la justesse, d'une déconstruction moins déstructurée peut-être (cela ne veut rien dire, oui), elle étale ici en confort une belle partition entièrement improvisée qui fait penser que même sans se renouveler moult, la pianiste reste une voix forte de ces scènes où elle fait figure depuis plusieurs années de figure tutélaire.
 
L'autre énormissime nom de ce trio, c'est bien sûr mister Peacock. Le paon qui ne fait jamais la roue mais étale quand même sa magnificence : dans cette roue indéchiffrable, des yeux qui sonnent comme une histoire du jazz depuis cinquante ans, le trio de Jarrett en tête mais surtout, à jamais, Albert Ayler. Et tant d'autres. Sur ce In Motion, Peacock continue son petit chemin de génie incandescent, en labourant sa basse d'attaques prodigieuses : ce son, mais ce son ! sur « Backseat of the Galaxy »... Et qu'est-ce que c'est que cette intro, là, en solo, pépère ? « Dichotomy » ? Ouais, je veux bien. Ce ne serait pas si beau... Ça dégoûterait... Sciant, le mec !
 
Concluons enfin le triptyque : Richard Poole, batteur de grande finesse, plus ''musiques improvisées'' que jazz quand même, mais pour la millième fois, on s'en bat l'oeil. Coupable de grâces féériques tout en touché (''Serakunda'', avec encore quelque chose comme de l'indicible de Peacock), le batteur semble parfois plus suspects de ronrons, comme d'ailleurs sa partenaire au piano, qui empêchent cet album d'atteindre l'éclat que promettait le line up, comme certains titres tout simplement géniaux. Une réserve aussi liée à des compositions parfois décevantes qui font alterner un lyrisme souvent un peu téléphoné avec des passages plus improvisés qui le sont également ; pour dévoiler au détour d'improvisations magistrales et de compositions à couper le souffle l'intérêt majeur d'un album qui eut mérité une finition meilleure pour rendre justice à la vérité, à l'être, à Dieu pour ceux que ça intéresse, à la beauté, à tout. D'où un constat de bourgeois : on se désole que ce très bel album ne soit pas magnifique. Et plus encore. Pour le plus encore, chacun décide. Moi, c'est illico Spiritual Unity, dont je ne comprends pas qu'on ait pas encore constitutionnellement obligé tout être humain à l'écouter une fois par mois.
Pierre Tenne, Djam, France, 2016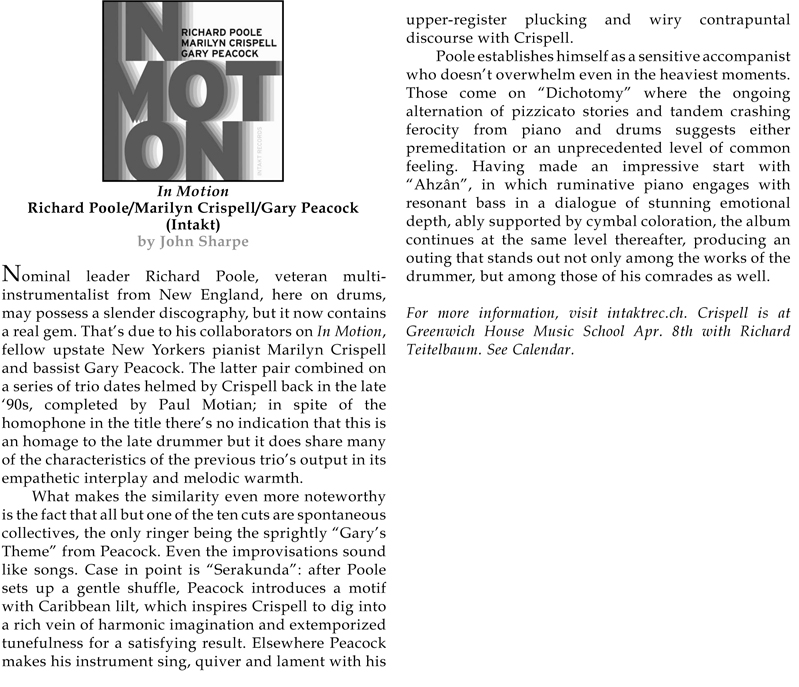 John Sharpe, New York City Jazz Record, April 2017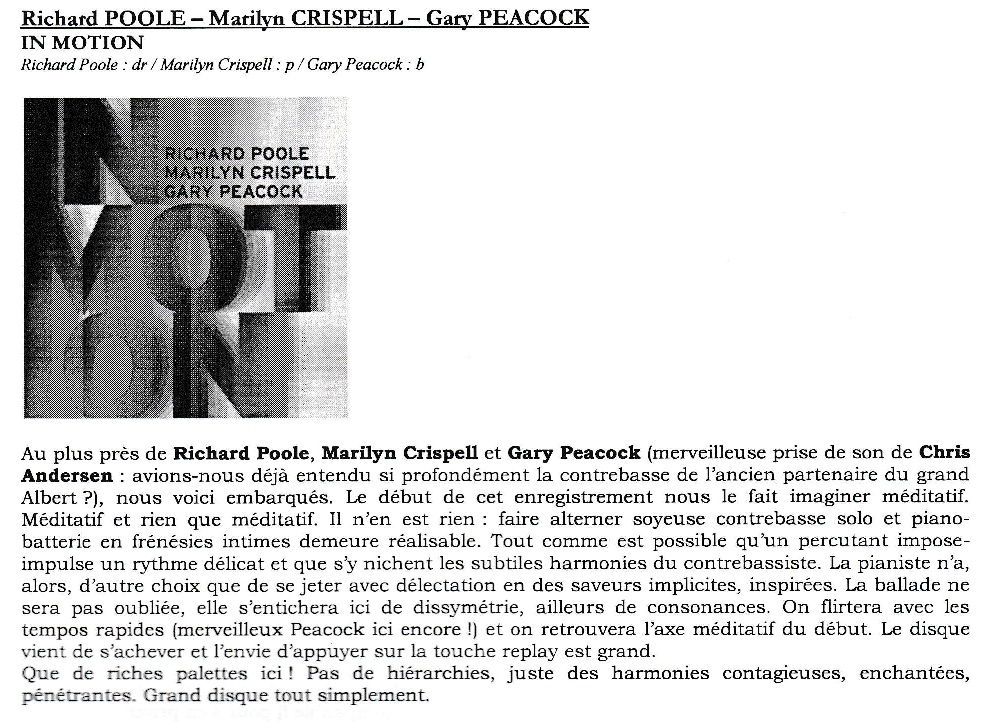 Luc Bouquet, Improjazz Nr. 234, France, 2017

Bill Donaldson, Cadence Magazine, April-May-June 2017