Egal wie man sich die Entwicklung des Leaders des ARUÁN ORTIZ TRIOs von seinem
Solodebut "Impresión Tropical" (1996) bis zu Hidden Voices (Intakt CD 258) vorstellt,
spiralig oder dialektisch, die Musik des Pianisten aus Santiago de Cuba pendelt
beständig zwischen kubanischen Reminiszenzen und jazziger Modernistik. Seit er in
seiner spanischen Phase (1996 - 2002) Ornette Coleman und Monk gehört und sich
danach an der Berklee School und als Protegee von Muhal Richard Abrams mit allen
eklektizistischen Wassern gewaschen hat, ist 'kubanischer Kubismus' bei ihm mehr als
nur ein Wortspiel. Titel wie 'Fractal Sketches', 'Analytical Symmetry' und 'Arabesques of
a Geometrical Rose' verraten den Eindruck, den Xenakis' musikalische Architektur,
Mandelbrots fraktale Rauheit und die Kubismen und Surrealismen von Picasso, Braque
und Wifredo Lam auf ihn machten und sich niederschlugen in etwa "EARchitecture" (w/
Jure Pukl, 2010) oder "Textures and Pulsations" (w/Bob Gluck, 2012). Mit intellektueller
Brille, Krawatte und Kräuselbart gibt Ortiz den Tastenbrainiac wie aus dem Bilderbuch.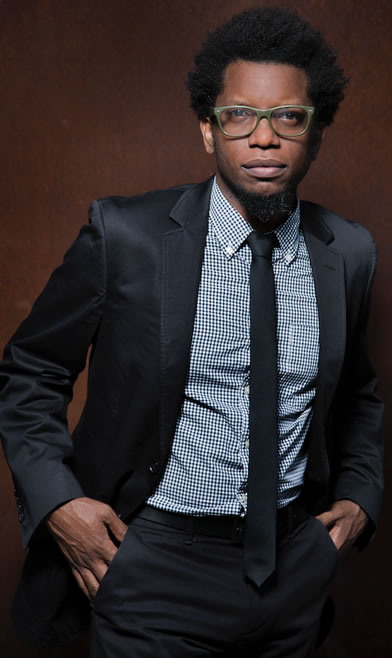 Seine Verehrung für Coleman zeigt er mit 'Open & Close/The Sphinx', die für Monk mit
'Skippy'. Für die Klasse von Eric Revis spricht sein Kontrabassintro zu 'Open & Close',
Cleavers Drumming zeichnet sich durch pianistische Sensibilität aus, wie so oft schon an
der Seite von Matthew Shipp und mit Ortiz im Orbiting Quartet. Die Spannung zwischen
Ortiz' Affinitäten zeigt sich plastisch zwischen Ornettes quickem 'The Sphinx' und den
klackenden Claves von 'Caribbean Vortex'. Wobei da längst auch deutlich geworden ist,
dass seine Neigung zu perkussiver und dezisionistischer Gestik die Schwäche für
delikate Arpeggiogirlanden überwiegt. Selbst 'Analytical Symmetry' eskaliert als Reverie
zu einem gehämmerten Endspurt, Ortiz' Anschlag besticht besonders dann, wenn er die
Tasten mit kühler Lakonie traktiert. Das kurze '17 Moments of Liam's Moments (or 18)'
wechselt zwischen 17 und 18 Schlägen, 'Joyful Noises' spielt frei mit Innenklaviereffekten,
gerupftem und prickelndem Pizzikato und Geknister mit Silberfolie. Und es
endet nach der monkschen Skipperei mit einer abstrakten Soloversion des kubanischen
Gassenhauers 'Uno, dos y tres, que paso más chévere'.
Rigobert Dittmann, Bad Alchemy 88, 2015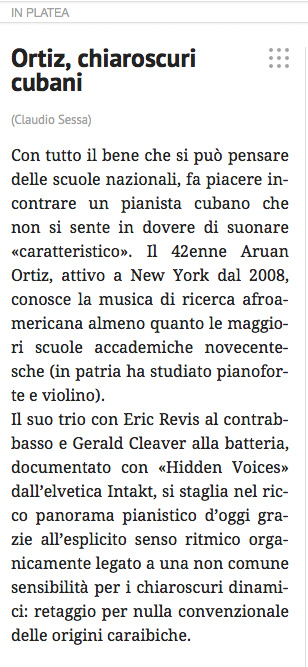 Claudio Sessa, Corriera della Sera, December 31, 2015
NOWJazz, SWR 2
Heute mit dem Aruán Ortiz Trio fest. Eric Revis & Gerald Cleaver und ihrem Album-Debüt beim Schweizer Label Intakt Records: "Hidden Voices"
Julia Neupert, 15. Januar 2016 (30 Minuten). Zur Sendung
John Fordham, The Guardian, Friday 21 January 2016
ARUAN ORTIZ TRIO Featuring ERIC REVIS & GERALD CLEAVER - Hidden Voices (Intakt 258; Switzerland) Featuring Aruan Ortiz on piano, Eric Revis on bass and Gerald Cleaver on drums. The Cuban-American pianist and composer Aruan Ortiz has finally arrived on the international jazz scene, following a few earlier releases. His excellent new album "Hidden Voices" recorded as a trio with bass player Eric Revis and drummer Gerald Cleaver is the proof.
Ortiz, who grew up in Santiago de Cuba, has been called the latest Cuban prodigy to arrive in the US. His carefully structured music is an exciting mix of contemporary classical sounds, afro-cuban rhythms and powerful jazz improvisation. All these elements are fused to make a very individual sound. "I was thinking about this album as a circle with no beginning and no end," says Aruan Ortiz. After working with seven original works as well as tunes by Ornette Coleman and Thelonious Monk, the 42-year-old has turned to a traditional song "Uno, Dos y Tres, Que Paso M's Chevere," that "everybody in Cuba knows from festivities and carnivals."
I've caught Mr. Ortiz on a few occasions, like his duo with Wadada Leo Smith at Vision Fest 2015, as well as with Francisco Mora Catlett. I have also heard a few of his previous discs on Fresh Sound and Sunnyside. The is Mr. Ortiz's first trio offering and he has put together an excellent trio with Eric Revis on bass and Gerald Cleaver on drums. Mr. Ortis wrote most the songs here except for a couple of cover by Thelonious Monk and Ornette Coleman. I dig the way the trio treats Ornette's "The Sphinx", twisting it with a joyous effervescence. Each piece creates a different mood or vibe. On "Caribbean Vortex", he strips things down to minimal cymbals, soft drum rattles and morse code-like ringing piano while still evoking those hypnotic spirits as the pulse slowly increases throughout. On the Sun Ra-like title, "Joyful Noises", Ortiz has the trio going in different directions simultaneously, the balancing of forces is created by each hand on the piano. Disorienting or fascinating or both? I get the feeling that more of the magic of this disc will be revealed as I listen to it again and again. Certainly one of the best piano trio dates in recent memory.
Bruce Lee Gallanter, DownTownMusic Galery, New York, January 22nd, 2016 Newsletter
The jazz piano trio comes in a wide spectrum of approaches, from the traditional—Red Garland, Tommy Flanagan—to the way out there avant-garde, like Cecil Taylor. When the subject of "Cuban pianists" comes up, some of the first names that come to mind are probably those who work in a traditional vein: Chucho Valdes, perhaps, or maybe Gonzalo Rubalcaba, both of whom work the percolating beauty of Latin rhythms to the hilt.
Aruan Ortiz—Cuban-born and now New York-based (after a stint in Madrid) pianist—leans away from the traditional end of the spectrum, in both classic jazz terms and the Latin approach. On Hidden Voices he teams up with bassist Eric Revis and drummer Gerald Cleaver, who are well versed in the avant-garde. The resulting music says that Ortiz has found two excellent compadres.
There's no doubt that these are improvisation heavy workouts. Latin grooves bubble covertly, and Ornette Coleman ("Open & Close/The Sphinx") and Thelonious Monk ("Skippy") are brilliantly covered—though the brilliance is of a dark and brooding hue. Oritz penned seven of the ten tunes. Tracing a finger along the piano trio spectrum, you'd slide past the traditionalists, beyond the edgy-but-still traditional guys and into Andrew Hill territory. Hill, with a series of brilliant Blue Note Records releases in the sixties, earned a reputation as an uncompromising individualist, rooted in tradition, but with branches that reached out into the deep blue sky where few of his contemporaries followed.
Not that Ortiz and company sound like Hill. They break their own ground, constructing loose musical architectures that stop short of the sometimes chaotic ramblings of Cecil Taylor, even simulating something akin to holy church bells on the trio's collective composition, "Joyful Noises," before the trio flays into Monk's "Skippy" with a Thelonious-onian elasticity and zest.
Dan McClenaghan, All About Jazz, January 17, 2016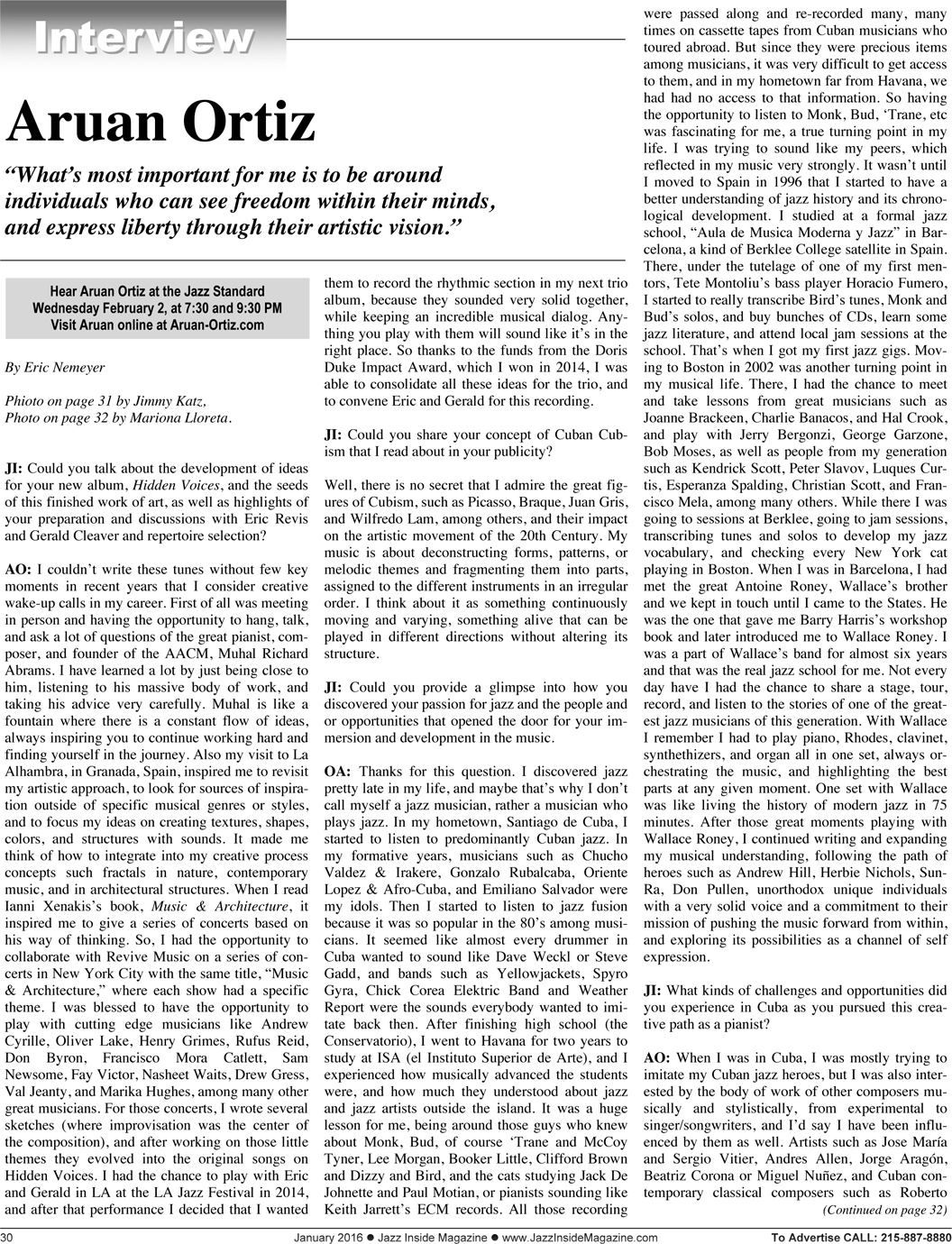 Eric Nemeyer, JazzInside, January/February 2016
"One of the best European releases of January 2016"
Henning Bolte, Il giornale de la musica, Januario
Nate Chinen, The New York Times, January 20, 2016
John Fordham, The Guardian, Friday 21 January 2016
Una corrente interrogativa percorre in tutte le sue estensioni questa incisione, non contraddicendo le note programmatiche del prolifico pianista da Santiago de Cuba, che così introduce il proprio ultimo lavoro: «pensavo a quest'album come ad un circolo senza un inizio o una fine», principio fondante nella selezione definitiva della tracklist, comprendente una composizione a testa dei capitali Monk e Coleman, peraltro a firma dell'artista prontamente migrato su lidi statunitensi, per trovarvi un recente mentore in Muhal Richard Abrams, di cui appare un epigono in peculiare guisa, ma ben più precocemente sembra aver definito la propria voracità estetica.
Già alquanto prolifico discograficamente, nell'incarnazione totalmente rinnovata dell'Aruan Ortiz trio (che oltre dieci anni fa fidava su Peter Slavov e Franciso Mela) arruola Eric Revis, di cui colpisce il virtuosismo sottile ed il plastico nitore, e Gerald Cleaver, che con maestria declina il proprio drumming sensibile e fremente, entrambi conducenti il tenore discorsivo su ben elevato stadio e certamente vitali nel determinismo del soundscape, ma si palesano comunque orientati dalla nervosa regia e dalle umorali sortite del leader: il post-bop esplorante di Ortiz si giova di temperata, nativa solarità caribeña, che infonde fioritura e manierata vivacità ai meccanismi compositivi, estensivamente pervasi da intrinseche e non pacificate tensioni.
Tra gli assi di spicco della tastiera pervenuti alle nostre attenzioni dalla pittoresca (quanto travagliata) isola di Cuba, e già un decano tra i neo-emergenti (tra cui vorremmo ricordare almeno David Virelles o Roberto Fonseca), non avremo riserve nel concedere spazio, e credito, ad un talento poco più che quarantenne che ama definire la sua musica con (non troppa) semplicità: «architettonica struttura di suoni, che incorpora musica classico-contemporanea, ritmiche afro-cubane, ed improvvisazione quali materiali primari per le composizioni» e che, se dei titolati maestri reca linguisticamente più di un tributo almeno a Monk e Corea (ma sembra esser passata la lezione anche di Hancock o Bley), appare gestore e certamente titolare di un proprio linguaggio, di decifrazione non immediata ma già orientato stilisticamente nel designarsi un'argomentata collocazione tra i grandi apolidi del jazz.
La ricchezza ideativa profusa nella scrittura espone più che in filigrana l'amalgama tra tutti gli elementi suddetti ma persiste aperta all'avventura ideativa, con attenzioni per le tattiche ritmiche e le strategie melodiche di lunga misura, declinate secondo uno stile complesso e talvolta ostico, con una quota di rischio fraseologico che ingloba squassanti clusters e saettanti figurazioni melodiche (e contro-melodiche), non minimizzando il valore dell'interplay che, fatte salve le esposte considerazioni, si manifesta vitale al respiro e all'imbastitura di questa importante esperienza su solco.
Un'anteprima 2016 da parte del catalogo zurighese che, con avveduto senso prospettico, arricchisce il proprio roster grazie ad una personalità relativamente inattesa, di fatto assai in sintonia con le aperture oltre-Atlantico della label, che già ne detiene esponenti trans-generazionali e di fortissimo profilo, e ci sollecita a recuperare la discografia del motivato pianista e compositore, creativo d'allure primariamente intellettuale, le cui "Voci Nascoste" esplicitano fascino formale denso d'eco imitative e profilo in parte sfuggente, meditazioni dinamiche che lasceranno all'ascoltatore più spunti di riflessione ed inviti a rinnovato cimento.
Aldo Del Noce, Jazzconvention, Italia, Venerdì 08 Gennaio 2016
Da venerdì 29 gennaio sarà disponibile nei negozi tradizionali, in digital download e in tutte le piattaforme streaming Hidden Voices (Intack Records), il nuovo disco del pianista jazz Aruàn Ortiz, cubano d'origine ma alfiere di creatività e improvvisazione nel quartiere di Brooklyn a New York. Hidden Voices è composto da sette brani inediti e dalle interpretazioni di un paio di standard e di un canto tradizionale cubano.

Hidden Voices è composto da sette brani inediti e dalle interpretazioni degli standard "The Sphinx" e "Open and Close" e il canto tradizionale cubano "Uno, Dos y Tres, Que Paso Más Chevere". Il trio di Aruàn Ortiz - composto da Eric Revis, al basso, e Gerald Cleaver, alla batteria – intreccia in ogni brano le radici della musica afro-cubana e quelle dell'hard-bop usando spesso le note del piano come parte integrante del ritmo senza però alienarsi mai dall'aspetto armonico.
Aruan Ortiz, pianista, produttore, insegnante e pluripremiato compositore di fama internazionale. Gli studi come violista classico, oltre che pianista lo hanno portato a spaziare nella composizione musicale, incorporando la musica classica ai ritmi afro-cubani ma mantenendo l'improvvisazione come base per le sue composizioni. Nel corso degli anni riceve numerosi premi: nel 2014 al Doris Duke Artist Impact Award e come Artist-in-Residence al Pocantico Center presso il Rockefeller Brothers Fund; come arrangiatore nel 2011 con il premio Latin Jazz Corner per il suo contributo all'album del flautista Mark Weinstein "El Cumbanchero"; semifinalista nel 2001 al Jas Hennessy Piano Solo Competition di Montreux e nel 2000 in Spagna riceve il premio Best Jazz Interpretation al Festival de Jazz in Vic. Approda a New York nel 2008 e suona con il Wallance Roney Quintet a cui sono seguiti cinque dischi accolti e sostenuti dalla critica musicale. Nel 2012 registra tre album come leader: "Orbiting" (Fresh Sound 2012); "Santiarican Blues Suite" (Sunnyside 2012), e il disco "Banned in London" (Whirlwind Recordings 2012) dove intraprende una collaborazione cubano-americana includendo nella formazione il compositore Michael Janisch, al basso, Greg Osby al sassofono e Rudy Royston, alla batteria.
«Le 'Hidden Voices' sono i miei amici, mentori e maestri che hanno nutrito la mia sete di conoscenza ma lo sono anche le energie che si sono catalizzate negli anni della mia formazione a Santiago de Cuba ed ora sono fonte di ispirazione. – commenta Aruàn Ortiz – Lo sono soprattutto le voci che ci appaiono quando ascoltiamo noi stessi. Per esempio, ammiro le illustri personalità protagoniste del Cubismo, come Picasso, Braque e Lam, perché avevano l'abilità di decostruire la realtà, invitandoti a guardare meglio l'opera per capire cosa esattamente esprima. Il loro tema principale è spesso frammentato e nascosto all'interno del quadro. Ci vuole tempo e pazienza per capire il messaggio nascosto. Credo che più lo ascolti, più ti saranno familiari i suoi brani e le sue melodie, più questo disco ti sembrerà chiaro e vicino.»
Scritto da Redazione, Traccedijazz, 14 Gennaio 2016
Megamodo, Italia, 2 GENNAIO 2016
Strumentimusicalinews, Italia, 25, Gennaio, 2016

Aruán Ortiz (1973), born in Santiago de Cuba of Haitian descent, was trained as both violinist and pianist. While he draws on Afro-Cuban forms, he is at ease with classical and free improvisation as well. Ortiz is hard to pin down, as he can go from hard post-bop idioms (as in his first two albums, Volume 1 and Alameda; 2005, 2009) to the rigorous exploration of sound textures evident in his album with Bob Gluck (on piano and Moog Synthesizer; Ortiz, piano and computer) to a contemporary re-interpretation of tumba francesa and Cuban song with the blues as in his Santiarican Blues Suite (2012). A recent album, 23:54 Get Moving (2014), a trio with saxophonist Biagio Coppa and drummer Rob García, has Ortiz on piano and electronics, going from Monkish riffs to eerie atmospherics to funk.
Overall, Ortiz is a restrained pianist: he does not go in for dramatic changes in dynamics, crashing chords, splashy ornamentation, Lecuona-ish lyricism or son montuno guajeos. His approach, while fluid, is slightly jagged and with a keen sense of the overall architecture of the song. He can move up and down the keyboard with considerable velocity but not in a way that calls attention to itself (a la Chucho Valdés or Art Tatum). Both his first albums and the recent live recording Banned in London (2013) illustrate this: on tracks like "Jitterbug Waltz" (Fats Waller) and "Orbiting" (Ortiz), he performs extended solos, and despite some Tynerish flourishes, the notes come out soft, deliberate, as if a kitten were walking over the keys.
His Santiarican Blues Suite is an ambitious project, originally written as a ballet for the José Mateo Ballet Theater in 2011 (titled "Pagan or Not"). The suite has five movements, beginning with "Diaspora," and opens with percussionist Mauricio Herrera playing a slow beat on timpani, followed by a dark mournful segment on strings which quickly turn spiky, then joined by a dissonant flute. Eventually, the strings are accompanied by the tahona rhythm (brought from Haiti by former slaves and considered a precursor of the rumba). The tahona also bears some similarities to the tumba francesa, prominently featured in the second movement, "Pa'l Monte" (To the Hills), which has inspired singing against the rhythmic presence of the catá. It is followed by "San Pascual Bailón" (part III), a Catholic reference, but musically alludes to the danzón tradition, originally influenced by what was called the tango haitiano. "Sagrado" (IV), inspired by Sindo Gary's "Perla Marina," begins in a slow and melancholy fashion with string instruments dominating. Slowly it begins to crescendo, with percussion joining in, then slows down with strings accompanied by a gentle flute. The final and longest movement, "Jubilee/Comparsa." opens with violin and percussion, then flute. It continuously quotes and reworks a Cuban classic "Drume Negrito," but in bits and phrases. Slowly the rhythm picks up, then accelerates into a flurry of percussion (becoming a comparsa) with strings and piano providing a strident counterpoint with jabbing notes and ends with a final beat of the timpani. Ortiz's composition is fresh, highly creative; it takes folk traditions and reinserts them into a contemporary idiom, and is a true tribute to the Haitian legacy of Cuban music, often overlooked…..
Alan West-Durán, ReVisat, Harvard Review of Latin America, January 2016
Alan West-Durán (Cuba, 1953) is a poet, translator, critic, and essayist. He is the author of two books of poems, as well as a book of essays Tropics of History: Cuba Imagined (1997). He is currently writing a history of Cuba through its culture. West-Durán is a contributor to the website "Panoramas" and is editor of the webzine "Cuban Counterpoints."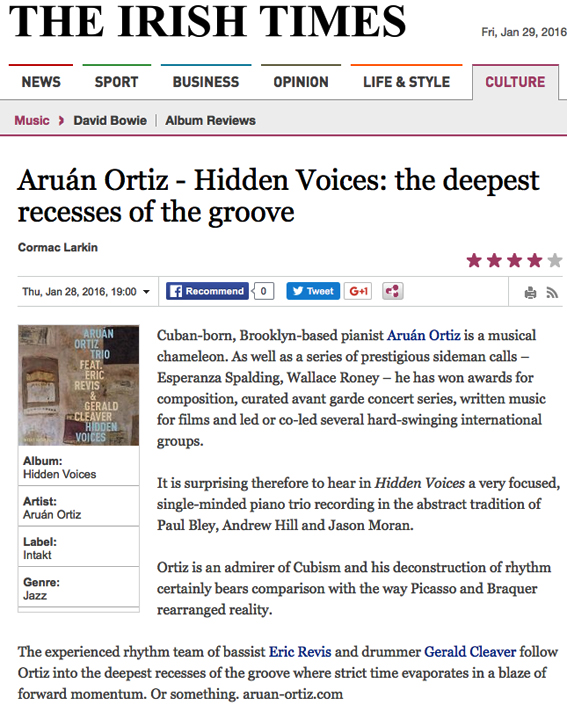 Cormac Larkin, The Irish Times, January 29, 2016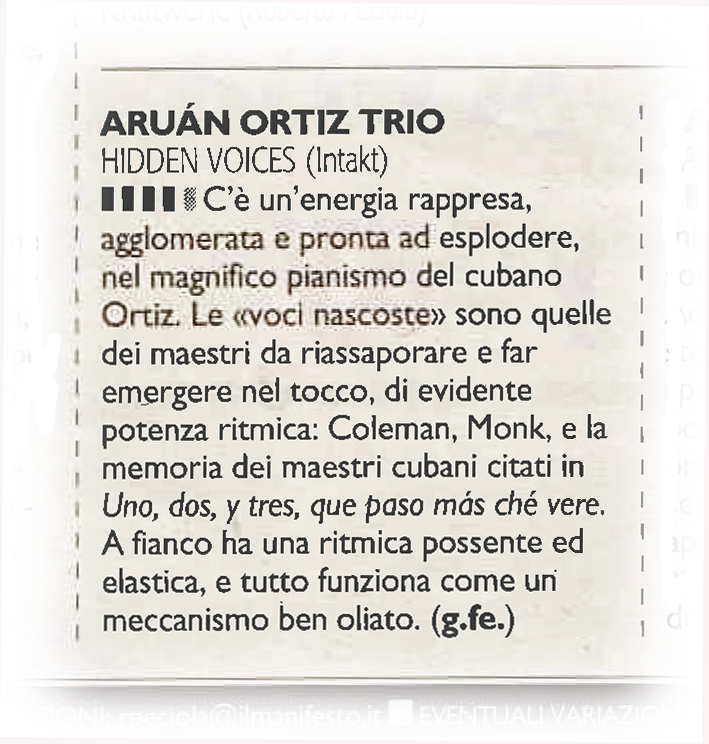 Guido Festinese, Il Manifesto, Italia, 30 Gennaio 2016
Da diversi anni il pianista cubano Ortiz è andato ad aggiungere il proprio tocco possente ritmicamente e melodicamente scarno alla folta schiera di energie caraibiche con base negli States. Rispetto a Omar Sosa, che più o meno prende le mosse dagli stessi presupposti (conoscenza enciclopedica del jazz e delle note classiche, amore per le proprie radici afrocubane), Ortiz predilige una diteggiatura più vicina alle avanguardie afroamericane: ben evidente qui nelle due uniche cover presentate, rispettivamente da Ornette Coleman e Thelonious Monk (la poco frequentata Skippy). E' un disco di enorme fascino, questo delle "voci nascoste" del titolo, ricercate e recuperate: con il supporto pressoché perfetto di due giganti come Eric Revis al contrabbasso e Gerald Cleaver alla batteria, ed il gioiellino finale Uno, dos y tres, que paso más chévere, direttamente attinto dal patrimonio folklorico cubano.
Guido Festinese, Discoclub65, Italia, 24 Gennaio 2016
Les disques qui vous ont (peut-être) échappé durant l'année passée
de Jean Buzelin , Culturjazz, France, 31 janvier 2016  

Nous continuons à écrémer les étagères où se sont réfugiés, durant l'année 2015, nombre de disques fort intéressants, lesquels ont dû patienter avant de faire l'objet de ce simple article d'information qui, je le rappelle, n'est en aucun cas une revue critique.
Nous commencerons par l'un des plus beaux labels indépendants européens, Intakt, maison suisse fondée il y a 30 ans par Patrik Landolt et qui, pour l'occasion, a édité un catalogue comprenant la reproduction en couleurs des 253 CD édités durant cette période. Lorsque l'on feuillette ce catalogue, on est frappé par la cohérence de la collection, les choix effectués, les risques assumés, et le suivi de nombreux artistes qui, en toute confiance du producteur, apparaissent régulièrement, certains depuis les tout débuts : Irène Schweitzer, Barry Guy, Günter Sommer, Pierre Favre, Elliott Sharp, Sylvie Courvoisier, Lucas Niggli, Alexander von Schlippenbach… puis Aki Takase, Fred Frith, Ingrid Laubrock, Ulrich Gumpert… les Américains Anthony Braxton, le Trio 3, Tom Rainey, Marylin Crispell… et tous ceux dont vous avez pris connaissance si vous avez eu la gentillesse de suivre mes chroniques.
…
Poursuivons par une série de trios avec, tout d'abord, celui d'Aruan Ortiz, musicien d'origine cubaine résidant à Brooklyn. Ce pianiste de 42 ans a déjà une carrière riche et variée, à Cuba, en Espagne et aux États-Unis, tant dans la tradition afro-haïtienne que dans les formes ouvertes des musiques contemporaines. On remarquera notamment le travail harmonique et rythmique, avec une dynamique et une pulsation propres et des rythmes complexes avec lesquels le batteur Gerald Cleaver fait toujours merveille. Le bassiste Eric Revis étant également excellent, cela donne un disque particulièrement réussi et réjouissant, un vrai et rare bonheur : « Hidden Voices » (Intakt 258)


(OUI, on aime !).
…

Jean Buzelin , Culturjazz, France, 31 janvier 2016  

It is one of those travesties of justice that the brilliant pianist Aruán Ortiz is not as widely known as his other contemporaries that have crossed over from Cuba to the United States. The fact of the matter is as performances both in the studio and live would show, Ortiz is not only every bit a virtuoso as, say Gonzalo Rubalcaba is, but also a pianist of unrivalled intellect and intuition. More than any other Cuban-born pianist, Ortiz can claim descent from the forefathers of Afro-Cuban music as well as Afro-American, which albeit a common genealogy requires a vastly different mindset. Moreover, Ortiz has composed music in a breathtaking array of forms from the song to a ballet and performed in settings from solo, trio and large ensemble. His recorded output is somewhat leaner than Rubalcaba, but it is every bit as significant.
Aruán Ortiz's 2016 album for Intakt peals away the curtain from the pianist's proclivities and sensibilities to reveal a musician and thinker who qualifies to be recognised in vastly greater spheres than he is. At first blush Hidden Voices might strike the listener as somewhat abstruse even in the realm of the avant-garde. Ortiz employs not only vastly experimental technique towards the conventional piano, as evinced by the music of Joyful Noises, but he also pushes his colleagues – the bassist Eric Revis and drummer Gerald Cleaver, both experienced experimentalists – to reach much further into the rhythmic territory. Compositionally, Ortiz opens up jazz to a newer variant of the music that Cecil Taylor continues to bring to the table. Here Ortiz melds the world of science – specifically mathematics – into the world of jazz.
All of this might place the music of this album at some distance from the regular jazz listener's ears. But upon closer scrutiny, it becomes clearer that Aruán Ortiz is doing what few musicians – especially in jazz – are bold enough to do. In this regard comparisons to Anthony Braxton and Taylor might not be so odious after all. Ortiz is actually pushing the boundaries of the music beyond the realm of American music to where it was always meant to go, atmospherically at any rate. His take on Ornette Coleman's Open & Close/The Sphinx comes barely close to Coleman's original. What this indicates is not only a pressing need to innovate, but also turn to make new an idiom of the age. The same can be said of Thelonious Monk's Skippy.
But it is Aruán Ortiz's own compositions that are most compelling here. Not only are they superbly put together but they also bring breathtaking new music to life. It is here that Ortiz shows how he is consciously crafting the outlines of a new idiom for music. To this end Ortiz is bringing an important element of his craft into the artistry of music. For all of these reasons Aruán Ortiz must surely qualify for something more than just the recognition of the cognoscenti. But that, unfortunately might take some more time. Till then, there is his signature music for unabashed enjoyment.
Raul da Gama, JazzdaGama, Canada, Jan 31, 2016

Francesco Buffoli, Storiadellamusica, Italia, 10 Febbraio 2016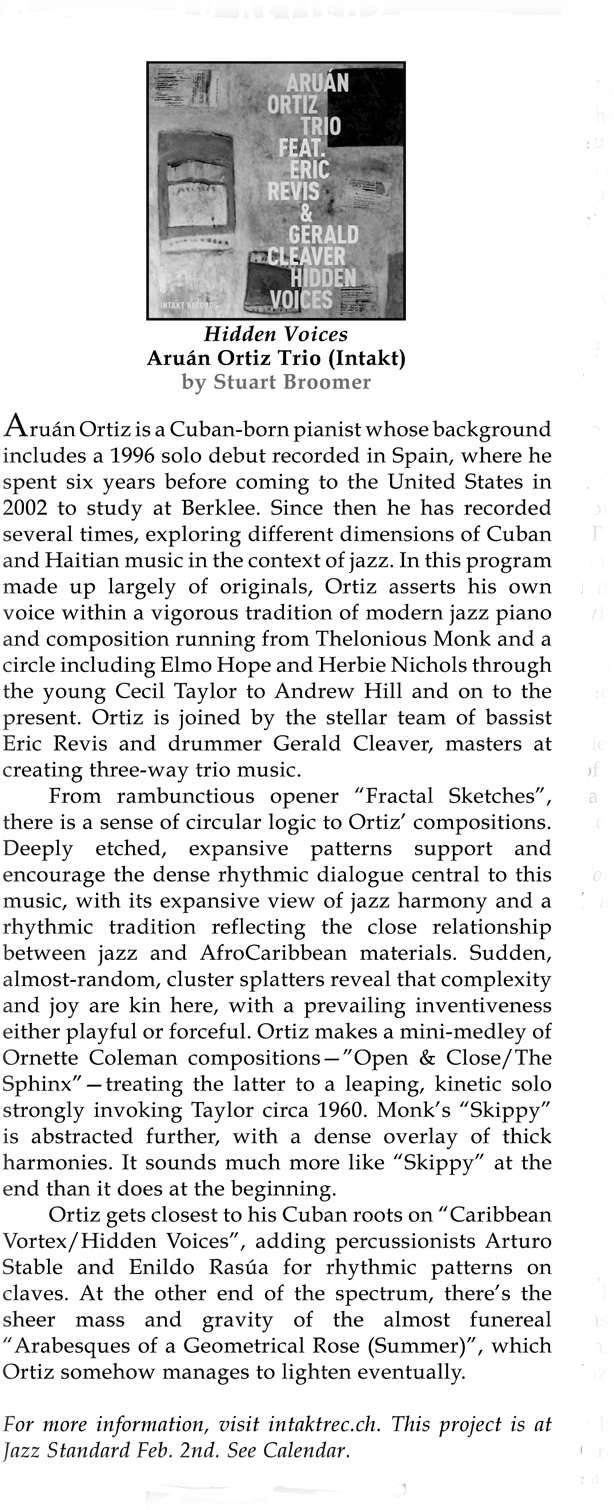 Stuart Broomer, The New York City Jazz Record, February 2016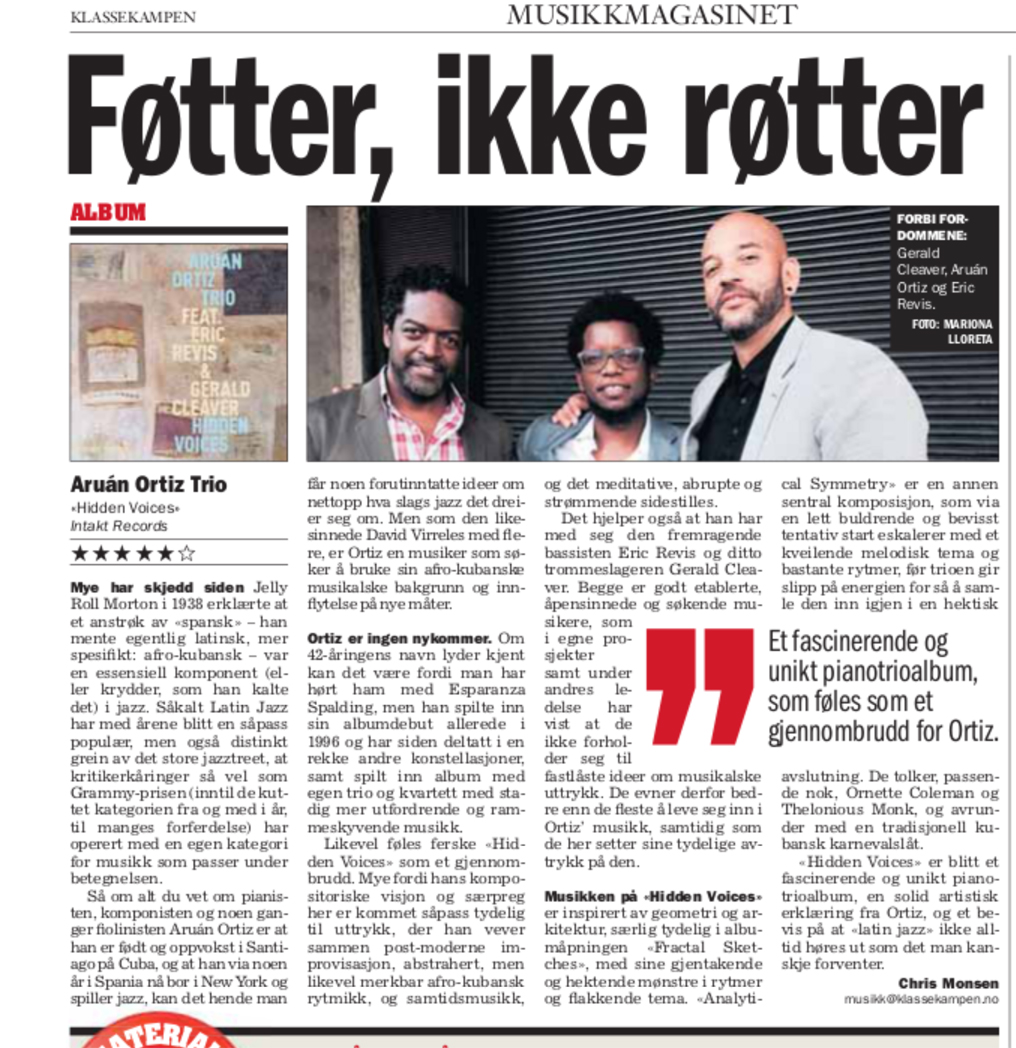 Chris Monsen, Klassenkampen, Norway, Mondag 1. Februar 2016
Pianist/Composer Aruan Ortiz presents Hidden Voices
"Keep an eye this year on Aruán Ortiz, a Cuban-born New York pianist who's become a mark of quality on gigs and records." Ben Ratliff, New York Times, Jan. 2013
"Of all of the younger generation of Cuban pianists/composers who have left Cuba to seek their fortunes in the United States, Aruán, who was born in Santiago de Cuba, may be the most avant-garde. His compositions are highly structured, and you can hear his Cuban roots emerge on occasion (especially from the rhythm section), but this music has more in common with Dave Holland and Ornette Coleman than it does with your father's Latin Jazz." www.timba.com, August 2014
"The ambitious young Cuban pianist Aruán Ortiz balances the musical bedrock of his heritage against a taste for abstraction. His partners in this trio, Eric Revis on bass and Gerald Cleaver on drums, are well equipped to go wherever the music leads." Nate Chinen, New York Times, March 2015
In naming his exceptional new album Hidden Voices (available January 29, 2016, on Intakt) Aruán Oritz, an avatar of creative and progressive improvisation, is referring first and foremost to the sounds that permeated his consciousness during formative years.
"Within a radius of two square miles," the 42-year-old Brooklyn-based pianist-composer recalls of the working-class neighborhood of Santiago de Cuba where he grew up, "anybody could walk on the street and hear groups playing popular music, folkloric dance companies, bembés, comparsas such as 'Los Hoyos' rehearsing their procession, random amateur guitar players and singers jamming and singing old trova songs, choirs performing liturgical songs, rumba percussion groups, Cuban-Haitian folkloric groups playing Tumba Francesa, and so on.
"At the same time, I was exposed to European classical music from a very early age at the Conservatory of Music. Being exposed to this compilation of styles every day nurtured my ears, and forged a very personal and eclectic understanding of the music."
Now an avatar in the world of progressive improvisation, Ortiz convenes bassist Eric Revis and drummer Gerald Cleaver, who operate synchronously and creatively throughout Hidden Voices. The album comprises seven Ortiz originals, Ornette Coleman's "The Sphinx" and "Open and Close," Thelonious Monk's "Skippy" and, to conclude, a traditional song called "Uno, Dos y Tres, Que Paso Más Chevere" that, Ortiz remarks, "everybody in Cuba knows from festivities and carnivals and so on." In distinction to the bright tempo heard on three separate versions of the song available on YouTube, Ortiz sustains each of the "very recognizable first notes" with calibrated touch and judicious pedaling, transforming it into a stark, legato miniature in the manner of Federico Mompou.
"When you listen to the whole album, the last thing you imagine is that you will find a version of this song at the end," Ortiz says of a recital full of surprises. "I did it on purpose-the normal reaction would be, 'No, he won't play it,' before you realize what it is. It could be the album's epilogue, or the prologue if you listen to it again. Everything to me works in a circular motion."
The concept of circular motion is an interesting way to trace Ortiz' patient, winding path to the lucid abstractions of Hidden Voices from his long-out-of-print solo debut, Impresión Tropical, recorded in Madrid in 1996, just after he relocated there from Cuba. On that ten-tune recital, Ortiz addressed a mix of originals and pieces from various corners of the Cuban songbook, carving out percolating grooves that might propel celebrants on any Havana dance floor, then transforming the melodic throughline with sudden left turns into the harmonic world of the 20th century Euro-canon. Seven years later, on Aruán Ortiz Trio, Volume 1, a year after Ortiz moved from Spain to Boston to study at Berklee School of Music, he convened bassist Peter Slavov and drummer Francesco Mela to navigate nine originals and Coleman's "The Invisible," demonstrating a fluent, personal conception of modern jazz piano dialects drawn from master practitioners like Chick Corea, Herbie Hancock, Thelonious Monk, Paul Bley, and Andrew Hill.
Between 2003 and 2015, Ortiz led or co-led the excellent hardcore jazz combo albums Alameda, Orbiting and Banned In London, and spent several years playing piano and keyboards with Wallace Roney, with whom he recorded twice. He composed and conducted Santiarican Blues Suite-a five-part score that references a wide timeline of Cuban, Afro-Haitian and contemporary classical vocabulary-with a camerata of string quartet, two basses, two pianos, flute, and percussion.
He produced, arranged and played on two albums with flutist Mark Weinstein-on El Cumbanchero he contributed three originals and seven modern arrangements of the first-half-of-the-20th century Cuban songs popularized by Orquesta Arcaño y sus Maravillas, the seminal charanga band that, among other things, would popularize the mambo; on Latin Jazz Underground, he, Cleaver and master percussionist Román Diaz interpreted repertoire by Sam Rivers, Coleman and Hill with well-wrought Afro-Cuban rhythms and a free jazz spirit. Ortiz has also co-produced and performed on three albums since 2010 with the Afro-HORN project of drummer Francisco Mora Catlett, and more recently, has collaborated on several projects with the eminent trumpeter-composer Wadada Leo Smith.
On Hidden Voices, Ortiz consolidates the fruits of intense research and development. Afro-Cuban and hardcore jazz roots are implied, not explicitly stated. "I have been writing tunes flirting with atonal and serial music for quite a while, finding harmonic movements that might not be familiar to some ears, and adding some Cuban Cubism to the palette," he says.
The album gestated in 2013 when Revive Music, the New York-based presenter and online hub, offered Ortiz a six-concert series at Manhattan's DROM and Zinc Bar. Titled after the Iannis Xenakis tome Music and Architecture, the events included a who's-who of New York's hardcore jazz and Afro-Caribbean practitioners, for whom Ortiz generated works focusing "on specific themes related to architectural patterns and using information drawn from non-musical contexts," often beginning "with simple materials to which I add layers, creating something more complex by juxtaposition." Funds garnered from a Doris Duke Impact Award in 2014 enabled him to consolidate his ideas for the trio context, and to convene Revis and Cleaver in March for this recording.
"They are top professionals, who have played, toured and recorded at a high level for many years," Ortiz says of his partners. "For me, every note and beat they generate sounds like a composition, which made it easy to do this record. I didn't say much musically on the session, and we never did more than one or two takes. You don't have to demonstrate anything to them."
Ortiz' intuitive interaction with his partners reflects the notion of hidden voices. But he reiterates that however long a distance he has traversed during the past two decades, the title most meaningfully singles out his "friends and mentors and teachers who have nurtured my hunger for knowledge, and the forces in Santiago de Cuba that catalyzed my development and are now my source of inspiration."
He adds: "But they are also the voices that appear when we listen to ourselves. For example, I admire the prominent figures who established Cubism, like Picasso, Braque and Wilfredo Lam, for their ability to deconstruct reality, inviting you to look closer inside the piece to start to understand what's in it. Their main theme is usually fragmented and hidden inside the painting. It takes time and patience to see that hidden theme. I feel that the more you listen to this album, the more familiar you get with the songs and melodies, the more they will start to resonate and unfold."
Tomas Peña , Jazz de laPena, Jan 26, 2016
Den drøyt 40 år gamle, cubanske pianisten og bratsjisten Aruán Ortiz har de senere årene vært bosatt i Brooklyn, New York. De senere årene har han jobbet mye som komponist, både for diverse jazzensembler, dansekompanier, kammerorkestre og spillefilmer. Hans fokus har lenge vært påvirket av moderne klassisk musikk, cubanske haitian rytmer og avant gardejazz, og han jobber konsekvent med å bryte stilistiske musikalske grenser. Han er blitt betegnet som den siste cubanske «wonderboy» som har ankommet USA, og en av de mest allsidige og spennende pianistene i sin generasjon.
På «Hidden Voices» samarbeider han med bassisten Eric Revis og trommeslageren Gerald Clever, to av de mest fremgangsrike improvisatørene i New York om dagen.
Alle låtene er skrevet av Ortiz, med unntak av andresporet, som er et slags potpuri over Ornette Colemans «Open & Close» og «The Sphinx».
Det er ingen tvil om at Ortiz er en glimrende pianist. Han har teknikken fullstendig inne, og hans improvisasjoner ligger et godt stykke fra det vi er vant til å høre fra musikere fra Cuba. Det er tydelig at Ortiz har lært mye i de årene han har vært bosatt i USA og i Brooklyn, for det er, hele veien, typisk musikk fra den nye «Brooklun-bølgen» vi får servert.
Og sammen med Cleaver og Revis, kan det jo nesten ikke gå galt, for et bedre «komp» eller medspillere innenfor den moderne improvisasjonsmusikken kan man nesten ikke få.
Nå er jo Cuba kjent for å dyrke fram dyktige pianister, men for det meste har det vært heftige teknikere som har spilt fortere og heftigere enn de fleste. Så er ikke tilfelle med Ortiz. Han er en dyktig tekniker, men han er så mye mer. I motsetning til en del andre landsmenn, så er det mye mer enn en show off det han gjør bak pianoet.
Han skriver fine komposisjoner, som har mye av den cubanske musikken i seg, men som samtidig ligger godt innenfor den improvisasjonsmusikken vi i en del år har fått fra band fra Brooklyn.
Hans tolkninger av Ornette Coleman er strålende, og det er spennende å høre han inkorporere sine cubanske musikalske tradisjoner inn i Colemans kjente låter. I tillegg skriver han spennende og interessante komposisjoner som både er originale og glade (hvis man kan si det).
Revis og Cleaver følger han hele veien til døra med lydhørt og flott spill, og det hele blir en enhet som fungerer fint.
«Hidden Voices» er rett og slett blitt en spennende og interessant plate, som gir et helt nytt bilde på musikere fra Cuba, som i det rette selskap lager strålende musikk.
Jan Granlie, Salt Peanuts – a pan-Nordic/Baltic website, 4. januar 2016

When I soak in the advanced, modern jazz of the Aruán Ortiz Trio's new release Hidden Voices, I think of a pianist who is "an artist well-versed in the intricacies of advanced jazz." Further, I conclude that "his cagey compositions leverage his intimate knowledge of the way Cuban jazz integrates percussion and melody so well, but without ever explicitly aping Cuban jazz." Which are just the things I liked about Ortiz's music when sizing up his 2010 release Alameda.
So what is different about Hidden Voices that sets it apart? The most obvious reason is that this time, he's got the premiere talents of Eric Revis (bass) and Gerald Cleaver (drums) at his disposal. On philosophical level, Ortiz chooses this occasion to present 'Cuban Cubism,' which takes his unique treatment of the rich Cuban music of his homeland further into vanguard of jazz.
'Cubism' originally meant to describe a type of visual art, of "which amalgamated viewpoints of natural forms into a multifaceted surface of geometrical planes." But in calling his music 'cubism,' Ortiz is regarding audio art as a different manifestation of the same kind of art. And that is particularly helpful to sorting out the complexities of these songs.
Certainly, the angular forms associated with cubism can be found on "Fractal Sketches," which deftly combines dissonance and a little chaos with order. Cleaver maneuvers through the composed and freer parts, integral to making it all work. Another deft combination comes on Ortiz's mashup of two Ornette Coleman songs, "Open & Close" with "The Sphinx," creating from the former tune's three-note figure while punching in the riff from "Open & Close" at seemingly random spots.
His Cuban roots come a little more forward for "Caribbean Vortex/Hidden Voices" but strictly on his own terms. Caribbean percussion played a with minimal, street corner vibe, his piano and Revis' bass come crashing in, Ortiz then introduces a set of repeating figures, ending in different chords, before settling into a groove that's suggestive of — but not explicitly — Afro-Cuban.
"Arabesques of a Geometrical Rose" is presented in two shades: "Spring" is Ortiz alone playing in an avant-classical style, while "Summer" employs the full trio, playing around a descending, dark figure as Ortiz plays fractured, sharp lines, getting increasingly muscular with block chords before coming to a soft landing.
The three musicians take on Monk with a very loose and free reading of "Skippy," and somehow they shoehorn the song's theme amid all the chaos. They stagger through it, but they stagger together in perfect unison. And Ortiz ends unexpectedly with a traditional Cuban song, "Uno, dos y tres, que paso más chévere" performed on piano only with spare abstraction.
Ultimately, the 'Cuban Cubism' concept that Aruán Ortiz explores on Hidden Voices is a tool to take improvisation to a new place. It's something he tries to do for all of his albums, and while the tactics might be altered for each time out, his sophisticated, ultra-modern style of composing, arranging and improvising emerges each time.
S. Victor Aaron, Something Else!, USA, January 27, 2016
Le pianiste et compositeur cubain Aruán Ortiz s'est installé voici près de huit ans à Brooklyn, après un passage par l'Espagne. Il en avait profité pour enregistrer en trio pour le label catalan Fresh Sound (« Aruán Ortiz, Vol. 1 ». C'est donc le second CD en trio, après des enregistrements sous son nom en solo, en quartette, et une série de collaborations avec Steve Turre, Esperanza Spalding, le trompettiste Wallace Roney, et le frère d'icelui, le saxophoniste Antoine Roney. Plus encore que dans le précédent trio, le pianiste prend le parti résolu du jazz contemporain : cela commence entre cellule répétitive, sérialisme adouci et liberté tonale, une oreille vers Bartók et Stravinski, une autre vers Andrew Hill et Paul Bley, le tout avec une vraie pulsation de jazz, tendue, vibrante.... Aruán Ortiz signe une bonne part du répertoire, mais il fait aussi place à deux thèmes d'Ornette Coleman, condensés en une seule plage, et à Skippy, de Thelonious Monk, commué en un tourbillon d'improvisation ouverte. La circularité est l'un des ingrédients de ce disque, où les mouvements de rotation fonctionnent, à l'intérieur des improvisations, dans la construction des plages, et dans le mouvement même de l'ensemble du disque. Mais ces vortex (l'un des morceaux s'intitule Caribbean Vortex) n'engendrent nulle lassitude, car la variété des rebonds, des nuances, fait naître constamment de nouvelles sensations. Les sources cubaines ne sont pas absentes mais, comme les autres composantes, brassées dans des chaudrons inédits. Une impro collective, Joyful Noises, reflète aussi la joyeuse liberté qui s'empare du trio. On est ici en présence d'un pianiste qui, comme par exemple Vijay Iyer ou Craig Taborn (avec lesquels le batteur a joué), sait emmener le trio piano-basse-batterie vers un horizon rénové. À suivre donc, passionnément.
Xavier Prévost. Les Dernières Nouvelles du Jazz, France, Fevrier 2016
Aruan Ortiz, il jazzista che s'ispira a Cuba
Intervista a uno dei protagonisti del jazz d'avanguardia americano. Nato nell'isola caraibica, ma residente a Brooklyn
HIDDEN VOICES è il nuovo disco di Aruan Ortiz, pianista di Santiago de Cuba, ma che da anni vive a New York nell'area di Brooklyn. Fortemente influenzato sia dalle sue radici latine sia dalla musica di Monk e Ornette Coleman, l'astro nascente del jazz d'avanguardia americano è discepolo diretto di Muhal Richard Abrams da cui ha imparato ad ispirarsi dalla filosofia e dall'arte. Abbiamo fatto quattro chiacchiere con lui.
1) Quali sono le "voci nascoste" da cui trai ispirazione?
Le 'Hidden Voices' sono i miei amici, mentori e maestri che hanno nutrito la mia sete di conoscenza ma lo sono anche le energie che si sono catalizzate negli anni della mia formazione a Santiago de Cuba ed ora sono fonte di ispirazione. Lo sono soprattutto le voci che ci appaiono quando ascoltiamo noi stessi, che ci interrogano ad ogni passo e ad ogni decisione e che ci spingono continuamente a superare i nostri limiti. La 'Hidden Voices' appaiono anche quando cerchiamo di attrarre l'attenzione del pubblico ricostruendo atmosfere, quando proviamo a stimolare l'immaginazione oltre i nostri confini e quando cerchiamo di addentrarci all'interno di un'opera per capire com'è fatta. Le 'Hidden Voices' si trovano anche quando seguiamo le linee delle personalità protagoniste del Cubismo, come Picasso, Braque e Lam, dove la realtà è frammentata a blocchi: qui si sentono le voci occulte che si manifestarono con libertà dentro quelle opere al momento della loro creazione. Credo che più lo ascolti, più ti saranno familiari i suoi brani e le sue melodie, più questo disco ti sembrerà chiaro e vicino.»
2) Sei nato a Cuba però vivi a Brooklyn. Come si conciliano due mondi musicali così differenti? Come ti ha influenzato il luogo dove sei nato?
Santiago de Cuba è la mia principale fonte di ispirazione nonchè fonte di ricerca di sapere artistico e musicale, radice dell'abbondante ricchezza socioculturale che anima questa regione. Nonostante sia nato a Cuba, ho vissuto diversi anni in Europa e a Boston prima di stabilirmi definitivamente a Brooklyn. Dopo 20 anni, ormai non si distingue più dove termina il mio essere cubano e quello internazionale . La barriera più difficile da superare è stata quella della lingua visto che in questa parte degli Stati Uniti, nonostante vi sia una larga presenza di ispano-americani, la lingua inglese è fondamentale. Brooklyn mi è stata utile per avvicinarmi ai miei artisti preferiti, vederli suonare e conoscerli di persona e questo è molto importante per qualsiasi artista. Inoltre, Brooklyn mi ha insegnato a comprendere il mio processo creativo, a guardarmi dentro, ad ascoltare le mie voci e ad abbeverarmi della cultura della mia terra, della mia città e, una volta terminato questo processo, a esporre tutte queste ispirazioni in maniera personale, in modo che su tutte queste, possa prevelare una voce unica.
3) In Blackstar, il nuovo disco di David Bowie, suonano alcuni musicisti della scena jazz di New York. Cosa pensi di quel disco?
Mi sembra un opera geniale! L'ho ascoltato solo una volta però conosco la caratura di musicisti come Donny McCoslin, Jason Lindner, Ben Monder o Mark Giuliana. Tutti musicisti di primo livello e per loro è stata una fortuna ed un'opportunità unica poter registrare quel disco perchè rimarrà nella storia come uno dei migliori dischi pop di tutti i tempi.
Panorama, Italia, 19 Febbraio 2016
Einen erstklassigen Tonträger hat der noch relativ unbekannte kubanische Klavierspieler Aruán Ortiz bei Intakt Records vorgelegt. In der klassischen Besetzung mit Bass (Eric Reeves!) und Schlagzeug (Gerald Cleaver!!) bringt er eigenständige, sehr originelle Musik auf den Markt. Es beginnt ziemlich eckig, bedient sich schräger Metren. Das Meiste hat Ortiz selbst geschrieben, außer zwei Nummern von Ornette und Monk, was schöne Hinweise auf musikalische Wahlverwandtschaften liefert. Lateinamerikanisches findet sich auch, wenn auch angenehm unaufdringlich, quasi in homöopathischer Dosierung und klug in einen Personalstil verwoben. Ganz bemerkenswert ist die ausgewogene Besetzung mit Eric Reeves am Bass und dem formidablen Gerald Cleaver an den Fellen.  Cleaver gibt ein schönes, sehr schlüssiges Gegenüber zum Klavier, Reeves stellt die Verbindung her, baut ein Gerüst. Manche der Titel weisen auf einen gleichsam wissenschaftlichen Hintergrund, Analytical Symmetry oder Arabesque of a Geometrical Rose sind hübsche Beispiele dafür. Sehr hörenswerte Arbeit.
haun, Freistil 65/2016, Magazin für Musik und Umgebung, Österreich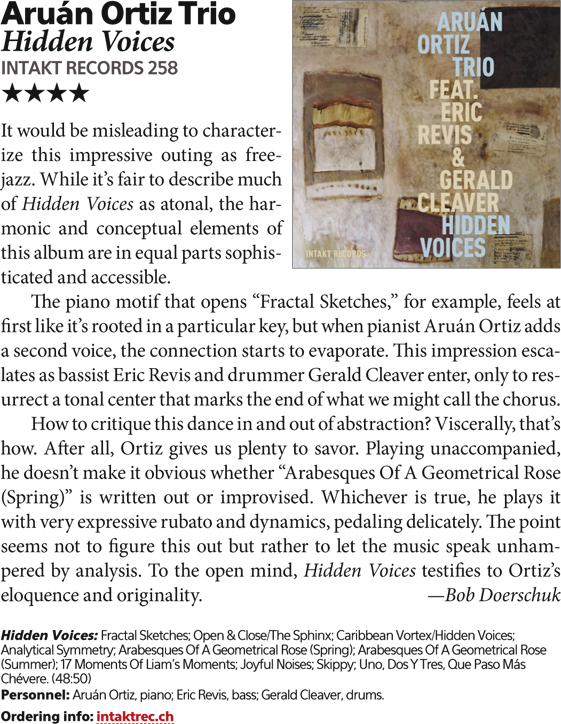 Bob Doerschuk, Downbeat, USA, Mai 2016

Paul Jaillet, Jazzmagazine, France, Mars 2016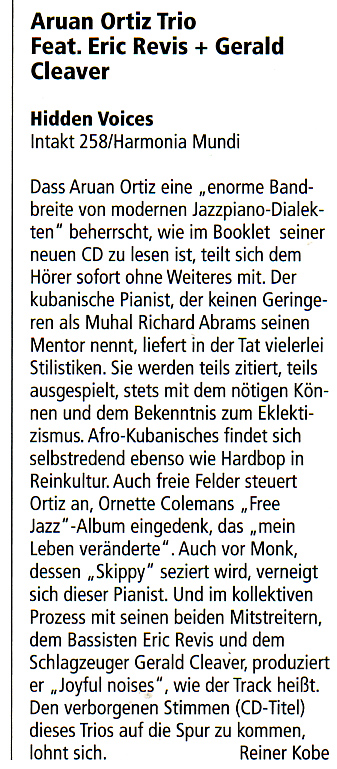 Reiner Kobe, Jazzpodium, Deutschland, März 2016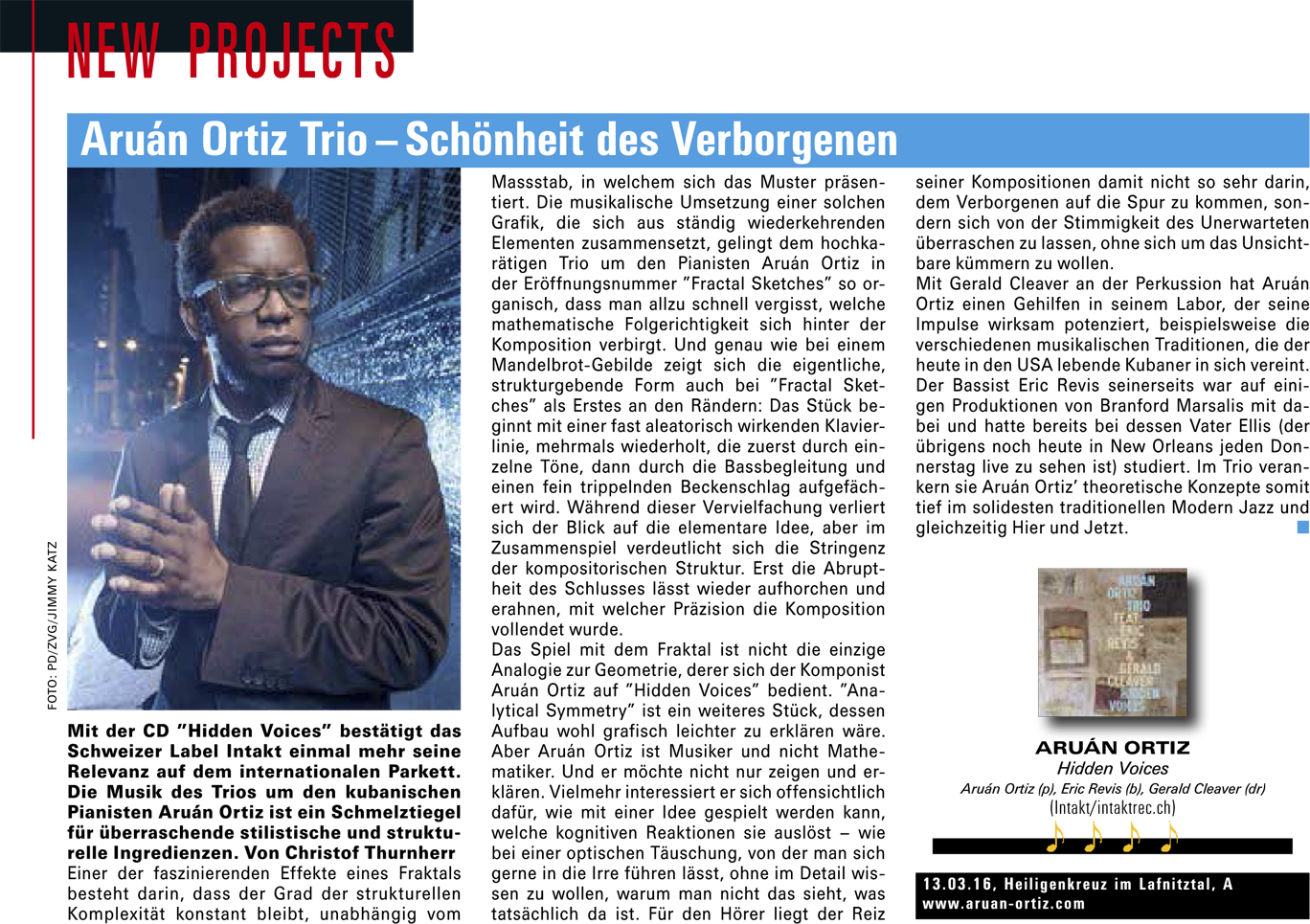 Christof Thurnherr, Jazz'n'more, März-April 2016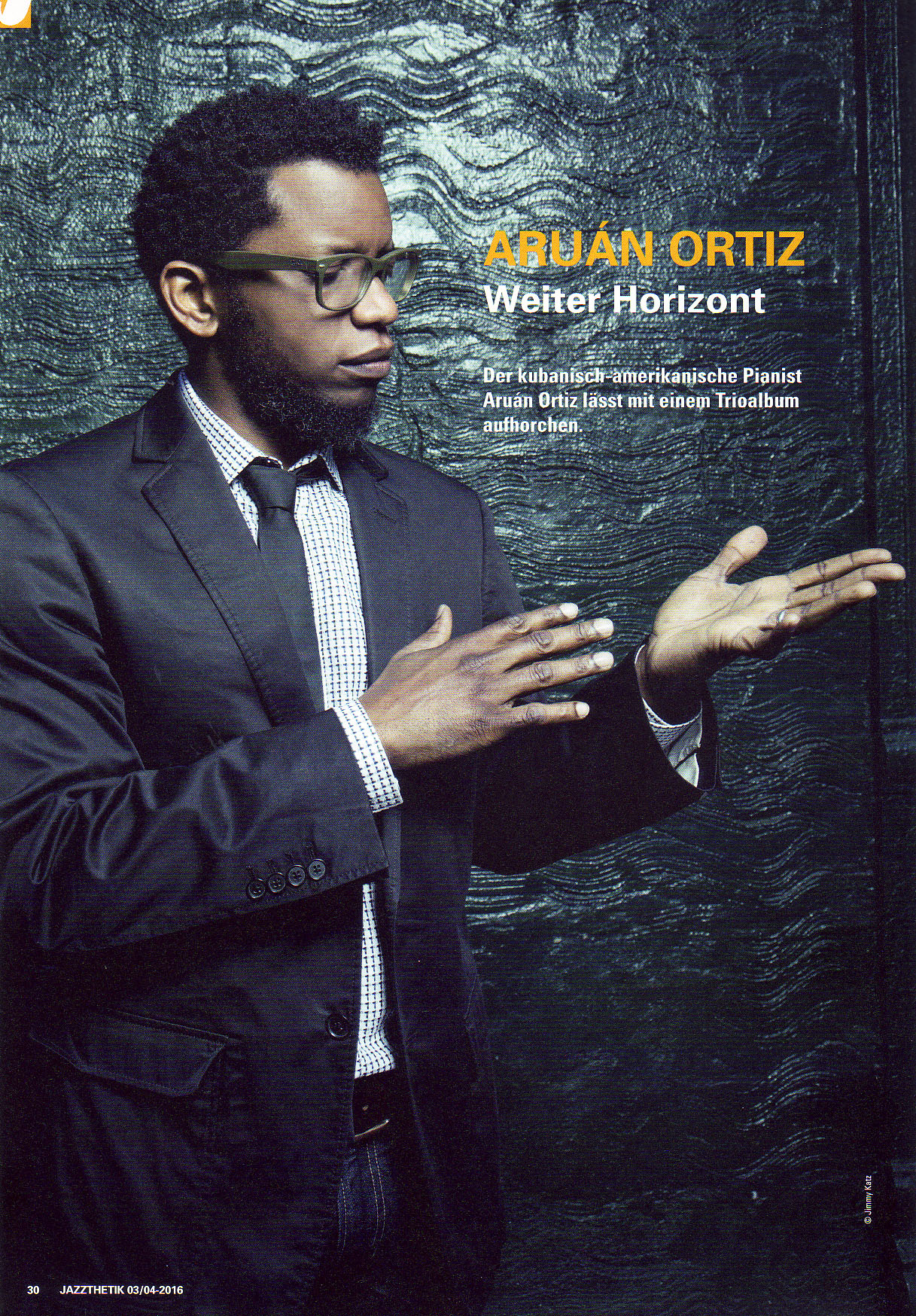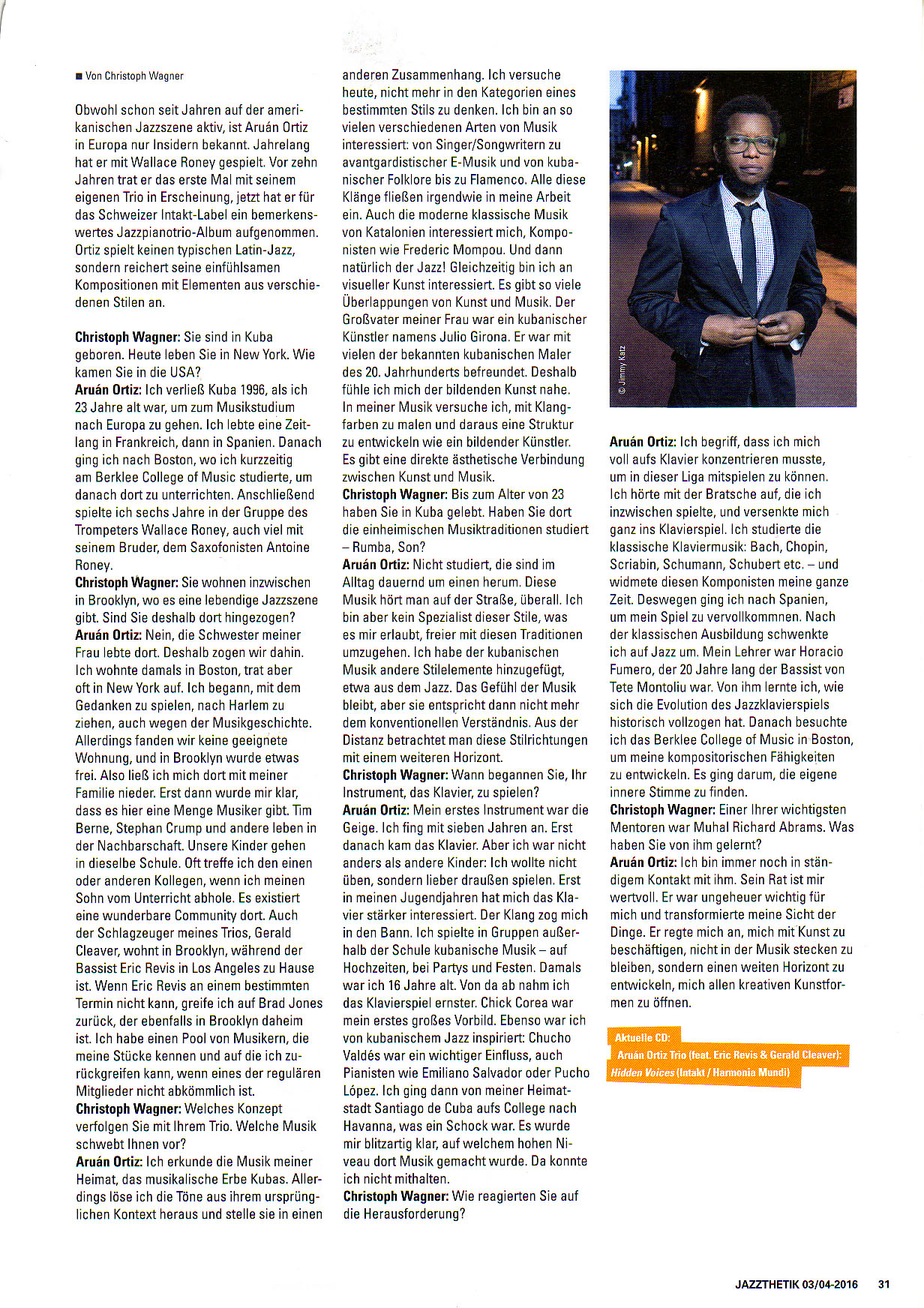 Christoph Wagner, Jazzthetik, März-April 2016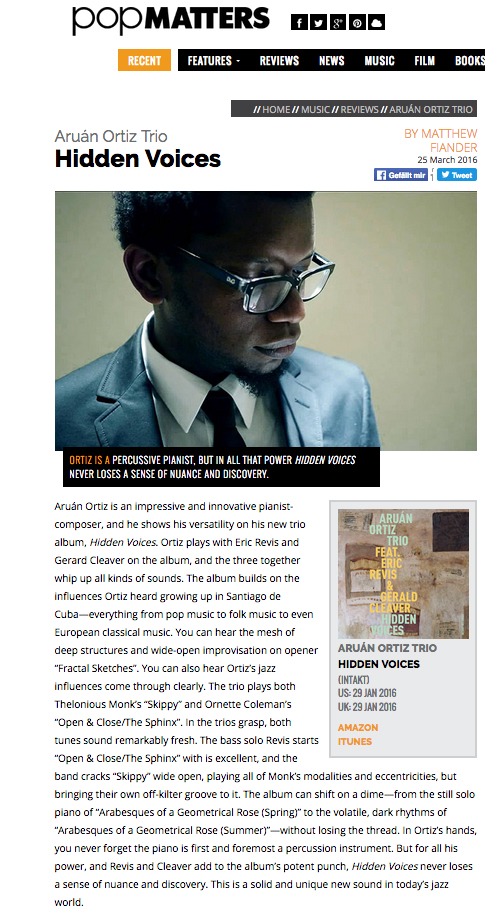 Matthew Fiander, Popmatters, 25.3.2016
Confesso che fino a qualche settimana fa poco o niente sapevo di Aruán Ortiz. Non che il nome del pianista cubano non fosse mai arrivato alle mie orecchie (a suonare con gente come Don Byron. Steve Turre, Esperanza Spalding e Wallace Roney difficilmente si passa inosservati), ma nulla di quanto ascoltato aveva attirato la mia attenzione. Superficialità? Forse. Contesti poco stimolanti? Probabile. Fretta? Può essere. Fatto sta che mi ero convinto di avere a che fare con l'ennesimo "professionista" in giacca e cravatta, uno di quei musicisti che garantiscono mestiere e qualità, ma che raramente trovano il guizzo per emergere dalla moltitudine dei jazzisti qualunque.
Ovviamente mi sbagliavo. Chiedo scusa e pago pegno. Tessendo le lodi di uno dei primi "disconi" del 2016: Hidden Voices. Che arriva sugli scaffali dei negozi (o almeno di quei pochi che restano) grazie alla svizzera Intakt, segnando il debutto del nuovo trio del quarantenne Ortiz. Una prima da applausi a scena aperta che finisce dritta dritta nell'elenco delle meglio cose capitate al pianoforte jazz di recente.
Merito di due fuoriclasse totali come Gerald Cleaver (batteria) ed Eric Revis (contrabbasso): precisi, empatici, versatili. Ma soprattutto dell'ispiratissimo Aruán, che si muove tra richiami obliqui e introversi alla tradizione cubana (inevitabile l'accostamento al conterraneo David Virelles) ed espliciti agganci al genio titanico e spigoloso di Andrew Hill. Senza dimenticare Ornette, Monk (strepitosa la rilettura di "Skippy"), Muhal Richard Abrams (del quale Ortiz è amico e discepolo), Vijay Iyer e il Chick Corea dei tempi che furono (e che mai più torneranno). Un bagaglio parecchio pesante che il nostro si trascina appresso con sorprendente disinvoltura, dimostrando lucidità e inventiva fuori dal comune, gusto e senso della misura nel gestire gli spazi, i tempi, le dense architetture.
Da capogiro gli scarti dell'elettrizzante "Fractal Sketches," con il drumming propulsivo di Cleaver a menare le danze; irresistibile la sinuosa "Analytical Symmetry," capace di mutare pelle almeno una dozzina di volte senza perdere efficacia e coerenza (ascoltare prego la maestria di Revis nel sorreggere l'urto dei crescendo e nel tenere ferma la barra durante gli improvvisi sfaldamenti); sorprendente la chiusura nel segno dei sapori di casa con la carnevalesca "Uno, dos y tres, que paso más chévere," reinventata alla maniera di un improbabile Satie cubano.
Che bellezza!
Luca Canini, All About Jazz Italia, March 7, 2016
Aruan Ortiz: long-overdue recognition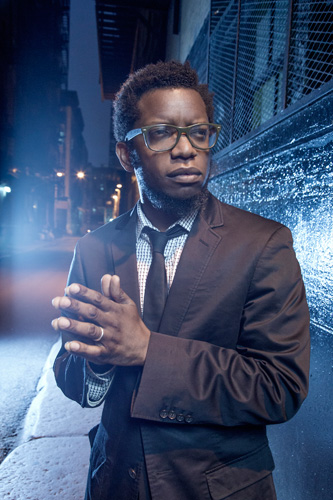 Cuban born pianist and composer Aruán Ortiz is just now beginning to receive long-overdue recognition after two decades as a leader or collaborator. More than ten years prior to his new trio release, Hidden Voices, he had drawn favorable comparisons to Chick Corea and Ornette Coleman with Aruán Ortiz Trio Vol. 1 (Pimienta Records, 2004). On Hidden Voices (Intakt Records, 2016) Ortiz' trio includes Grammy winning composer/bassist Eric Revis and the prolific drummer Gerald Cleaver.

Hidden Voices is Ortiz' ninth release as a leader or co-leader and he has had an active presence as a side man as well, appearing on more than twenty recordings including those of trumpeters Steve Turre, Wallace Roney and bassist/vocalist Esperanza Spalding.

Now a Brooklyn resident, Ortiz, a 2014 Doris Duke Impact Award winner, is also a producer and educator.

Karl Ackermann, from Chicago Jazz Magazine, talked with Ortiz about his life in music and his new recording.

Chicago Jazz Magazine: You play piano with the expertise and passion of someone drawn to the instrument from a very early age, yet you spent the first seventeen years of your professional musical life as the viola soloist in the Santiago de Cuba, Symphony Orchestra. What brought about your transition to piano?

Ortiz: I started playing piano when I was 9 years old, as part of the academic curriculum at the Conservatory of Music in Santiago, because all students have to take "Complementary piano", which is piano lessons for non-pianists at the school. Although my primary instrument was violin and later viola, and I did very well, my fascination for the rich sound of the piano came from those years. So when I was a bit older, around 12 years old, I formed a band at the school with my classmates, playing arrangements and versions of popular Cuban songs, where I was the pianist and the director of that band. Later in my teen years, I started to play in popular bands in Santiago at the same time I was finishing my studies. I had a parallel life, playing classical music at the school and popular Cuban music with different bands. When I was in college in Havana, I had the opportunity to listen to many great musicians, and I realized that if I wanted to play the piano professionally I had to commit myself to rigorous study of the instrument, learn the piano literature, and find a teacher in order to play well. At that point I went back to my hometown, and for few years I was very committed to practicing and composing music for piano. When I was 22 years old I signed a contract with the Spanish label, Magic Music, to record a solo piano album in Spain. There, I had the opportunity to study with the great pianist Cecilio Tieles for three years. He guided me toward my goal of learning the fundamentals of the instrument.

Chicago Jazz Magazine: How did playing viola help your development as a pianist?

Ortiz: Playing viola at the school allowed me to learn the instrument, classical music, and music history, but I didn't improvise with the viola, in fact I never tried, and I found that piano was my natural vehicle of self-expression, because I was able to find myself through the journey of improvisation.

Chicago Jazz Magazine: How did you come to your affinity for jazz?

Ortiz: When I was about 15 years old, a friend at the conservatory showed me Chick Corea's tune, 'Night Streets' from "My Spanish Heart." He was extremely popular in Cuba at the time, and I was so fascinated by that tune that I learned it by ear from the soundtrack of a radio program. Later, I listened to LPs of Cuban Jazz, and I became big fan of Gonzalo Rubalcaba, Emiliano Salvador, Gabriel Hernández, Chucho Valdés, Afrocuba, and many bands that were part of the Cuban Jazz scene in the late '80 early '90. However, I didn't have any knowledge of American jazz until I went to jazz school while living in Barcelona. There I studied with Horacio Fumero, a well-known local jazz bass player who had played with Gato Barbieri, Johnny Griffith, Joe Henderson, and Tete Montoliú for many years. He taught me the history of jazz and improvisation, and introduced me to the music of the great Bud Powell, Charlie Parker, Monk, Dizzy, and Louis Amstrong, among many others. I also learned to transcribe solos and build my jazz repertoire. I started to understand the evolution of this art form and the different jazz periods and styles.

Chicago Jazz Magazine:Your new CD, Hidden Voices, presents your concept of "Cuban Cubism". How would you explain the concept and is it a different way of articulating deconstruction?

Ortiz: I think about my music as something continuously moving and varying, something alive that can be played in different directions. I borrowed the concept of Cuban "Cubism", because I feel deep admiration for the work of the pioneers of Analytical Cubism, such as Picasso, Braque, Juan Gris, and Wilfredo Lam, among others, and their impact on the artistic movement of the 20th century. The artistic aesthetic of my creative process is based on deconstructing forms, patterns, or melodic themes and fragmenting them, assigning them in an irregular order to the different instruments, and then re-ordering them again.

Chicago Jazz Magazine: You grew up surrounded by musical styles like soukous, rhumba, salsa, and, of course, Afro-Cuban jazz. Is it fair to say that you minimize those root influences in favor of a more eclectic approach to composing?

Ortiz: I guess you could say something like that, but the way I try to avoid stereotypical Afro-Cuban influences in my music is related to my admiration of Cuban writers such as Humberto Desnoes, Alejo Carpentier, and Lezama Lima, but also Humberto Eco and Arturo Pérez Reverte. I really like the way they create fictional stories based on the deconstruction of factual events, and sometime fragmenting those events, and re-assembling them in a unique way, taking the story to different territories. I always try to approach any composition from different angles, finding new ways to play it and--like artists in other mediums--do take them to unknown places, or use unfamiliar sounds, reorganizing the material I'm using to make variations. I'll use anything from a popular Cuban song that I like, to a jazz standard, to a classical piece, to revisiting one of my own compositions.

Chicago Jazz Magazine: You've worked and recorded in the trio format once before on Aruán Ortiz Trio Vol. 1, but with different players. How did you come to work with bassist Eric Revis and drummer Gerald Cleaver on Hidden Voices?

Ortiz: I had the chance to play with Eric and Gerald in LA at the LA Jazz Festival in 2014. I had played and toured with Gerald several times, and I played once with Eric, subbing Orrin Evans on the Tarbaby trio with Darius Jones in Seattle.

Chicago Jazz Magazine: But after the trio concert in LA, I decided that I wanted them as the rhythmic section of my next trio recording, because of how solid they sounded, while maintaining an incredible musical dialog throughout the performance. Anything you play with them will sound like it's in the right place. Thanks to funds I received from the Doris Duke Impact Award in 2014, I was able to consolidate all these ideas for the trio, and to convene Eric and Gerald for this recording.

Ortiz: You've demonstrated an affinity for the music of Ornette Coleman. What is it about Coleman that inspires you?

Chicago Jazz Magazine: My first experience with Ornette's music was his collaboration with Pat Metheny on the album "Song X." I was really into Metheny's music back then, and after hearing that album my devotion to Ornette's work was instantaneous.

Ortiz: I found the flexibility of his melodic concept very inspiring. It's also amazing how he developed his "harmolodic" concept and how it works in a multidimensional way. I remember talking to Joanne Brackeen at Berklee College of Music about his 12-tone system based on his precise organization of triads, creating multiple melodies that flow naturally and organically in a non-harmonic context. I've been working recently on some music that has that kind of flexibility. Sometimes I construct a harmonic movement related to a specific melodic structure, then I establish two or three parallel counter-melodies that can move in the opposite direction from the main melodic structure, so if you approach them from the harmonic point of view it can give the impression of an atonal melody, but from the melodic approach it makes sense because it's the same melody, just expanded. I like to play with that kind of functional ambiguity.

Chicago Jazz Magazine: What does the U.S. represent to Cuban musicians who have relocated here?

Ortiz: For me it may be a little different than for others, because when I was in Cuba, the idea of living in the US wasn't part of any immediate plan in any sense. In my wildest dreams I couldn't imagine I'd live in New York City one day. Moving to New York was a long process.

When I moved from Cuba to Spain to record and to finish my classical piano studies, I ended up living there for six years. While in Spain and after finishing my piano studies, I attended a jazz school connected with the Berklee College of Music International Network. There they encouraged me audition for Berklee, and I was awarded a scholarship. I moved to Boston in 2002, and lived there for five years. While in Boston I visited NYC often to play with musicians who were already living here. When I joined Wallace Roney's band, I decided that it was time to make the move to the big city.

Moving here was a real turning point in for me personally and professionally. Living provides a unique experience to learn in the birthplace of jazz, to pay your dues, hang with the elders, play with your heroes, and find your own voice within an array of extraordinary musicians. The level of commitment, dedication, creativity, and talent I find in this city can't be found anywhere else in the world, and not only in music or the other arts, but everywhere. That's the uniqueness and the engine that has influenced me to keep working and finding my voice in this city.


Chicago Jazz Magazine: Did the move to New York give you the opportunity to play with some musicians you had looked forward to meeting?

Ortiz: Absolutely! Since I've lived here, I've been fortunate to play the music I love with the people I admire. I have collaborated on different projects with the most forward-thinking musicians from different generations such as Henry Grimes, Oliver Lake, Cameron Brown, Mark Helias, William Parker, Adam Rudoplh, Andrew Cyrille, Wadada Leo Smith, Hamiet Bluett, Bob Stewart, Don Byron, Wallace Roney, Graham Haynes, Antoine Roney, Greg Osby, Rufus Reid, Francisco Mora-Catlett, Nasheet Waits, Gerald Cleaver, Eric Revis, Fay Victor, Sam Newsome, Michaël Attias, Tim Berne, Seamus Blake, Darius Jones, Eric McPherson, Brad Jones, Chris Lightcap, and John Hébert, among many others!


Chicago Jazz Magazine: Brooklyn has become something of a creative mecca, among artists and jazz musicians and composers. Do you feel like there is a creative energy in this part of New York that inspires your composing?

Ortiz: Brooklyn is a great place to live and to raise my kids. I'm very happy being here, and perhaps it does infuse a creative energy in me. But I compose in Brooklyn because I live here, not the other way around.

Chicago Jazz Magazine: What was your exposure to jazz music before you moved to the US? Was there a strong presence of the very progressive, avant-garde jazz that you've created with Hidden Voices, in Cuba?

Ortiz: My appreciation and enthusiasm for avant-garde and progressive jazz came with my admiration for the music of Andrew Hill and Ornette Coleman when I was still living in Europe. Because of their music I was curious to know more about that movement from the 60's with an uncompromised voice, and I was very aware of the social changes from that period. I learned about Don Cherry, Eric Dolphy, Albert Ayler, Cecil Taylor, Richard Davis, Charles Tolliver, Sam Rivers, Bobby Hutchison, Charles Mingus, Jackie Byard, and Herbie Nichols, among many others. In my readings I discovered how powerful their music was and how influential they were to the development of jazz as we know it today.

Ortiz: When I was living in Cuba, I didn't have any exposure to avant-garde jazz. I remember listen to a midnight radio program called "La Esquina del Jazz", where I first heard Herbie Hancock's blowing on those keys on his Blue Note recordings. I was astonished, because in Cuba back then, Herbie was really popular for his song "Rock it" but when I listened to him in this other context I didn't understand what I was hearing.

At that time I was only listening to the top Cuban jazz groups such as Chucho Valdes & Irakere, Gonzalo Rubalcaba & Proyecto, Emiliano Salvador, Afrocuba and Ferver Opus.

Chicago Jazz Magazine: As a composer, do you feel like there is a different kind of creative freedom in the US as opposed to Cuba?

Ortiz: Cuba has produced a massive amount of progressive and forward-thinking artists from different creative fields. I have always admired the work of those individuals, but in its recent history, there have been some periods when certain artistic expressions may have been more or less restrained.

Living outside of Cuba, I've had access to the materials I need to nurture and inform my creative process as a composer and performer, but I also find a lot of my source material on the island, where there's a lot of information about my culture that I still have yet to discover.

There have been many great Cuban pianists such as Bebo Valdés, Arturo O'Farrill and Gonzalo Rubalcaba to name a few. How have you been influenced by any of these artists?

When I was starting to listen to jazz, I was really into Gonzalo Rubalcaba. A lot of musicians from my generation grew up admiring his talent, his music and his pianism. His music was perceived as something encoded, complex, different, a sort of avant-garde Cuban jazz. He integrated Afro-Cuban music but also jazz and 20th century classical music into his compositions, and his group, Proyecto, was incredibly tight, astonishingly precise. His concept was fascinating to music students from the conservatory like me, so he was very popular among us. But I also liked Emiliano Salvador, Gabriel Hernandez, Ramón Valle, and Hilario Durán, and groups like Irakere, Afrocuba, etc. They were at the forefront of Cuban Jazz, and I was trying to imitate them.

Chicago Jazz Magazine: Is there any particular event that you feel was a break-through moment in your career?

Ortiz: So many great moments in my career I feel were a break-through: recording my first album in Spain, and soon after studying with Cecilio Tieles, moving to the US, attending Berklee, moving to NYC, and playing with Wallace Roney. Also recording Santiarican Blues Suite, my first chamber music album, inspired by Cuban-Haitian heritage in Santiago de Cuba. This work was especially important because it was commissioned and choreographed by José Mateo, for the 25th anniversary of his company José Mateo Ballet Theatre in Cambridge, MA. Also writing the score for the first American feature film shoot in Cuba by an American filmmaker in more than 50 years. Having the opportunity of attending the premier in Cuba was a milestone in my career.

Chicago Jazz Magazine: Jazz has been defined in varying terms but we know that it has very specific roots in Africa. The music, however, manifests itself differently in different geographic, political, cultural and social environment, for example, in Cuba. What do you see as the unique aspects of the jazz that has come out of Cuba?

Ortiz: There are many folkloric musical systems in Cuba that also have their roots in West Africa, and they are an essential part of the Cuban musical realm. Within these systems we have different codes in common with jazz music. Elements such as syncopation, call and response, or phrasing we find in both the foundation of Cuban music and in jazz music.

In Cuba there is no jazz school, so musicians are kind of self-taught in jazz, and they learn tunes and solos straight from the records. So usually there are certain harmonic continuities missing from their playing. However, I think the way Cuban jazz musicians negotiate with Afro-Cuban polyrhythmic patterns in their compositions and their musical statements is very remarkable. Also, their understanding and abilities to write long and complex phrases, like the popular group Irakere, comes from the very high-level musical training primarily focused on classical music. This training helps build an incredible dexterity and precision on their instruments.

This comes from the virtuosity of the Russian school, which was exported to the Cuban music conservatories. Well-known Cuban musicians such as Paquito d' Rivera, Chucho Valdez, Horacio "El Negro" Hernández, Gonzalo Rubalcaba, Arturo Sandoval, and others like Yosvany Terry, Dafnis Prieto or Alfredo Rodríguez, among others, started listening to and playing jazz at these music schools, so their level of proficiency was already solid.

Chicago Jazz Magazine: You've recorded and played in quintets, trios and as a solo artist and there is a certain amount of dexterity that's involved with each of those situations. Are those kinds of intricacies important to you as a composer?

Ortiz: When I'm composing I don't really think about making things specially complex or intricate. I try to focus on the ideas and how to amplify and make variations of the materials I'm working with, and what I want to develop in the score. I also think about roles specific to the instruments, and how to assign them to each instrument without losing the main idea or the direction of the piece. But it depends on what kind of ensemble I'm composing for. Sometimes I like to write just sketches, other times I'm very explicit about what I want, and what kind of sound I want generate, so I follow a specific script for that piece. But even when I have a particular agenda, it can change and go somewhere else.

Chicago Jazz Magazine: Your live recording, Banned in London, which included Michael Janisch and Greg Osby, included some very forceful extended performances. How would you describe the difference between playing in the studio and playing live?

Ortiz: I like to play live a lot. Getting the energy of the audience is very stimulating; you can work on your ideas with a different mindset, reacting in the moment. In my recordings I actually strive to keep the same energy as a live performance, so I don't really like to do many takes, especially during any sort of improvisation section. For me, reflecting the nature of spontaneity is very important.

Chicago Jazz Magazine: What music are you currently listening to?

Ortiz: I'm listening to a lot of Conlon Nancarrow, one of the most important American composers from the 20th Century. He composed a lot of work for player piano. Also Pierre Boulez, Elliot Carter, and some music for string quartet. I just heard a marvelous Mark Dresser/Jen Shyu duo CD, "Synastry", the new David Gilmore album "Energies of Change," beautiful album and compositions.

Ortiz: I had the opportunity to play some of that music last January. I also listen to a lot of kids songs! At home we are listening to the soundtrack of Triplets of Belleville right now, a great French-Canadian animated movie; my kids love it.


Chicago Jazz Magazine: Do you have any immediate plans for how you would like to follow Hidden Voices?

Ortiz: I'm working on some pieces for solo piano, and I hope to record them at the end of the year. Also, I'm writing a string quartet that will be played at Vermont College of Fine Arts in August. I also have some other projects that are in different degrees of completion, such as a piece for large ensemble, another score for feature film. Also I hope I can finish writing some pieces for a project called "Societé Florindo", that I hope in the next year or two they can come to light.
By Karl Ackeremann, Chicago Jazz Magazine, March 9, 2016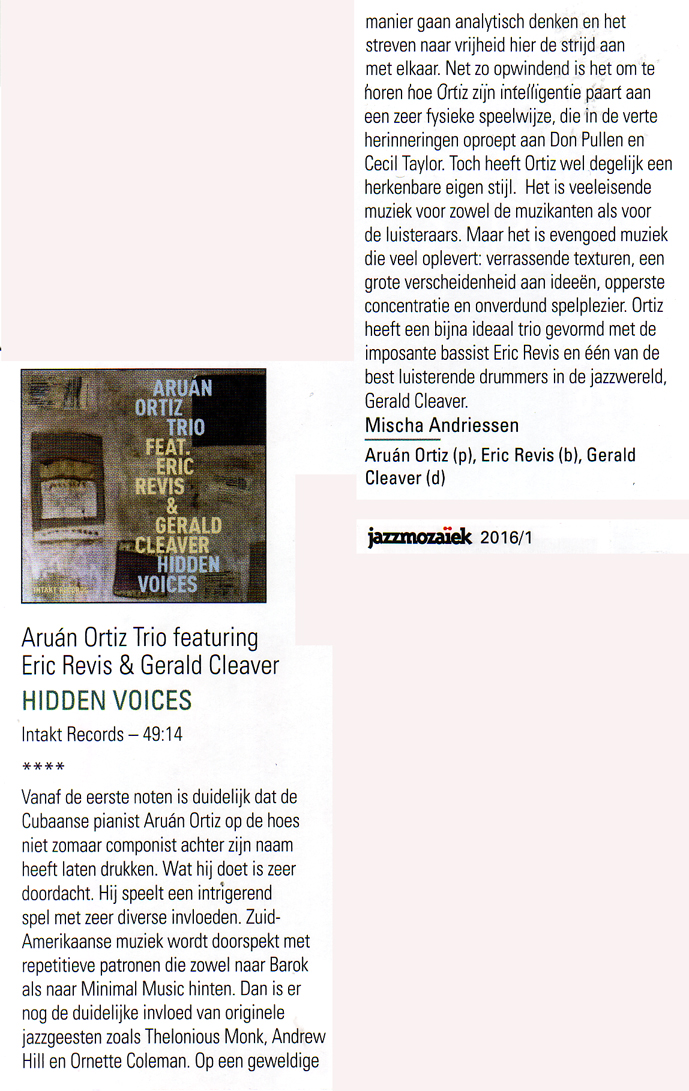 Mischa Andriessen, Jazzmozaiek, Belgium, 2016/1
Pianist Aruán Ortiz, originally from Santiago de Cuba, is the latest Cuban prodigy to be heralded in the mainstream American press. Ortiz has been active in the Brooklyn scene since the late 1990s, however, with a number of well-received releases to his name. Aspects of Afro-Cuban rhythms, jazz improvisation and classical form have long made up his highly personalized take on the tradition, but Ortiz takes a step forward on Hidden Voices, revealing lessons learned from the legendary Muhal Richard Abrams, with whom he has studied since 2009. According to Ortiz, "I learned tools that helped me to compose scores for bigger ensembles, and the fundamentals of serial music." The latter technique informs much of the session, infusing Afro-Cuban roots with an atonal angularity, "adding some Cuban Cubism to the palette."
For this date, Ortiz is joined by the world-class rhythm section of bassist Eric Revis and drummer Gerald Cleaver on a diverse selection of seven originals, two classic covers and one traditional Cuban number. Fluidly supported by Revis and Cleaver's constantly modulating interplay, Ortiz's cascading lines have a fierce ingenuity, underscored by the emotional directness of his homeland's folk music. To that end, Ortiz and company joyously exploit the Latin rhythms at the core of Ornette Coleman's "The Sphinx," while rendering Thelonious Monk's "Skippy" in abstruse fashion. "Joyful Noises" is the album's only collective improvisation, but fits seamlessly into the program's arc, its experimental timbres owing more to Sun Ra than just its title.
Ortiz's thorny originals reflect the totality of his influences, careening through sudden shifts in tempo, tone and texture with the dexterity of a post-M-Base improviser. "Analytical Symmetry" and "Arabesques of a Geometrical Rose" are representative, with expansive changes that vacillate from vertiginous funk to placid introspection. Reinforcing Ortiz's intention that he "... was thinking about this album as a circle with no beginning and no end," an unaccompanied, impressionistic rendition of the traditional Cuban song "Uno, dos y tres, que paso más chévere" closes the date on a hauntingly familiar note – a tune "everybody in Cuba knows from festivities and carnivals."
Troy Collins, Point of Departure, USA, March 2016
 
NPR
Music Reviews
Ortiz's 'Hidden Voices' Mixes Cuban Strains With Modern Jazz
Pianist Aruán Ortiz grew up in Cuba and lived in Spain a few years before moving to the US in 2002. Jazz critic Kevin Whitehead says Ortiz's new trio music is fully bilingual.
TERRY GROSS, HOST:
This is FRESH AIR. Our jazz critic Kevin Whitehead has the review of a new recording by pianist Aruan Ortiz, who grew up in Cuba and lived in Spain a few years before moving to the U.S. in 2002. Musicians he's worked and recorded with since then include Esperanza Spalding, Wallace Roney, Greg Osby and Steve Turre. Kevin says Ortiz's new trio music is fully bilingual.
(SOUNDBITE OF ARUAN ORTIZ TRIO ALBUM, "HIDDEN VOICES")

KEVIN WHITEHEAD: Aruan Ortiz with a little typical misdirection. He starts like he's going to play a stately Cuban song, and then slowly everything slides a little sideways. That's Ortiz's new album "Hidden Voices" in a nutshell, with its offbeat recombinations of Cuban strains and modern jazz.
Those traditions have always been compatible, but there was a time when musicians from each stream could sound unsteady stepping into the other. Nowadays, there are many more musicians like Aruan Ortiz at home in both worlds.
(SOUNDBITE OF ARUAN ORTIZ TRIO ALBUM, "HIDDEN VOICES")

WHITEHEAD: Aruan Ortiz can play two-handed Cuban piano in the familiar driving style, but that's really not what he's about. In New York, he studied with pianist, composer and thinker Richard Abrams, who opened him to the idea of letting other arts inform his music.
Ortiz feels the sway of Cubism as well as Cuba. He tweeks old ideas. Cuban pianists improvise over fixed rhythmic cycles all the time - but not a stumbling, slow-motion 13-beat cycle.
(SOUNDBITE OF ARUAN ORTIZ TRIO ALBUM, "HIDDEN VOICES")

WHITEHEAD: Aruan Ortiz's partners on "Hidden Voices" are also resourceful players with a wide conceptual reach, bassist Eric Revis and drummer Gerald Cleaver. They can handle whatever the pianist serves up. In the middle of the action, they might disappear through a trapdoor and then sneak back in the window, like on a medley of two Ormette Coleman tunes.
(SOUNDBITE OF ORNETTE COLEMAN MEDLEY PERFORMED BY ARUAN ORTIZ TRIO)

WHITEHEAD: Ornette Coleman's "Open Or Close" and "The Sphinx." Aruan Ortiz's trio also plays Thelonius Monk's "Skippy," a quiet free improvisation, and some more original tunes. But the pianist ends "Hidden Voices" with a sparse version of an old Cuban folk song, returning to his beginnings. Because no matter where in the world you end up and what you learn getting there, where you started out is always a big part of who you are.
(SOUNDBITE OF ARUAN ORTIZ TRIO ALBUM, "HIDDEN VOICES")

GROSS: Kevin Whitehead writes for Point of Departure and TONEAudio and is the author of "Why Jazz?" He reviewed "Hidden Voices," the new recording by Cuban pianist Aruan Ortiz.

Kevin Whitehead, NPR, National Public Radio, USA, (about 450 stations.) March 16, 2016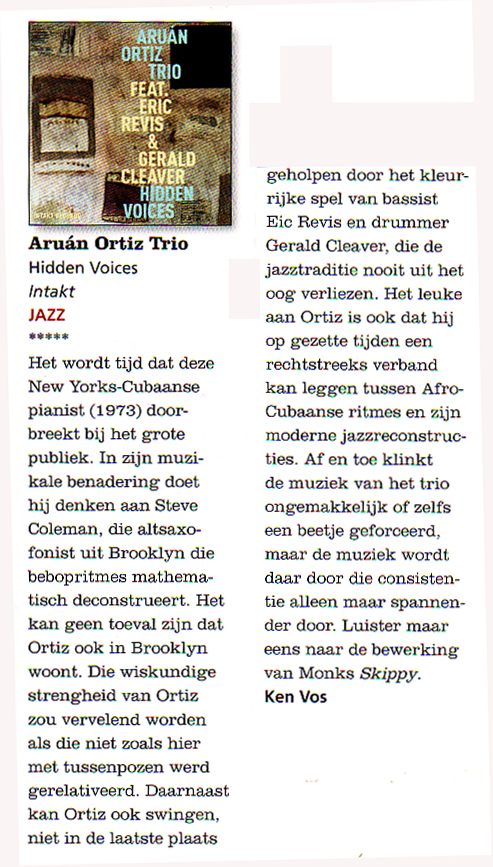 Ken Vos, Jazzism, Netherland, April 2016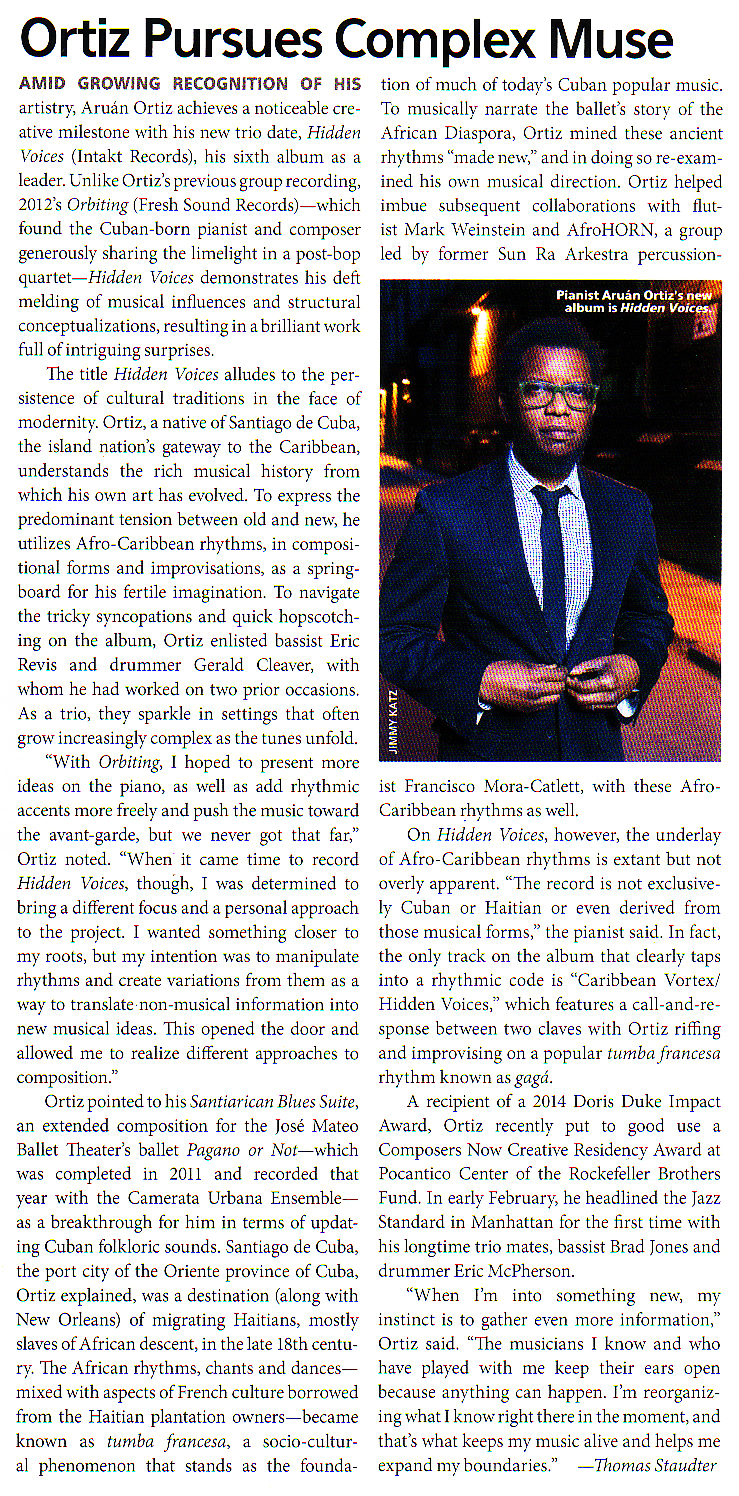 Thomas Staudter, Downbeat, Chicago, May 2016

Kevin Le Gendre, Jazzwise, London, May 2016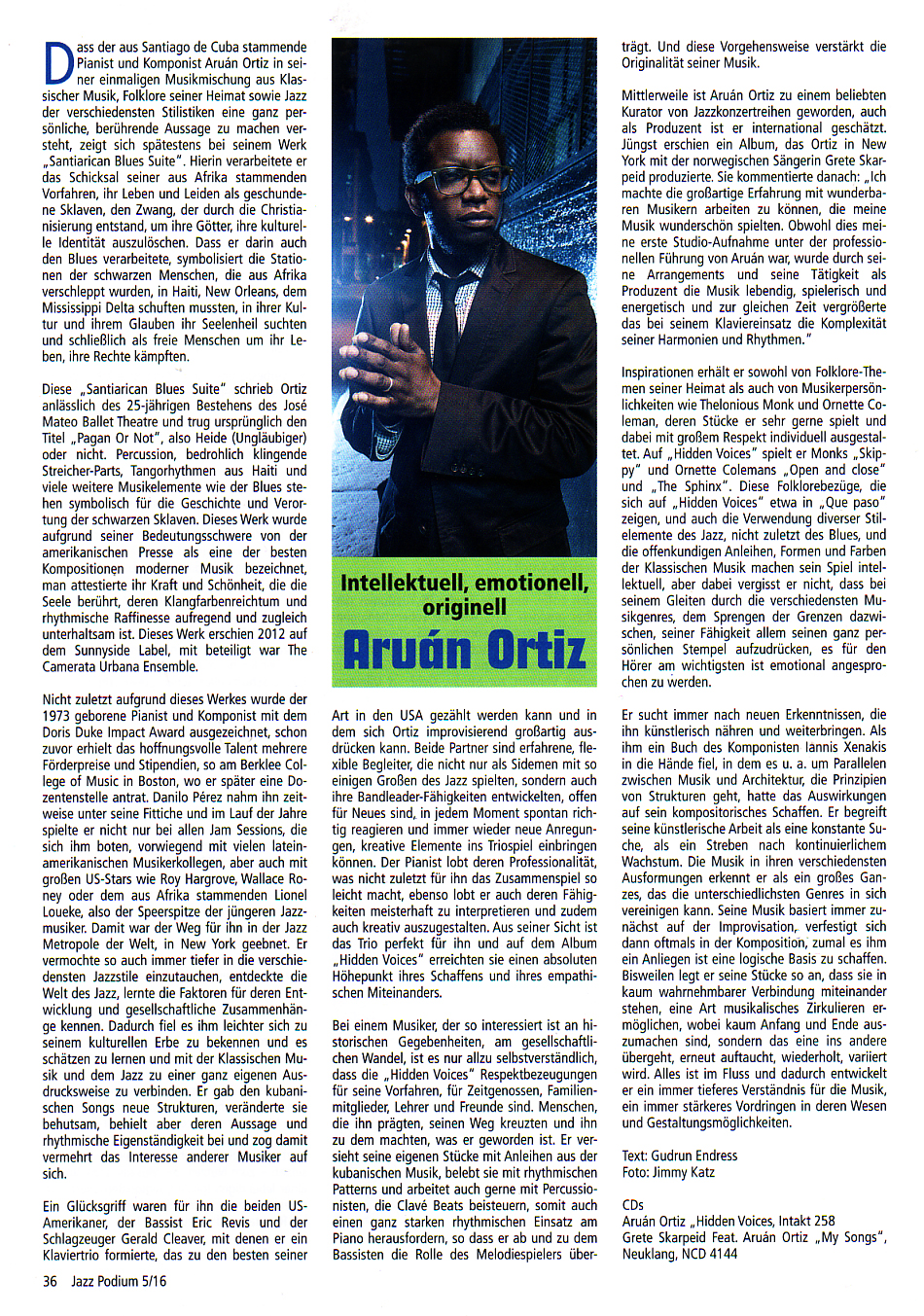 Gudrun Endress, Jazzpodium, Mai, 2016

Kay Friedrichs, Klinkes, 3. Mai 2016

Tom Mooney, Wexford Echo Newspapers, April 26, 2016
There is something familiar about Aruán Ortiz's approach on the piano. One bit Matthew Shipp, one bit Craig Taborn, and much of his own sound, there is precise angularity and elliptical energy that defines Ortiz's approach to both composition and playing. Perhaps too, his choice of musicians says something - drummer Gerald Cleaver and bassist Eric Revis are no strangers to the type of hyper-melodic logic and muscular pulse found in Ortiz's tunes.

The playing is crisp, fresh, and accessible. There are hints of Latin rhythms mixed with strong modern and free jazz approaches. In addition to several originals, Ortiz also signals his musical lineage in picking Thelonious Monk's 'Skippy' and Ornette Coleman's 'The Sphinx' and gives a nod to his life growing up in Cuba, with a take on the traditional tune 'Uno, Dos y Tres, Que Paso Más Chevere'.

The opening track, 'Fractal Sketches', begins with a sparse and elliptical motif that lurches over a syncopated groove. Then, the classic Ornette tune begins with Revis' solo bass and quickly settles into a lithe and spirited arrangement. The following track, 'Caribbean Vortex/Hidden Voices' has a title with seemingly oblique political overtones, and the music too is full of intrigue and terse rhythmic figures. It builds, layer upon layer, to a tense climax. Ortiz varies the mood but his abstract sense of melody leans towards the spare and clean throughout. The track 'Joyful Noise' is a fun one for fans of prepared piano and 'Skippy' is a smart update on the Monk classic.

Ortiz presents a fresh sound on Hidden Voices and it is a pleasure to hear such a solid and energetic piano trio recording. Give it a click below...
****
Paul Acquaro, www.freejazzblog.org, June 07, 2016
The Cuban pianist, Aruan Ortiz, infiltrates himself in the tough avant-garde scene with purpose and distinction. 
Bringing a little slice of his roots (mostly perceptive through his thriving left-handed rhythms), Ortiz was visibly delighted to interact with two long time idols: the vertiginous Mark Helias on bass and the resourceful Tom Rainey on drums.
The band was complemented with the trendy saxophonist, Ingrid Laubrock, who has been teaming up with the drummer in many interesting projects. She was fundamental to establish the intensity of the ambiences whether through simple melodies or hyperkinetic phrases adorned with percussive popping sounds, honks, and exciting trills.
Andrew Hill's 'For Emilio' was a brilliant start, featuring Ms. Laubrock's outside escapades, which got prompt responses from Ortiz.
The latter assumed a special preponderance during the improvisational section of his own composition, the enigmatic 'Analytical Symmetry' (taken from the album 'Hidden Voices') whose interpretation gained the form of an African tribal dance. Besides that, the attentions were turned to the unstoppable groove created by Helias and Rainey.
Helias was the composer of the following tune, a sort of spiritual hymn. He created an inviting ostinato together with Ortiz while Rainey filled the air with discerning wind sweeps. Ms. Laubrock, focusing on challenging melodic counterpoints, was more restrained in this tune, only to return to her ravishing blows in the set's last composition, which she wrote.
After a short break, the starred quartet opened with a deconstructed bebop-like tune, another stirring creation of Ms. Laubrock. 
The final pair of compositions was taken from the pianist's album 'Orbiting'. If the title tune showed a beautiful conjugation of sounds that might be trying to explain an episode by using call-response exchanges, 'Numbers' was a striking explosion of gravitational twirls, often interrupted by Ms. Laubrock's invigorating flare-ups. Tom Rainey was magnificent, drawing smiles from Ortiz during the pleasurable interactive moments.
I was paralyzed by the verve of these four hyper-creative musicians who presented their own languages with one common goal in mind: making great music. And believe me! That happened!
Filipe Freitas, www.jazztrail.net (Aruan Ortiz with Marc Helias, Tom Rainey and Ingrid Laubrock at Cornelia St Cafe - NYC, MAY 14, 2016)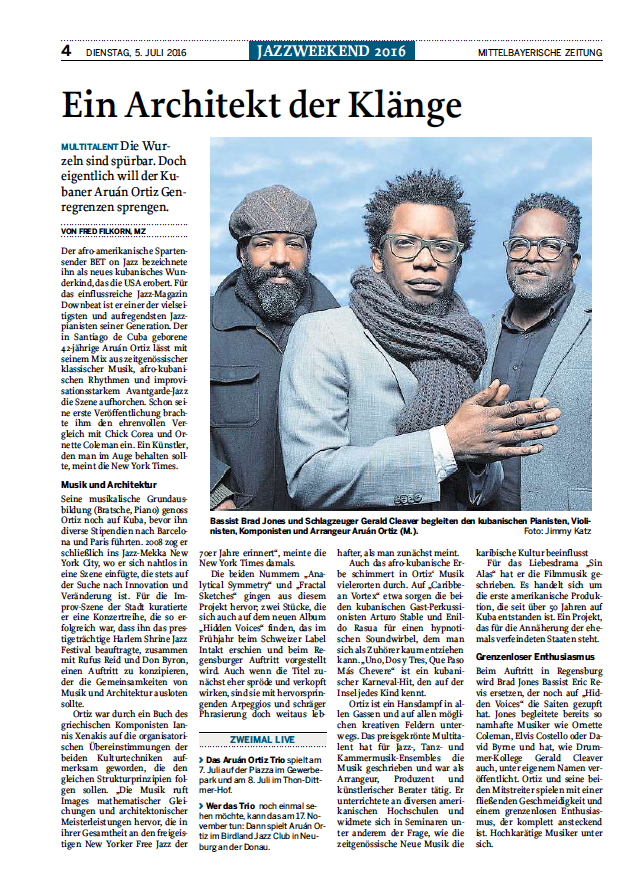 Fred Filkorn, Mittelbayrische Zeitung, 5. Juli 2016
The Best Albums of 2016 So Far
A one-stop guide for catching up on the best releases of 2016 to date.
Every year brings with it more music than any one person can possibly consume. Even if you stopped sleeping and eating and did nothing but listen to music all day, every day, you'd only be able to get through roughly 13,000 albums in a year. Given that, we've decided to make your search for your next favorite record a little easier. These are the records released so far this year that we just can't stop playing.

Aruan Ortiz Trio, Hidden Voices
t's not just the array of dizzying melodic and rhythmic motion that marks the success of Hidden Voices. It's also the way in which Aruan Ortiz's trio is able to make sense of it on the fly. The ongoing shift between unnerving unpredictability and ringing clarity creates an undercurrent of raw tension and an abounding sense of pure fun. It's a Rorschach test disguised as a piano trio jazz album. Bassist Eric Revis and drummer Gerald Cleaver are used to working with puzzles, and while it'd be a near impossible task to draw out the direction any one musician takes on this recording, they navigate each tune with an uncanny unity and arrive at the same place. Getting there is half the fun; reveling in the destination is the reward.
Dave Sumner, Bandcamp Daily, August 22, 2016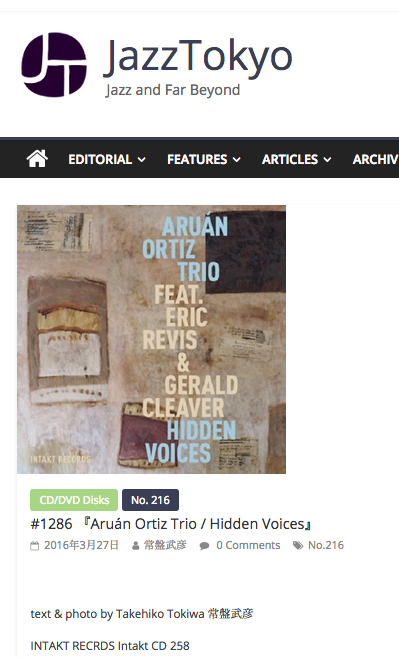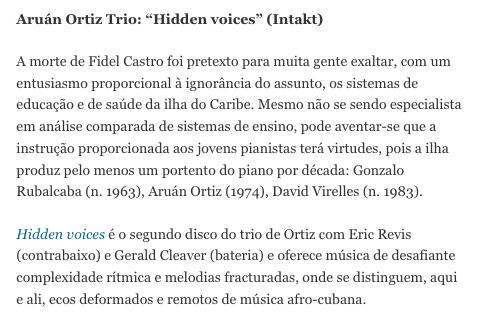 José Carlos Fernandes, melhores-discos-de-2016, Oservador, Portugal, 25. Dez. 2016
Ayumi Kagitani, Way Out West 97, Japan, April 2017
As progressões de acordes do pianista cubano Aruán Ortiz pertencem à tensão do avant-garde. Vijay Iyer é um dos contemporâneos mais associáveis à sua obra, mas o peso da tradição jazzística de Cuba e a polirritmia latina o levam a estruturar seu estilo entre clusters, riffs e curtos solos. Ao seu lado, Ortiz conta com o baixista Eric Revis e o excelente baterista Gerald Cleaver. Ele refaz clássicos, como Ornette Coleman ("Open & Close/The Sphinx", de Something Else!!!) e Thelonious Monk ("Skippy"), injetando uma dinâmica intrincada que distorce o ritmo e favorece uma conjuntura imagética, com um peso grave do piano. Pouco clarividente, Hidden Voices estimula uma busca subjetiva por suas reais origens, ligeiramente apontadas no caráter percussivo de "Caribbean Vortex" ou no distinto caminhar de notas em "Arabesques of a Geometrical Rose (Spring)".
Tiago Ferreira, http://namiradogroove.com.br, 5 fevereiro, 2016, Brazil
Pirmin Bossart, Luzerner Zeitung, 4. Oktober 2017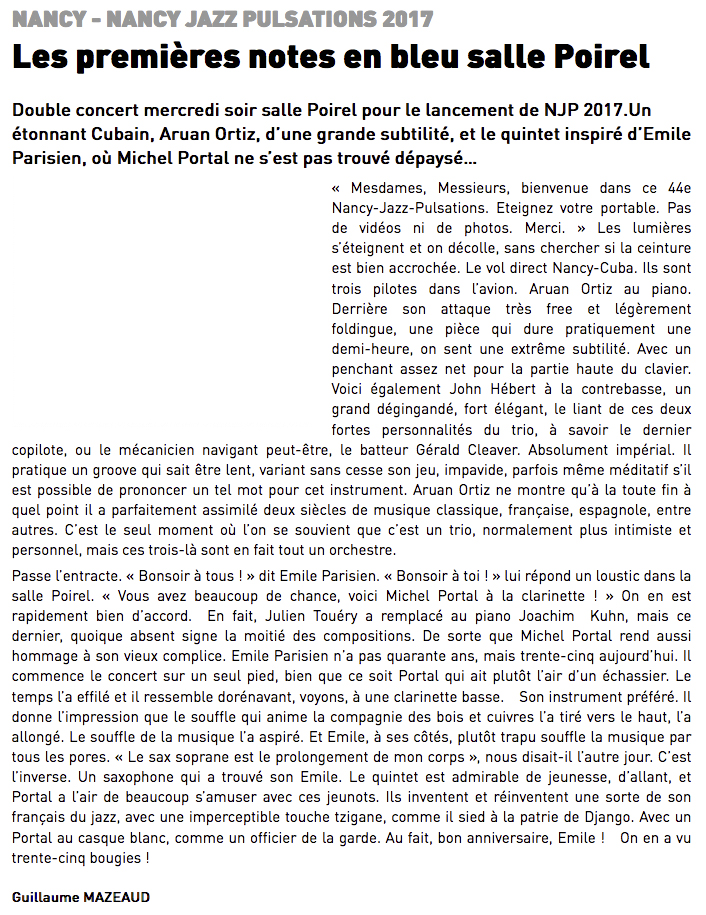 Guillaume Mazeaud, l'Est Républicain, October 12, 2017

Chris Searle, Morning Star, June 6 2018