Stefan Hentz, Die Zeit, 2. Oktober 2014
Aki Takase and Alexander von Schlippenbach,
So Long, Eric!, review: 'joyous'

These new arrangements of Eric Dolphy's work contain just the kind of compositional jazz ingenuity he would have admired, says Ivan Hewett
Eric Dolphy's star just keeps on rising. The life of this great pioneer of free jazz was cut cruelly short in 1964, when he died of diabetic shock, and the recorded legacy is tantalisingly small. But its power to inspire gets stronger, particularly amongst the more avant-garde players in Europe. Earlier this year the power couple of European free jazz, pianists Aki Takase and Alexander von Schlippenbach, put together a festival in Berlin dedicated to Dolphy's memory. It culminated in a gathering of some of Europe's finest players, plus American vibes player Karl Berger. Takase and von Schlippenbach made new arrangements of a dozen or so of Dolphy's finest pieces for the final concert, and nine of them appear on this CD.
It must have been a joyous evening. The applause is warm, and the players get carried away too, as the frequent whoops and shouts show. The band of 12 players is much bigger than the ones Dolphy led, and the arrangers seize on the opportunities this offers for new colours and combinations. Everything is brilliantly re-imagined, and infused with quick-witted humour. Most importantly the music-making keeps touching base with Dolphy and the tradition he sprung from, however wild and free it often becomes. The extreme points are certainly far apart – compare the austere, written-out five-part counterpoint of Serene with the happy, burgeoning anarchy of Miss Ann. Yet the whole thing coheres.
Dolphy's wonderful Hat and Beard, a tribute to Thelonious Monk, is the best thing on the CD. It launches off with an astonishing polymetric mash-up for the two pianists, before seizing hold of Dolphy's ingenious repeating bass pattern and making it misbehave. This pattern shoves its way into the melody line, and is eventually reharmonised in a way that offers a hidden hommage to the original – just the kind of compositional ingenuity Dolphy would have admired. In all the CD is a joyous thing, which should convert even a hardened free-jazz sceptic.
Ivan Hewett, The Telegraph, London, 17 Oct 2014
Eric Dolphy war ein während seiner musikalischen Entwicklung völlig unterschätzter, von der Allgemeinheit kaum wahrgenommener Instrumentalist. Dabei spielte er Flöte, Altsaxophon und Klarinette in den Bands von Charlie Parker, Ornette Coleman und John Coltrane. In seinen letzten Lebensjahren, er starb gerade einmal 36jährig während einer Tournee mit Charles Mingus 1964 in Westberlin an einem nicht erkannten und unbehandelten Diabetes, gehörte er zu den wichtigsten Innovatoren des zeitgenössischen Jazz und gilt bis heute als einer der einflussreichsten Bassklarinettisten.
Im Sommer jährte sich sein Todestag zum 50. Mal. Für Alexander von Schlippenbach und Aki Takase Grund genug, ihrem einstigen Helden und Leitbild ein musikalisches Denkmal zu setzen. "So Long, Eric", eingespielt mit generationsübergreifenden Stars der Jazzszene wie Karl Hans Berger, Han Bennink, Nils Wogram, Rudi Mahall in einem politisch völlig veränderten Berlin, ist Bekenntnis und Herausforderung zugleich. Es ist ein musikalischer Blick in die Vergangenheit des Jazz und zugleich Grundlage für in die Zukunft weisende musikalische Entwicklungen.
Dolphys Kompositionen sind derart vielschichtig, dass jede Form der Interpretation ein Höchstmaß an Konzentration und Bewusstsein erfordern. Zeitlose Klangabenteuer, halb Avantgarde, halb Tradition. In seiner Intensität und Gestaltungskraft auch heute noch gleichermaßen gültig und einflussreich.
Die Band, ein kleines Orchester von 12 leidenschaftlich agierenden Instrumentalisten, nimmt diese visionäre Herausforderung an. Beide Leader, die selbst seit Jahrzehnten im europäischen Zentrum freiheitlichen Jazzspiels stehen, lassen der Band auch in den streng auskomponierten Texturen genügend Spielraum für eigene, ganz persönlich gehaltene Klanggestaltung. Nur auf diese Weise kommt man dem Phänomen Dolphy näher und wird ihm gerechter, als jeder noch so einfühlsam verfasster Nachruf.
Koerg Konrad, KK, Kulturkompltt, 18. Oktober 2014
Traditie en avant-garde
De invloed van Eric Dolphy's carrière is omgekeerd evenredig aan de beperkte duur ervan. Hij trad pas op de voorgrond toen hij de dertig al gepasseerd was, maar speelde een cruciale rol op onverwoestbare albums van Ornette Coleman, John Coltrane, Charles Mingus en Andrew Hill. Tussendoor schudde hij ook een handvol uitstekende albums en minstens één iconische release onder eigen naam ('Out To Lunch') uit de mouw. De prachtige evolutie werd echter abrupt afgebroken in juni van 1964: na een concert in Berlijn overleed hij onverwacht aan de gevolgen van (niet-gediagnosticeerde) diabetes.
Een halve eeuw later brachten pianisten en levenspartners Alexander von Schlippenbach en Aki Takase in die stad, tevens hun thuisbasis, een hommage aan de multi-instrumentalist die er als geen ander in sloeg om de traditie en de avant-garde te verenigen. Dat was alleszins geen bevlieging, want voor beide artiesten vormde Dolphy's werk immers een rode draad door hun oeuvre: ze deden bij hem inspiratie op, speelden het regelmatig live en Takase nam in 1997 al een duoalbum op met de Duitse (bas-)klarinettist Rudi Mahall dat opgedragen was aan Dolphy.
Mahall, vermoedelijk de meest aan Dolphy verwante muzikant van de hele Europese scene, is nu ook van de partij, maar daar houdt het niet op, want het duo voorzag een frontlinie met vijf blazers, een vibrafonist, twee bassisten en twee drummers. Bijzonder is dat een van die laatste twee Han Bennink heet, en ook speelde op de laatst bekende opnames van Dolphy. De twaalfkoppige band dondert, stuitert, fleemt en swingt zich haast een ongeluk doorheen negen composities van Dolphy die in een nieuw jasje gestoken werden.
Die stukken werden geplukt uit diverse albums, met de nadruk op 'Out There' (1960) en 'Out To Lunch' (1964), waardoor dit meteen fungeert als dwarsdoorsnede: goedgeluimd getrippel en donkere blues, ontregelde solos en voluptueuze groepspassages, rokerig nachtbrakersspul en uitbundige expressie; het staat er allemaal op. De band belicht op voortreffelijke wijze de veelzijdigheid en tijdloosheid van de composities en geeft er een eigen draai aan die meerdere beluisteringen afdwingt. Een mooier eerbetoon is moeilijk denkbaar en bovendien wil je meteen opnieuw in de originele klassiekers duiken om te gaan vergelijken.
Guy Peters, Cobra.be, 16.10.2014

En 2014 se cumple el cincuenta aniversario del fallecimiento de Eric Dolphy en Paris por culpa de una diabetes no diagnosticada. Dolphy es un músico importante, muy importante, dentro de la historia del jazz. Sin estar adscrito completamente al free jazz, desarrolló un lenguaje propio que sirvió de puente entre el hard-bop y este estilo. Hablar de él es hablar indiscutiblemente de sus colaboraciones con músicos como Charles Mingus (que lamentó el abandono de su formación con el inmportal "So Long, Eric") o John Coltrane (se le puede escuchar en plena acción en los célebres conciertos en el Village Vanguard). A pesar de ello, un aniversario tan redondo como el medio siglo de su ausencia está pasando un tanto desapercibido. Afortunadamente los pianistas Aki Takase y Alexander von Schlippenbach (pareja más sentimental y vital que artística), ponen en valor el legado de Dolphy por medio del monumental So Long, Eric! Homage To Eric Dolphy. Monumental no precisamente por la extensión (el CD dura 64 minutos), sino por la música que revisitan y por el magnífico grupo que está detrás de este homenaje.
En cuanto a lo primero, las melodías de composiciones como "Hat and Beard", "The Prophet", "Out to Lunch", "Miss Ann" o "Something Sweet, Something Tender" son plenamente reconocibles. Cincuenta años después siguen conservando el magnetismo de lo atemporal. No es extraño que quien las escuche en homenajes como este sienta el impulso de incorporar tanto estas versiones como los originales a su acervo jazzístico.
En cuanto a la formación que pone en pie este proyecto, hay que señalar la dificultad de que contando con un total de hasta doce instrumentistas, cada una de las recreaciones se realice con una formación diferente. A pesar de ello el espíritu de la música y de la manera de recrearla permanecen inmutables. Entre los músicos habría que señalar la presencia de Han Bennink (presente en la última grabación de Dolphy titulada Last Date), y del vibrafonista Karl Berger, quien acompañó a Dolphy en Paris en los últimos meses de su vida. El resto de músicos es una alineación de primera categoría de músicos de la vanguardia europea, algunos de los cuales han acompañado bien a Takase, bien a Schlippenbach (o a ambos), en distintos proyectos. Ahí están Rudi Mahall, Axel Dörner, Tobias Delius, Nils Wogram, Wilbert de Joode, Henrik Walsdorff, Antonio Borghini y Heinrich Köbberling.
Imprescindible en la labor de cementación que aúne las magníficas cualidades de los instrumentistas con un repertorio tan excelso son los arreglos de los dos pianistas. Estos sirven para que independientemente de que el oido se fije en los solos e interacciones entre los músicos, o en los arreglos, siempre haya algún detalle -distinto en cada escucha- que llame la atención del oyente. ¡Eric Dolphy Lives!
Pachi Tapiz, Tomajazz, Spain, Octubre 28, 2014

Eric Dolphy est mort il y a cinquante ans, et l'on ne peut pas dire que cet anniversaire ait été célébré en grandes pompes ! Heureusement, certains y ont pensé, comme Aki Takase et Alexander von Schlippenbach qui se sont partagés une série de superbes arrangements sur des compostions du saxophoniste-flûtiste-clarinettiste. Une douzaine de musiciens se sont retrouvés pour cet hommage, intitulé "So Long, Eric", titre d'une composition de Charles Mingus dédiée à son ancien partenaire. Ces musiciens sont parmi les solistes européens les plus réputés, que ce soient les anciens, comme Han Bennink ou Karl Berger, qui ont joué avec Dolphy, ou les plus jeunes comme Axel Dörner ou Rudi Mahal. Les douze ne jouent que rarement ensemble, et ce sont des formations à géométrie variable, tentettes, octettes, quartettes, et même un quintette de souffleurs, qui se partagent l'exécution des arrangements et improvisent avec passion et générosité. Autant dire de suite que ce disque est particulièrement réussi, Contrairement à bien d'autres "hommages" ou relectures — c'est la mode — souvent à côté de la plaque, celui-ci est parfaitement dans l'esprit. Il est d'aujourd'hui comme il est d'époque. Pourquoi ? Parce que la musique et le jeu extraordinaires d'Eric Dolphy — n'oublions pas que toute sa carrière tient en cinq-six ans — ne sont aucunement datés, contrairement à d'autres grands musiciens qui ont marqué leur époque. J'irais même plus loin : à l'heure actuelle, je ne connais pas un musicien plus moderne qu'Eric Dolphy. Ce disque remarquable contribue à le faire savoir.
Jean Buzelin, Culturjazz, France, 27 Octobre 2014
Um des 50. Todestages zu gedenken, versammelten AKI TAKASE & ALEXANDER VON SCHLIPPENBACH ein grandioses Ensemble, das am 19.6.2014 in Berlin live für den RBB So Long, Eric! anstimmte, als Hommage to Eric Dolphy (Intakt CD 239). Karl Berger und Han Bennink hatten mit Dolphy ja noch gespielt. Bennink bei seinem letzten Vermächtnis, Last Date, am 2.6.1964 in Hilversum. Berger stand sogar am 27.6. mit auf der Bühne des Jazzclubs "tangente", als Dolphy zusammenbrach und in einem Berliner Krankenhaus an zu spät diagnostizierter Diabetes verstarb. Weder an Drogen, noch weil 'Nazi'-Ärzte ihn verrecken ließen. Dazu trommelt auch noch Heinrich Köbberling, Antonio Borghini und Wilbert de Joode spielen Bass, Nils Wogram Posaune und Axel Dörner Trompete. Und Tobias Delius, Henrik Walsdorff und Rudi Mahall evozieren an Tenor- & Altsaxophon bzw. Bassklarinette den 'Heiligen', wie Charles Mingus ihn genannt hatte, in neun seiner ge­schätztesten Vermächtnisse: 'Hat and Beard', 'Something Sweet, Something Tender' und das Titelstück von Out to Lunch; 'Serene', '17 West' und das Titelstück von Out There; 'Miss Ann', das Dolphy mit Booker Little auf Far Cry angestimmt hatte und auch beim Last Date. Nicht zu vergessen 'The Prophet' von At the Five Spot, ebenfalls mit Little an der Seite. Und zum Auftakt gleich 'Les' von Outward Bound. Mit potsa lotsa Tempo und jener quirligen, von Monks Quirkiness und Ornette Colemans Vogeligkeit mit animierten Kapriolik, die o-u-t in unwahrscheinlichen Drehungen und Wendungen buchstabiert. Vierhändiges Piano von Takase und von Schlippenbach hämmern den motorisch zackigen Puls für 'Hat and Beard', bevor Bergers Vibraphon das mit kristalliner Leichtigkeit überfunkelt und Mahall heiser zu keckern beginnt. Die Posaune prophezeit ganz unguruhaft Tohuwabohu. '17 West' sticht als Takase-Mahall-Duett ebenso hervor wie 'Serene' als schmusiges Bläserquintett. Egal ob als Quartett ('Out There') oder genauso spritziges Sextett ('Miss Ann'), ob zu acht, zu zehnt oder zu zwölft, Takase und Schlippenbach pochen bis hin zum finalen 'Out to...' absolut mitreißend darauf, dass sich mit Dolphy jene morgentrunkene Höhenluft verbindet, der wir immer noch entgegen marschieren könnten, statt in Mief und Smog (verschmockt?) zu erschlaffen.
rbd, Bad Alchmey, 83, 2014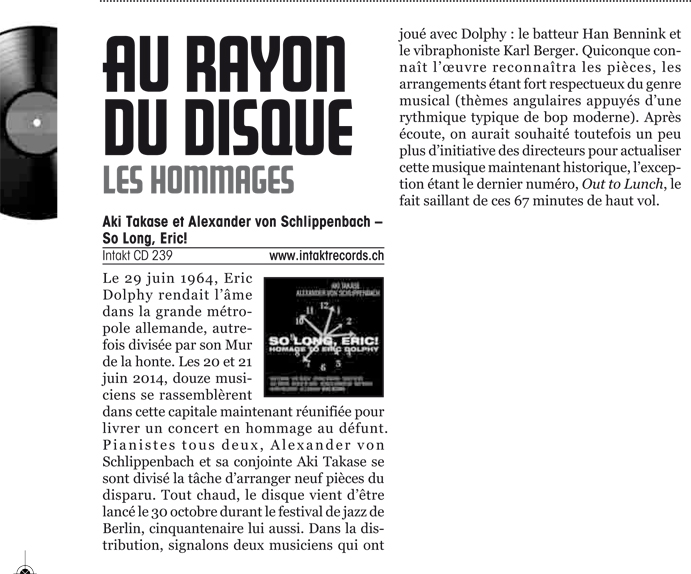 Marc Chénard, La Scena Musicale, Montreal, Canada, Nov 2014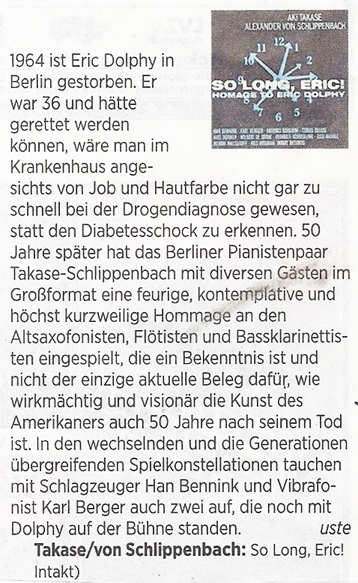 Ulrich Steinmetzger, Leipziger Volkszeitung, 15.11.2014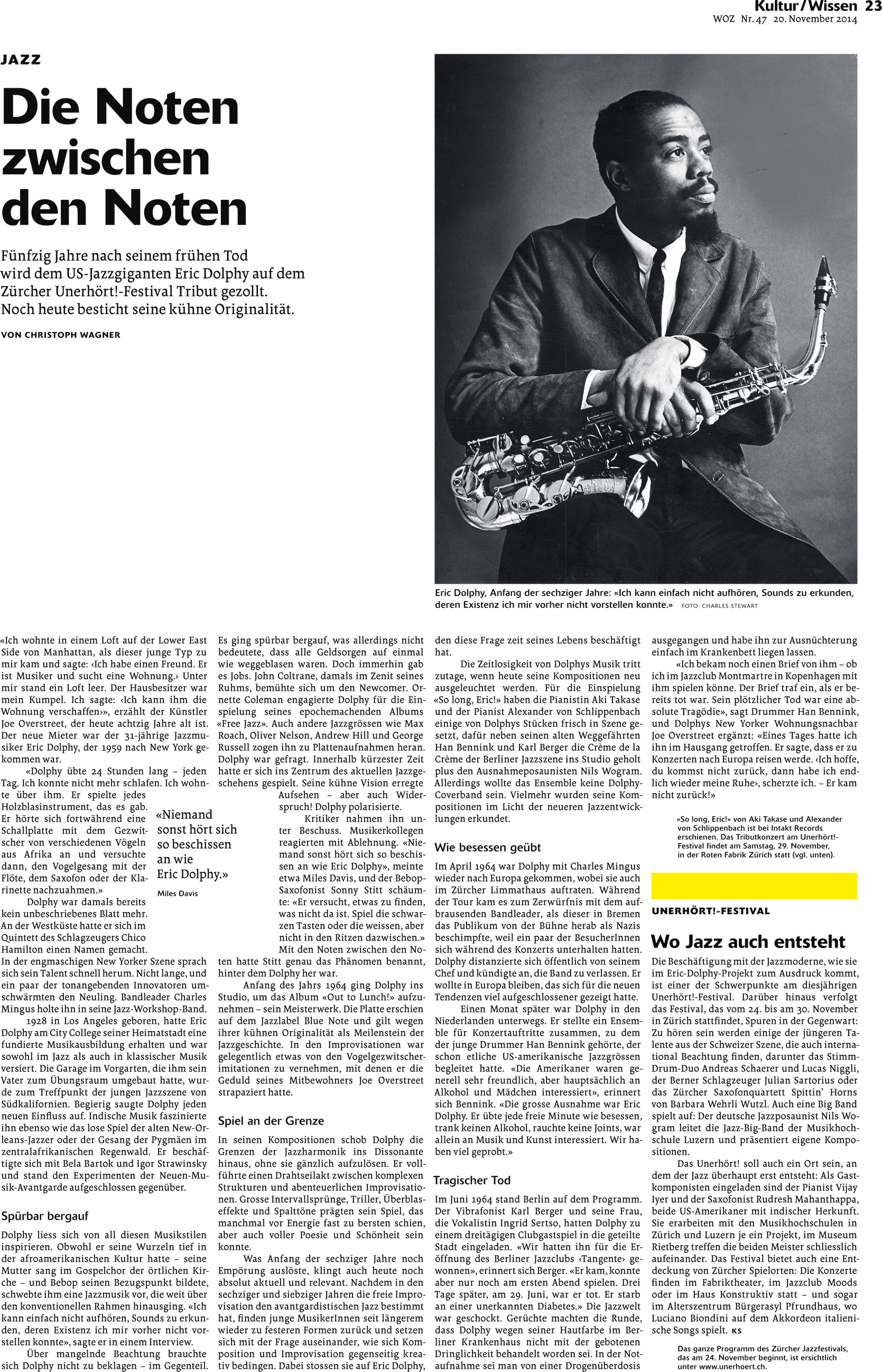 Christoph Wagner, Wochenzeitung, WOZ, 20. November 2014

Hiroki Sugita, Jazz Tokyo, December 2014

schu, Concerto, Dezember 2014, Österreich

Reiner Kobe, Jazzpodium, Dezember 2014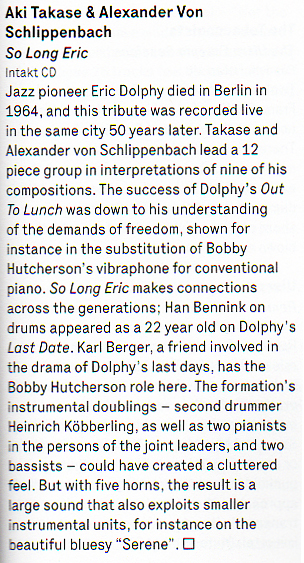 Andy Hamilton, The Wire, 1-2015

Beat Blaser, Kulturtipp, Schweiz, Nr. 26, 2014
On June 29, 1964, Eric Dolphy died suddenly in West Berlin, enclaved as it was by its Wall of Shame. A half-century later, on June 21 and 22 of this year, twelve musicians gathered in the now-reunited capital to perform a concert in homage to the deceased. Alexander von Schlippenbach and his wife Aki Takase, both pianists, shared the task of arranging nine Dolphy originals. Hot off the press, this album was just launched on October 30 during the Berlin Jazz Festival, coincidentally marking its 50th anniversary. Two of the musicians heard here actually played with Dolphy in his final days: drummer Han Bennink and vibra- phonist Karl Berger. Anyone familiar with Dolphy's oeuvre will recognize the pieces, the arrangements very much in keeping with the musical style (angular melodies underpinned by a swinging rhythmic groove). After listening, it appears the directors chose to play it a little safe with this now-historical music, save for the last number, Out to Lunch, the most adventurous track of this 67-minute side.
Marc Chénard, La Scena, Canada, Novembre, 1, 2014

Le 29 juin 1964, Eric Dolphy rendait l'âme dans la grande métropole allemande, autrefois divisée par son Mur de la honte. Les 20 et 21 juin 2014, douze musiciens se rassemblèrent dans cette capitale maintenant réunifiée pour livrer un concert en hommage au défunt. Pianistes tous deux, Alexander von Schlippenbach et sa conjointe Aki Takase se sont divisé la tâche d'arranger neuf pièces du disparu. Tout chaud, le disque vient d'être lancé le 30 octobre durant le festival de jazz de Berlin, cinquantenaire lui aussi. Dans la distribution, signalons deux musiciens qui ont joué avec Dolphy : le batteur Han Bennink et le vibraphoniste Karl Berger. Quiconque connaît l'œuvre reconnaîtra les pièces, les arrangements étant fort respectueux du genre musical (thèmes angulaires appuyés d'une rythmique typique de bop moderne). Après écoute, on aurait souhaité toutefois un peu plus d'initiative des directeurs pour actualiser cette musique maintenant historique, l'exception étant le dernier numéro, Out to Lunch, le fait saillant de ces 67 minutes de haut vol.
Marc Chénard, La Scena, Canada, Novembre, 1, 2014


Verblüfft ihn im Grab: Ehre für Eric Dolphy
Gedenken wir nicht unentwegt der grossen Toten? Dann nämlich, wenn klassische Musiker einen Haydn oder Strauss oder Debussy aufführen? Es mag da über die «Interpretation» auch ein Stück Gegenwartsgeist einfliessen; im Wesentlichen handelt es sich dabei aber doch, ohne dass das Wort Hommage benutzt würde, um Rituale rund um einen verstorbenen Komponisten. Der Jazz nun, der sich so gern inno­vativ glaubt, kennt diese Rituale auch – zumindest dann, wenn ein Wynton Marsalis mit dem Lincoln Orchestra seinen John Coltrane ­reinterpretiert. Und doch ist auch klar: Wenn Jazzer ausnahmsweise nicht ihre eigene Musik spielen, sondern Verstorbene ehren, dann wollen sie mit den ­Toten auch gehörig was «anstellen». Wie gehen also die Jazzmusiker um mit Eric Dolphy, dem grossen Bassklarinettisten, Flötisten, Altsaxofonisten, verstorben 1964, vor fünfzig Jahren also? An zwei neuen Alben lässt es sich beschreiben. Der amerikanische Jazztrompeter Russ Johnson hat sich mit einem Quintett auf den Spuren des klassischen Dolphy-Albums «Out to Lunch» (1964) ins Studio begeben. Zwar ist hier manches anders gestaltet als im Original, aber es weht wenig freier Geist: Das Malheur des Albums besteht gerade darin, dass sich der direkte Vergleich mit dem Original aufdrängt. Da kann eine Interpretation eigentlich nur verlieren – vis-à-vis der unnachahmlichen Mischung aus anarchischen Bläserlinien und sphärischen Vibrafonklängen des Originals. Viel spannender gehen die Berliner Pianisten Alexander von Schlippenbach und Aki Takase mit Dolphy um, wie der Mitschnitt einer Konzerthommage in Berlin vom Juni dieses Jahres zeigt. Die beiden haben ihren Dolphy ganz neu gedacht und für ein Jazzorchester mit bis zu zwölf Musikern aufbereitet. Sie suchen bewusst die Distanz zum Original, sodass sich Vergleiche nie wirklich aufdrängen. «So long, Eric!» von Schlippenbach/Takase nimmt Dolphy so als Sprungbrett für Eigenes. Dolphys Autorität ist nicht unumstösslich, im Gegenteil. Manchmal ist es, als wollten Schlippenbach/Takase den grossen Musiker regelrecht verblüffen in seinem Grab.
Christoph Merki. Der Bund, Bern, 19.12.2014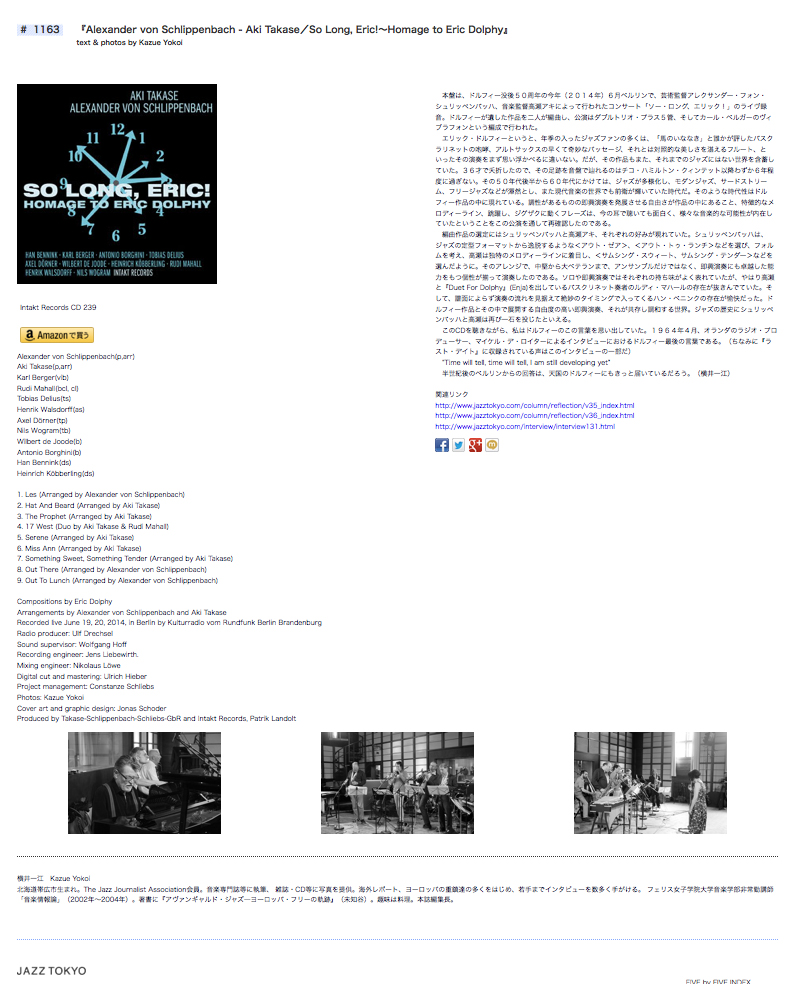 Kazue Yokoi, Five by Five, Jazztokyo, 17. December 2014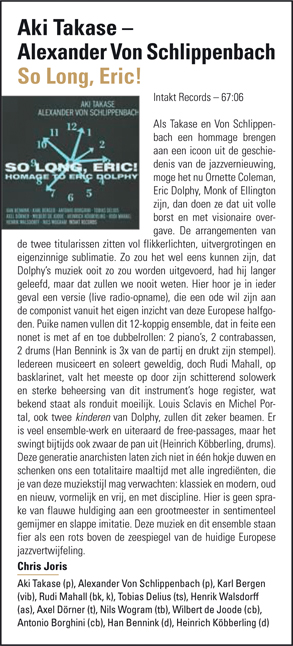 Chris Joris, Jazzmozaiek, Belgium, 4-2014

Kay Friedrichs, Klenkes, Deutschland, Dezember 2014
L'heure (décembre avancé) est encore à l'hommage, obligé presque par un anniversaire – il y a cinquante ans, disparut Eric Dolphy. Celui adressé par le couple de pianistes (et arrangeurs pour l'occasion) Aki Takase / Alexander von Schlippenbach a été enregistré plus tôt (19 et 20 juin 2014), en public, à Berlin – où disparut Dolphy.
Les comparses sont plus ou moins anciens – Han Bennink et Karl Berger, jadis recrues du Globe Unity, le saxophoniste alto Henrik Walsdorff ou encore Axel Dörner et Rudi Mahall, moitié de Die Enttäuschung avec laquelle Schlippenbach interprétait encore récemment l'entier répertoire de Thelonious Monk (Monk's Casino) – qui interviennent sur des relectures que l'audace de Dolphy aurait peut-être pu inspirer davantage.
Ainsi, si de courts solos déstabilisent encore Les, si les dissonances courent d'un bout à l'autre du disque (pianos en désaccord d'Hat and Beard ou embrouillés en introduction d'Out There) et si l'on assomme le motif mélodique à force de décalages rythmiques (Hat and Beard) ou de langueur distante (The Prophet), les forces en présence font avec un manque d'allant jamais contrarié et se satisfont souvent d'évocations entendues. Après être revenu à Dolphy par l'hommage, l'heure (décembre avancé toujours) est désormais à l'envie d'aller l'entendre, lui.
Guillaume Belhomme, Le son du Grisli, France, Decembre 2014
Quanti hanno contribuito all'accelerazione dello stile e all'espansione delle vedute si trovano in breve (financo in vita) a rivestire un ruolo di classici, e nella contemporaneità erratica, vorace ed iperveloce questi possono mantenersi creativamente vitali purché non relegati a ruolo museale: quella di Eric Dolphy fu una "vita al massimo" – o all'incirca, se tale può dirsi per una scomparsa assai precoce (e nel suo caso non priva d'implicazioni grottesche) che recise una traiettoria di grande potenziale connettendolo in quel curioso filone interrotto che già ha annoverato Bix Beiderbecke, Clifford Brown, Scott LaFaro e, più avanti e nelle rispettive differenze, i Pastorius o Svensson, e che nel caso del Nostro fece segnare un primato almeno per il conferimento di grande protagonismo al diversamente negletto clarino basso, per il misconosciuto pionierismo della pratica di fluviali sax-solo, oltre ad imprimere con concezioni e cultura affatto originali (militando peraltro nell'allora avversato anti-jazz) un marchio nella storicamente necessaria evoluzione del bop.
Grande e speculativo signore del free e della dissezione pianistica, e non meno la sua partner d'arte e vita Aki Takase, già operanti ardite e rispettose revisioni dei làsciti di Ellington, Monk, Coleman etc. i due del grande evoluzionista hanno elaborato un rievocativo programma con una line-up pressoché già definita dagli inizi del progetto, comprendente spiriti affini e veterani lungamente militanti entro falangi e formazioni dell'àmbito e, di essi in particolare, Han Bennink e Karl Berger, hanno esplicitato con il dedicatario una storica militanza dai primi e cruciali anni '60.
«L'arte che persiste oltre il suo tempo in quanto visionaria non perde nulla del suo potere ispirativo decadi e decadi oltre la sua creazione: felice esempio nella storia della musica, Dolphy oltre a segnare con unicità la transizione tra bebop e free non rappresentava più il passato, ma nemmeno apparteneva interamente al futuro; per la sua troppo precoce scomparsa rimase un "incompiuto" che però spiega perché la sua opera rivesta ancora, per i musicisti, uno stimolo e un cimento» – piena concordanza dunque con le note di presentazione di questa sentita esperienza live in cui lo spirito del grande jazzman viene rievocato, rivivificato, probabilmente re-immaginato da una falange orchestrale più massiccia e corposa rispetto alle formazioni dolphyane, ma coralmente e individualmente responsabilizzata e partecipante.
L'intricato, obliquo contrappunto dei fiati, le ampie, esplorative stanze in solo dei pianoforti, l'ampiezza della costruzione (e ri-costruzione) ritmica sono i più immediati aspetti di un contributo d'affetti e rispettosa personificazione: peculiare, ricercatamente precario equilibrio tra le forze orchestrali e le incisività d'apporti dei singoli, in una sequenza di contrasti emotivi e di soluzioni talvolta scabrose in termini ritmici e d'armonie d'insieme, che in varia modalità e in sentire non unicamente storicista esitano in un flusso musicale ma soprattutto comunicativo di portata costante, fascinoso e di salda coerenza.
Aldo Del Noce, Jazz Convention, 23 Dicembre 2014

Eric Dolphy war vermutlich einer der wesentlichsten Jazzinnovatoren der 60er Jahre. Wegen seinen frühen Todes war er nur ein paar Jahre wirklich aktiv, inspirierte aber absolute Ikonen wie John Coltrane und Charles Mingus. Aki Takase und Klavier- und Lebenspartner Alexander von Schlippenbach beschäftigten sich immer wieder mit Klassikern, Fats Waller und Thelonious Monk als Beispiele. Bei Intakt ist jetzt eine grandiose CD als Hommage an Dolphy erschienen. Die Besetzung liest sich wie Who's Who des zeitgenössischen Jazz Europas; unter anderem  Karl Berger, Rudi Mahall, Tobias Delius, Axel Dörner, Nils Wogram oder Han Bennink, der ja seine Karriere bei der letzten Einspielung Dolphys begann. Die Live-Aufnahme aus Berlin ist vortrefflich gelungen. Sie lässt den Stücken Dolphys ihre Originalität, vor allem auch ihre rhythmische Verzwicktheit, die Neuarrangements Takases und Schlippenbachs beziehen aber die Erkenntnisse der Gegenwart mit ein. Die zwölfköpfige Band agiert in Hochform, alle Solisten bringen sich aufs Trefflichste ein. Anspieltipps braucht man keine geben, von der ersten Nummer Les bis zur letzten Out to Lunch ist alles von überragender Qualität.
haun., freiStil, Magazin für Musik und Umgebung, Österreich, Januar 2015

BEST NEW RELEASES (2014) - ALBUM OF THE YEAR
Aki Takase/Alexander Von Schlippenbach - So Long, Eric! (Homage to Eric Dolphy)

The New York City Jazz Record, New York, USA, January 2015
Im Juni 1964 starb in Berlin der schwarze Multiinstrumentalist und Komponist Eric Dolphy an den Folgen eines nicht erkannten Diabetes. Kurz zuvor hatte er noch mit dem Charles Mingus Workshop die junge deutsche Szene aufgerüttelt. Mit kühnen Intervallsprüngen auf dem Altsaxofon und der Bassklarinette wies er den Weg in eine neue Freiheit; der bei ihm auf der Flöte durchaus auch ein lyrischer war. Mit zwei Konzerten für den rbb ehrte das Berliner Pianisten-Ehepaar Aki Takase und Alexander von Schlippenbach, Vorreiter des japanischen bzw. deutschen Free Jazz, im vergangenen Jahr den früh Verstorbenen. Jetzt kann man die Musik nachhören.
Ein Leben lang haben sich Takase und Schlippenbach mit dem Werk Dolphys beschäftigt. Für die Hommage richteten sie neun Dolphy-Kompositionen für ein All Star Ensemble ein. Das zwölfköpfige Projektensemble erinnert mit Doppelungen, wie zwei Klavieren, zwei Bässen und zwei Schlagzeugen, an das Double Quartet von Ornette Colemans Genre definierendem Album "Free Jazz". Allerdings ist die Band nur bei einem Titel in voller Besetzung zu hören, auf den anderen acht Tracks variiert die Instrumentierung. Als Solisten beeindrucken neben den Leadern vor allem der Bassklarinettist Rudi Mahall, der den Dolphy-Ansatz ins neue Jahrtausend weiterführt, und der Posaunist Nils Wogram, für den sich Ähnliches in Bezug auf Albert Mangelsdorff sagen ließe; erwähnenswert sind auch die flirrenden Vibrafonbeiträge von Karl Berger, einst Dolphys Begleiter am Klavier. Mit dem Schlagzeuger Han Bennink ist ein weiterer Dolphy-Alumnus mit von der Partie; allerdings weisen seine Ausdeutungen von Dolphys Implikationen der Freiheit in die eher hemdsärmelige Richtung der klassischen Wuppertaler Free-Jazz-Szene. Aber das ist nur eine Facette, der hier vielfältig und faszinierend aufgezeigten nachhaltigen Wirkung von Dolphys Schaffen.
Thomas Fitterling, Rondo, 10.01.2015
In the five years after Eric Dolphy moved to New York he made three kinds of records: sideman dates, usually with progressive boppers; albums as a traveling soloist, playing standards and a few originals with a different rhythm section in each city; and, most revealing, dates heavily drawing on his compositions, including his Prestige studio sessions, his Five Spot quintet, and his three 1963-64 albums with Richard Davis and Bobby Hutcherson. What the later category reveals is an artist growing in every way, a composer and improviser in mid-air, leaping beyond changes and modes into freedom.
Dolphy sure inspires today's free spirits. Last June, shortly before the 50th anniversary of his death, pianists-arrangers Aki Takase and Alexander von Schlippenbach gathered a hell of a band to perform and record So Long Eric! in Berlin. Two of this 12tet played with Dolphy in his last month: drummer Han Bennink and vibist Karl Berger, with whom Dolphy was playing at the end, two nights before his death.
There's a great misterioso "Hat and Beard," opening with dark, crashing, repeated two-piano chords; then the stalking theme; twin basses and drums densely underline Berger's nervous solo; brass and woodwind duets and Takase's solo extend the Grimm mood, like Hansel and Gretel in the ominous forest. Takase's arrangement of this and "Serene" for the five horns are especially attractive. Takase and bass clarinetist Rudi Mahall create a beautiful duet on "17 West," then the rhythm section of Schlippenbach, bassist Antonio Borghini, and drummer Heinrich Köbberling really swing behind alto saxist Henrik Walsdorff on "Out There." Walsdorff is a special delight, with a Charles Tyler-like tenacity of motivic recall and development yet an early-Ornettish freedom of movement.
The other horns are inspired, too: trumpeter Axel Dörner and trombonist Nils Wogram are lyrical; tuff tenor saxophonist Tobias Delius is rough and tough; and, especially, Mahall, a true Dolphy heir, flowing yet also jagged, eruptive. It's good that there are plenty of piano solos by the two eclectics – both sound at least partly inspired by 1950s Cecil Taylor. "Out To Lunch" is the album's wonderfully exuberant conclusion.
John Litweiler, Point of Departure, December 2014

Michael Jackson, Downbeat, Chicago, February 2013
A pair of pianists give a tribute to an avant garde reed player? Hey, it
works! Aki Takase and Alexander Von Schlippenbach (from her on
referred to as "AT" and "AVS") put together a simpatico team that
captures the sonic vision and passion of Eric Dolphy during a pair of June
concert performances in Berlin. The size of the band is as flexible as a
Dolphy solo, ranging from a duet to a full meghilla twelve member team
with even a doubling of drummers (Heinrich Kobberling/Han Bennink) and
bassists (Antonio Borghini /Wilbert De Joode) at times. The reed
section of Rudi Mahall/cl, bcl, Tobias Delius/ts, Henrik
Walsdorff/as, Axel Dorner/tp and Nils Wogram/tb is augmented
by vibist Karl Berger, and the players move in
and out like an Agatha Christie novel.
As for the music itself? Thes guys mix the tunes of Dolphy's
solo career with the swagger and energy of his stint with Charles
Mingus' band. Tunes such as "Les" and "Out There" have an incessant
bop pulse that is dipped in blues, while Walsdorff's alto is sharp and
poignant throughout. A wonderfully traffic jammed feel veers in and out
of the assertive "Miss Ann" which as ATs piano searching for something
just out of reach, and gloriously ragged "The Prophet" which in
cludes Wograms languidly sliding trombone.
A duet betweek AT and Rudi Mahall's bass clarinet has some exciting
interplay with each guy pushing each other in a way reminiscent between
Mingus and Dolphy, while the closing "Pout to Lunch" thunders with
Bennink's drums and finishes up like a three legged race on an incline.
Exciting music here, reflected of an era and attitude of experimentation
that is sorely missing these days.
George W. Harris, April, May, June www.cadencemagazine.com
Husband-and-wife pianists Schlippenbach and Takase salute Eric Dolphy
Last week I wrote about the recently issued First Recordings by the Schlippenbach Trio, the peerless free-improvising trio that features drummer Paul Lovens and Evan Parker and is nominally led by pianist Alexander von Schlippenbach. Although he was one of the key figures in the development of a bona fide European jazz aesthetic, that doesn't cancel out Schlippenbach's fluency in the American tradition. Back in 2002 he launched his brilliant Monk's Casino project—joined by the four members of the superb Die Enttäuschung, he performed and recorded every extant tune composed by Thelonious Monk.
Last fall Schlippenbach and his wife and fellow pianist Aki Takase released a recording by another project paying tribute to a great American jazz musician: reedist Eric Dolphy. For So Long, Eric! Homage to Eric Dolphy (Intakt) the couple assembled a fantastic 12-strong band—deployed in numerous configurations ranging from duo to the full complement of musicians—and interpreted nine tunes by Dolphy, who died tragically in 1964 at the age of 36 from undiagnosed diabetes. Most of the personnel is drawn from Berlin's strong jazz- and improvised-music community—including trumpeter Axel Dörner and bass clarinetist Rudi Mahall, who is arguably the greatest practitioner of an instrument most commonly associated in the jazz world with Dolphy—but Schlippenbach's called on a pair of veterans with personal connections to the late reedist: Han Bennink and Karl Berger. Dutch drummer Bennink played with Dolphy just a few months before his death—the drummer appears on the classic Last Date, along with pianist Misha Mengelberg. Vibist Karl Berger was leading a trio at a Berlin nightclub in June of 1964, and on opening night Dolphy appeared as a special guest, but with his deteriorated heath he could barely play, let alone stand; he was hospitalized that night and died two days later.
The music on the CD is celebratory, with dynamic, contrapuntal-rich arrangements and fantastic improvisation; the shifting lineups and sharp arrangements add to the flavor. Takase's arrangement of "Serene," for example, is strictly for the horns of Dörner, Mahall, alto saxophonist Henrik Walsdorff, and tenor saxophonist Tobias Delius—they balance a chamber-like intimacy and buoyant swing that are voiced with a lovely, gauzy timbre that conveys a touch of west-coast cool (Dolphy got his start in LA, after all, working in Chico Hamilton's band). Schlippenbach's arrangement of "Out There" opens with a lengthy solo piano passage fueled by a kind of off-kilter, boogie-woogie drive that soon leaps into a fleet postbop quartet, highlighted by some excellent blowing by Walsdorff that's embedded with some of Dolphy's trademark intervallic leaps. The collection concludes with an epic version of "Out to Lunch," with Bennink going head-to-head with drummer Heinrich Köbberling before the full ensemble jumps in, exaggerating the already herky-jerky theme, with a barrage of horns improvising simultaneously in Dolphy's characteristically jagged fashion before pulling back for a string of inspired solos. The rest of the top-flight band includes trombonist Nils Wogram, and bassists Wilbert de Joode and Antonio Borghini.
Peter Margasak, Chicagoe Reader, February 6, 2015

Andrey Henkin, New York City Jazz Record, March 201

Steff Rohrbach, Jazz'n'more, März 2015
Any musician, in celebrating an artist like Eric Dolphy, is stepping onto a minefield. Exploratory and ever-forward-looking, the music of the free-jazz pioneer seems almost designed to resist the sometimes bloodless tribute-recording format. Fortunately, with So Long, Eric!—Homage to Eric Dolphy, the man's compositions are in the hands of pianists Aki Takase and Alexander von Schlippenbach, two musicians who have spent their careers carrying the bold experimental flag Dolphy helped to raise. The result, nine fresh arrangements of Dolphy compositions recorded live in Berlin last June, is thrilling listening.
Takase and Schlippenbach's arrangements are given stirring life by a cadre of musicians who fully grasp the demands of these pieces, delivering performances balanced between aesthetic sensitivity and near-hysterical abandon. The unison horn statements on "Les" are staggering in their graceful precision, while the cacophony of "Hat and Beard" would splinter into mere chaos in the hands of less-skilled performers. Trombonist Nils Wogram entwines like a lover with his fellow horns on the aptly titled "Serene," and "Out There" soars on the rush of a blazing Henrik Walsdorff alto solo.
The pianists' choice of repertoire showcases Dolphy's breadth, from the elegance of "17 West," bolstered by the high-flying clarinet of Rudi Mahall, to the furious squall of "Out to Lunch," with its explosive introductory drum solo by past Dolphy collaborator Han Bennink and Axel Dörner's trumpet channeling a screaming kamikaze fighter. Schlippenbach's pointed block chords on "The Prophet" evoke compelling tension, while Takase's atonal classicism and unerring sense of drama electrify "Miss Ann," which finds her working the left hand like a sledgehammer.
Matt R. Lohr, JazzTimes, USA, January/February 2015



Coen de Jonge, Jazzism, Maart 2015, Nederlande
IDELIDAD AL ESPÍRITU DE DOLPHY
1964 es "uno de esos años". Recién cumplido el medio siglo desde entonces, a lo largo del año pasado se han dado numerosos aniversarios en el pequeño y doméstico mundo del jazz. Entre ellos, tres particularmente importantes para quien esto escribe: el cincuentenario de la grabación de dos obras maestras, A Love Supreme de John Coltrane y Spiritual Unity de Albert Ayler, y de la muerte de uno de los más grandes solistas del jazz en la segunda mitad del siglo pasado, el saxofonista, clarinetista y flautista Eric Dolphy.

Su importancia ha quedado ligeramente atenuada por lo personal de su estilo, un inimitable y visionario rupturismo que, aún hoy, sigue sonando tan fresco y original como entonces. De hecho, la perspectiva juega a su favor y le mantiene vigente frente a otros revolucionarios de la época, algunos de ellos mucho más populares, cuya obra ha envejecido más, o peor.

La música de Dolphy poseía una belleza extraña, difícil de atrapar, y tal vez por eso el cincuenta aniversario de su muerte no ha hecho el ruido que merece. Pero ahí está Aki Takase para homenajearle, y esta vez a lo grande. No le quito mérito al gran Alexander Von Schlippenbach, pero la japonesa ha cultivado la obra de Dolphy desde diferentes ópticas, respetando siempre dos preceptos básicos: la fidelidad al espíritu de Dolphy y la propia personalidad de Takase, nunca supeditada a la música del maestro, sino complementada por ésta.

En el fabuloso So Long Eric!, el binomio Takase-Von Schlippenbach se eleva a la máxima potencia, construyendo sobre su muy trabajada compenetración un grupo y unos arreglos que dibujan un perfecto retrato de Eric Dolphy a partir de la inequívoca personalidad de los líderes y sus excepcionales músicos (un auténtico quién es quién de la vanguardia europea). Alternando formaciones y jugando, sin deformar, con composiciones emblemáticas de Dolphy, este fabuloso homenaje se caracteriza precisamente por una de las señas de identidad de su protagonista: sonar moderno sea cual sea el contexto de la pieza.
Personalidad por encima de todo, sí. Y libertad, swing y solos estupendos. Todo ello.
Yahvé M. de la Cavada ©Cuadernos de Jazz, abril- 2015
Artikel von Christoph Wagner, Neue Zeitschrift für Musik 1-2015 (PDF-Datei)
Vorig jaar was het vijftig jaar geleden dat Eric Dolphy, onverwachts en veel te vroeg, overleed. Het inspireerde Aki Takase en Alexander von Schlippenbach om een eerbetoon te organiseren voor deze grootmeester. Een van de concerten van die serie verscheen eind vorig jaar bij Intakt onder de naam 'So Long, Eric!' op cd. Voor dit eerbetoon trommelden de beide pianisten een keur aan internationale artiesten bij elkaar, waarvan er twee ooit nog met Dolphy hebben samengewerkt, slagwerker Han Bennink en vibrafonist Karl Berger.
Het album bestaat, hoe kan het ook anders, volledig uit composities van Dolphy, in spannende arrangementen van Von Schlippenbach en Takase. Immers, Dolphy heeft nooit de beschikking gehad over een band met twee pianisten, twee drummers, twee bassisten en zes blazers!
Von Schlippenbach is beslist trouw gebleven aan de originele composities van Dolphy. Ze zijn allemaal duidelijk te onderscheiden, maar hij voegt zeker ook het een en ander toe. Zo start 'Out To Lunch!', de titeltrack van het enige officiële album dat Dolphy voor Blue Note maakte, met een slagwerkduet tussen Bennink en Heinrich Köbberling, waarna de rest van de band het thema inzet, maar dan natuurlijk veel zwaarder georkestreerd. Het origineel werd tenslotte uitgevoerd door een kwintet. Wat ook opvalt is dat Von Schlippenbach en de zijnen kiezen voor een minder strak arrangement. Zo zet Nils Wogram een trombonesolo neer die duidelijk eigentijds is. Ook de schrijnende, piepende en krakende trompetsolo van Axel Dörner gaat een paar stappen verder dan dat Freddie Hubbard ging in het origineel.
In 'Serene', een nummer uit de tijd dat Dolphy bij Prestige zat, kiest Von Schlippenbach voor een arrangement waarin alleen de blazers te horen zijn. Eerst horen we Wogram en vervolgens Henrik Walsdorff op altsax. Met de overige blazers erbij ontstaat er een subtiel en melodieus geblazen setting, een soort van serenade. Het arrangement geeft een bijzondere lading aan dit nummer.
De versie van 'Miss Ann', eveneens daterend van rond 1960, duurt ruim twee keer zo lang als het origineel. Takase kiest hier ook voor een wat lager tempo. Tevens is deze versie dramatischer, ruiger. Het is goed terug te horen in de schurende tenorsax solo van Tobias Delius. In 'Hat And Beard', eveneens afkomstig van 'Out To Lunch!', starten de beide pianisten met een duet waar het thema reeds vaag doorheen klinkt. Zodra de rest van de band zich erbij voegt, ontvouwt dit thema zich verder. Al is ook hier de structuur veel opener en losser, speelser bijna, dan in het origineel.
Als er één ding duidelijk wordt na beluisteren van deze cd is het dat Dolphy een uitstekende componist was. Hij heeft de wereld een aantal prachtige nummers nagelaten, die ook vijftig jaar na dato nog steeds zeer de moeite waard zijn. Waarvan akte!
Cees van de Ven, Draai om je oren, maandag 25 mei 2015
....
In complete contrast to the other honorees, multi-reedist Eric Dolphy (1928-1964), the focus of dual pianists Aki Takase and Alexander Von Schlippenbach's So Long Eric, has been memorialized many times. Recorded live, the very familiarity of the nine Dolphy tunes outlines the challenges faced in this reconstruction. Luckily the two come up with a stop-start programming method that call on many of the multi-reedist's influences from West Coast Jazz, big band swing and Charles Mingus-affiliated old-timey funk to vary the program. One irony is that Dolphy, who in maturity rarely worked in anything larger than sextet, is here honored by a total of 12 musicians. Besides the pianists, the formation includes trumpeter Axel Dörner, trombonist Nils Wogram, reedists Rudi Mahall, Henrik Walsdorff and Tobias Delius, vibist Karl Berger, bassists Wilbert de Joode and Antonio Borghini plus drummers Heinrich Köbberling and Han Bennink.
In truth, the most fascinating parts of the program are when instruments such as trombone and clarinet, never or rarely involved in Dolphy's work, are given prominence. Wogram, for instance, uses his unique style to simultaneously round the corners of "The Prophet" plus expose stop-time gutbucket timbres with his gutty slides. Similarly popping trumpet lines and dribbling clarinet tones from Dörner and Mahall respectively on "Serene" create an early Swing-styled arrangement, an illusion expanded when the other horns accompany the duo with clunking banjo-type accents. Equally startling is how "Something Sweet, Something Tender" is opened up from its clanking dual prepared piano introduction to burnished harmonies from the trumpeter. Berger's unruffled vibe explorations add to the cool overlay. Considering that Dolphy worked with later modern mainstreamers such as Bobby Hutcherson, Freddie Hubbard and Mal Waldron this arrangement wouldn't have been foreign to him. Takase plus Mahall on bass clarinet even manage to birth a small gem of chamber Jazz with "17 West", as the melody is both softly expanded and toughly exfoliated of sweetness.
Bennink, the only musician besides the vibist, to have actually played with Dolphy, exhibits his crackling cymbal attacks and booming bass drum accentuations on his introductory solo on "Out to Lunch", but happily he's cut short by the rest of the band entering and he's further restrained from reaching over-the-top showiness by Wogram's restrictive plunger tones. With all hands on deck, the ensemble runs through an exciting and high-pitched rendition with Dörner sounding more like himself with strained squeak tones which mix with semi-stride piano and concentrated thumps from the bassists. Throughout the player with the trickiest role is Walsdorff, but he avoids undue comparisons with Dolphy on the latter's main instrument, by maintaining an equilibrium that includes narrowed bites and unexpected tonal slides.
Rife with exceptional if somewhat disconnecting playing, So Long Eric can be praised more for its Dolphy fidelity than any radical restructuring of the works. Pleasurable interpretations like the other CDs here; none genuinely posits new view(s) of the honoree (s).
Ken Waxman, www.jazzword.com, May 22, 2015, USA

A pair of pianists give a tribute to an avant garde reed player? Hey, it works! Aki Takaswe and Alexander Von Schlippenbach (from her on referred to as "AT" and "AVS") put together a simpatico team that captures the sonic vision and passion of Eric Dolphy during a pair of June concert performances in Berlin. The size of the band is as flexible as a Dolphy solo, ranging from a duet to a full meghilla twelve member team with even a doubling of drummers (Heinrich Kobberling/Han Bennink) and bassists (Antonio Borghini/Wilbert De Joode) at times. The reed section of Rudi Mahall/cl-bcl, Tobias Delius/ts, Henrik Walsdorff/as, Axel Dorner/tp and Nils Wogram/tb is augmented by vibist Karl Berger, and the players move in and out like an Agatha Christie novel.
As for the music itself? Thes guys mix the tunes of Dolphy's solo career with the swagger and energy of his stint with Charles Mingus' band. Tunes such as "Les" and "Out There" have an incessant bop pulse that is dipped in blues, while Walsdorff's alto is sharp and poignant throughout. A wonderfully traffic jammed feel veers in and out of the assertive "Miss Ann" which as AKs piano searching for something just out of reach, and gloriously ragged "The Prophet" which includes Wograms languidly sliding trombone. A duet betweek AK and Rudi Mahall's bass clarinet has some exciting interplay with each guy pushing each other in a way reminiscent between Mingus and Dolphy, while the closing "Pout to Lunch" thunders with Bennink's drums and finishes up like a three legged race on an incline. Exciting music here, reflected of an era and attitude of experimentation that is sorely missing these days.
George W. Harris, www.jazzweekly.com, February 5, 2015