INTAKT RECORDS – CD-REVIEWS
SCHWEIZER - WICKIHALDER
SPRING
Intakt CD 234 / 2014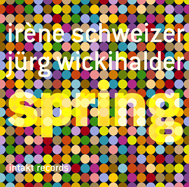 Manchmal wäre Lob nur töricht. IRENE SCHWEIZER ist so ein Fall. Wem müsste sie noch was beweisen? Was ließe sich über ihre Spielkunst sagen, was nicht schon gesagt wurde? Sie zu loben, hieße, dass es auch anders sein könnte. Aber dazu müsste sie schon besoffen vom Stuhl fallen. Spring (Intakt CD 234) zeigt die große Pianistin im Verbund mit dem Saxophonisten JÜRG WICKIHALDER, mit Baujahr 1973 ein Prachtkerl der übernächsten Swiss-Jazz-Generation. Mit dem hat sie in dessen European Quartet und in vielen Duetten ein blindes Vertrauensverhältnis entwickelt, das die beiden selbst in einem Dunkelrestaurant keine Sekunde im Dunkeln tappen lässt. Wickihalders Leitstern ist Steve Lacy und mit Schweizer teilt er dessen Bewunderung für Thelonious Monk, von dem sie 'Ugly Beauty' und 'Trinkle Tinkle' anstimmen. Ihre eigenen Improvisationen und Kompositionen - insbesondere '6243D', das fast entgleist, aber doch nur fast - sind animiert von Monks vertracktem Genie. Wobei Schweizer noch an weitere Tiefenschichten rührt, mit klingelnden Ragtime- und Stride-Figuren aus Prä-Bop-Tagen. Jedoch ohne Gefälligkeiten für Leute, die klatschen, wenn sie 'Tea for Two' erkennen. Vielmehr immer wieder verblüffend Pfiffiges, wenn Wickihalder etwa von einem gassenhauerischen Anklang zum nächsten rösselspringt oder on 'The Road' kapriolt. Da prickeln Salz und Pfeffer, da wirbeln die Finger in akrobatischer Beiläufigkeit, extrem sophisticated, manchmal fast slapstickartig im sopranistischen Gesprudel und den launigen Bocksprüngen. Ohne dass das Lyrische zu kurz kommt - 'Köln' ist dafür ein gutes Beispiel. Weil Schweizer als Intro und Extro ins Innenklavier greift und Wickihalder einmal mit gurrenden Lauten das bloß Lyrische relativiert. Einen weiteren Kontrast schaffen die Tenorgesänge bei 'Green' und, noch versonnener und inniger, bei 'Last Jump' und 'Blue'. Und fast schon perelmanesk, aber doch etwas mürber und brüchiger, bei 'White'. Wobei Schweizer immer schön lakonisch gegenhält. Mit 'Just a Gigolo' gibt es zuletzt noch einen Ohrwurm, den auch schon Monk gerne mal zermonkt hat.
Rigobert Dittman, Bad Alchemy, 83, September 2014


Pirmin Bossart, Kulturtipp, Schweiz, Oktober 2014



tHo, Concerto, Österreich, Oktober 2014
C'est l'univers de Thelonious Monk qui a réuni la grande pianiste Irène Schweizer et le jeune saxophoniste Jürg Wickihalder, lequel a rencontré et joué avec un grand monkien, Steve Lacy, d'où son choix premier du soprano. Monk est présent dans cet échange avec deux thèmes et… Just A Gigolo, Wickihalder en apporte cinq et en partage plusieurs autres avec la pianiste. Au-delà du jeu du saxophoniste, on remarquera une fois de plus la qualité d'écoute d'Irène Schweizer, sa réactivité, son à-propos, sa présence et ses qualités d'accompagnatrice car, là, on peut réellement parler d'accompagnement, dans le meilleur sens du terme.
Jean Buzelin, Culturjazz, France, 27 Octobre 2014
Whether leading his Drum Quartet, seven-piece Zoom ensemble or supporting fabled improvisers, bassist Barry Guy and guitarist Fred Frith, Swiss drummer Lucas Niggli is not one to play it safe or dodge risk-taking processes. His mantra is firmly implanted in a musical world that is assuredly outside the box, after appearing on nearly two-dozen albums for Intakt Records. On Arcanum, Niggli takes another leap of faith by teaming with free-form vocalist Andreas Schaerer. Besides the drummer's colossal sound and enviable technique, the twosome sparks esoteric dialogues, perhaps signaling tribal music for the modern era with an air of antiquity, especially during the vocalist's sanctified chants and perceptive use of electronics effects. Niggli and Schaerer often operate at warp speed or temper the proceedings when exploring dimly lit panoramas.
The duo executes some trickery with mind-bending, polyrhythmic unison runs. At times Schaerer conjures imagery of Brit avant vocalist Phil Minton's cavorting, alien-speak atop Niggli's thunderous tom rolls and swooshing cymbals hits. Yet the title track "Arcanum," is nestled within a spooky and harrowing environ, emphasized by the drummer's intermittent cymbals crashes, as they shift gears on "Chasing The Frog," by implementing a slap, dab, and popping rhythmic escapade, intensified by Shaerer's maniacal scat refrains. However, the musicians do fuse some warmhearted opuses into the program. And they embed textural components via highs, lows and polytonal treatments but also produce outlandish soundscapes that trigger seething discourses. It's an inviting concept with bouts of fun and frolic amid a journey that can rattle your brain, soothe the savage beast or even freak out your friends.
Glenn Astarita, All About Jazz, October 31, 2014

Guido Festinese, Il Manifesto, Italia, 2. Nov 2014
Novità dalla Intakt
Dalla label svizzera Intakt provengono sempre proposte interessanti, che ci forniscono un significativo spaccato della ricerca jazzistica europea. Pur facendo i conti con i clichè di riferimento (l'avanguardia degli anni '70), si impongono modalità di grande spessore espressivo.

Entrambi i CD qui in esame presentano una precisa cifra stilistica, palpabilmente riconoscibile. Nel caso di Irene Schweizer, si ripropone con la consueta classe quel rigore che da sempre la caratterizza. Jurg Wickihalder Overseas Quartet è da qualche anno l'ideale compagno di un avvincente viaggio, d'incessante combustione e caleidoscopiche variazioni.
Come era lecito attendersi da forti personalità, l'interazione proviene dalla frequente collisione vulcanica di mondi poetici diversi. Fra i due si instaura un creativo gioco di contrappesi, ben rappresentato dalla singolare rivisitazione dei classici temi monkiani. Attraverso un linguaggio audace, si concentrano in meno di 50 minuti colorati bozzetti di jazz e musica contemporanea. E le polisemiche trame musicali stemperano i voli della ricerca iconoclasta con l'ancoraggio verso la tradizione dello stride piano.

Il secondo CD ci fa conoscere un ottimo trio, non ancora sotto i meritati riflettori del grande pubblico. Ne è leader il sassofonista austriaco Harry Sokal, apprezzato collaboratore di Art Farmer e della Vienna Art Orchestra. Da questo ensemble viene ripresa una concezione elastica ed indeterminata del fare musica, libera da etichette.
In primo piano assoli grintosi, che traducono le influenze funky del gruppo in una vivace esuberanza ritmica, lontana dalle dominati allusioni hard-boppistiche di oggi. La personalità del trio è tale da potersi permettere di entrare nell'orbita del bop ("Chamber's Room") con una buona dose di irriverenza. Ed anche negli episodi più fusion si crea una ibridazione palpitante, in grado di coinvolgere l'emotività dell'ascoltatore. C'è tanto groove, magnificamente rinverdito dalla gustosa teatralità surreale del jazz nord-europeo. Nelle dieci tracce si ritrovano condensate alcune caratteristiche peculiari del jazz: originalità, verve, personalizzazione sonora.
MAURIZIO ZERBO, All About Jazz Italia, October 29, 2014
Dass sich die beiden gut kennen, wird sofort hörbar, und immer wieder. Es wird nicht lange gefackelt in diesem Duo, gutes Einvernehmen und gegenseitiger Respekt machen Regeln und Anstand quasi obsolet. Und so ist es ein bisschen wie in familiären oder freundschaftlichen Beziehungen – man spricht laut und deutlich miteinander und geht dabei bald unbekümmert aufeinander los, bald verständnisvoll aufeinander ein. Die Rede ist vom Zusammenspiel zwischen dem Tenor- und Sopransaxofonisten Jürg Wickihalder und der Pianistin Irène Schweizer. «Spring» heisst ihr neues Duo-Album – und wer sich erinnert, dass eine frühere, in erweiterter Besetzung eingespielte CD «Jump!» (2011) hiess, wird auch bei diesem Titel nicht nur an blühende Blümchen denken, sondern auch an Abgründe, an Sprungbretter oder an den Übergang vom Thema zur Improvisation. Die beiden Duo-Partner wirken in den Stücken – Eigenkompositionen, zwei Titel von Thelonious Monk und ein schöner Schlager («Just a Gigolo») – zwar feinfühlig, aber ziemlich impulsiv. Ihr Interplay ist eher witzig und hitzig als abgeklärt und vernünftig. Ganz zum Vergnügen der Zuhörer, die immer wieder erleben, wie hier Phrasen im Zeichen von Streit und Versöhnung aufeinanderprallen, um so letztlich eine innige Kraft zu generieren. 
Ueli Bernays, Neue Zürcher Zeitung; 31.10.2014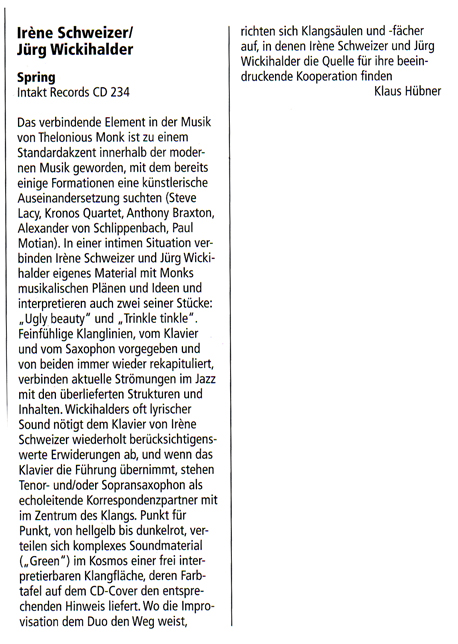 Klaus Hübner, Jazzpodium, November 2014
Pianisten Irene Schweizer har vært en av Europas ledende pianister i flere tiår, men det er vel egentlig først de senere årene, og hgjennom hennes utgivelser på sveitsiske Intakt Records at hun har blitt en pianist man regner med rundt om i hele verden. Saksofonisten Jürg Wickihalder kommer også fra Sveits, men har bl.a. studert under Steve Lazy, noe man lett kan gjenkjenne i hans spillemåte.
På «Spring» tar de to oss rett inn i pianisten Thelonious Monks verden – eller vi får servert musikk Monk sannsynligvis ville ha spilt, hadde han fremdeles vært på banen.
Bare to av låtene er gjort av Monk, nemlig den slitesterke «Trinkle Tinkle» og den ikke fullt så ofte fremførte «Ugly Beauty», resten er gjort enten av Schweizer eller Wickihalder, eller begge i fellesskap, med unntak av sistelåten, Leonello Casuccis «Just a Gigolo» i en kort, praktfull og ytterst original utgave. Men hele tiden svever salige Monk over det hele. Dermed bringer også tankene over på for eksempel den nederlandsake pianisten Misha Mengelberg og hans videreføringer av Monks musikk. I balladene, som i Wickihalders «Köln» utforsker de hverandres ideer på en fremragende måte, selv om jeg synes sopransaksofontonen til Wickihalder av og til kan bli litt for skjærende.
Irene Schweizer er en rasende god pianist, med fullstendig kontroll på hva hun holder på med. Hennes teknikk er fullkommen, og improvisasjonene hun fyrer av i soloene, er strålende.
Jürg Wickihalder trakterer sopran- og tenorsaksofon med stor intensitet og overbevisning. Hans spill har en liten vibrator i seg, som av og til kan virke litt forstyrrende, særlig når den blir mer intenst i de partiene hvor han «trøkker til», men stort sett fungerer det mer enn tilfredsstillende.
Innspillingen er gjort på den lille jazzklubben Loft, i Köln, lyden er nær og god, det høres ut som de to har kost seg glugg ihjel på klubben og det hele er en fryd for sinn og ører.
Jan Granlie, Salt Peanuts, Oslo, 17. september 2014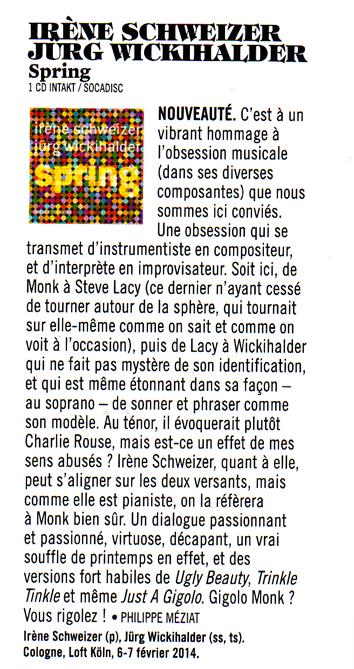 Philippe Méziat, Jazzman/Jazzmagazine, Paris, Novembre 2014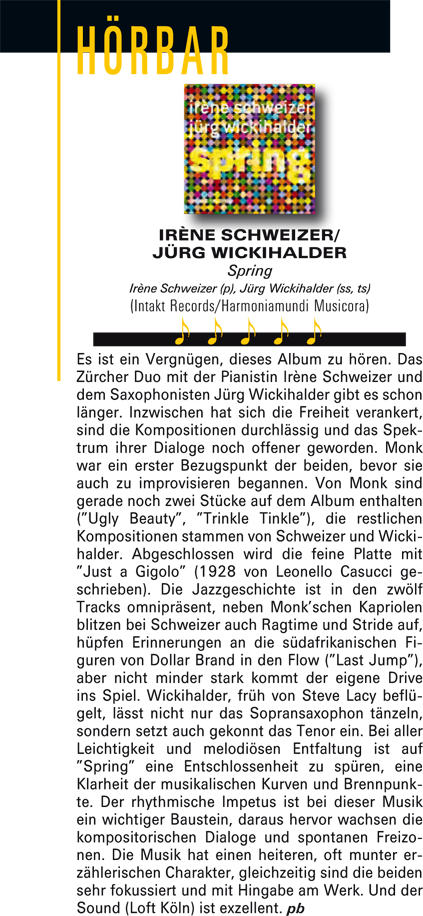 Pirmin Bossart, Jazz'n'more, Schweiz, November-Dezember 2014
Misura dopo misura - ma il percorso è adesso pressoché sterminato - l'arte della veterana del piano da Sciaffusa è pervenuta a chiaro coronamento: artista completa che può davvero vantarsi senza vanagloria alcuna di aver abitato, ed in varie forme segnato, le più significative stagioni della musica creativa nonché le più polemiche fasi del'Euro-jazz, Irène Schweizer non manca un'occasione per sancire la propria eminente sapienza e l'enorme talento immaginativo.
Maggioritario per presenza compositiva nell'album, il più giovane Jürg Wickihalder, originario da Glarus ed insediato a Zurigo, è già forte di un cursus di collaborazioni estese tra le tre ultime generazioni del free, mantenendo con entusiasmo la leadership del proprio European Quartet, graziato dalla regolare e determinante partecipazione appunto di Schweizer, con la quale si perviene ora alla prima esperienza in duo.
Monk in prima istanza, ma non secondariamente anche Waldron (e intuitivamente la controparte Lacy), Dollar Brand e quant'altri innovatori della tastiera e relative applicazioni segnano molti dei colori e delle ispirazioni, i cui materiali sono metabolizzati e veicolati da una evidentemente organica formazione a due, che s'inscrive in una già nutrita letteratura a sé, costituendo un momento cameristico che è anche fucina imprevedibile delle amalgame e delle invettive nel jazz di più ristretto insieme.
Muovendo in tangibile libertà rispetto all'incanalamento di "genere", dribblando perfino il vincolo e l'esigenza di una piena espressione radicale, i due configurano criticità incruente e comunque privilegiando una cantabilità ariosa, coltivando le curiose cellule melodiche con calibrata malizia e trasgressiva classe, che raramente si dispone alla provocazione estrema coltivando anzi un non spiacevole clima d'antan.
Magistrali il nitore e la plastica delle figurazioni di Schweizer, di una qualche acerba crudezza i segni degli ottoni di Wickihalder, che pur permane voce di duttile e assai argomentata loquela, e insieme seguendo, in reciproco ascolto, una corrente ispirativa meditata ed insieme istantanea, modellano un songbook personale ed estemporaneo.
Magia concreta, costruttive tessiture di memorie in libertà, lezione (piuttosto annunciata) di vitalità - senza vanità - in Musica.
Aldo Del Noce, Jazzconvention, Italia, 05 Novembre 2014


Am diesjährigen Jazzfestival Basel freuten wir uns unter anderem auf den Auf- tritt des experimentierfreudigen New Yorker Pianisten Uri Caine. Im Vorprogramm spielten mit Irene Schweizer und Pierre Favre zwei der ganz grossen und verdienten Alleskönner der Schweizer Jazzszene. Die beiden fesselten das anwesende Publikum mit grosszügigem Charme und liebevoller Selbstverständlichkeit. Ihre Ansagen und ihr unaufgeregtes Duospiel verblüfften dank echter Ehrlichkeit, die beiden boten ein Alterswerk der Extraklasse. Sie brauchten niemandem mehr Rechenschaft zu schulden, machten das, was sie wirklich und unbeeinflusst wollten und sorgten für den Höhepunkt des Abends.
Soeben ist von der Pianistin Irene Schweizer und dem Saxofonisten Jürg Wickihalder die CD spring erschienen. Die Unbekümmertheit, die Spielfreude, die Scherze bestätigen genau den Eindruck von damals.
Urs Berger, Biel-Benkemer Dorf-Zytig, 28. November 2014, Schweiz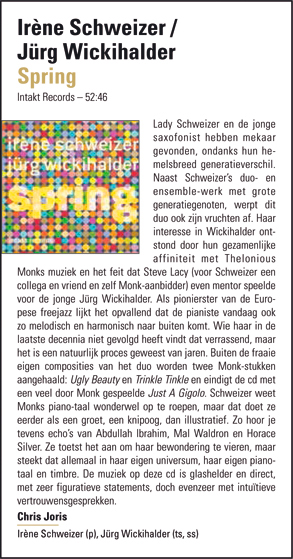 Chris Joris, Jazzmozaiek, Belgium, 4-2014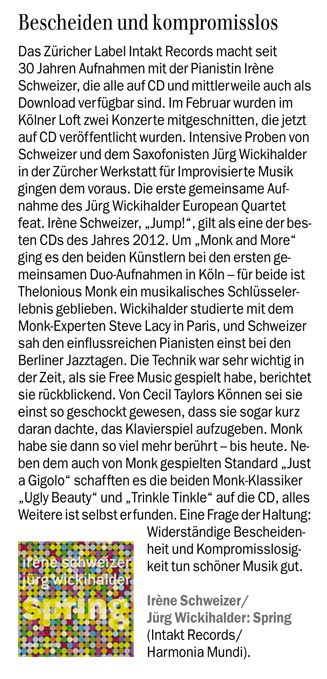 Christian Broecking, Berliner Zeitung, 4. Jan. 2015
It is odd to think that Steve Lacy never recorded with Irène Schweizer. Their paths must have crossed along the way during Lacy's extended tenure in Europe, but from what I can find, never appear to have performed together. That may seem an odd lead to a review of this meeting between Schweizer and the Swiss saxophonist Jürg Wickihalder, but Lacy's visage is all over this recording. Schweizer and Wickihalder found initial common ground in the music of Thelonious Monk, digging in to his compositional forms with the structural curiosity Lacy brought to Monk's music. In fact Lacy's recording of Monk's music, Reflections, was a seminal influence on Wickihalder. In the early '90s, the reed player tracked Lacy down in Paris and took a series of lessons which were formative to his approach to both reed playing and improvisation. While the two don't cover any of Lacy's compositions, his mark is clearly heard on the set comprised of five originals by Wickihalder, one by Schweizer, three spontaneous improvisations, two by Monk, all capped off by the standard "Just a Gigolo" which Monk often covered.
The set is structured around compact improvisations, most coming in under the 4-minute mark, taking Lacy's penchant for concision as a guiding principal. Things kick off with Wickihalder's "Red Light Crossing Friends," a piece that captures Monk's fractured stride as well as Lacy's measured sense of pacing. Schweizer locks in on the line, matching Wickihalder's fractured transversal of the theme with assured, lissome command. Next up is the pianist's "Rag" with the two tag-teaming across the herky-jerky, stuttering cadence with particularly standout playing by Schweizer. Another highlight is "6243D" with a soprano line full of angular, stop-start twists and turns bounding across splayed piano clusters. Wickihalder also weighs in with some strong tenor playing like on the collective piece "Green," full of bent notes and liquid smears countered by Schweizer's darting flurries and pensive chords, the sultry "Last Jump" with its floating ballad-like melody, or the muscular "White," which pitches out snippets that the two poke and prod at with an arcing intensity. Their Monk covers are also stand-outs, imbuing "Ugly Beauty" with a rounded lyricism and strutting across "Trinkle Tinkle," tossing the head back and forth to expand upon. Their take on "Just a Gigolo," which caps off the set, is a shrewd abstraction of the tune that teases it out with a lilting melodicism.
This is a strong one all around. And while one still wonders what a Schweizer/Lacy meeting might have sounded like, this duo provides the ultimate homage by drawing on Lacy and Monk's vocabulary to create a personal sound all their own.
Michael Rosenstein, Point of Departure, USA, Issue 49 - December 2014
Marcus O'Dair, Jazzwise, London, February 2015

z'kay, Klinkes, Februar 2015
As readers of my reviews know I am a big fan of Ms. Schweizer. I own a lot of her records, many of which are duets. Here she is in duo with a saxophonist.
The opening chords lead in to a Monkish tune, which is a good thing. The solos go a bit further out than Monk, but stay true to the tune. And, of course, the interplay between the two is excellent. This feeling is continued through much of the CD. I think is largely because Wickihalder's soprano playing reminds me a bit of Steve Lacey, and he uses short phrases which are reminiscent of Monk. On tenor he has a nice bit of vibrato but can also get up in the higher register with a bit of a scream. But he can also be very lyrical, especially on "Jump." And Schweizer is with him all the way.
But for me the CD is about Schweizer and how she performs with such different people in duo format. And, as expected, she performs extremely well. She carries "Road" with some wonderful single not accompaniment by Wickihalder. Her playing is two handed but melodic, and she is always harmonically inventive.
And all of this leads up the all too short version of Trinkle Tinkle. They capture Monk's feel while being completely original. Wickihalder really reminds me of Lacy here and Schweizer captures Monk's feel while still maintaining her flowing style.
I am not sure what else to say except that this is another excellent CD by Schweizer. I look forward to hearing her in other duo formats.
Bernie Koenig, Cadence Magazine Volume 41, No. 2 / 2015 (April, May, June), USA
On his only previous session in duet with piano -A Feeling For Someone (Intakt, 2008) -Swiss reedman Jurg Wickihalder's indebtedness to that master of the straight horn Steve Lacy was still evident. But on Spring, in the company of the iconoclastic pianist Irene Schweizer, Wickihalder sounds entirely his own man. Both principals boast serious avant-garde credentials, Schweizer as one of the first European pianists to assimilate the lessons of Cecil Taylor, and Wickihalder more recently as a member of the Barry Guy New Orchestra. But while those attributes color their contributions, the overwhelming impression is of two sympathetic partners having a ball.

Schweizer lays down a playful rhythmic framework calling on older tropes such as ragtime and barrelhouse at times, which lends a cartoon air to proceedings. Wickihalder matches her every inch of the way, deploying a wide range of expressive tonal effects, but fully integrated into the flow rather than as technique for its own sake. One example is his mooselike wails in the background to the pianist's pretty rippling runs on "Köln," while in another he blows both soprano and tenor saxophone simultaneously on the rolling "The Road."

The sense of fun permeates not only the original compositions, which hail largely from Wickihalder's pen, but also the three joint extemporizations. In fact the overall delivery is surprisingly traditional as both musicians invoke established styles alongside their grounding in contemporary approaches. And both share a love of Monk, evidenced by the presence of two of his works as well as another standard associated with him. Even Schweizer's "Rag" displays a Monkish tinge, in both her wonderful off kilter piano solo, but also in the dashing madcap unisons.

"Ugly Beauty" receives a lush rendition as the pianist holds the line while Wickihalder indulges in breathy tenor digressions. By contrast "Trinkle Tinkle" passes quickly in a series of yelps framed by Schweizer's stride inspired piano. "Just a Gigolo" provides a lyrical leave-taking, sketched by Schweizer alone at the start before being encircled by Wickihalder's full toned soprano. At the beginning of "Blue," the reedman's folkish melody belies the improvised genesis of the piece. It heralds a passage of sublime mercurial interplay the equal of anything on this hugely enjoyable outing.
John Sharpe, All About Jazz, April 2, 2015