Sensibilità. Sensitività.
Istinti dilaganti. Impulsi manierati.
Si possono tratteggiare, più che individuare, due filoni o blocchi strategici in cui e in vario modo sembrano aggregarsi, ad oggi, le espressioni del free, potendo identificare una corrente usa all'espressione di getto, che in apparenza pone in prima istanza le energie d'impatto e l'erosione dell'armonia (almeno convenzionalmente intesa) ed un'altra tendenzialmente più attenta alla forma e in maggior affinità alle avanguardie post-accademiche, potendo attribuire al primo un ruolo e una presenza più "politici" e alla seconda vocazione e strategie maggiormente "estetizzanti", sia pure con l'oggettiva difficoltà (oltre alla dubbia utilità di fondo) di collocarvi con nettezza i relativi esponenti ed sotto-filoni.
Poco importa, alla fine, se i nomi più storici ricadano nella tale o tal'altra corrente (ammesso che questi condividano o vogliano riconoscersi in tali schematismi), ma per quanto attiene alle ultime generazioni, specie quelle "bianche" o europee, si potrebbe identificare una maggior propensione ala seconda forma così tratteggiata, almeno in base alla percezione di un prevalente senso di ambizione compositiva nonché di ricerca istantanea.
La giovane Ingrid Laubrock, tedesca di rapida formazione "di strada" londinese, quindi trasvolata oltre Atlantico, in cui tiene attivamente la scena con una fitta agenda di appuntamenti, in virtù anche al sodalizio d'arte a di vita con in vulcanico batterista Tom Rainey, si mostra assai attiva e piuttosto rampante anche sulla piattaforma discografica (non solo per Intakt, quant'anche per CleanFeed o NoBusiness, ad esempio) allestendo un'ulteriore formazione a suo titolo, in aggiunta al trio Sleepthief o al combo Anti-House a latere dei numerosi collettivi tra cui Catacumbo o Paradoxical Frog.
In forma di revisione del proprio nonetto Nein, Laubrock qui raduna un'assortita band ripresa dal vivo al SWR Newjazz Meeting presso l'abitualmente animata Rote Fabrik di Zurigo, e la performance esplicita il suo carattere in un'assemblea di voci assortite e discordi, ma sempre spese lungo la l'istantaneità e soprattutto democraticità linguistica.
Non mancano plaghe di ricomposizione armonica grazie alla presenza nell'insieme garbata dell'acido e sognante accordion di Tom Reichman, delle corde, ora livide, ora psichedeliche, dell'abituale partner Mary Halvorson e delle figurazioni di variabile corpo del violoncello, delegando maggiori tensioni agli strumenti a fiato di Tom Arthurs e della leader, e trovando utile legante nella peculiare e controllata eloquenza del piano di Liam Noble e del basso di Drew Gress, non ultimi gli interventi di sostanza di Tom Rainey, abile a scandire le geometrie, dispensando per lo più in fitta agilità gli interventi percussivi (oltre agli iterativi cluster allo xilofono): configurando assai atipiche cantilene (Novemberdoodle, elaborata e in crescendo) o copioni di pathos partecipativo (Nightbus), la scena si alterna tra decantazioni del suono e vivide e provocative incursioni, sempre in reciproco e interattivo ascolto.
Improntato agli umori e alle tinte di una vivida, animata dimensione notturna, The Zürich concert s'articola in buona parte lungo elaborati e protratti giochi delle parti, e la recita senza tangibile soggetto, tranne la progettualità comune di una dichiarazione di ulteriore libertà formale, perviene a sancire un nuovo manifesto del free, in questo caso volto a fissarne un'espressione di collettività comunicativa, vivente non d'astrattezze e ben pregna, per segni ed energie, delle pulsioni e delle idiosincrasie che hanno segnato, ideologicamente ed esteticamente, i flussi originari e probabilmente più onesti della musica creativa.
Aldo Del Noce, Jazzconvention, Italia, Martedì 22 Aprile 2014

Das Zürich Concert (Intakt CD 211) des INGRID LAUBROCK OCTETs bildete am 10. Dez. in der Roten Fabrik den Abschluss der kleinen SWR NewJazz Meeting-Reihe 2011, die am 8. Dez. mit der Premiere in Niederstetten begonnen hatte. BAs spontaner Livebericht steht in BA 72. Jetzt lassen sich die Erinnerungen auffrischen und die Eindrücke gegenchecken, wenn auch anhand einer Variante. Kein Konzert gleicht schließlich dem andern, auch bei diesem Programm nicht, das die SWR-Jazzpreisträgerin des Jahres 2009 komponiert und gut vorbereitet hatte mit Tom Rainey an den Drums, Drew Gress am Kontrabass, Mary Halvorson an der Gitarre und Liam Noble am Piano, ihren engen Weggefährten in Anti-House, Sleepthief und im Tom Rainey Trio. Und auch der eindrucksvolle Trompeter Tom Arthurs, Ted Reichman am Akkordeon und Ben Davis am Cello waren handverlesen mit eingebunden im Ausformen einer zweiteiligen, kontrastreichen Suite, in der ich Colorfieldgemälde und Traumbilder wie in einem Spiegelkabinett reflektiert fand. Jetzt wird das alles transparenter, alle Passagen bekommen ihren Namen, vom zarten, auf singenden Gläsern angestimmten 'Glasses' über die winterliche, von fiependem Akkordeon und in frostigen Klangfarben gemalte Tristesse und das Zähneklappern von 'Novemberdoodle' bis zu 'Chant'. Dazwischen 'Blue Line & Sinker', mit dem Reichman, Rainey und Gress mit improvisatorischen Lockerungsübungen auf diesen 'Gesang' hinführen. Den zuerst Halvorson allein anstimmt mit ihrem wieder herrlich krummen Geprickel, reihum gefolgt von einigen vollmundigen, öfters aber kleinlauten Zungenschlägen. Der zweite Teil beginnt mit 'Matrix', das mit einem extremen Trompetensolo anhebt und nach einigen träumerischen oder pikanten Duetten so zeitparadox tickt, dass Rainey Dirigierhilfen geben muss. 'Nightbus' bringt dann auch ein introspektives Solo der Leaderin auf einem Trip, der nach träumerischen Verzögerungen swingend und pianistisch animiert auf Touren kommt, bis das Ziel seine Schatten wirft: 'Der Zauberberg'. Unheimliche Klänge verbreiten eine unheimliche Atmosphäre, doch ein Minimal-Loop des Xylophons lockt auch zaudernde Shoegazer auf den Grey-Room-Dancefloor. Damals hätte ich Laubrocks Tongemälde gern im Gedächtnis festgehalten, um mich darin vertiefen und verlieren zu können, Intakt macht's nun möglich.
Rigobert Dittmann, Bad Alchemie, BA 81, 2014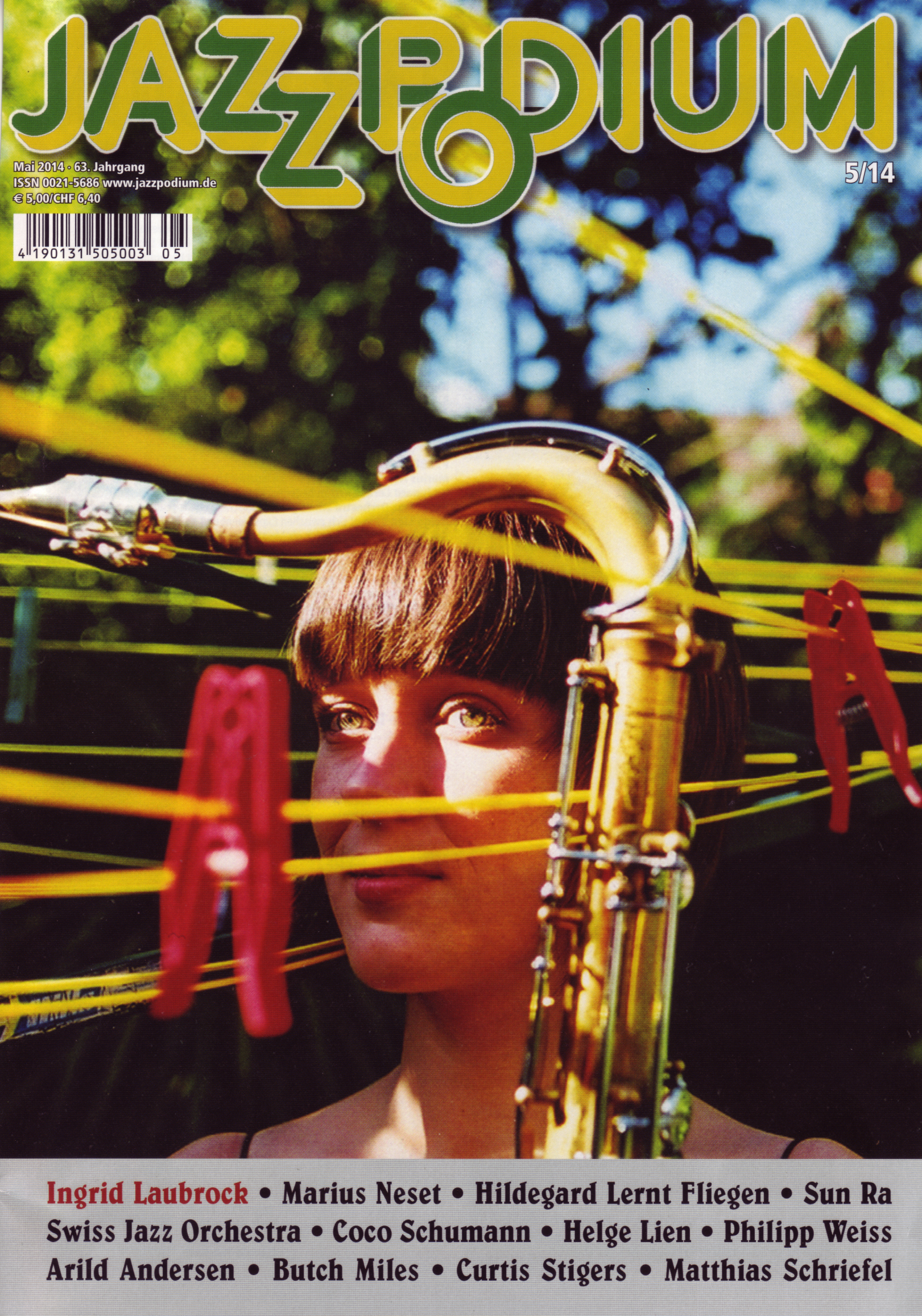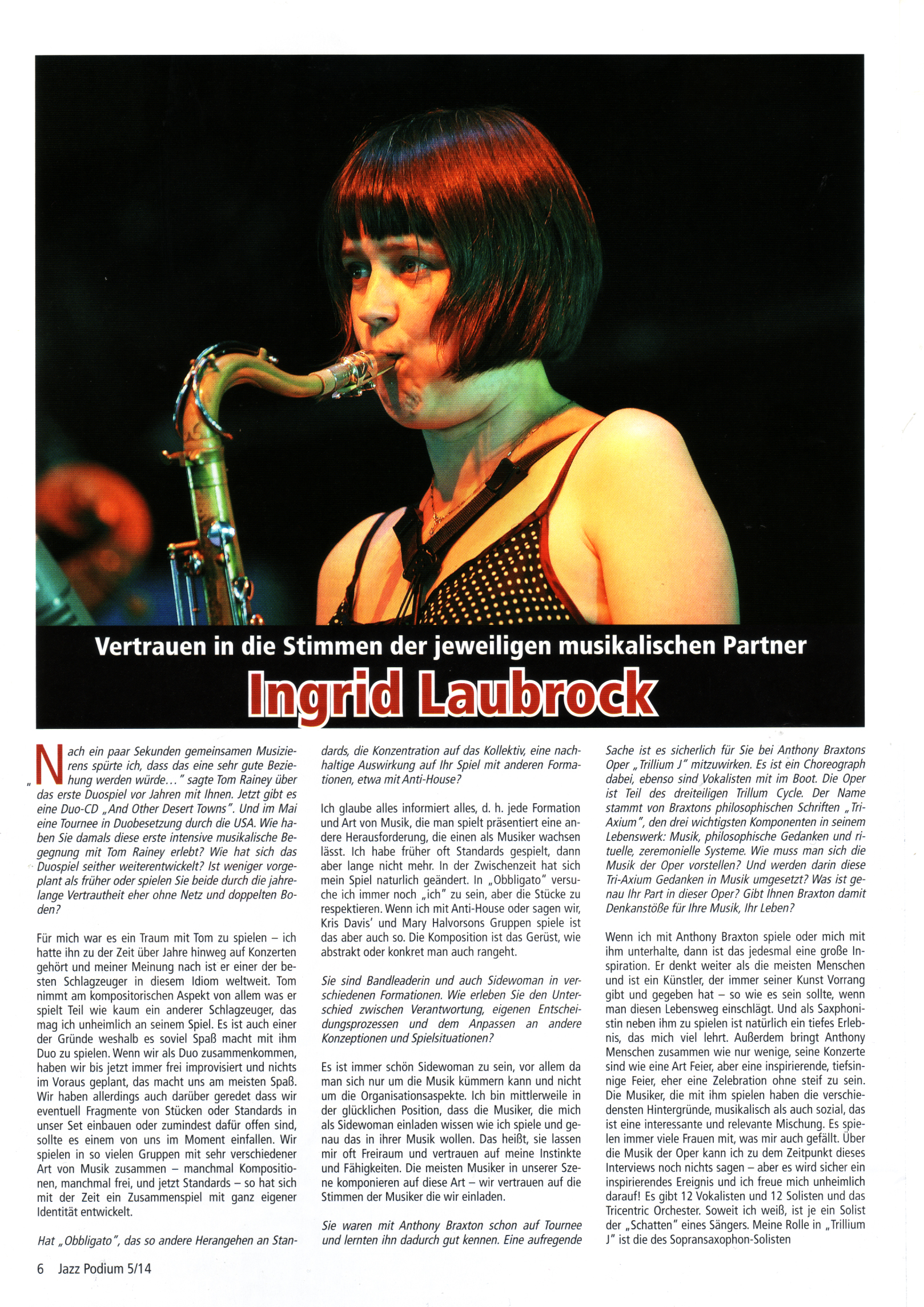 Gudrun Endress, Jazzpodium, Mai 2014

Pirmin Bossart, Kulturtipp, Zürich, Mai 2014
On a déjà argumenté ici toutes les faveurs accordées aux formations (notamment Anti-House) d'Ingrid Laubrock, vivant depuis 2009 à New-York. Elle abandonna l'Allemagne à 18 ans, pour se frotter aux champs d'expérimentation des jazzmen de Londres. La liberté ne représente pas une notion extra-terrestre pour la saxophoniste de Rhénanie. Elle le prouve en compagnie des inséparables Tom Rainey (batterie), Drew Gress (contrebasse), Liam Noble (piano) et la guitariste fétiche d'Anthony Braxton, la fantasque Mary Halvorson, au langage débordant d'idées, dont presque chaque phrase claque et surprend. En raison de la complexité de la trame de certaines pièces, Rainey dût  empoigner la direction d'un groupe, où se distingue le trompettiste Tom Arthur. L'accordéoniste Ted Reichman et le violoncelliste Ben Davis. Le concert date de 2011. La musique reste un bonheur d'avant-garde.
Bruno Pfeiffer, Libération, 14.5. 2014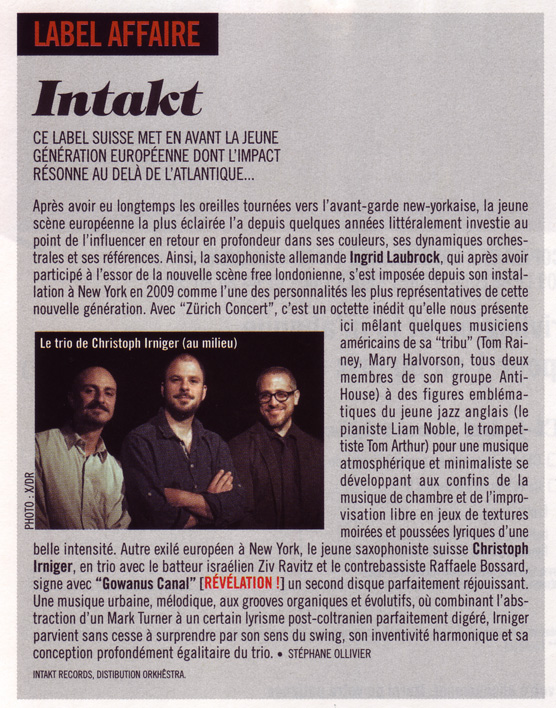 Stéphane Ollivier, Jazzman, Juin 2014, France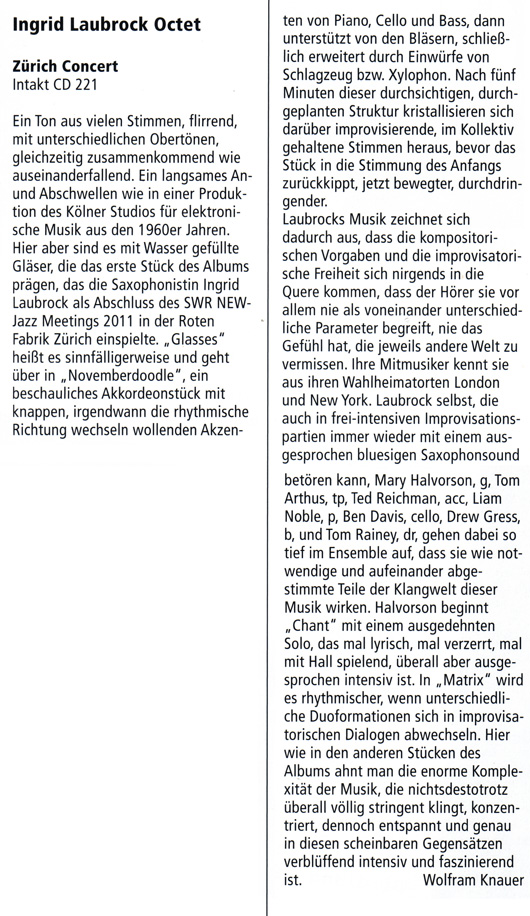 Wolfram Knauer, Jazzpodium, Juni 2014, Deutschland


Thomas Hein, Concerto, Juni/Juli 2014, Österreich

Marcus O'Dair, Jazzwise, July 2014, Great Britain
This is an expanded ensemble effort from saxophonist Ingrid Laubrock, but the players from her Sleepthief trio (pianist Liam Noble and drummer Tom Rainey) are tucked away inside the octet. The date starts on a high ethereal plane with the brief "Glasses" but then forges ahead with a set of longer and far more detailed pieces, alive with the timbral possibilities provided by guitarist Mary Halvorson, trumpeter Tom Arthurs, accordionist Ted Reichman, cellist Ben Davis and bassist Drew Gress.
Laubrock aims to balance complex written material with flowing and volatile improvisation and the result is impeccable. Reichman is prominent on
"Novemberdoodle", his lonely melodic lines assuming new shapes as the band fills out the unraveling harmony and subtle counterpoint. Rainey doubles on xylophone—at times it sounds more like marimba— and adds still more textural elements. Halvorson's solo feature comes at the beginning of "Chant", which goes on to highlight Gress and Davis in startling bowed unison passages. The abstract lyrical interplay of piano and cello toward the end is a highlight of the set.
It's on "Chant" that Laubrock steps forward decisively on tenor sax and she remains very present on "Matrix", inviting spirited dialogue with Arthurs' breathy and unsettled trumpet. Reichman and Halvorson have their own deep duo moment as well toward the conclusion. But if there's a centerpiece of Zürich Concert it's the nearly 20-minute-long "Nightbus". It starts with solo piano, rubato Mingusian discords from the band, a brief taste of the fascinating Laubrock-Rainey duo, beautifully conceived sectional counterpoint emerging in layer after layer and then a tightly grooving Rainey solo that opens another new section. Soon Noble is off with a fiercely burning trio interlude with Gress and Rainey. Laubrock's unison writing in this section is astonishing: Tim Berne-like in its difficulty and angular motion but distinctively hers, down to the last lightning chamber figure that surges up to end the piece.
David R. Adler, THE NEW YORK CITY JAZZ RECORD, JULY 2014, USA
When Ingrid Laubrock was living in the UK, she was an impressive and exciting presence on the improvised scene, and her activity has broadened since her move to New York in 2009. A week-long workshop at the NEWJazz Meeting of the SWR2 (South West German Radio) - with musicians from both sides of the Atlantic - culminated in this gig which was recorded at Zürich's Rote Fabrik in December 2011.
Far from being a wild free-for-all, the concert contains music that is strictly notated. There is some space for improvisation, but it feels contained within a tightly-controlled structure. Although Laubrock takes a couple of solos, her contribution as an instrumentalist is generally subsumed in the ensemble. No-one has the opportunity to dominate.
The performance begins with three pieces strung together. An improvisation for six of the participants using tuned, water-filled glasses creates a weird, intriguing sound. Glasses leads into Novemberdoodle with the steady accordion notes of Ted Reichman, punctuated by Mary Halvorson's guitar and Liam Noble at the piano. They are joined by drummer Tom Rainey and Tom Arthurs on trumpet, and the mood darkens as the percussionist switches to xylophone. The stately, accordion-led conclusion has Drew Gress on bass and Rainey back at the drums, and that trio ends the medley with an improvised Blue Line & Sinker. Apart from this short coda, everything is composed by Laubrock.
Chant starts with luminous, echoey guitar. Following a few seconds of near-silence, Laubrock takes a rare solo on tenor sax, accompanied by piano and drums; Noble and Ben Davis' cello are prominent after the leader drops out. The complex parts of Matrix - with skittering drums, muted trumpet, soprano sax, delicate accordion – are conducted by Rainey.
There is an absence of conventional swing, and spontaneous interplay between the musicians appears to be rare. The majority of the set is concerned with texture and detail, with no predictable progressions, few melodic hooks and just a handful of repeated rhythms. It's challenging stuff, and requires concentration. Towards the end, the rhythmic element increases, and harmonic movement is more obvious. On the lengthy and episodic Nightbus, there are brief blow-outs through Noble's reflective introduction. A section for sax and mallets is succeeded by a floaty interlude, and – in a passage that brings to mind Henry Threadgill - drums are set against accordion, trumpet and strings before the ensemble provides a backdrop to a piano solo. This is the finest thing on the album.
A repetitive guitar motif emerges from ruminative noises at the beginning of Der Zauberberg, and it's overtaken by a hypnotic riff for xylophone that continues to the end, juxtaposed with trumpet, accordion, piano and guitar.
You won't go away humming any of these tunes, but Zürich Concert will remain in the memory long after the final notes have faded.
Andy Boeckstaens, www.londonjazznews.com, May 26, 2014, Great Britain
Achtsame Abendmusik
Das NewJazz-Meeting des SWR bringt oft spannende Musik hervor. 2011 war so ein guter Jahrgang: Da durfte die sowieso interessante und spannende Saxophonisten Ingrid Laubrock ein Oktett zusammenstellen und mit dem eigene Kompositionen proben und aufführen. Bei Intakt –– nicht ohne Grund eines meiner Lieblingslabel … — ist nun der Mitschnitt der Zürcher Aufführung, das »Zürich Concert«, erschienen.
Das ist sozusagen Jazz jenseits des Jazz. Eigentlich ist das nämlich eher Kammermusik mit Musikern, die sich (auch) ausgezeichnet aufs Improvisieren verstehen. Will sagen: Zum größeren Teil ist das komponierte Musik. Und das hört man auch durchaus. Laubrock hat einige faszinierende Stücke entworfen. Ausgefeilte Klänge und vor allem Zusammen-Klänge des ungewöhnlichen Instrumentariums verbinden sich mit langen, im Klang verwobenen Linien. Manchmal — gerade in dem über zehnminütigen »Novemberdoodle« etwas — wirkt das wie ein erstarrtes, versteiftes Bild der Bewegung. Ein Klangbild mit ganz feinen Ziselierungen, mit sehr vorsichtig und ausgesprochen sorgsam austarierten Klangschattierungen. Manchmal wirkt das fast überkultiviert und überdeterminiert, fast zu vorsichtig. Aber dann kommen wieder Abschnitte wie das frei improvisierte »Blue Line & Sinker«, die diesen Eindruck schnell zurechtrücken.
Überhaupt macht die Vielfalt der beteiligten Musiker das ganze sehr spannend und eindrücklich: Neben Laubrock und ihren Triopartnern Liam Noble am Klavier und Tom Rainey am Schlagzeug, der hier allerdings auch als ausgezeichneter Xylophonist auftritt, sind der Trompeter Tom Arthurs, der Cellist Ben Davis, Bassist Drew Gress und die großartig-verschrobene Gitarristin Mary Halvorson sowie der Akkordeonist Ted Reichman beim »Ingrid Laubrock Octet« dabei. Die bestimmt mit ihrem wunderbaren Solo das ganz viertelstündige »Chant« — der Auftakt sozusagen zum lebendigeren Teil der Aufnahme. Denn nach dem sehr herbstlich-novembrigen Beginn nimmt die Musik deutlich an Fahrt auf. Ohne dabei allerdings ihr Geheimnis zu verlieren. Nicht nur Halvorsons Solo bleibt leicht entrückt und verzückt, auch weite Teile der restlichen Komposition und Improvisation frönen der labyrinthischen Klangwelt: Das ist oft nur schwer zu durchschauen, kaum vorherzusehen — und gerade deshalb ja so interessant und faszinierend. Auch wenn manches fast hermetisch wirkt: Diese in sich ruhende Abendmusik hat eine große Anziehungskraft.
Matthias Mader, mathias-malder.de, 29. Mai 2014
Figure importante du jazz et des musiques improvisées en Europe comme de l'autre côté de l'Atlantique, la saxophoniste allemande Ingrid Laubrock propose depuis plusieurs années toutes sortes de formations passionnantes qui développent une musique complexe, parfois aride, mais qui s'appuie sur les interactions multiples entre des musiciens unis pour visiter une masse orchestrale souvent très dense.
C'est ainsi qu'il y a quelques mois, on avait pu découvrir "Strong Place", le second album de son quintet Anti-House, sorti sur le label suisse Intakt Records. Au centre de cette formation, on retrouvait notamment le batteur Tom Rainey et la guitariste Mary Halvorson, qui forment avec Laubrock par ailleurs un trio.
Cette base imputrescible est également celle que l'on retrouve dans l'Octet que Laubrock propose à nouveau sur Intakt, enregistré en concert à Zürich ; un nouvel orchestre où l'on retrouve également un autre trio imbriqué, le sleepthief qu'elle anime avec le fidèle Rainey, mais aussi le trompettiste anglais Tom Arthurs.
On découvre avec cet octet un orchestre international qui témoigne du parcours de la saxophoniste. Laubrock est née en Allemagne puis partie en Angleterre et arrivée à New-York où elle fréquente les musiciens proches d'Anthony Braxton.
Ainsi, aux côtés de Arthurs, on retrouve le pianiste Liam Noble qui a souvent joué avec Rainey et Drew Gress, le contrebassiste ici. On découvre également le violoncelliste Ben Davis, membre des Basquiat Strings pour la partie anglaise.
Concernant l'Amérique, outre Rainey et Gress, on retrouve les deux disciples de Braxton Mary Halvorson et l'accordéoniste Ted Reichmann qui se livrent dans le "Glasses" inaugural a un amalgame de timbres troublants que Philippe Méziat décrit à merveille sur Citizen Jazz. Un mélange entre la minéralité du verre et le tranchant de la glace, soutenu par un orchestre qui joue une densité sans heurt, profonde et pénétrante.
Ce Zürich Concert offre une musique âpre, où toute l'agitation des musiciens tend à se confondre dans une tension permanente qui se frotte parfois au limites du silence, où qui s'engoufre dans un propos lancinant où le moindre heurt créé une nouvelle ramification, un nouvel unison, intime une nouvelle direction, comme c'est le cas sur "Novemberdoodle" où Ted Reichmann conduit l'orchestre dans des registres étranges et se mêle au violoncelle de Ben Davis.
Laubrock quant à elle semble parfois effacée dans sa propre musique ; mais c'est un leurre. D'abord, elle dirige beaucoup cette musique très proche du registre très contemporain, surtout lorsque Rainey troque la batterie pour le xylophone. Ensuite, elle s'ingénie à jouer des masques, à se perdre au cœur du violoncelle, à grossir le rôle central de l'accordéon et à jouer au chat et à la souris avec ses complices de trio.
Ainsi, dans le remarquable "Chant", qui nous offre un remarquable solo d'Halvorson, tout en sinuosités troublantes, Laubrock vient se frotter à la guitare au milieu des archets dans un moment soudainement éruptif. Elle prendra également une position plus dominante sur "Matrix", aux allures braxtonnienne, dans une discussion vive-argent avec la trompette de Tom Arthurs, son double dans cet orchestre.
Quelques mois après le "Navigation" de Ho Bynum et le "Illusionary Sea" d'Halvorson, c'est intéressant d'entendre une autre proche de Braxton se lancer dans l'aventure des formations plus larges. Même si elle ne fait pas explicitement référence à la mer comme ses collègues (elle n'arrive pas encore à Zürich), on retrouve dans ce live une notion de traversée, de flottaison dans un espace infini et irisé. Mais l'espace de Laubrock est aux confins, proche des glaces, où le climat, même minimaliste se révèle parfois hostile malgré son calme ("Nightbus").
Zürich concert offre à voir une nouvelle facette de Laubrock qui est entrain de tracer un tortueux mais passionnant chemin et permet de constater que Mary Halvorson est décidément l'une des solistes les plus intéressante de sa génération. Parmi toutes les raisons qui conduisent à s'intéresser à ce disque, ce ne sont pas les moindres...
Franpi, www.franpisunship.com, 13 JUIN 2014, France
Viel Zeit lässt sich Ingrid Laubrock auf dieser Aufnahme. Ganz so, als ob sie ihre Rolle als Bandleaderin am liebsten gar nicht ausüben und den beteiligten MusikerInnen den Platz geben wollte, den sie jeweils einfordern und verdienen. Und doch variiert der Freiraum, den sie ihren Mit-Musikern zugesteht von Stück zu Stück. Von kompositorischer Feinarbeit bis hin zu Passagen, die den MusikerInnen größtmöglichen Freiraum lassen, ist hier alles zu finden. Ingrid Laubrock lässt  Mary Halvorson, Tom Arthurs, Ted Reichman, Liam Noble, Ben Davis und Tom Rainey viel Spielraum, erschafft für diese aber auch grundsätzlich Räume, in denen sie sich bewegen können und in denen Interaktion zwischen den einzelnen Musikern möglich wird. Der erste Eindruck, dass sich Ingrid Laubrock sehr zurückhält, was ihre Rolle als Bandleaderin betrifft, trügt, denn sie erschafft Situationen und formuliert ihre kompositorische Vision hier so konzis aus wie sonst nur selten: Sowohl Atmosphäre als auch Harmonik als auch die Entwicklung der jeweiligen Stücke tragen die Handschrift von Laubrock deutlich. Die Entwicklung der Stücke wirkt dabei fast so, als würde sich diese organisch und logisch ergeben. Vieles wirkt wie in einer Traumlogik, die beim ersten Hinhören nicht zwingend klingt, beim zweiten und genaueren Hinhören aber einen immensen Sog entwickelt. In diesem Sog wirken alle Teile logisch und absolut stimmig ineinander gewebt. Und auch die Zeit, die Laubrock ihren Stücken lässt, ist absolut richtig gewählt. Solche Stücke brauchen nämlich Zeit, um ihre volle Wirkung zu entfalten.
(mst), freistil nr. 55, 2014, Deutschland
« Glasses », qui inaugure cet enregistrement, fait entendre en effet des sons de ce que l'on nomme en allemand « glassharmonica », et en français armonica de verre (sans « h », s'il vous plaît), un instrument que l'on doit à Benjamin Franklin et pour lequel Mozart écrivit des pièces inspirées. Ici, c'est Ted Reichman, et probablement Mary Halvorson, qui en reconstituent la sonorité. « Novemberdoodle » enchaîne dans un esprit voisin, comme si l'idée de verre s'associait à celle de la glace - non la vitre mais l'eau gelée. C'est sur ces sonorités d'hiver, un peu froides, que débute le concert, et l'émergence en sera d'autant moins immédiate que Tom Rainey apporte à ces croquis d'hiver des commentaires percussifs assez funèbres.
Avec « Chant », que Mary Halvorson égrène longuement et superbement en solo, on entre dans un monde à peine plus chaud, mais où des bribes d'énergie parviennent à s'immiscer, appuyées sur des unissons entre les saxophones et le violoncelle. « Matrix » débute par un très beau travail aux balais de Rainey, prolongé par quelques éclats en volutes d'Ingrid Laubrock. Un dialogue s'instaure avec Tom Arthurs, trompettiste encore mal connu chez nous, mais la tonalité générale reste retenue, suspendue, en attente d'une avancée qui ne viendra peut-être pas. « Nightbus » démarre par quelques notes de piano (Liam Noble, encore un quasi-inconnu) et prolonge ce qui apparaît alors comme la tonalité constante de cette « suite » (en partie improvisée, sans doute), et qui se situe du côté très peu ensoleillé de la rue... Vers le milieu de cette pièce, Tom Rainey parvient à embarquer un peu les choses du côté de l'affirmation, ce qui induit un final quelque peu énergique si ce n'est enjoué. « Der Zauberberg » (La montagne magique) finit par donner une clé « littéraire » à cette très belle suite, marquée par le froid, la chute et parfois la prostration.
Philippe Méziat, Citizen Jazz, France, 2 juin 2014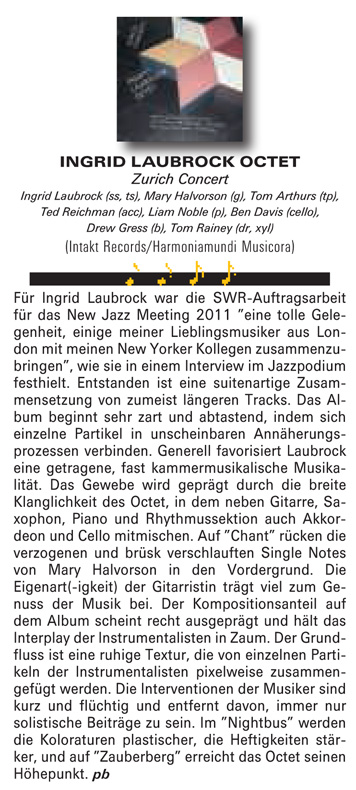 Pirmin Bossart, Jazz'n'More, Juli/August 2014, Schweiz
Even though numbering just eight strong, Ingrid Laubrock makes such skillful use of the talented cast at her disposal on Zurich Concert that the band delivers an almost orchestral experience. She achieves that through the deployment of three chordal instruments in Mary Halvorson's guitar, Liam Noble's piano and Ted Reichman's accordion. Not that you would characterize the music as overly dense. Laubrock exploits the possibilities inherent in her unusual line up to the full. Not everyone plays at the same time and novel combinations abound in an extended work of serious compositional intent, manifest in a suite like structure which mixes complex notation and room for improvisation.
Laubrock composed the charts during a week-long workshop at the annual NEWJazz Meeting in Baden-Baden, Germany in 2011. It gave her an opportunity to bring together collaborators from her burgeoning presence on the New York scene with those from the UK who had been part of her first large ensemble, the punning Nein. While the German has built her reputation as a distinctive voice on tenor and soprano saxophones and a compelling improviser, her writing is no less formidable and the seven numbers here share with her work for her group Anti-house an enigmatic and idiosyncratic shape, suggesting musical riddles. Even though the final studio cuts from the workshop were faultless, Laubrock chose to issue the versions recorded in concert in Zurich, at the end of a four day run: a wise decision as by now the octet thoroughly inhabits the work and brings the scores to life, adding spontaneity and freshness even to the most intricate sections.
Laubrock draws on materials from jazz and beyond to evoke specific moods, and is not afraid to take her time doing that. So on the opening "Glasses," six of the eight musicians create a mysterious shimmering sustain on tuned water filled glasses. That's followed by the slow-moving "Novemberdoodle" in which Reichman's accordion drone becomes increasingly punctuated by outbursts from the remainder of the unit, before shifting into "Blue Line & Sinker," an unruly showdown with Tom Rainey's xylophone. Thereafter the action comes thick and fast. Halvorson introduces "Chant" with an inventive unaccompanied spot before the piece veers between the stately and the tempestuous.
Although involved interaction also distinguishes the largely scripted "Matrix" there is still space for a playful coupling between Tom Arthurs' trumpet and the leader's straight horn. However her most impassioned outing comes on "Nightbus" rising out of an earthy duet with Rainey's drums, while later in the same selection Noble contributes a choppy solo over a Latin-tinged groove. Reprising the initial gambit with the glasses, the concluding "Zauberberg" moves from pointillist mutterings to a collective refrain which sounds as if it could go on, long after the music actually ceases. Overall the work convinces as a stimulating listen which repays time invested, and highlights another fertile outlet for Laubrock's wide ranging artistic expression.
John Sharp, All About Jazz, July 14, 2014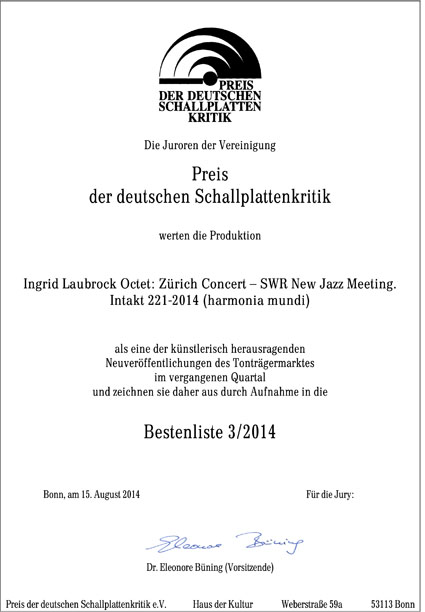 Preis der deutschen Schallplattenkritik, Bestenliste 3/2014


Hans Hielscher, Der Spiegel, Kulturspiegel, 30.6.2014
The Zürich Concert is a slowly unfolding and unpredictable album from saxophonist Ingrid Laubrock. Recorded after a Südwestrundfunk (German public radio) sponsored opportunity to work with cohorts from New York and London, the Ingrid Laubrock Octet's Live in Zurich was recorded at a subsequent tour date. The group has a cast of musicians drawn from Laubrock's other groups like Sleepthief, the Tom Rainey Trio, along with others. Like these other combos, the octet works intuitively with each other - and with such a large group at her command, this doesn't seem like a small task to manage.
The first three tracks, the short 'Glasses', the long 'Novemberdoodle' and the again short 'Blue Line & Sinker' seem to form a tenuous and deliberate first movement. The sound is dominated by Ted Reichman's accordion and Tom Rainey's melodic lines on the xylophone. The atmosphere of 'Novemberdoodle' is delicately punctuated by light plinks from the guitar, piano, and xylophone, with some melodic intervention from the horns. Laubrock's approach to the octet is to use the instruments in smaller units and leaving plenty of musical space between the players, and it's quite effective.
Changing the atmosphere, the track 'Chant' has guitarist Mary Halvorson with a long solo introduction. She is joined by the group at times to underscore the passages and add a bit of intensity - the scoring of the soprano sax, along with the sonority of Ben Davis' cello, and the striking piano playing of Liam Noble is a delight. 'Matrix' begins with Rainey's drums and Drew Gress' bass creating a skittish foundation for some noisy blowing by Laubrock. Tom Arthur's trumpet cuts a fine melodic line later in the track and a section towards the end of the track is both delicate and playfully frenetic.
The overall recording is a smart assembly of varying textures and approaches and the diverse instrumentation makes for a fascinating listen. This is an album to take in whole, spend the hour and fifteen minutes that it demands to follow the ideas as they slowly appear and cohere.
Paul Acquaro, The Freejazz-Blog, Monday, August 18, 2014
Di fronte a dischi problematici come questo non si può fare a meno di porsi delle domande. Quali sono il ruolo della composizione e la sua relazione con l'improvvisazione? Esistono analogie reali o presunte con la musica contemporanea "colta"? Quali sono la consapevolezza e le intenzioni degli autori nel concepire una musica di confine? Soltanto un mirato colloquio con gli autori potrebbe dare risposte attendibili. Probabilmente se i responsabili fossero tutti afroamericani, questi rifiuterebbero qualsiasi compromesso con una concezione compositiva "colta" e attribuirebbero alle nostre orecchie e alla nostra cultura di appartenenza una simile interpretazione, rivendicando il predominio assoluto dell'improvvisazione collettiva. Ma la leader di questo ottetto è Ingrid Laubrock, che è nata in Germania ed è cresciuta nel Regno Unito; quindi è presumibile che nel suo background musicale debba conservare anche una componente genetica europea e colta.
Questa prolissa introduzione per sottolineare la difficoltà di trovare punti fermi di riferimento nella musica di questo concerto registrato a Zurigo nel dicembre 2011 e quindi per giustificare la labilità delle nostre impressioni. Nei vari brani, a firma prevalentemente della Laubrock, la musica si concentra su lente e rarefatte progressioni, su minute cellule motiviche, su suggestioni intimiste e minimali, su sofisticati e anomali intrecci timbrici. Una musica che si muove con cautela su strutture ora latenti ora relativamente più esplicite, mai banali o risapute, mettendo in risalto la concentrazione e l'assonanza che legano i vari strumentisti, attenti a compenetrarsi senza mai eccedere in protagonismi individuali.
Indubbiamente il brano più "jazzistico" e movimentato è "Nightbus," in cui si può distinguere una sequenza di veri e propri assoli. Ma l'ascolto dell'intero CD, per quanto impegnativo, risulta corroborante in quanto ci allena ad una percezione attenta e minuziosa per poter entrare negli ingranaggi azionati dagli autori; una percezione che necessariamente deve differire da quella che presiede all'ascolto dei messaggi più risaputi, codificati e rituali del mainstream, ma anche di certo free o di certo etno-jazz.
Di Libero Farnè, All About Jazz Italia, 25/09/2014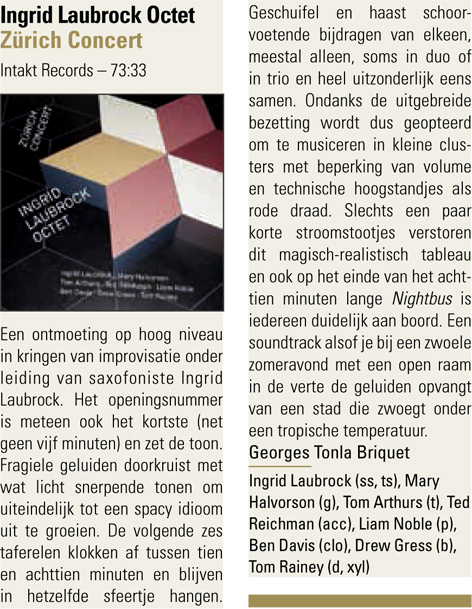 Georges Tonla Briquet, Jazzmozaiek, Belgium, September 2014

Ingrid Laubrock (Anti-House)
Ik hou er van om grenzen te laten vervagen
Koen Van Mee, Kwadratuur, Belgium, 10 september 201

La saxophoniste allemande Ingrid Laubrock a réuni une superbe palette instrumentale, où l'on retrouve des compagnons familiers comme Tom Rainey, Drew Gress et la guitariste Mary Halvorson, pour composer une suite de pièces d'une grande beauté. Le travail d'écriture, complexe mais d'une grande lisibilité, limpide, d'un raffinement exquis, est superbement rendu par les instrumentistes qui jouent tout en nuances, mais n'hésitent pas à donner de la voix quand il le faut. De subtiles variations presque minimalistes évoluent en une savante progression, ou bien restent en suspend, presque en apesanteur, tout en retenue apparente, avant de s'étoffer, de prendre corps et rythme. Aucune mièvrerie, aucune douceur feinte dans cette musique servie par des alliages somptueux : xylophone, violoncelle, accordéon, la guitare résonante de Mary Halvorson… ce qui n'empêche pas le saxophone et la trompette de se faire entendre !
Un disque absolument magnifique.
Jean Buzelin, Culturjazz, France, 27 Octobre 2014



HONORABLE MENTION - NEW RELEASES (2014)
The New York City Jazz Record, New York, USA, January 2015
Dat Ingrid Laubrock een van de meest belangwekkende saxofonisten van dit moment is, weten we intussen na cd's en optredens met diverse eigen gezelschappen als Sleepthief, Anti-House en Lily's Déjà Vu en als lid van het Tom Rainey Trio en diens Obbligato. Maar Laubrock is ook een heel goede componist, wat het beste blijkt uit 'Matrix', een van de nummers van het 'Zürich Concert'. De hechte en ingewikkelde structuur van dit nummer biedt de acht musici de nodige uitdaging. Vooral van gitariste Mary Halverson en accordeonist Ted Reichman wordt veel gevraagd. Zij excelleren hier in complexe vormen van samenspel. Maar ook trompettist Tom Arthurs speelt in dit nummer een grote rol, eerst in duet met drummer Tom Rainey en vervolgens met Laubrock. Het piepen en knarsen wisselt hij af met heldere momenten, waarbij het duet met Laubrock welhaast sprookjesachtig klinkt, elkaar aftastend en om elkaar heen dansend.
De uit Duitsland afkomstige Laubrock kreeg in 2009, toen reeds woonachtig in New York, de prestigieuze SWR Jazz Prize. De prijs bestaat uit een residentie van een week om te spelen met een naar eigen believen op te zetten project, gevolgd door een korte tour. Laubrock koos ervoor om musici bij elkaar te brengen uit haar twee werelden: Londen (waar ze jaren had gewoond) en New York (waar ze net was neergestreken). Zo nodigde ze Rainey en pianist Liam Noble uit, waarmee zij ook Sleepthief vormt. Trompetist Tom Arthurs en cellist Ben Davis komen uit Londen en gitariste Mary Halverson, accordeonist Ted Reichman en bassist Drew Gress vertegenwoordigen New York. En die bezetting verraadt dat dit geen power-octet is geworden. Laubrock kiest veeleer voor de nuance en de subtiliteit. Het album is opgenomen tijdens een van de concerten van de tour, op 10 december 2011 in de Rote Frabrik in Zürich.
In 'Novemberdoodle' pakt Reichman de leiding op accordeon, begeleidt door enkele pianoaanslagen. Het wordt een wat druiligere melodie, perfect passend bij het jaargetijde buiten op 10 december. De andere instrumenten cirkelen hieromheen, soms meegaand, soms meer kiezend voor hun eigen stem. We voelen de motregen en zien de blaadjes dwarrelen in de wind, verklankt door het xylofoonspel van Rainey. In 'Chant' geeft Laubrock de hoofdrol aan Halverson in een vibrerende gitaarsolo. Ritmisch, maar dan wel op een dwarse manier. Tussendoor zorgen de overige musici voor spookachtige taferelen. Vooral de cellopartij zorgt hier voor donkere accenten. Halverwege het nummer soleert Laubrock. Eerst nog rustig, zoekend, maar allengs wordt het steeds ruiger, uitmondend in een duet piano-cello vol rusteloze momenten. 'Nightbus' begint met verstilde piano- en verderop accordeonklanken, zo goed passend bij de nacht. Maar de nacht heeft ook een andere kant, getuige de erupties tussendoor van de rest van de band. Zijn dat de nachtvlinders? Het ritmische thema dat zich ontvouwt, het is de cadans van de nachtbus.
Ben Taffijn, draaiomjeoren.blogspot.be, Belgium, 5.6.2015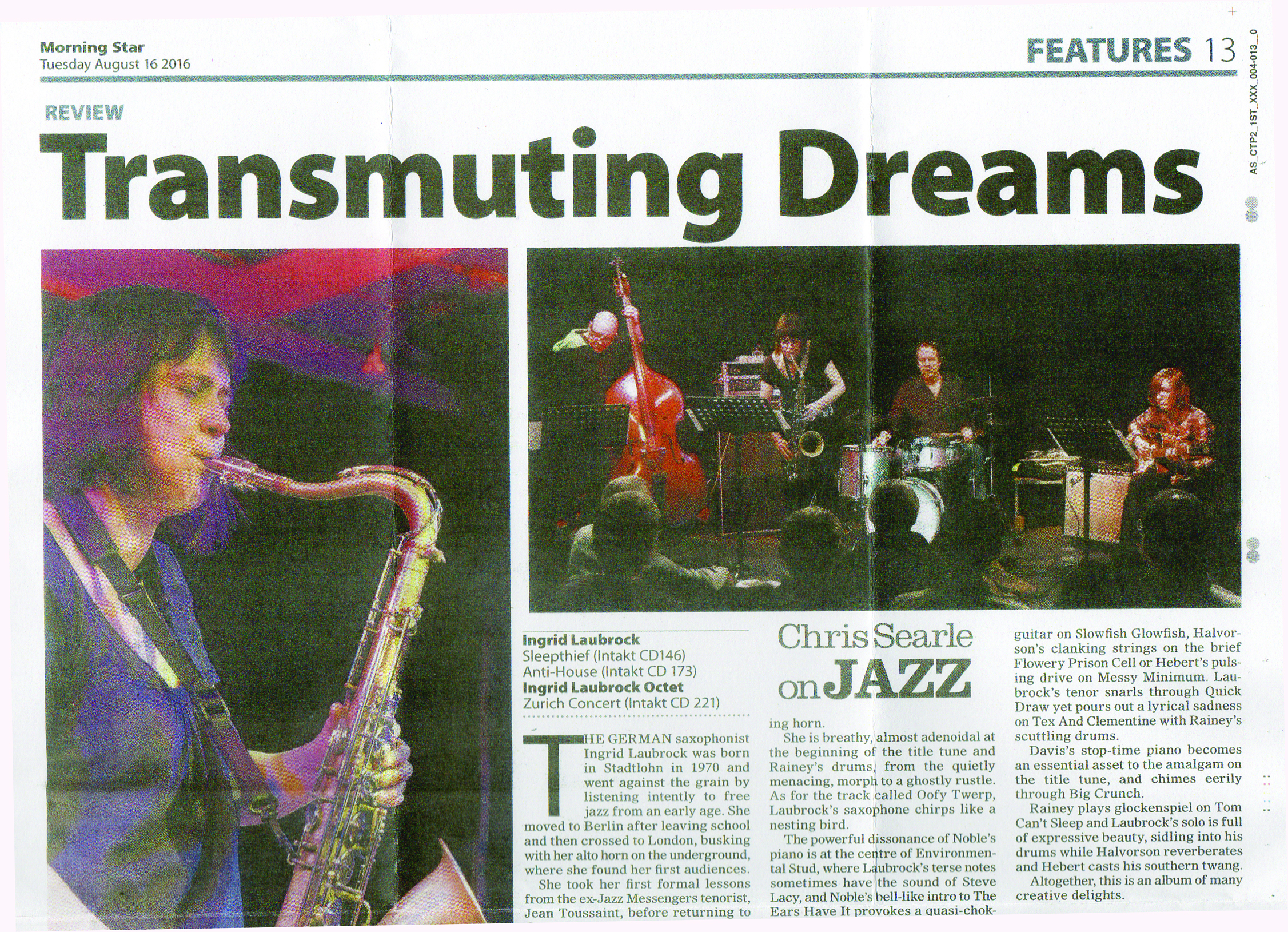 Chris Searle, Morning Star, August 16, 2016