Over the past couple of years three women musicians from the Downtown scene have really come into their own: Mary Halvorson, Ingrid Laubrock & Kris Davis. Each leads several bands, composing differently for each project and collaborates with a number of Downtown's finest musicians. Plus they often work together in each other's bands and collaborate with some of the same musicians: Tim Berne, Tom Rainey & Ches Smith.
This is the second disc from Ms. Laubrock's quintet Anti-House and she has delivered another jewel. Both Kris on piano and Mary on guitar seem to tapping on or softly strumming their strings for "The Unfolding" while the rest of the quintet play a somber series of drones. Tentative yet evocative of free spirits which give way to some playful soprano and those twisted chords that Mary likes to spin. I dig the way Ingrid breaks up the written lines on"Der Deichgraf" so that soprano sax, piano and drums play one series of broken lines until the bass comes in and the mood becomes more laid back with Ingrid now on blustery tenor with some sly guitar flourishes by Mary. Things slow down to a bluesy resolve on "Count 'Em" which then increases in tempo as it becomes freer in the second half and then is transformed into a quirky chamber-jazz like section with some complex arrangements. For "From Farm Girl to Fabulous", the written parts involve a series of shrewd interconnected changes in direction, pretty progressive and filled with surprises. Each piece shows that Ms. Laubrock has found a way of providing diverse challenges to all of the members of her great quintet. The copyright date on this disc is 2013, which is now (12/26/12) next year. So we could look at this gem either way, either one of this year's best or one of next year's finest. Immensely impressive all the way around. The Tom Rainey Trio with Mary Halvorson & Ingrid Laubrock will play their final set of the year this Sunday, December 30th at the Cornelia Street Cafe at 8:30. You know where I will be that night!
Bruce Lee Gallanter, Downtown Music Gallery New York City, January 2013, USA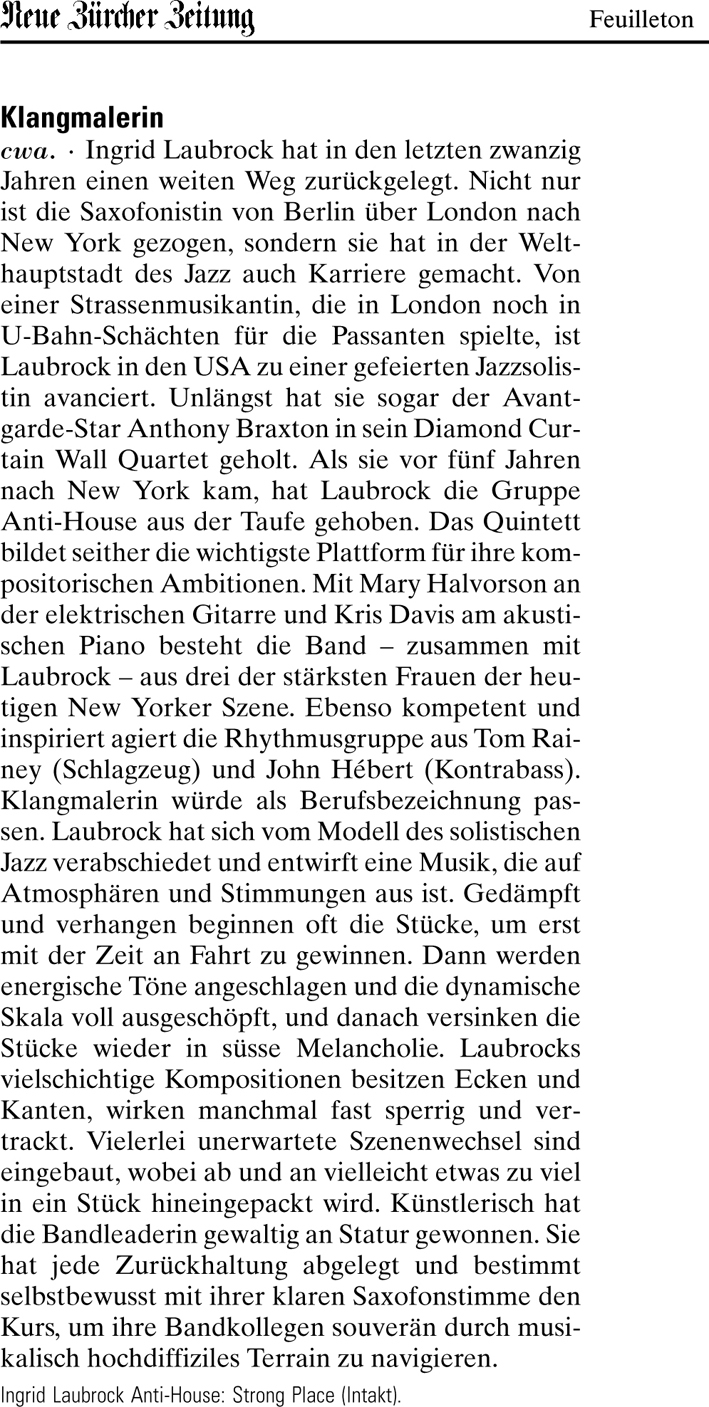 Christoph Wagner, Neue Zürcher Zeitung, 25. Januar 2012
With last year's Camino Cielo Echo, US-based German saxophonist Laubrock unveiled noticeably more lyrical alternatives to the mix of tough free-sax improv and contemporary composing she delivered with Anti-House. Strong Place is an apt title, because she seems surer of her ground as both writer and player and this group – guitarist Mary Halvorson, pianist Kris Davis, bassist John Hebert and drummer Tom Rainey – sounds more organised yet spontaneously conversational than ever. Laubrock, whose creative independence took off after her move to New York, has acquired a new certainty about mingling the songlike phrasing of her earlier years with her Evan Parker-influenced recent past. Compelling themes and collective conversations emerge from clean-toned soprano-sax swirls, or dark, melancholy low-tenor exhalations. Halvorson supplies harp-like jangles, oblique swing or squalling noise (and the title track finds her at her warmest and richest, in partnership with Hebert's sumptuous bassline), pianist Davis can be abstractly percussive or lyrical, and Rainey is delicately textural or joltingly propulsive as the circumstances shift. Strong Place represents a step-change for Anti-House, offering budding jazz composers fresh ideas and inspiration.
John Fordham, The Guardian, Thursday 24 January 2013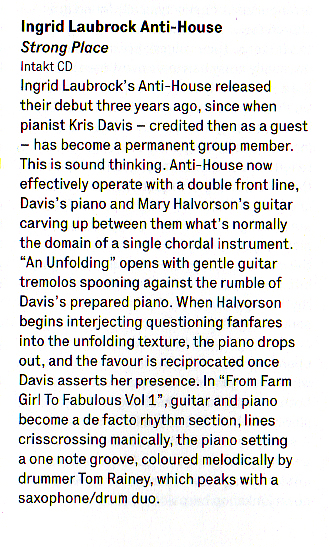 Philip Clark, The Wire, London, 4-13
With Strong Place, New York-based German saxophonist Ingrid Laubrock moves one step further in cementing her place at the heart of the Big Apple's fertile Brooklyn scene. Already on a roll with her plangent contributions to a series of stunning music including Sleepthief's Madness of Crowds (Intakt, 2011), drummer Tom Rainey's Camino Cielo Echo (Intakt, 2012), Paradoxical Frog's Union (Clean Feed, 2012), reed iconoclast Anthony Braxton's Falling River Music and pianist Kris Davis' Capricorn Climber (Clean Feed, 2013), Laubrock lives up to the high standard she set herself with Anti-house's eponymous debut (Intakt, 2010). In that, she's aided by the same cast, but with Canadian pianist Davis now integrated full-time into the ensemble.
Typically the German's charts avoid the obvious. Her convoluted thematic materials arise following an inscrutable inner logic, often juxtaposed with improvised elements, whether solo or group, as they intimate a tangled web of feelings, often within the space of a single number. Having such a talented array of leaders dedicated to breathing life into her involved arrangements means that what in other hands might seem obscure and cerebral becomes effortless and compelling. Canny arrangements ensure minimal overlap between Davis and guitarist Mary Halvorson, assisted by the latter's avoidance of chordal sequences as a pronounced trait in her distinctive armory. Instead of crowding, it just adds another layer of intrigue to proceedings. Each cut is full of unexpected twists and turns. As just one case in point, the appropriately named opener, "An Unfolding," features a droney start which establishes an edgy calm before switching to out-of-step march cadences, and spates of impassioned activity, with Laubrock's fluid jabbering soprano saxophone prominent, until the piece culminates in an ascending convergence between soprano and piano.
Much of the credit for so assuredly navigating the switchbacks must go to Rainey's rhythmic wit and wisdom, which allows him to co-opt unusual textures into an organic flow that nonetheless resolutely avoids steady tempo. In this, he is expertly abetted by bassist John Hébert who stylishly supplies color and momentum. Extemporized introductions, such as the scratchy percussive guitar/piano exchange that opens the urgent Morse code of "From Farm Girl to Fabulous Vol. 1" or the sprightly guitar/bass duet at the outset of the tense uneasy title track shine the spotlight on the individual band members before they are subsumed in the leader's idiosyncratic conception. Even one of the most direct cuts, "Cup in a Teastorm," featuring a whistling- in-the-dark jauntiness and a Latin-tinged melody, drifts in and out of dissonance, befitting its dedicatee, saxophonist/composer Henry Threadgill. But it's unfair to pick out highlights as every nook and cranny on this wonderful record demands in depth appreciation and amply rewards the time spent.
John Sharpe, All About Jazz, February 28, 2013
OK, so I am a sucker for any new release featuring guitarist Mary Halvorson. Already a fan of Ingrid Laubrock from 2012′s Camino Cielo Echo from the Tom Rainey trio (yes, also with Mary Halvorson), this was an instant-buy for me. And while the band members were all familiar to me, this was clearly Laubrock's effort, featuring her compositions and arrangements and a tremendous sense of personal style. So let's take a look at Ingrid Laubrock Anti-House 'Strong Place':
Description:
Ingrid Laubrock Anti-House is an ensemble led by tenor and soprano saxophone player Ingrid Laubrock and also including guitarist Mary Halvorson, pianist Kris Davis, bassist John Hébert, and drummer Tom Rainey. If some of those names are starting to look familiar after reading a few of my reviews, there is a reason. As I noted I am a big fan of Halvorson, and Hébert is one of her frequent bassists (as well as appearing on many other albums), and both Davis and Rainey are big in the New York jazz scene as well. In fact the whole group is composed of active members of the vibrant New York jazz scene.
General Impressions:
The album is the second for the unit, and is focused largely on the musical vision of Laubrock. This vision encompasses both composed and improvised movements, dramatically beautiful and harshly dissonant structures, flowing harmonies and jarring fragments. And it all works extremely well.
Each of the band members is a leader and master instrumentalist, and Laubrock leverages those skills in her compositions. The songs seem written around the unique talents of each member, which makes some of the songs remind me of Charles Mingus compositions in the way the writing is clearly from one person yet flows through everyone else in the band, taking bits of their identity and personality along the way.
People often look at me strangely when I lavish praise on the level of communication in some 'free jazz' bands. All they hear is dissonance and discord. Yet as I listen to songs like 'An Unfolding' or 'Strong Place', I hear the band members listening intently and echoing back to the others and taking statements and twisting them and reharmonizing them alongside the main themes, playing supporting figures for others regardless of their usual role … and sometimes just laying back for a while. Like all great improvisational music, this is an intimate conversation shared between musicians playing at the highest level.
The result is a set of music that is introspective at times, and exploratory at others; mellow and contemplative at one point and jagged and harsh at others; where there are individuals featured but the compositions always remain front and center. And with each repeated listening I learn more and more from the music.
'Quick Hit' Song:
"Der Deichgraf" – the song opens with Kris Davis playing jagged figures that remind me of Thelonious Monk in some ways and Chick Corea in others. The rest of the group joins in, and the structure takes on one of my favorite movements – the piano is playing intricate lines while the rest of the band lays down a harmonic structure in a stop-rhythm pattern that carries you from pulse to pulse. And just as the excitement builds, the song simmers down into Halvorson playing a quarter note line so solid and floating that when an eighth note couplet arrives it is a surprise. The rest of the band joins back in after a while and the defying of standard roles and structures continues right through to the end.
Would I recommend?:
Absolutely! This is one of those albums I know I will be listening to all year long. I cannot predict if it will make my Top 10 list as there is so much good music slated for the year, but with this amazing array of talented artists I have been thrilled to experience new things with each repeated listen.
Suggested audience:
Um … let me just be honest. Most people won't like this music, that is just a simple reality. The subset of music fans who like jazz is small, the subset that likes modern instrumental jazz is smaller, and those who like avant-garde music is smaller still. But if you love the music of Mary Halvorson and Anthony Braxton … you will love this album as well!
Michael Anderson, geardiary.com, February 21, 2013
Ingrid Laubrock, tenor- en sopraansax, Mary Halvorson, gitaar, Kris Davis, piano, John Hébert, bas en Tom Rainey, drums, vijf New Yorkse eerste-klas-musici die van wanten weten en acht stukken die het (in zich) hebben op het nieuwe album. Geen kleinigheid, een kluwen vaak, een dwaaltuin soms. De muziek is sterk van vorm, wel een vorm die voortdurend verspringt, even onvoorspelbaar als consequent. Een vorm met vaak aparte sporen die uit elkaar lopen dan weer in elkaar voegen. Strange beautiful noise, schrille klanken dan weer fijnmazig, lyrisch allebei naast elkaar en in elkaar verstrengeld. Strak, opeenhopend, los, glijdend, het zijn aggregaties die hier door elkaar heenlopen. Symmetrisch, regelmatig, legato, lineair is hier bijna niets en toch heeft de muziek vaak filmische kwaliteiten. Midden in de kluwen zitten genoeg bloedmooie momenten. Bloedmooi maar dan niet van het etalage-type. Niet een, twee, drie commensurabel. Wonderbaarlijk de overgangen. Van heftig naar rustig, van hectisch naar lange, glijdende noten. Wonderlijk hoe het uit de wisselwerking van compositiewerk – alle stukken zijndoor Laubrock ontworpen – en het spel van deze musici ontstaat. Laubrock is deze zomer featured composer van het American Composers Orchestra. Première juni 2013, Miller Theatre van de Columbia University New York.
Deze muziek kan op verschillende manieren tegen het gevoel van de luisteraar instrijken. Ze kan een weerstand oproepen die productief werkt, het kan ook tot blijvende blokkade en misnoegen leiden. Schrijver dezes over- kwam het laatste uitgerekend bij de opener met de veelbelovende titel An Unfolding. Maar daarop volgde meteen een waar meesterstuk Der Deichgraf. Gewonnen dus. Der Deichgraf, het langste stuk en ook meteen één van de hoogtepunten van het album!
Count 'Em zou eigenlijk een hymne kunnen zijn ware het niet dat … . Mooi het inleidende bas – saxofoon duet en later in het stuk het samenspel sax – piano. Op eind wordt dit stuk op een schitterende en boeiende wijze sterk monkish. Meesterlijk: Kris Davis' piano in Alley Zen, vaak in samenspraak met Laubrock op sopraan. Strong Place opent met een bas met gitaar intro en heeft ontegenzeggelijk filmische kwaliteiten. Cup In A Teastorm, opgedragen aan Henry Threadgill, is inderdaad een uurwerk in de geest van de grote Threadgill. Een doolhof ook. Vooral Rainey speelt zeer threadgilliaans. Here's To Love, het slotstuk, is droomachtig, somnambule en krijgt bijna chansonachtige kwaliteiten.
Laubrock's Anti-House treedt zaterdag, 9 maart, in het Bimhuis op (enig Nederlands optreden)

Henning Bolte. Writtenmusic.com, 03 maart 2013
Gender politics have long been a reality of the male-dominated jazz scene; although women have played important roles in shaping the music's history, their contributions as instrumentalists have rarely been venerated. A potential sea change is imminent however, as a new generation comes of age unburdened by the inequities of the past. Strong Place, the follow-up to German-born saxophonist Ingrid Laubrock's self-titled Anti-House debut (Intakt, 2010), is representative of this new paradigm. The session boasts the considerable talents of three of Brooklyn's finest female improvisers in Laubrock, celebrated guitarist Mary Halvorson and rising pianist Kris Davis. The rhythm section is manned by the opposite sex however, with Laubrock's husband, Tom Rainey, holding down the drum chair aided by stalwart bassist John Hébert.
Conveying a congenial rapport, Laubrock's supple soprano and robust tenor excursions gracefully intertwine with Halvorson's spidery cadences, which provide an electrifying contrast to Davis' pointed filigrees; this is most apparent in the opening of the wryly titled "From Farm Girl to Fabulous, Vol.1," where Davis and Halvorson spar in bellicose fashion. Discreetly underscored by Hébert and Rainey's nimble accents, the spiky minimalism of the composition's metronomic pulse eventually blossoms into a vibrant swinging showcase for the leader's tastefully controlled tenor histrionics.
In contrast, the swirling evocations of "Alley Zen" and the melancholy lyricism of "Here's to Love" offer keen demonstrations of Laubrock's growing melodic development, while "Cup in a Teastorm (For Henry Threadgill)" offers a suitably engaging rhythmic workout. The record's longest cut, the three-part "Der Deichgraf," illuminates Laubrock's manifold talents as a composer and soloist. Davis' sprightly preamble segues to a pithy staccato passage before Rainey and Hébert downshift into an abstract blues groove, enabling Laubrock to engage in an extended series of thematic variations on tenor. Just as suddenly the piece shifts from irregular counterpoint to hypnotic ostinato, fueling Halvorson's escalating valedictions at the coda.
Laubrock's compositional sensibility balances impulsive spontaneity with a structural cohesiveness that occasionally sounds surreal; each of her sophisticated pieces embodies its own distinctive sound world. Although angular themes, oblique harmonies and fractious rhythms dominate her idiosyncratic writing, these works espouse a more consistent and contemplative mood than those found on the quintet's debut, making Strong Place a most fitting title for the band's sophomore effort.
Troy Collins, Point of Departure, USA, PoD42
Ingrid Laubrock, a saxophonist, and Kris Davis, a pianist, share an aesthetic of unsettled calm
andurried revelation. With the drummer Tyshawn Sorey they make up Paradoxical Frog, a
trio that can make free improvisation feel structurally inevitable, like the logical conclusion to a
far-reaching argument.
With their own bands Ms. Laubrock and Ms. Davis favor a slightly more careful arrangement of
ideas, and compositions with discrete parameters. They both like chamber-group dynamics but
shot through with rough texture and a vigilant avoidance of sentimentality. That they appear on
each others' new albums is no surprise. It confirms that their interaction is adaptable as well as
sturdy and suggests that they haven't begun to exhaust its potential.
Both albums — Ms. Laubrock's "Strong Place," released in January, and Ms. Davis's "Capricorn
Climber," due out on March 18 — feature quintets driven by the alert and sinewy drumming of
Tom Rainey, who happens to be Ms. Laubrock's husband. Each album also includes a resident
mischief maker with a melodic instrument. On "Strong Place" it's the guitarist Mary Halvorson,
and on "Capricorn Climber" it's the violist Mat Maneri. On both albums it's the second track,
more than the first, that pulls you in.
The second track on "Strong Place" is "Der Deichgraf," its title a nod to Ms. Laubrock's German
origins. The piece opens with a stern rumble of pianism before the ensemble gives halting chase,
and then tapers off into balladic terrain without relaxing its intensity. (At one point the rhythm
drops away to leave only Ms. Laubrock, circular-breathing a single note, and Ms. Halvorson,
playing a wobbled-pitch version of the same.)
Ms. Laubrock's band, Anti-House — which appears on Tuesday night at Cornelia Street Café,
before embarking on a European tour — has an insistent rhythmic footprint. One track here,
"From Farm Girl to Fabulous Vol. 1," pushes the idea almost to the point of irritation, with a
strobelike repetition assigned to piano and guitar.
But the ensemble, anchored by the bassist John Hébert, also has a way with drift and flow. "Cup
in a Teastorm (for Henry Threadgill)" features Ms. Laubrock's focused meanderings over a
garden of exotic chords outlined by bass and guitar. "Alley Zen" revolves around a swirl of
arpeggios played, with lovely impassivity, by Ms. Davis.
The second track on "Capricorn Climber" is "Pass the Magic Hat," which begins with a fluid piano
solo over an amorphously syncopated groove. Gradually Ms. Laubrock enters the picture, and
into sync with a melody that briefly surges before its ebb. What follows is a solo by Mr. Maneri,
slipping through the cracks between tempered pitch. The entire track is an engrossing lesson in
ensemble flux, carried out with finesse.
A similar energy spills into the next track, "Trevor's Luffa Complex," named after the band's
bassist, Trevor Dunn, and featuring an initial melody played on glockenspiel. Several other tracks
begin in hazy but thoughtful quietude, only gradually picking up heat and speed. The quieter
moments aren't necessarily more placid, since Ms. Davis is wizardly with tension. And like Ms.
Laubrock, who also does some serious work on this album, she's comfortable leaving an openended
impression.
NATE CHINEN; New York Times, March 4, 2013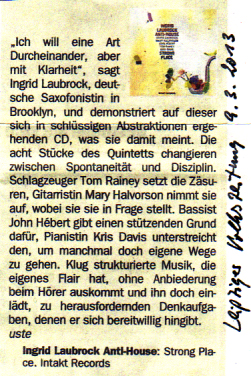 Ulrich Steinmetzger, Leipziger Volkszeitung, 9.4.13
Was ist neu, was ist anders bei Strong Place (Intakt CD 208) von INGRID LAUBROCK
ANTI-HOUSE, im Vergleich zum Debutalbum von 2010, im Unterschied zu Sleepthief?
Nicht so sehr anders ist Laubrocks gewisses Etwas, das ich statt klar (wie sie selbst)
und rigoros (wie Clifford Allen in den Linernotes) lieber bedacht und bestimmt nennen
würde. Eine bestimmte Quirkiness, die sich, soweit ich weiß, nicht beschimpft
fühlt, wenn man sie als kopfgeboren auffasst. Neu ist die feste Einbindung der Pianistin
Kris Davis, Laubrocks Partnerin auch in Paradoxical Frog, die beim Debut nur
gastiert hatte. Ansonsten tupfen, tickeln und streichen Tom Rainey an den Drums
(wie auch bei Sleepthief und im Tom Rainey Trio) und John Hébert am Bass wieder
den Fond, ein Spielfeld, mal mit Kanten, mal mit Fransen, während sich Davis und
Mary Halvorson nun darin abwechseln, Laubrocks leicht spröde Harmonik, die keiner
Symmetrie sich verpflichtet fühlt, mit zu verfechten. Es gibt da eine geistesverwandte
Intellektualität, die, eigenwillig zwar, aber keineswegs zickig, mit blitzgescheiten
und überraschenden Wendungen ebenso punktet wie mit deren Gegenteil, nämlich
dem beharrlichen Festhalten an repetierten Noten. 'An Unfolding' ist zuerst ein Paris
s'eveille, nur dass da nicht Paris erwacht, sondern allerhand Gequirle und etwas mit
martialischem Tritt. 'Der Deichgraf' lässt dann vermuten, dass Laubrock mal den
Schimmelreiter gelesen hat. Ein rhythmisches Galoppmotiv würde dazu passen.
Aber vermutlich saß sie nur im IC von Westerland gen Süden und tagträumte was
Schönes. Dazu würde alles Andere passen, vor allem zuletzt der einlullende Riff,
über den die Gitarre sich in eine irrwitzige Wunschvorstellung versteigt... eine Karriere
in New York?... 'From Farm Girl to Fabulous Vol. 1', wie ein späteres Stück heißt
(das mit gitarristisch-pianistischen Kapriolen zweier fabelhafter Mädels einsetzt und
dann ostinate Repetitionen hämmert, bevor das dritte Mädel ihr Horn übersprudeln
lässt)? 'Count 'Em' erinnert an den New Yorker Theatermacher Richard Foreman,
Begründer des Ontological-Hysteric Theaters, der mit seinen Inszenierungen und
eigenen Stücken oder auch Opern wie dem 2009 mit John Zorn realisierten ASTRONOME
alternative Modelle von Wahrnehmung, Selbstorganisation und Verständnis
vorschlägt. Lange verhalten und zart, aber schließlich doch mit einem "Wake Up Mr.
Sleepy!" 'Alley Zen' lässt über ein kreisendes Pianomotiv das Sopransaxophon die
dünne Luft auskosten. Ins verhaltene Titelstück führt ein Gitarrenintro, für das man
Mary H. selig sprechen möchte, Davis greift ins Innenklavier, ein Pfeifen ist genau so
geheimnisvoll wie die Widmungsträgerin Emanuella. Mit dem erst melodischen, dann
abgezirkelt rhythmisierten 'Cup in a Teastorm' und ihren hier besonders lyrischen
Sopranoerfindungen bedankt sich Laubrock bei Henry Threadgill, um zuletzt mit
'Here's to Love' noch etwas lyrischer und zärtlicher auf die Liebe anzustoßen. Ist das
neu? Nicht wirklich. Aber ich habe bisher Laubrock noch nicht so unspröde, so
gefühlsecht gehört - oder sollte ich sagen: gefühlt?
Rigobert Dittman, Bad Alchemy, 76, 2013

La maison suisse Intakt n'a plus de secrets pour nos lecteurs fidèles (Cf. Culturejazz - Petit voyage en Suisse, 26/12/2012). Elle suit et accompagne ses musiciens sur la durée, leur offrant d'excellentes conditions de productions et suscitant les rencontres.
Ainsi la saxophoniste suisse Ingrid Laubrock, pour son cinquième disque sur le label, rassemble les mêmes partenaires que pour le premier et, dernièrement, le quintette se retrouvait trio sous la houlette du batteur Tom Rainey, la guitariste Mary Halvorson complétant le triangle (Cf. Culturejazz - Intakt & Clean Feed, 30/03/2012). La pianiste canadienne Kris Davis (Cf. id.) et le contrebassiste John Hébert retrouvent leur place dans le groupe Anti-House qui propose un jazz assez complexe, exigeant et subtilement harmonisé. La musique, variée et éclatée, s'ouvre sur de larges espaces et tous les participants rivalisent d'à-propos et de finesse dans leurs échanges.
Jean Buzelin, Culturjazz, France, March 2013
En 2010 Ingrid Laubrock, saxofonista alemana residente en Nueva York, estrenaba discográficamente su formación Anti-House con la grabación homónima en el sello suizo Intakt. En ese momento este grupo era un cuarteto de altos vuelos (Mary Halvorson -guitarra-, John Hébert -contrabajo-, Tom Rainey -batería), que contaba en la grabación con la colaboración de la pianista Kris Davis. En su continuación discográfica en 2013, titulada Strong Place, Anti-House se ha convertido en un quinteto con la incorporación de esta última a la formación.
Laubrock es la autora de las ocho composiciones. Su enorme habilidad es conseguir componer tal y como el grupo improvisa, y que el grupo improvise tal y como ella compone. Esta tarea no es fácil en absoluto, aunque hay una explicación más que convincente. Entre estos cinco músicos hay una relación muy fuerte a nivel musical. Esta se traduce en más de una decena de grabaciones en las que intervienen al menos dos de ellos (cuando no son tres o incluso más), y lo que es más importante, la mayoría se han grabado en los últimos años.
La saxofonista juega con los elementos compositivos a su disposición: cambios de ritmo e intensidad, pasajes obligados, estructuración de los temas a modo de suite, mantenimiento de la tensión… todo ello dejando espacio para que sus compañeros improvisen y hagan suyas sus composiciones.
Los cinco músicos están en un excelente momento de forma. Mary Halvorson se ha constituido en una voz plenamente identificable a la guitarra. Kris Davis es una de las nuevas voces emergentes al piano. Ingrid Laubrock no sólo es una gran compositora y líder, sino una tremenda saxofonista. John Hébert y Tom Rainey ejercen de rítmica de lujo.
No tiene demasiado sentido reivindicar el género en la música, ya que como arte, va más allá del sexo de sus intérpretes. No obstante, si alguien tiene interés o curiosidad por escuchar a algunas de las féminas más interesantes en el panorama actual del jazz, no debería dejar de escuchar (si es que no lo ha hecho) a Kris Davis, Mary Halvorson e Ingrid Laubrock, especialmente si como en este caso las tres están en la misma formación.
Pachi Tapiz, Tomajazz, Spain, 15 marzo, 2013
Paul Acquaro

Recently, I had the luck to catch a duo show of Mary Halvorson and Ingrid Laubrock at the intimate JACKArts space in Brooklyn. I was struck by how well their melodic ideas and abstract inclinations played off each other so well. I assume that their various associations, like their work with the Tom Rainey Trio, has helped them develop these tacit connections. The same probably could be said about Laubrock's work with pianist Kris Davis, from their trio work with Paradoxical Frog which has produced some excellent recordings as well.
Now, add in the powerful but subtle percussion of Tom Rainey and the assured bass playing of John Hébert (a member of Halvorson's Trio), and as you probably have already guessed, we end up with a brilliant combination of Laubrock's many associations, each one bringing creative and edgy playing to a strong set of compositions.
Indeed, Laubrock's compositional skill is the linchpin of 'Anti-House'. Her songs carry strong melodic stamps even as they veer far from the expected. Songs like 'Count 'em (for Richard Forman)' juxtapose catchy lyrical snippets with unexpected rhythms and textures, but still allowing each musician to poke through the relaxed atmosphere. The following 'From Farm Girl to Fabulous, Vol 1.' has a cheeky title and music that begins free, atonal and rhythmically unkept, but begins picking up a more strident rhythmic base courtesy of some single note motifs from Davis' piano -- the tune even get a bit rocky as it unfolds.
Anti-House, to my ears, is a little less aggressive than some of the other avant-jazz combinations that the various members are in but it is no less energetic and powerful. I offer 'Alley Zen' as an example. Rhythmic piano figures like something from a Nik Bärtsch modul spiral below accentuated phrases from Halvorson's crisp guitar. This same type of interaction also works beautifully between everyone in 'Cup in a Teastorm (for Henry Threadgill)', where a Hébert, Davis and Rainey trio sustains the song for an extended sequence.
Accessible and abstract it works quite well and I am enjoying repeated listenings to Strong Place immensely. It is a strong statement of Laubrock as a composer and leader of a choice quintet.
Paul Acquaro, freejazzblog, March 2013


Reiner Kobe, Jazzpodium, April 2013

Die deutsche, in New York lebende Saxofonistin Ingrid Laubrock ist in kurzer Zeit zu einem wichtigen Player in der Szene aufgestiegen. Sie ist mit ihren jeweiligen Projekten nachgefragt, beim Label Intakt gut aufgehoben und kann so ihr kontinuierliches Fortschreiten, ihre Entwicklungsschritte dem interessierten Hörer präsentieren. Mit Strong Place ist der Musikerin ein weiteres hochinteressantes Album gelungen. Unterstützt wird sie wieder von einer furiosen Begleitband; jede und jeder ein Könner seines Fachs, eine Bereicherung für das Geschehen: Mary Halvorson, die nicht Gitarre spielt, wie man sich das vorstellt, das aber brillant und sehr eigenständig macht; Tom Rainey, der Ästhet mit dem bedingungslosen Reduktionswillen; Kris Davis mit Monk'scher Verschmitztheit am Klavier; und John Hebert, als Fels in der Brandung, am Bass. Sie erden die Kompositionen, machen daraus offene Schnittmuster einer meist komplexen Grunddisposition. So kann man sich als Hörer völlig dem Genuss hingeben, braucht nicht mit analytischen Spürnasen vor dem Abspielgerät sitzen, sondern kann sich einfach nur über acht neue Kompostionen der Leaderin freuen. Wenn Verzögerung kein Stillstand ist und ein Fortschreiten kein Vorwärtsdrängen sein muss, dann hat man schon sehr viel erreicht. Laubrock ist das Kunststück auf dieser CD geglückt.
ernst, Freistil 48, 2013, Österreich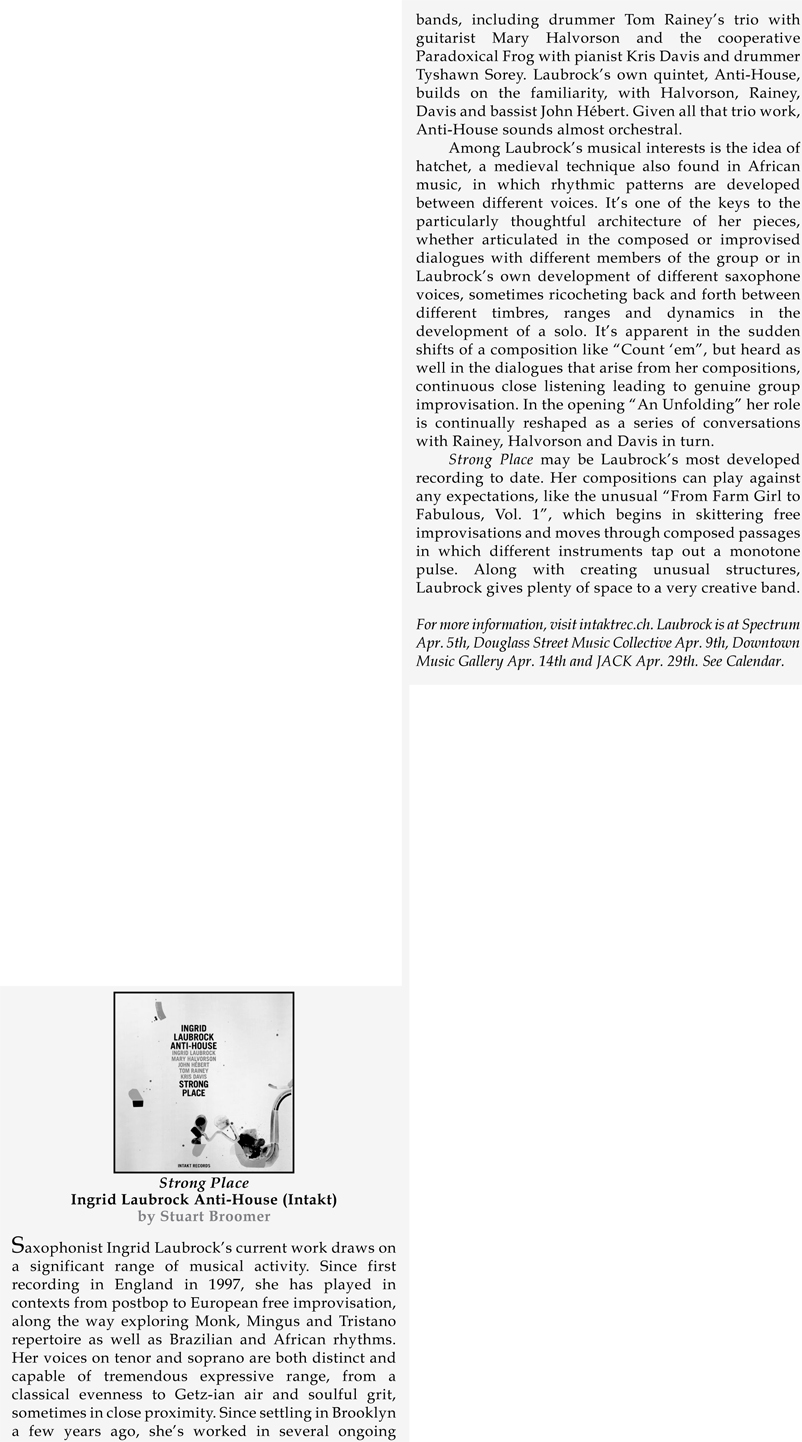 Stuart Boomer, New York City Jazz Record, April 2014
Philippe Méziat, Jazzman, Avril 2013

Schu, Concerto, Österreich, April/Mai 2013



Klaus Hübner, Jazzzeitung, April 2013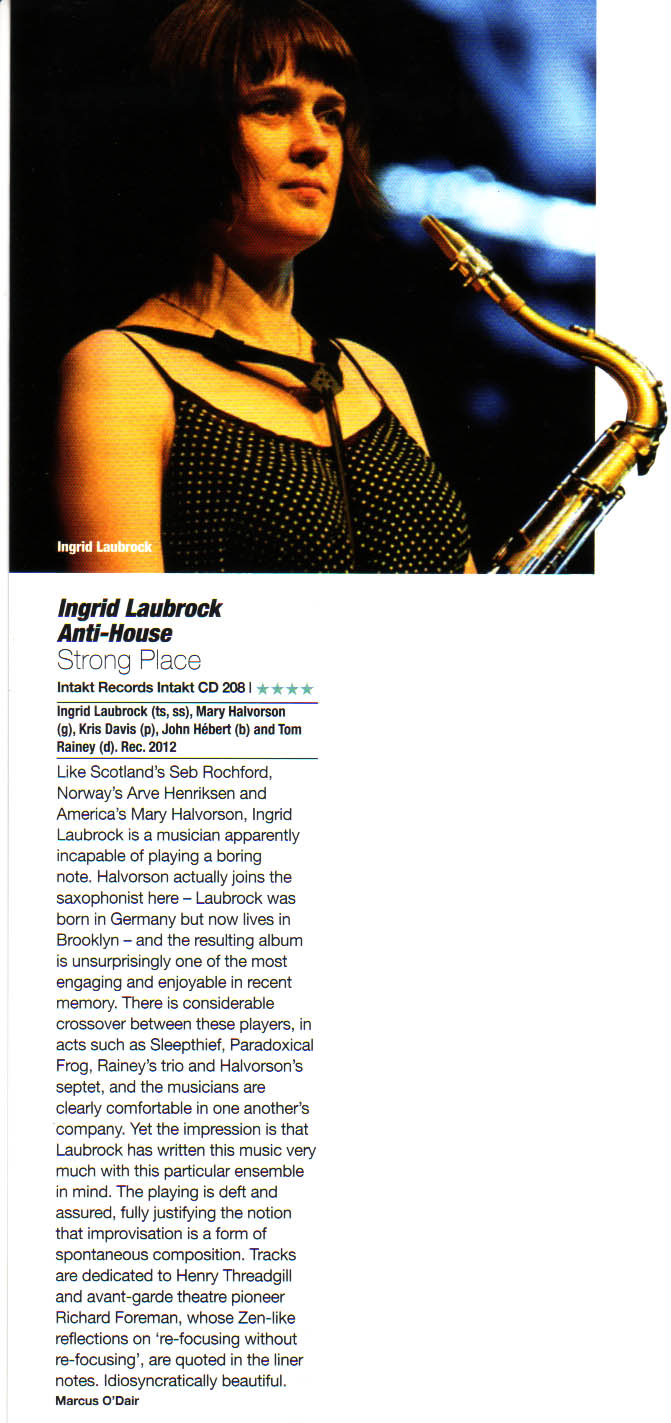 Marcus O'Dair, Jazzwise, London, April 2013
Klaus Nüchtern, Falter, Wien, 15/2013
Recht uit Brooklyn en stuk voor stuk graag geziene muzikanten in Moers (Laubrock was daar vorig jaar 'improviser in residence'), meer commentaar is niet nodig om te weten hoe het allemaal klinkt. De vijf, die een onderlinge band hebben via diverse netwerken en samenwerkingen, ontwikkelen een spel van vrijheid en cohesie. Ze rekken de mogelijkheden van improvisatie versus partituur uit tot het uiterste maar laten nooit alle onderlinge bindingen volledig los. De continue juxtapositie van repetitieve achtergrond en vinnige steekspelletjes op de voorgrond zijn typerend, evenals de conceptuele evenwichts- oefeningen tussen poëtische open ruimten en onverwachte explosies. Met knipogen naar Elliott Sharp en James Chance & The Contortions.
Georges Tonla Briquet, Jazzmozaïek, Nr. 1/2013, Belgium

Thierry Lepin, Jazznews, France, April 2013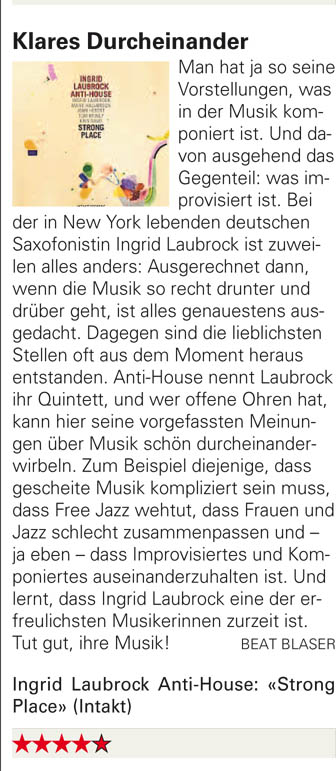 Beat Blaser, Nordwestschweiz, 20. April 2013
Das ansonsten recht lesbare Musikmag 'Wire' hat bei der Besprechung dieses Albums etwas sehr Seltsam-Seltenes geschafft, nämlich eine reine Funktionsbeschreibung der Musik ohne jede eigentliche Review: "Jetzt kommt das, dann kommt das, und am Ende das". Sonst kam nix – die Bedeutung dieser Musik kompakt und schlüssig zusammenzufassen, blieb man irgendwie schuldig, also machen wir das mal eben hier: Das Bedeutendste am zweiten Album der in New York basierten Band um die deutsche Saxofonistin ist die prägnante Dezenz unter den virulenten Beibehaltungen von Konsequenz und Tiefenschärfe für die zeitgenössische Jazzimprovisation. Viele Stücke beginnen sehr leise und langsam, wobei eine klare Steigerung ins kristalline Chaos durchaus intendiert wird. Genau der Gegensatz von Bratzen und Tutti und Hallo-hier-bin-ich. Man könnte darin voreilig und nicht ganz falsch aber auch etwas oberflächlich einen Gegenentwurf zum männlichen Testosteron-Spiel erkennen, nicht wunderlich bei 3 Frauen und zwei Männern, und das ist sicherlich schön und bemerkenswert, aber mehr als das alles stellt dieser bemerkenswerte KompImprov auch den eher unglücklich-unseligen aber mittlerweile extrem einzementierten Begriff 'Kammer-Jazz' via ureigener Dialektik von struktur-notierter Abgezirkelt- und Ausgewogenheit und dem inhärent-energetischen Progress in den Schatten und entwickelt hier ein sinnvoll-sinnliches Gegenmodell. So oder ähnlich, aber gleich ob in Musik oder Politik, ob Kinderspiel oder Profimatch, eines ist mal sicher: das nächste Spiel ist immer das schwerste.
Made my day by Honker. Terz 5.13, Deutschland, Mai 2013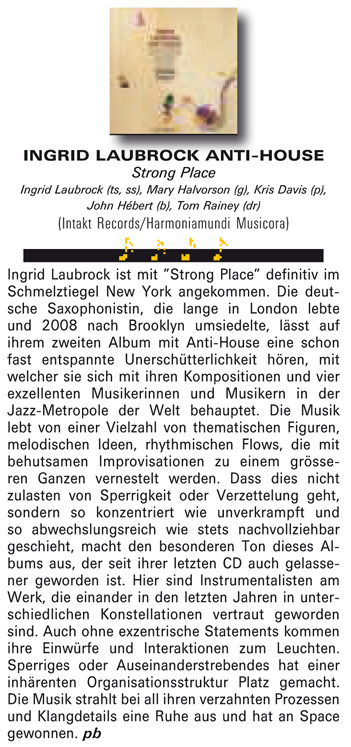 Pirmin Bossart, Jazz n' More, Mai/Juni 2013, Schweiz
The lines between composition and improvisation have always been ones which jazz musicians seek to blur- from the melodious lines of Louis Armstrong and Miles Davis, to the slights of technical expertise of Charlie Parker and John Coltrane- the improvisational side of jazz has always been important, and on this latest album from multi-national ensemble Anti-House, led by saxophonist Ingrid Laubrock, definitely adds to the blurring effect.
The tracks on Strong Place are a series of compositions which incorporate jazz playing with avant-guard techniques, and inflections of world music. The mixture of flowing melodies which seamlessly merge and combine with sometimes halting, stuttering rhythmic patterns and extended use of harmonies serve to accentuate the heavily improvised nature of the album and to make the individual tracks all distinct, whilst allowing a constant darker feel underlying the whole album.
The tracks are all of a length which allows all the members of the group space to play. This means that the album has a very organic, almost ethereal quality to it.
The musicians all make use of added techniques on their instruments, other than just playing normally- the guitar is played with the tuners, the saxophones squeak and rumble and the piano is played in a percussive style. All of this combines to make an exciting, eclectic and interesting collection of tracks.
8/10
Nick Webb, nickwebbreviews.blogspot.co.uk, 14 May 2013, Great Britain
Dans Strong Place, le dernier Anti-House, la formation d'Ingrid Laubrock, la saxophoniste allemande basée à Brooklyn, l'imprévisible Mary Halvorson brille de mille notes, bouillonnante comme jamais. Disciple d'Anthony Braxton, elle-même chef de file, la guitariste marque le groupe avec ses acolytes de longue date, Tom Rainey (batterie) et John Hébert (contrebasse). Les pérégrinations partent des partitions déconcertantes de Laubrock pour aboutir dans les zones inexplorées, chères aux protagonistes. Les conversations de la guitariste de Boston avec le nouvel arrivant, le pianiste Kris Davis frisent l'interpénétration totale entre les deux intruments (Der Deichgraf, ensorcelant). J'ai entendu Mary Halvorson dans une création d'Anthony Braxton dans un concert organisé par JazzDor, Musica et Pôle Sud, à Strasbourg en octobre 2010 (rêve éveillé!). Un enchantement de suivre la virtuose, tant chaque improvisation associe la densité harmonique à une ouverture grand angle. C'est simple : elle invente tout le temps!
Bruno Pfeiffer, jazz.blogs.liberation.fr, 11/05/2013, France
The distinctive New York guitarist Mary Halvorson makes one of her infrequent Chicago appearances tonight at the Washington Park Arts Incubator, performing in her excellent duo with violist Jessica Pavone—the set is part of the promising Chicago Jazz String Summit. As I wrote in my preview this week, that project conveys an appealingly loose rapport with a strong dose of folklike rusticity. Halvorson has been operating at an artistic peak in recent years, both leading her own dynamic bands and working as an instantly recognizable side person, and a slew of terrific recordings prove it.
Earlier this year Halvorson turned up on Strong Place (Intakt), the second album by saxophonist Ingrid Laubrock's Anti-House project—a knotty, frenetic band where the music moves rapidly from episode to episode. In Clifford Allen's liner notes he quotes the saxophonist as saying, "I want some kind of messy, but with clarity," and that just about nails it. The music is dense and sometimes chaotic, with loose threads, spillage, and dissonance, but there's never a moment when it seems like the musicians don't know where things are headed. The leader writes slippery pieces full of shape-shifting modes and often-imperceptible links between improvisation and composition that require heightened listening—the musicians have to be seriously locked in to make it all work. Luckily, with Halvorson, drummer Tom Rainey, pianist Kris Davis, and bassist John Hébert, she's got the right group of collaborators. Halvorson and Davis do a lot of the heavy lifting, giving Laubrock piles of harmonic material to rip apart, shaping intricate contrapuntal passages together, occasionally engaging in precise unison passages, and, of course, taking plenty of independent solos. Halvorson's playing is alternately lyric, noisy, abrasive, tender, and tangled up in itself. She's always been an assured player, but her confidence on this album is stunning. Below you can check out one of my favorites from the album, "Cup in a Teastorm." The piece is dedicated to Henry Threadgill, a composer with a similar penchant for beguiling complexity and idea-packed writing.
We get a different side of Halvorson on Super Eight (Intakt), a loose series of duets with bassist Stephan Crump (known best as the bassist in Vijay Iyer's trio) under the moniker Secret Keeper. The casual feel here, much different than the one the guitarist and Pavone create when playing their compositions, is no accident—or rather, it is in a sense. The two musicians got together at Crump's Brooklyn home just to play together and improvise, see how they fit together. But Crump decided to set up some microphones and record their initial meeting. They'd each brought some tunes, but what ended up on Super Eight were their improvisations that July day, plus some additional recordings made on two subsequent meetings, also at Crump's place. The music is quiet, contemplative, and patient, but never tentative—the way one would expect from a first-time meeting, as players suss each other out—and hearing the rapport develop from scratch is both thrilling and illustrative of the creative process. Below you can listen to "Escapade."
Posted by Peter Margasak, Chicago Reader, USA, May 31, 2013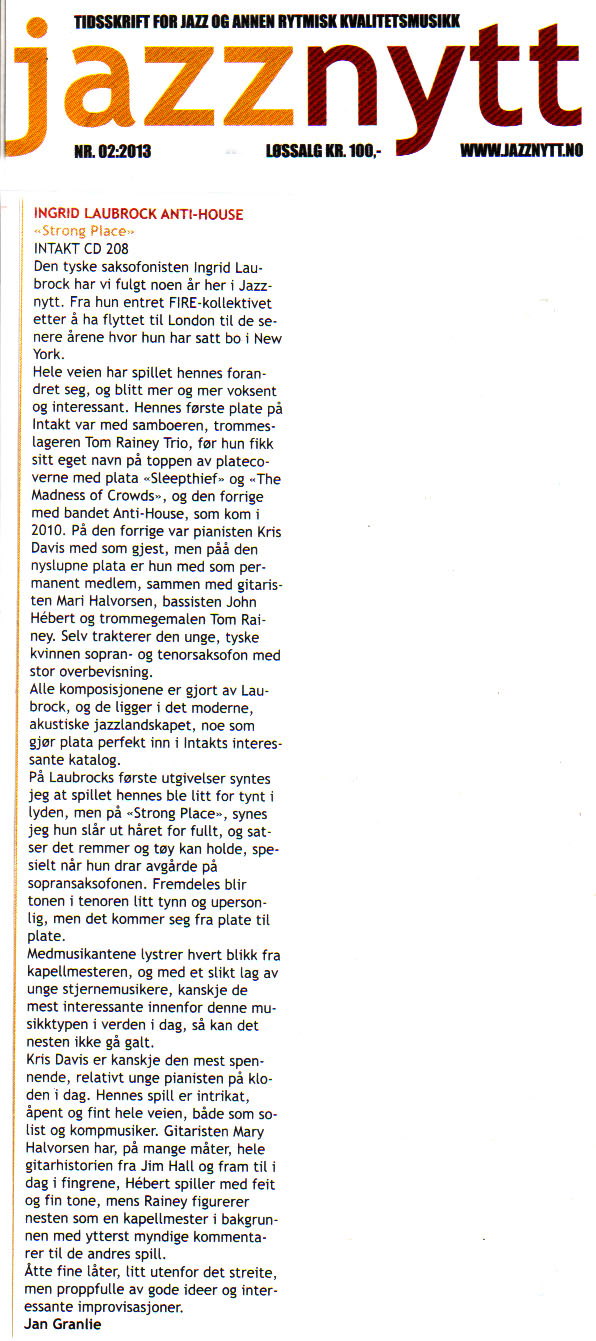 Jan Granlie, Jazznytt, Oslo, Norway, 2-13

New York-based German saxophonist Ingrid Laubrock continues to assert herself as one of today's most promising jazz musicians. Since the release of its debut, the unit known as Anti-House has expanded from a quartet to a quintet with pianist Kris Davis now being officially inducted into the group – she had previously appeared as a guest artist.
The band is probably a flag bearer for a new New York sound detached from what was known as the Downtown scene – ironically, none of the musicians is originally from the Big Apple. Laubrock, Davis, guitarist Mary Halvorson, and bass player John Hebert are all rising stars. And experienced drummer Tom Rainey whose name has been associated with countless sessions adds even more credibility.
Each piece would require a second-by-second description. Indeed, Laubrock's compositions are dense and malleable patchworks of insistent codas, melody bits, dissonant and angular statements, or jagged rhythms and lines, and make use of the many tools that are part of each musician's arsenal.
Anti-House makes challenging music but provides enough hooks to grab and retain the attention, most notable on the Henry Threadgill tribute, "Cup in a Teastorm." Preeminently and perhaps facetiously featuring Davis's piano – an instrument Threadgill rarely uses – Rainey's busy and choppy drumming propels this faithful homage reminiscent of his Sextett days. Playfulness also comes into play, as evidenced in the middle of "Count 'Em" at the injunction of Rainey, which underlines the authority that each musician can exercise to take the music in a new direction or to cue a new segment. Because what impresses most is how nimbly the band can negotiate shifts and, in particular, move from textures to a melody.
Finally, Strong Place will remain a great entry point to admire Laubrock's soprano playing which is gaining in personality even if the fat lines she can conjure lean towards Joe McPhee.
Alain Droulot, Blog Island, 2013
Parmi les figures actuelles de l'avant-garde new-yorkaise, la saxophoniste d'origine allemande Ingrid Laubrock fait figure de modèle. Aux côtés notamment de son compagnon, le batteur Tom Rainey, comme de la guitariste Mary Halvorson [1], elle mûrit aux confins de la musique contemporaine et des musiques improvisées un propos qui doit autant à Henry Threadgill, à qui un morceau est d'ailleurs dédié, qu'à Anthony Braxton, lequel n'a pas fini de veiller sur cette génération dorée.
Après un premier album en 2010, déjà chez Intakt Records, Laubrock retrouve son quintet Anti-House avec ce Strong Place, titre qui sonne comme une affirmation de la très forte identité de cette formation. Très vite, on associe ses compositions raffinées à la Ghost Trance Music de Braxton - même faculté de réinventer un langage qui modifie les rapports de force sans chambouler les connections naturelles des orchestres de jazz. Au gré des percussions pointillistes de Rainey, les cercles concentriques dessinés par les cordes mêlées d'Halvorson et du contrebassiste John Hébert construisent une texture extrêmement ouvragée. Puis, lorsque le jeu de Laubrock se fait plus tranchant, accompagné par le piano bâtisseur de la Canadienne Kris Davis, le groupe semble bondir en avant, avec le naturel un peu bravache des réalités contingentes.
Véritable travail d'équilibre des forces entre musiciens virtuoses, la musique écrite par Laubrock circule au travers de complicités anciennes. C'est en effet dans le lacis des collaborations, dans la multiplicité des orchestres communs que s'est formé l'unisson des solistes d'Anti-House. Grâce aux automatismes issus du trio avec Halvorson et Rainey, un morceau comme « Cup in a Teastorm » devient une base idéale de discussion sereine entre guitare et batterie. Plus loin, la justesse de l'échange entre piano et ténor, né au cœur du trio Paradoxical Frog, déplace le centre de gravité de cette alliance fondamentalement égalitaire. Ces associations diverses ne remettent jamais en cause l'insatiable cohésion d'Anti-House ; au contraire elles l'affirment et la renforcent (« Strong Place (For Emmanuela) »).
Au fil de l'album, et plus particulièrement sur le magnifique « From Farm Girl To Fabulous Vol. 1 » où Halvorson s'illustre comme source d'un thème répétitif propagateur de mouvement, Laubrock travaille la masse orchestrale comme on joue, en optique, sur la profondeur de champ. Par petites unités labiles, elle modifie le relief du quintet pour pointer tour à tour, de manière assez aléatoire, tel timbre ou tel rythme. Il en découle une évidente fluidité, qui réussit à faire de l'instabilité l'atout majeur de la robustesse d'Anti-House. Les combinaisons infinies entre les musiciens permettent toutes les perspectives. New York est une place forte mondiale des musiques improvisées ; ce n'est pas avec des formations de cette qualité que l'évidence risque d'être contestée.
Franpi Barriaux, CitizanJazz, France, 27 mai 2013
Met de komst van pianiste Kris Davis, op het titelloze debuut van Anti-House nog een gaste, is Ingrid Laubrocks band nu uitgegroeid tot een kwintet, een echt dream team van muzikanten die mild glimlachen bij het horen van labels, scholen en tradities, om die daarna even goedgemutst in de prak rijden.
Als vlotte clubjazz of als crowd pleaser op een groot festival zal Anti-House wel nooit deugen. Daarvoor zijn zowel de composities van Laubrock als de invulling ervan met Davis, Tom Rainy, John Hébert en Mary Halvorson te eigenzinnig en vooral te ambitieus. Want waar jazzstukken al eens blijven hangen in een tune, kiest Laubrock voor vervaarlijk uitgewerkte composities die vermengd met vrije en minder vrije improvisatie (de grens valt vaak alleen maar te raden) een heel eigen logica volgen. De melodische onvoorspelbaarheid van Steve Lacy, de harmonische en structurele grilligheid van Henry Threadgill en het uitgepuurde van Anton Webern worden afgetopt met bij momenten verbluffend samenspel dat alle ruimte laat voor de individuele touch van de afzonderlijke uitvoerders.
Het begint eigenlijk al meteen met 'An Unfolding', een stuk dat niet zozeer melodisch, ritmisch of harmonisch gedacht is, maar waar het proces, het geleidelijk aan versnellen en ontbinden van een statisch samenspel, de kern vormt. Zo geeft Laubrock elk werk een eigen profiel, waardoor de composities niet onderling inwisselbaar zijn en de luisteraar keer op keer verrast wordt. Door de enorme hoeveelheid impulsen die luisteraar zo te verweren krijgt (en die komen nu eens niet via patserige virtuositeit of stilistisch zappen), kan die zich alleen maar laten meedrijven.
Wat daar bij helpt, is de vanzelfsprekendheid waarmee de muzikanten hun individuele geluid in verschillende allianties weten te mengen. Vooral Davis met prepared en inside piano en Halvorson met haar kenmerkende verbogen sound kunnen moeiteloos blenden met Laubrock en Hébert, wat in 'Der Deichgraf' voor een complexe polyfonie zorgt. In dit magistrale stuk trekken Laubrock en haar collega's trouwens alle registers op. Met onstabiele tempi en een haarscherp samenspel, maakt de muziek de meest onmogelijke loopings. Van "indruk maken" is echter geen sprake. Daarvoor is de dynamiek te zacht en de precisie te natuurlijk.
In 'Count 'Em' opereren de muzikanten dan weer als overlappende lagen, waarbij de muziek een maximale concentratie krijgt waarbij elke noot essentieel wordt. Bovendien valt hier opnieuw de hoekige precisie te horen, waar terug geen big deal van gemaakt wordt. Net zo min als het subtiele mechaniekje dat Halvorson, Davis en Rainy op het einde van 'From Farm Girl to Fabulous Vol. 1' speciaal de aandacht wil trekken. Fragiel en ijzersterk: Anti-House combineert het beste van twee werelden.
Zo klinkt het kwintet op 'Strong Place' tegelijkertijd elegant en scherp in een verraderlijke harmonicabeweging tussen improvisatie en compositie. Hoe bedrieglijk simpel het allemaal kan lijken, wordt nog eens onderstreept op het afsluitende 'Here's to Love'. Zwoel en zacht laten Laubrock en co. het geluid vloeiend zwellen en krimpen, zonder te kiezen voor extreme proporties. Het resultaat is een samenspelmoeras van miniatuur free improv waarbij de spanning niet uit dynamiek komt, maar uit het weefsel van het geluid van de individuele musici.
Met die subtiliteiten maakt Laubrock het verschil, waardoor ze schijnbaar aaibaarder, maar in wezen gevaarlijker en koppiger wordt dan het gros van haar decibelminnende collega's. 'Strong Place' is dan ook een plaat om te knuffelen om er daarna gevaarlijke blessures aan over te houden.
Koen Van Meel, Kwadratuur, Belgium, 17. November 2013

Música libre (y bien atada)
Hay una (aparente) paradoja entre la consideración tan consolidada del jazz como "la música de la libertad" y las razones que la sustentan; clichés que, como meros lugares comunes, son enemigos naturales de la libertad. ¿Cuál es la libertad del jazz? El manual de bolsillo dice que permite que los músicos improvisen, que se salgan de la partitura. Sin embargo, parece obviar que gran parte del jazz está sujeto a estructuras, a acordes concretos, a ritmos predeterminados, a patrones (muchas veces) inalterables. ¿Es eso la libertad? ¿Es menos libre quien sigue con convicción y convence con la lectura de una obra escrita hace dos siglos? ¿Es libre el jazz per se? No lo creo. Creo que la libertad (o su ausencia) radica en cada uno y que el estilo (si es que el jazz lo es) no es más que un medio, y no el fin, de la expresión personal. Si el jazz es un fin, se convierte en un cinturón que oprime la libertad del músico para expresarse tal cual es. Obviamente, la expresión en conjunto, frente al solo más radicalmente libre, requiere de acuerdos; una especie de pacto social (escrito o no) que muchas veces viene determinado en su éxito por la afinidad personal y profesional, lo que a tenor de las múltiples interrelaciones entre los diferentes miembros de este Anti-House de Ingrid Laubrock, parece una de las razones de la firme convicción de su música.
Este preludio viene a cuento del resultado para el oído de la música de Strong Place, segundo disco de este proyecto de la saxofonista germana residente en Nueva York. Muchos no dudarían en calificar de free jazz su música, cuando, sin embargo, las composiciones de Laubrock no dejan de recorrer un intrincado laberinto de rítmicas yuxtapuestas y simultáneas, de precisiones milimétricas, de indudable complejidad técnica. Música exigente en sus recursos técnicos que suena en conjunto con una ligereza y una contundencia (¿contradicción?) que nos dice mucho del virtuosismo técnico de sus intérpretes… y de su libertad.
La libertad para lograr que de toda esa maraña de complejas microcélulas rítmicas y melódicas, encajadas en una labor de paciente artesanía sobre el papel, sean impulso (y no impedimento) para la creatividad y la expresión artística. Composiciones que como Count´ Em son una oda a la narrativa musical, al largo desarrollo de climas, estructuras y sensaciones. Del inquietante tanteo inicial, al estallido de esa expresividad que asociamos al free y que Laubrock impulsa sobre una diversidad de pequeños motivos melódicos que juegan con el éxtasis (o sopor; depende de sensibilidades) de la repetición minimalista. Todo ello hasta que, de pronto, y a la llamada del saxo, la música entra en terreno de la expresión más disciplinada con fraseos conjuntos, siempre al borde del traspié circense.
Técnicas de repetición tántrica (o de excitación incontrolable) que me recuerdan a algunos de los mecánicos ejercicios desorbitantes de Peter Evans en su disco Ghosts (salvando los excesos de velocidad del trompetista), que Laubrock practica también en Der Deichgraf (al loro con el solo final de guitarra de Mary Halvorson, subida a lomos de una insistente reiteración de prácticamente tan solo dos notas –después hay una mínima progresión- de saxo, contrabajo y piano. El contraste entre el vuelo libre de la guitarra sobre la base casi infantil y terrenal del resto –Tom Rainey juega entre medias- resulta hipnótico) o en From Farm Girl to Fabulous Vol.1, feroces muestras de imaginación que desbordan las fronteras estéticas. Hay en estas apasionantes y alucinógenas composiciones tanta libertad en la expresión como en la insistencia mecánica que las impulsa. La una con la otra son, en su libre y convencida elección, una declaración absoluta de independencia. El músico no se debe al estilo ni está obligado a reverenciar desde el estatismo las premisas que algunos pretenden inamovibles. Ahí, entre otras cuestiones, radica la libertad de una creación que, en el caso de Laubrock, posibilita un proyecto que explora incansable timbres, ritmos, espacios para la expresión colectiva e individual, sin permitir el aburguesamiento de ninguno de los actores.
Actividad permanente incluso cuando, como en Cup in a Teastorm, parece proponernos de primeras un soliloquio de (cierto) clasicismo con el tenor antes de… volver a dislocarnos el cuello. Y es que, por salud física, debemos dejar el baile de esta música para el cerebro y las emociones (quizá para la más flexible danza contemporánea –otra simplificación en los términos, lo sé-). Aunque algunos quieran minusvalorar al primero en beneficio de las segundas. ¿Desde cuándo no son lo mismo?
Carlos Pérez Cruz © Cuadernos de Jazz, mayo-2013
All About Jazz
John Sharpe's Best Releases of 2013
New York-based German saxophonist Ingrid Laubrock moves one step further in cementing her place at the heart of the Big Apple's fertile Brooklyn scene. Already on a roll with her plangent contributions to pianist Kris Davis' Capricorn Climber (Clean Feed, 2013), Laubrock lives up to the high standard she set herself with Anti-house's eponymous debut (Intakt, 2010). In that, she's aided by the same cast, but with Canadian pianist Davis now integrated full-time into the ensemble. Every nook and cranny on this wonderful record demands in depth appreciation and amply rewards the time spent.
All About Jazz, USA, December 2013
Ingrid Laubrocks Band "Anti-House" – spielte im Stadtgarten Köln verschärft zur Frühlingsjagd, während draußen ein süßer Schneesturm tobte und – oh Mann – das hat mich umgehauen.
Zum Glück auch auf ihrem neuen starken Album "Strong Place". Außerirdische Mikrotöne repetitiv und feinmechanisch bis zum Irrsinn durch Piano und Gitarre auf "From Farm Girl to Fabulous Vol. 1" dann unvermittelt eine freie Komposition, alles vom Notenblatt.
"Der Deichgraf" beginnt mit einem streng egoistischen Gerumpel auf dem Klavier, bevor das Ensemble sich in die Jagd einreiht, Ingrid Laubrock dann minutenlang mit Zirkel-Atmung um einen einzelnen Ton, und die begnadete Mary Halvorson beendet dann die Hatz durch eine verjaulte "pitch Version" des Themas auf ihrer halbakustischen Gretsch-Jazzgitarre.
Schüttel deinen Speck, wenn Tom Rainey seine Bass Drum zerlegt und sich zusammen mit dem Bassisten John Hébert einen aberwitzigen Weg durch das atonale Unterholz schlägt. Es wird gepfiffen, rumgebolzt, gelacht und geträumt, ein bunter Strauß von Tönen, Stimmungen und Sounds.
Mach's wie im Konzert – die Augen zu. Dir wird schwindelig vor Glück? Keine Angst – sind nur die kleinen Tierchen in dir
z'kay, Klenkes, Stadtmagazin Aachen, 6. Mai 2013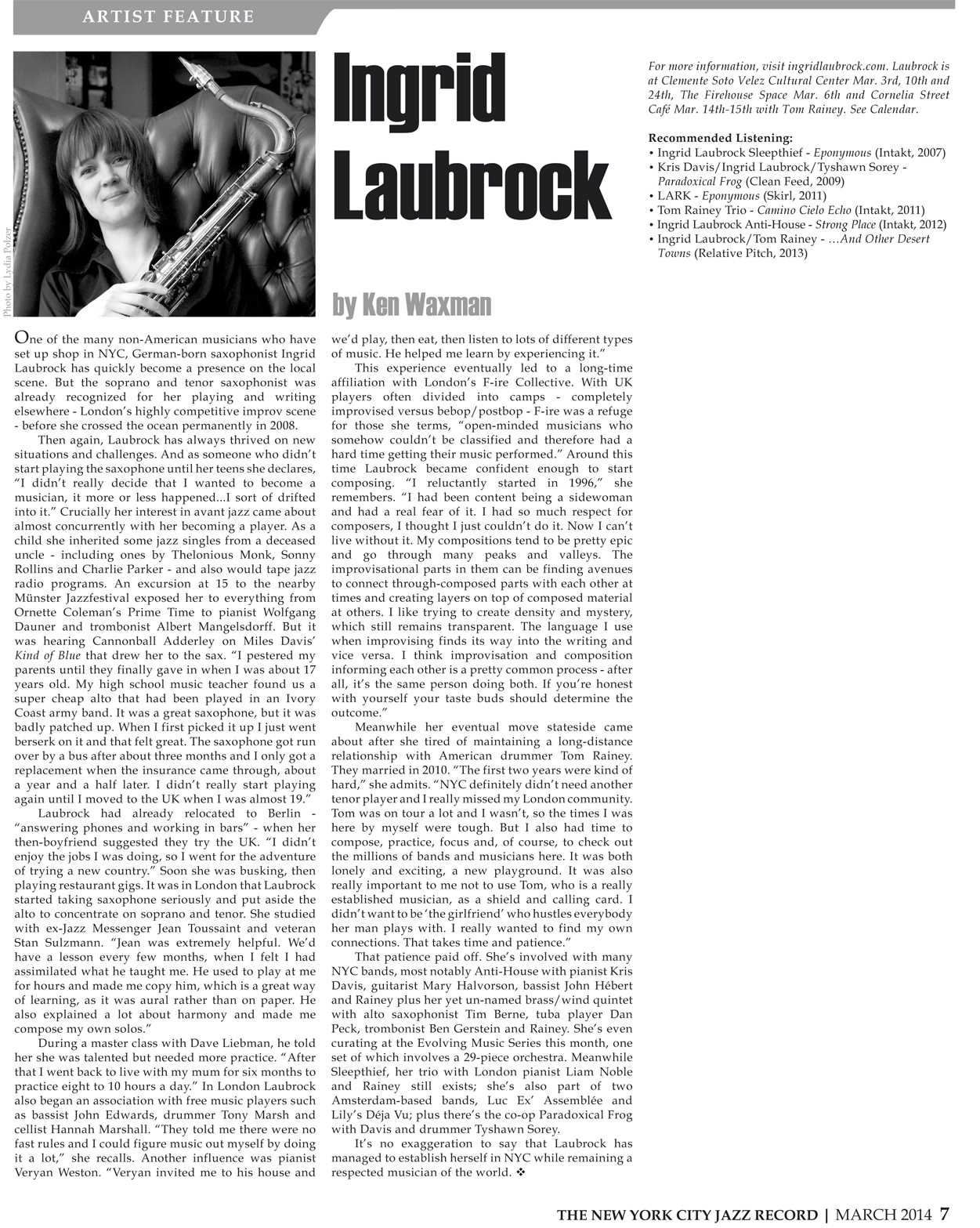 Ken Waxman, The New York City Jazz Record, March 2014
Viel Emotion im Spiel
Der Kulturhofkeller platzte Freitagabend aus allen Nähten. Fulminantes Jazzkonzert des Ensembles Anti-House 4
Wenn sie auf die Bühne gehen, sind sie das personifizierte Understatement, die drei Damen und der Herr Schlagzeuger vom Ensemble Anti-House 4. Auch wenn sie ihre Plätze eingenommen haben, wirken ihre Gesten linkisch und hat man fast das Gefühl, sie genieren sich irgendwie, auf der Bühne zu sein. Was aber dann losgeht, ist eine mehr als zweistündige Abenteuerreise im Grenzbereich zwischen zeitgenössischer Musik und Jazz. Wird jetzt gerade improvisiert oder nach Noten gespielt? Man mag es nicht entscheiden. Es gibt nichts, an dem man sich als Zuhörer festhalten kann: keine Basslinie, selten einmal ein harmonisches Gerüst.
Aber es funktioniert. Saxophonistin Ingrid Laubrock pumpt aus Leibeskräften, Pianistin Kris Davis tupft und malt und leuchtet in allen Farben. Dazwischen insistiert Gitarristin Mary Halvorson. Mit diversen Pedalen verfremdet sie den Klang ihres Instruments ins Rohe, ins Ungehobelte und Untergründige. Wie die Klosterschülerin in der Kirchenbank sitzt sie da, regungslos, andachtsvoll und bearbeitet die Saiten in geradezu mephistophelischer Manier. Schließlich Tom Rainey am Schlagzeug, der dem Ganzen auf höchst sublime Weise rhythmischen Halt gibt.
Gelegentlich sagt Laubrock Titel an, aber es ist einerlei. Es stürmt und ruht und stürmt und ruht. Jeder Wechsel passiert so selbstverständlich und sicher. Das Ensemble atmet als Ganzes und mit ihm das Publikum. Selten hat man im vollbesetzten Villacher Kulturhofkeller bis zum Ende eines Konzerts so konzentriert mitgelebt wie an diesem Freitag Abend. Die anfängliche Distanziertheit der Musikerinnen wurde unmerklich zur Nähe. Erstaunlich, dass bei so schwieriger Musik so viel Emotion im Spiel sein kann.
Von Gilbert Waldner, Kleine Zeitung, 12 Mai 2018