German saxist Ingrid Laubrock, a creative presence on the London contemporary jazz scene since the 1990s, has moved to New York, and the impact on her work is palpable. This group, featuring the innovative guitarist Mary Halvorson (an explorer of experimental rock as well as free jazz), is more inviting than Laubrock's earlier Sleepthief trio, which also featured Tim Berne drummer Tom Rainey but had a more clinically investigative air. Laubrock's expressiveness takes in austere, somewhat contemporary-classical melodies suggestive of the late Steve Lacy, snorting Evan Parker-like maelstroms (dynamically partnered by Halvorson in metallic-thrash mode) and at times a kind of free-grooving postbop. The pieces are short, varied, and half of them get additional fizz from the dramatic Canadian pianist Kris Davis. Though some of the motif-swapping strategies sound a shade robotic, Anti-House is a vivid indication of Laubrock's growing independence – and Halvorson's Derek Baileyesque scrambling runs, Hendrix distortions, wild on-the-fly detunings and massaged jazz-guitar grooves offer constant diversions.
John Fordham, The Guardian, England, September 10, 2010
INGRID LAUBROCK ANTI-HOUSE resultiert aus dem Wechsel der Saxophonistin von London nach New York. Ihr Quartett mit Mary Halvorson an der Gitarre, John Hébert am Bass und Tom Rainey an den Drums wird bei einigen der Stücke des Debuts (Intakt CD 173) noch durch ihre Stone-Trio-Partnerin Kris Davis am Piano erweitert. Laubrocks Vorstellungen sind stark genug, um den Geist von Sleepthief (ebenfalls mit Rainey, ebenfalls auf Intakt) mit über den Atlantik zu nehmen. So erklingen neben sprunghaft munteren und, vor allem von Halvorsons lehrbuchwidrigen Saitentraktaten, ungeniert angeschrägten Tönen auch wieder solche, die, Laubrock-typisch, nachdenklich das Kinn aufstützen. Meist kollidieren beide Seiten innerhalb der 6, 7 Minuten, in denen sich viele der Stücke entfalten. Daneben gibt es kurze Kollektivimprovisationen als solche oder als geräusch- und seltsamkeitsverliebte Intros zu den Kompositionen. "Funhouse Clockwork" mit Glockenspiel von Rainey macht loses Gepinge und geräuschhafte Kürzel einfach zum Gestaltungsprinzip. Kühl und sparsam Abgeklärtes und problematische Ungradlinigkeit gehen Hand in Hand, vereint in spröder Poesie. Davis streut dazu ganz kristalline Klangpartikel, spitzfingrig flink. Rainey klickert und kleckert perkussiv, quick, allenfalls fragmentarisch, was Rhythmik angeht, aber vieltönig rollt und wuselt er durch verwinkelte Fluren und treppauf-treppab. Bei Anti-House sind die Dimensionen wie von Maurits Cornelis geEschert. Laubrock fand für diese Insichwidersprüche poetische Namen: "Messy Minimum", "Mona Lisa Trampolin". Auf den kurzen Kladderadatsch "Big Bang" folgt der Beinahestillstand "Big Crunch". "Betterboon" wechselt in sich von Sopranomondstich zu ostinaten Stupsern und Gitarrennoten, so krumm wie verbogene Nägel. "Tom Can"t Sleep" beginnt als Glockenspielwiegenlied, das einem allerdings die Augen so sperrangelweit aufreißt, dass man sich gleich wieder ins Nachtleben stürzen und von Halvorson das Fell aufrauen lassen kann. Ihre verzogenen Töne lassen bei "Oh Yes" nochmal die Fetzen fliegen, "Mona Lisa" zwirbelt nach einer langen Denkpause ihren Dali-Schnurrbart zu Glockenspiel, Schrottgerappel, freigeistigem Getröte und Geplinke. Wie könnte man dieses Lächeln nicht erwidern?
Rigobert Dittmann, Bad Alchemy Magazin 67, Deutschland, Herbst 2010

This is Ms. Laubrock's second disc as a leader and both are quite different. Over the past couple of years, Ingrid has worked with all of the musicians on this disc in various groupings like Tom Rainey's 'Pool School' trio with Mary Halvorson and 'Paradoxical Frog' with Kris Davis & Tyshawn Sorey, both on Clean Feed. 'Anti-House' is one of the best and most unpredictable discs I've heard this year. Ingrid has chosen a strong cast of players, each with their own sound and approach. "Slowfish Glowfish" is first and it is balances between a few different themes with Mary's guitar & Ingrid's soprano trying to strangle each other while Tom Rainey's mallets & John Hebert's steady bass hold everything tightly together. Ingrid and Mary are kindred spirits, going from noisy and intense to more subtle jazz sounds in the next phrase. Kris Davis' piano enters when you least expect it adding some surprising twists and shades to the sax and guitar excursions. Often Ingrid writes and plays these twisted melodies which are a perfect foil for Mary's eclectic and unique approach to the guitar. Acoustic bassist John Hebert is another important part of this team and can be found applying his solid playing to a number of difficult situations. Equally important is master-drummer Tom Rainey who adds his own rhythmic perspective, often making whatever group he is in better in different ways. Tom's drumming has a natural flow that shifts dynamics, throwing an invisible web over the top, connecting all of the musicians in ways that are not always obvious. Ingrid and Mary are undeniably still young and influenced by a wealth of styles & genres, but rarely held to down to any one idea for too long. Hence, these pieces dip into rock, folk, jazz, lower-case, noise, freedom and humorous streams. Where they will end up is anybody's guess, that's what makes this so much fun. At nearly 73 minutes in length, I don't think I need to describe any more of the surprises that are in store for the adventurous listener. Decide for yourself. Am I a member of the Ingrid Laubrock fan-club (NY chapter)? You bet I am. -
Bruce Lee Gallanter, Downtown Music Gallery, NYC, September 2010
Ivan Hewett, The Daily Telegraph, Great Britain, October 2, 2010
Her music has grown exponentially in the intervening years, but there are passages on saxophonist Ingrid Laubrock's Anti-House which resonate strongly with her 2004 album, Forensic (F-IRE), the disc which announced her emergence as a soloist and bandleader of propitious substance and originality. The connection is the beat. Until now, Laubrock's post-Forensic albums, notably Sleepthief (Intakt, 2008) and Paradoxical Frog (Clean Feed, 2010), have found her more involved with sonic experimentation on her horns, and in-the-moment micro-interaction with her fellow musicians, than with the loved up, serpentine grooves and ostinatos she engaged in with bassist Larry Bartley and drummer Tom Skinner on Forensic—and perhaps even more memorably when playing the album's book live, with Sebastian Rochford in the drum chair.
The grooves on Anti-House are more splintered, fleeting and occasional, and move towards the abstract more readily, than in 2004, but they provide similarly engaging departure points for Laubrock's off-planet explorations. "Slowfish Glowfish," "Quick Draw," "Anti-House," "Betterboon" and "Tom Can't Sleep" each have both feet off the ground, but even as they spiral higher, they periodically return to riff-like beats and melodic motifs. Laubrock can drive a motor rhythm with fissile enthusiasm, honking and squealing like an old-time, bar-walking tenor player while keeping the direction out and future facing, and it's great to hear her referencing that R&B-informed heat again.
The new band is the most visceral Laubrock has assembled since Forensic. Brooklyn's emergent guitar star Mary Halvorson—whose Saturn Sings (Firehouse Records) was also released in September 2010—is her perfect foil, switching deftly between fluid, crystalline, extended single-note passages and raunchy post-Jimi Hendrix chord work. Less concerned with sonic innovation than Laubrock, Halvorson's mastery of pitch distortion brings an added dimension to the music; listen to her solo on "Quick Draw" and be entranced. Bassist John Hébert, also heard on Saturn Sings, and drummer Tom Rainey, heard on both Sleepthief and Paradoxical Frog, are subtle and understated, or champions of the beat, as the shape of each tune evolves. Pianist Kris Davis, another Paradoxical Frog graduate, guests memorably on the title track.
Shot through Anti-House, of course, is Laubrock's ongoing fascination with fresh saxophone sonorities—no longer the "experiments" they were even as recently as on Sleepthief, but now nailed, on-demand additions to her repertoire. Few saxophonists possess Laubrock's encyclopaedic vocabulary, and even fewer can move around in it with such ease or such eloquence.
Anti-House is Laubrock's most all-round satisfying album to date, a cascade of gritty beauty, some of it quite savage, which harnesses the enduring appeal of Forensic to the discoveries that have followed it.
Chris May, www.allaboutjazz.com, USA, October 1, 2010
Die junge, ursprünglich aus Deutschland stammende, dann jahrelang in England lebende und jetzt in Brooklyn beheimatete Saxofonistin ist auf dem besten Weg, ein Star in diesem Nischenbereich des Musikbusiness zu werden. Sie wird zu Festivals eingeladen, bringt regelmäßig neue Tonträger heraus und wird auch bei fremden Projekten gerne als Gast eingeladen. Die feine Band, die bei 'Anti- House' dabei ist, hilft das Vehikel in die Höhe zu bringen (fantastisch: Tom Rainey mit seinem einfühlsamen und doch die Sache vorantreibenden Spiel!, Mary Halvorson produziert, hörbar an Ribot & Chadbourne geschult, Seiten- und Aufwinde für die Flugfähigkeit, mit ihren bizarren akustischen Einwürfen und John Hébert, das Gefährt ist ja schon flugfähig in der Luft, sorgt dafür, dass es nicht abstürzt, indem er es mit fetten, den Boden verachtenden Grundtönen ausstattet). Laubrock spielt solide und hat die Abgeklärtheit eines alten Profis, der nicht altruistisch angekränkelt ist. Viel Glück!
Ernst Mitter, Freistil 33, Österreich, Oktober/November 2010
Pirmin Bossart, Kulturtipp, Schweiz, Herbst 2010
Ingrid Laubrock's trajectory through the music reflects her choice of home. German-born, when she resided in London she was producing Latin jazz, but that proved to be only a passing phase. By the time of Forensic (F-IRE, 2004), it was clear that she was more intent on carving out an idiosyncratic space of her own. Now, having moved to New York, she's dealing exclusively in more demanding music, as this release exemplifies.
Laubrock's Sleepthief trio produced one of the best albums of 2008, Sleepthief (Intakt Records). By comparison, the music on Anti-House lacks that album's extraordinary cohesion, but does have merits of its own. "Quickdraw" is one, with Laubrock's garrulous tenor sax layered over a kind of skewed funk, with Mary Halvorson's take on guitarist James "Blood" Ulmer's approach showing another facet of her artistry.
It's a shame, however, that the likes of "Messy Minimum" and "Is Life Anything like this" don't get the chance to unfold in the same way. For all of its brief duration, "Messy Minimum" tantalizes in the passing reference it delivers, of how stimulating a trio Laubrock, Halvorson and bassist John Hébert can be, with a cohesiveness that harks back to Sleepthief. Pianist Kris Davis contributes greatly to the realization of "Is Life Anything like this," but brevity, once again, works against it, its promising foreboding over all-too-soon.
"Big Bang" is a collective primal scream—all 55 seconds of it. However, the title of the following "Big Crunch" seems incongruous, given its reflective nature; the music proceeds by stealth, with Laubrock putting just enough breath into some of her notes to make them audible.
By comparison with a lot of Anti-House, "Tom Can't Sleep" is both straight-ahead and playful, with drummer Tom Rainey moving easily between glockenspiel and kit. The fact that it is has these qualities however sums up the set overall. For all of the undoubtedly stimulating music offered —and it's nothing if not the sound of musicians intent on carving out their own identities—the discontinuities have the effect of diluting that laudable effort. Laubrock's now sufficiently inside the music for that not to be an issue, but it can make for frustrating listening.
Nic Jones, www.allaboutjazz.com, USA, October 12, 2010
Martin Schuster, Concerto, Österreich, Oktober/November 2010
Andy Hamilton, The Wire, London, October 2010
Hening Bolte, Jazz, The Netherlands, Herbst 2010
Tom Gsteiger, St. Galler Tagblatt, 6.Oktober 2010
Playlist
Styles That Can't Be Pinned Down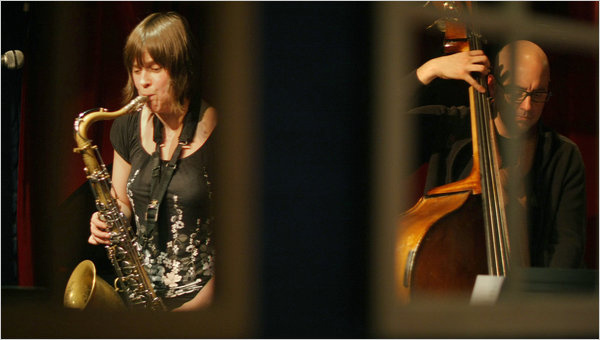 Chang W. Lee/The New York Times

A young German jazz saxophonist who stole into New York a few years ago, Ms. Laubrock has just recently made her presence known. On "Anti-House" (Intakt) she leads a quartet with the anchoring bassist John Hébert, the rough-colorist drummer Tom Rainey and the one-of-a-kind electric guitarist Mary Halvorson, who here plays some of her most caustic and overdriven improvising. (The pianist Kris Davis is in there too on some tracks.) Ms. Laubrock has authority in her sound, on tenor and soprano, but she doesn't use it to reassure or soothe you. This record would be a good blindfold test: With no knowledge of her past, you might guess that she did not learn jazz from black American jazz musicians of an older generation. There is not a lot of what most people call swing in here. But you can't tell how old she is, where she's from, whose records she owns.
Likewise this record is never one thing. Its tunes arise from pools of crazy energy, and its concentrated free patches feel directed by strategy and language, some kinetic, some quiet and spacious. Some tracks are tiny sketches around a minute long; others go up to 9 or 10. It's a brainy, messy, provocative record.
Ben Ratliff, New York Times, October 21, 2010, USA
Mark Keresman, ICON, Chicago, October 2010
Christoph Wagner, WOCHENZEITUNG, Zürich, 14. Oktober 2010
John Sharpe, All About Jazz New York, December 2010
Selwyn Harris, Jazzwise, GB, Dez 10/Jan 11.
German tenor and soprano saxophonist Ingrid Laubrock has, especially through her association with drummer Tom Rainey, become a regular in the New York improvising milieu. As such, her latest group also includes Rainey, guitarist Mary Halvorson, pianist Kris Davis and bassist John Hébert, all of whom are among the leading lights of contemporary music in the city. Of the disc's fourteen cuts, nine are Laubrock's own, which on paper might not be all that surprising but upon hearing them, their openness seems to operate in an area quite removed from "fly shit on paper." Overall, the saxophonist's playing has a fuzzy slink and exhibits a penchant for bunched rhythmic gobs, sly shifts that ensure the compatibility of someone like Halvorson, and Laubrock's group concept also necessitates that she often guides without playing. That said, her dynamic range is pretty staggering, moving from low blat to high-pitched screech, vocalizing though the horn and plying cool, boppish runs, all with a low heat that seems to encapsulate both 'micro' and 'macro' improvisational languages.
The first piece engenders a creeping quality, quickly morphing into pounding, streetwise bite as Halvorson brings out sharp distortion over hacking rhythms in a tug-of-war between density and hushed delicacy, Laubrock directing the group with pinched straight-horn shouts. Interplay between fuzz guitar and piano characterizes the improvisation "Flowery Prison Cell," absent any saxophone and a link to the harmonic razor of the short tenor-guitar-bass trio "Messy Minimum" and the bent, choked string warble that opens "Quick Draw." Guttural huffs, piano and percussion scrape open "Funhouse Glockwork," which tows an interesting line between simple, repetitive events and seemingly isolated actions. The title track is a wonderfully clattering array of parallel tempi that gradually falls into its free-bop place, and offers a fine cutaway view of Laubrock's soprano playing as well as a Davis piano solo that tugs at post-bop seams, the whole unit maintaining a compelling rotation of interplay while never flagging rhythmically. Yet as the group explores sparser regions of color and shape, the heft remains, such as in the Miró-like field of "Big Crunch," grey areas shot through with garish, winking blobs. At just over seventy minutes, my only difficulty with Anti-House is that its length can be trying, even as the music itself is full of ideas and intent. Perhaps that's a more general indictment of our post-LP era or the shortened attention span of this reviewer, but by the time the seasick divergence of "Betterboon" (track 11) rolls around, it feels complete. Still, Ingrid Laubrock has wrangled four New Yorkers into quite a strong team effort.
Clifford Allen, NI KANTU Blog, USA, January 2011
Bill Meyer, Downbeat, Great Britain, February 2011
Twee jaar terug verraste Ingrid Laubrock met de zeer sterke plaat Sleepthief. De van oorsprong Duitse saxofoniste is via een jarenlang verblijf in Engeland in de Verenigde Staten aangeland waar ze in elk geval een vruchtbare samenwerking met de meesterlijke drummer Tom Rainey tot stand heeft gebracht. De twee speelden samen op Sleepthief in Raineys trio Pool School en nu dan in Anti- House waarin ook gitarist Mary Halvorson opduikt, de derde musicus uit Raineys trio. Halvorson is met haar uitgebeende geluid en rafelige spel meteen degene die de sound van Anti-House in belangrijke mate bepaalt. Net als SleepThief bevat Anti-House weergaloze vrije jazz. Fantasierijk, krachtig maar subtiel en met soepele geestdrift uitgevoerd. Helaas geldt dat niet de hele tijd. Er staan ook losse flodders op, spanningsloze experimenten waarin er niets op het spel lijkt te staan. Daarmee ondergraaft de groep eigenhandig de kracht van deze plaat die met een strengere songselectie moeiteloos hoog in de jaarlijstjes had kunnen scoren.
Mischa Andriessen, Jazzmozaïek, 4/2010, Belgium
Zum Abschluss nun endlich etwas Neues: die neue Band der hiesigen Saxofonistin, die 2008 von London nach NY rübermachte, ist, was zeitgenössischen Jazz angeht, definitiv auf der richtigen Seite und der Höhe der Zeit: eine stimmige und selbstverständliche ergo komplett unangestrengte Dialektik aus Improvisation und Komposition, die natürlich bei aller überkomplexen Vertracktheit schön fließt und nicht blödsinnig störrisch hakt, traumwandlerische Sicherheit in den größten Abstraktionen und klare Konzepte in den kleinsten Konkretionen. Nur eine etwaige tatsächliche Abneigung gegen House-Musik könnte hier natürlich empfindliche Abzüge in der Gesamtnote bewirken, wahrscheinlicher aber ist der Bandname als Bekenntnis zur Weisheit des offensiven Nomadentums zu verstehen: feste Prinzipien und Charakterstärken haben, aber die Heimat eher als relativ betrachten. Dass das Geschlechterverhältnis dieser Combo, und es ist endlich mal wieder eine, solide ausgewogen ist, kann erwähnt werden, auch, dass die andere weibliche Hälfte dieses famosen Quartetts Mary Halverson ist, die - bekanntlich selbst bestens zentriert und Bandleaderin - eine klare Klasse für sich bildet (und deren Gitarre ebenso komplex-klar wie auch mal herzhaft-heftig verzerrt auftischen kann), und auch die exorbiante Zeitökonomie der insgesamt 14 (!) Stücke sollte nicht unerwähnt bleiben: nur das Titelstück erreicht knapp 10 Minuten, der Rest weiß sich vorbildlichst einzuteilen, zu be- und entspannen und ohne viel Aufhebens auch wieder loszulassen. Keine wirklich einfache Kost, soviel sei natürlich gewiss, aber in jeder Hinsicht ein Gewinn. Ein besserer, als viele Krisengewinnler uns jetzt schon wieder glauben machen wollen, und ein Hörfest, dass jedes systematische Fiebertrauma ernüchtern und abkühlen kann.
HONKER, MADE MY DAY, TERZ-Magazin, Deutschland, Dezember 2010
Michael Rosenstein, Signal to Noise, USA/Kanada, Winter 2011
Jan Granlie, Jazznytt, Norway, desember 2010 - januar 2011
Konzerbesprechung, Bad Alchemy Nr. 68, Deutschland, Winter 2010/2011
Christoph Wagner, Neue Zeitschrift für Musik, Deutschland, Januar 2011
Ingrid Laubrock's Anti-House, Vortex Jazz Club, London
January 18, 2011
If music could be said to resemble a puzzle, then German saxophonist Ingrid Laubrock's Anti-House might be described as the sonic equivalent of a Sudoku. You know all the numbers fit somewhere and that there is logic behind it, but it just escapes comprehension as to how it operates. Without wanting to stretch the metaphor beyond breaking point, that was the conundrum facing listeners at the Vortex on the first date of the reedwoman's European tour. Each band member had multiple sheets laid out on music stands in front of them, but if you hadn't been watching you might imagine that they were never used, such was the spontaneity of the interpretation. Indeed sometimes the only way to distinguish the writing from the ensuing improvisation was to observe whether the musicians were following the scores—which they were for much of the time.
Ever since Laubrock relocated from London to New York City in 2008, she has become one of the rising stars of the scene, having fallen in with a coterie of like-minded individuals centered around Brooklyn. That's borne out by her appearance on a welter of discs in 2010, including fine performances on the collective Paradoxical Frog (Clean Feed, 2010) with drummer Tyshawn Sorey and pianist Kris Davis, drummer Tom Rainey's leadership debut Pool School (Clean Feed, 2010) along with guitarist Mary Halvorson, and her own sophomore effort on the Swiss Intakt imprint, Anti-House (2010).
Almost all the repertoire this night was from that eponymous album, prolonged in the concert setting but similarly, deliciously obtuse. Appearing alongside the saxophonist in Anti-House, in addition to Rainey behind the traps, were everyone's favorite guitarist Halvorson, now a feted leader in her own right with her Saturn Sings (Firehouse 12, 2010) prominent on many best-of-year lists, along with the guitarist's bassist on that recording, John Hébert.
Laubrock's tenor saxophone distortions were paired with Rainey's brush-stroked drums to open the first set, before being intersected by an angled guitar and bass figure. Then it was back to the initial twosome, with reiterated motifs from the saxophonist and Rainey striking his drum set with his hands as the piece took shape as a duet with interjections. So it went, with brief unison passages or snatches of rhythm or melody interpolated into more abstract, seemingly improvised, colloquy. It would be pointless to describe the myriad twists and turns inherent in each installment. It was cerebral, poised and taut, but also at times calling down all the visceral clout of Sixties fire music.
As with the studio disc, part of the fascination, in addition to the stellar playing, resided in listening to the episodic written structures and detecting when they had been jettisoned. Live, even among the odd emphases and accents, it was obvious that the charts played a large part. Typical of the stark contrasts and juxtapositions, the fourth number alternated lyrical rumination and heavy metal skronk with Rainey smiting his kit with relish, before, as with many of the segments, drawing to a low-key close.
Not only did the whole quartet prove to be astute readers (and they needed to be, as some of the compositions stretched across three taped-together pages), but they were also fantastic improvisors, able to switch between the two states in the blink of an eye, seamlessly moving in and out of intricate fast unisons in varied combinations. Even though solo and duo features emerged, they were used as an integral part of the proceedings rather than as blowing opportunities. Overall the level of musicianship was breathtaking.
It was a pleasure to study Halvorson's work at close quarters. Combining scratchy plucking with effects pedals to conjure whirling comet tails of sound, she evoked thoughts of an unholy alliance between Jimi Hendrix and Joe Pass. Her dexterous runs, bent grace notes and single note tremolos meant that she was always a focus of attention even when the main action was supposedly elsewhere.
Hébert was the least demonstrative of the four, but still on the money, forming the golden thread which tethered the quartet together in the ensembles, whether with elegant pizzicato or velvety arco textures. But he was also adroit in the foreground, enjoying a responsive duo with Halvorson on "Quick Draw," and later taking a swinging solo on "Tom Can't Sleep."
Rainey was a revelation. His prowess is well known, but it was nonetheless an education to witness how he not only rendered odd timbres with exactitude, but how he then assembled them into bursts of off-kilter swing. When needed, he manifested a controlled ferocity, as with his whipcrack interjection on "Quick Draw" heralding the knotty theme. Whether circling explosive patterns around his drum set, sizzling on cymbals or rubbing his wetted fingers across his drum heads for a booming sigh, he combined power and precision in one casually virtuosic package.
Laubrock shone even in this company. Although capable of breathy asides which would have pleased Ben Webster, she displayed a fondness for the sort of distorted tones which might have caused him to look rather more askance. Here she mixed false fingered shrieks with muffled cries and even stranger strategies, as when she removed the neck from her horn and blew directly into the body for a whooshing whistle, only to deftly replace the neck and mouthpiece for the next section. While she can shriek and overblow with the best, it seemed that this was just one more style deployed when required, rather than the default mode.
Special guest pianist Liam Noble joined for the third number, adding another layer to the absorbing complexity, taking the role filled by Canadian pianist Kris Davis on the group's CD. His inventive piano thickened the arrangements and extended the textural range, as when he answered Rainey's silvery tinkling glockenspiel with plucks on the piano strings on "Funhouse Glockwork." Unfortunately, I had to leave for the last train after just one piece from the quintet, but the show was recorded for BBC Radio 3, so there may yet be chance to taste what I missed as well as savor what I heard. And that would be very good, as this was a performance which could bear repeated listening.
John Sharpe, www.allaboutjazz.com, March 14, 2011
Artikel über Ingrid Laubrock, Hans-Jürgen Schaal, Jazzthetik, Deutschland, Mai/Juni 2011
Goncalo Falcão, jazz.tp, Portugal, julho / agosto 2011
Ingrid Laubrock, sassofonista nata in Germania ma con all'attivo importanti esperienze in seno al circuito della musica improvvisata londinese, nel 2008 è approdata a New York e questo eccellente lavoro testimonia i risultati dei suoi nuovi contatti, maturati dopo mesi passati ad ascoltare dal vivo i suoi colleghi nella metropoli americana.
La musica di questo quartetto (talvolta quintetto quando Kris Davis si aggiunge al gruppo) si muove lungo un fiume di improvvisazione da cui emergono, come piccole isole, temini che possono essere vere e proprie pagine scritte o diafani riferimenti a intervalli armonici, come quelli appena suggeriti dal glockenspiel di Rainey nell'estemporaneo "Funhouse Glockwork".
Si ascoltano momenti molto diversi che possono far esplodere sottili ballate atonali in boati psichedelici tutt'altro che immuni alle seduzioni post-punk, trasformare grumose e disarticolate improvvisazioni in funk jazz sbilenchi o comprimere il suono in siparietti rumoristici di un minuto.
L'epicentro del gruppo, guidato dall'aspra voce sassofonistica, sembra essere sempre e comunque la fenomenale chitarrista Mary Halvorson, capace di coniugare la lezione del suo maestro Anthony Braxton con Marc Ribot e con una sorta di gusto folkloreggiante che la rendono riconoscibile in ogni contesto.
Valutazione: 4.5 stelle
Gigi Sabelli, italia.allaboutjazz.com, 05-05-2011, Italy
Portrait of Mary Halvorson, THE NEW YORK CITY JAZZ RECORD, October 2011, USA
Portrait über Ingrid Laubrock, Christoph Wagner, Jazzpodium, November 2011, Deutschland
MUSIC REVIEW | INGRID LAUBROCK
A Saxophone Is Her Only Constant

Some young jazz musicians find their style and move in lock, stock and barrel, making little refinements over the years but basically keeping their place. Ingrid Laubrock, a German saxophonist who started her career in London and has spent the last 15 years playing there, sounds happily unsettled. On tenor and soprano, she's omnivorous and pointed, slouching and precise, humorous and austere.
She doesn't stay very long within standard jazz idioms, or even some of the favored nonidiomatic languages of free improvisation. You can guess a bit at whom she's spent time listening to — Joe Lovano, Steve Lacy, Wayne Shorter, Lee Konitz — but she's not defined by any of them; they pass through her sound and then disappear.
For the last several years Ms. Laubrock has been visiting the United States now and then to study and perform, and on Wednesday night at the Cornelia Street Café in Greenwich Village she led a New York-based quartet — Mary Halvorson on guitar, John Hébert on bass, Tom Rainey on drums — with Kris Davis on piano occasionally as a fifth member. It was her own composed music, but sometimes as free as it could get within parameters.
You didn't walk away thinking, well, that sounded like a certain person, place or time. Ms. Laubrock encouraged its constant sense of renewal.
Mr. Rainey, with whom she's played more than the others, used brushes and mallets and, without a lot of authority, a glockenspiel; he kept the rhythm tossing, imparting a jittery feeling to the wide-interval themes. But that feeling — the sound of experimental jazz in the 1990s — wasn't a crutch; it was a choice. The musicians worked in the service of the compositions, and played differently from song to song.
One piece started up quietly and drumless, with Ms. Laubrock playing gritty, smoky phrases in the tenor saxophone's low register, bossy and playful. One was basically a classical piece with long notes, long rests and an abrupt finish.
And one, "Snooze Pt. 2," the best part of the set, changed character at least three times. Soon after it began, there was a calibrated burst of energy, with Ms. Halvorson shifting her clear tone and pinpoint single-note phrasing into a mash of distorted fuzz chords; then it changed character again, with guitar and saxophone dropping out and a piano-bass-drums trio moving to the front of the sound; then at the end of the piece everyone settled into a single note, Ms. Laubrock and Mr. Hébert playing long tones, guitar and piano hitting the note on and off.
Ms. Laubrock is a measured player: even at the music's moments of real abandon you sensed her thinking carefully through sound and strategy. And that sometimes gave the music a kind of cool, counterintuitive, miniaturized feeling — free jazz as music-box tinkling.
By BEN RATLIFF, New York Times, January 14, 2010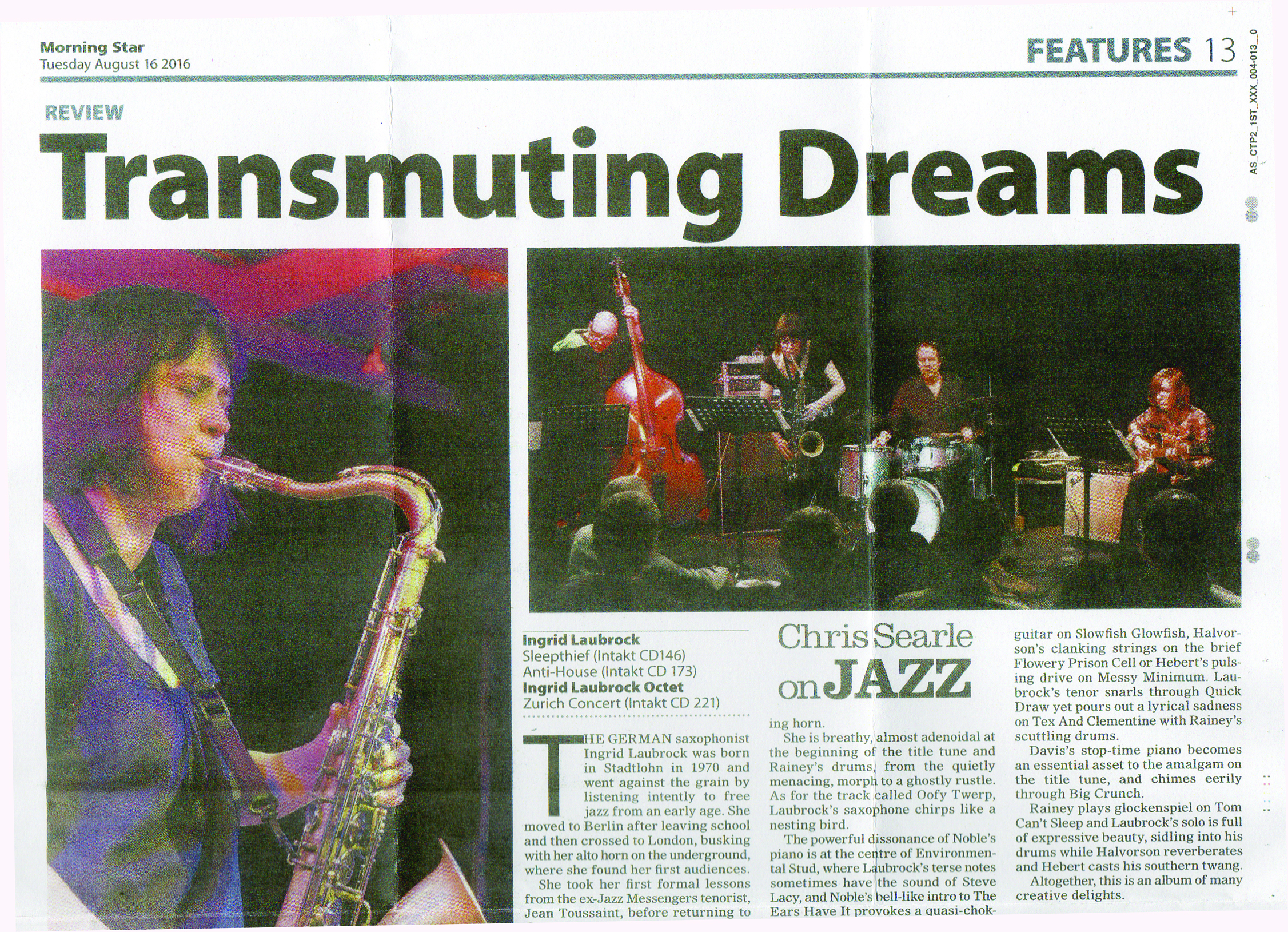 Chris Searle, Morning Star, August 16, 2016