Trompeten & Flügelhörner 4-fach - Kenny Wheeler, Manfred Schoof, Jean-Luc Capozzo, Axel Dörner, Posaunen ebenfalls 4-fach - George Lewis, Paul Rutherford, Jeb Bishop, Hannes Bauer, auch die Reeds im Quartett - Evan Parker, Gerd Dudek, E.-L. Petrowsky, Rudi Mahall, dazu zwei Perkussionisten - Paul Lovens & Paul Lytton, sowie der Leader - Alexander von Schlippenbach - am Klavier. Nennt es Blasmusik, nennt es Free Jazz, nennt es Feuermusik, für mich ist Globe Unity - 40 Years (Intakt CD 133) der einzige Totalitarismus, den ich mir gerne gefallen lasse. Bis heute hat das GLOBE UNITY ORCHESTRA den Gestus des Bahnbrecherischen bewahrt, als Männervortrupp mit grobzivilisatorischem Sinn für Brandrodung und Neuanfang abseits der Herde. Vorerst gibt es nur eine Schmiede ('The Forge'), für Prediger, Schullehrerinnen und Blumensamen scheint wenig Bedarf. Noch dominieren galgenvogelhafte Individualität, geteilte Abenteuerlust, ein charismatischer Primus inter pares. Für altersbedingte Ausfälle der ersten Generation sprangen geistige Söhne ein - Bauer & Capozzo, beide Jahrgang '54, Bishop (*1962), Dörner (*1964), Mahall (*1966). Inzwischen ist auch Rutherford in die ewigen Jagdgründe eingegangen. Das Jubiläumsprogramm wurde auf dem JazzFest Berlin 2006 und im SWR Studio 1 in Baden Baden mitgeschnitten. Dabei stoßen diese 'Kompositionen' jeweils Variationen von organisiertem Chaos und konsonanter Kakophonie an. Typisch sind ein unlöschbarer Funkenflug, der eine ständig wechselnde Zahl von Köpfen entzündet, sowie gänzlich frei gestellte Duette und Soli. Daneben entfacht Willem Breukers 'Out of Burtons Songbooks' große hymnische Pracht, die sich in Einzelgesänge und Zirkusturbulenzen auffächert. Je katzenmusikalischer, desto schaurig-schöner, kitzlich-paradoxer in meinen Ohren. Und wo bleibt das 'Bavarian Calypso'-Fieber in bayrischen Bierzelten, ihr tauben Schellen? Müssen Schlippenbach und Petrowsky euch vormachen, was Piratenschneid ist? Wheelers 'Nodago'-Solo mischt spanische Grandezza mit Tristesse, bevor Rutherford und Lovens ein Kabinettstück liefern. Mit Steve Lacys 'The Dumps' kommt ein zickiger New-Orleans-Swing ins Schlingern mit Mahall als Über-Dolphy und PoPoPo-Faxen von Bauer, Capozzo versucht es französisch-elegant, wird aber kakophon überstimmt, bis Dörner mit groteskem Gefauche die Luft raus lässt. Folgt noch das Synkopengehämmer von 'The Forge', für das Lewis die Glut schürt und Schlippenbach, perkussiv umrappelt, die Tasten heiß klopft, bis Tuttistakkati hinkend den Schlusstakt steppen. Lewis, nur äußerlich der Exot auf diesem europäischen Narrenschiff, liefert zur exzentrischen Position auch die entscheidende Reflexion: Globe Unity heißt eine Wahl zu treffen zwischen Ich oder Überich, Sehnsucht oder Angst, Überschreitung oder Nachahmung.
Rigo Dittman, Bad Alchemy 57, 2007
Beat Blaser, Aargauer Zeitung, 18.12.2007
Klaus Nüchtern, Falter, Wien, 51-52-2007
Frank von Niederhausern. Radiomagazin, Zürich, 1/2008
A mix of studio tracks and excerpts from their 2006 JazzFest Berlin performance, Globe Unity – 40 Years is pointedly retrospective compared to 20th Anniversary (FMP). Whereas the earlier album was a contemporary snapshot of Globe Unity Orchestra's practice of long-form improvisations juxtaposing ensembles and solos, 40 Years is, for a single CD, a remarkably comprehensive survey of Globe Unity's various pursuits since its 1966 inception. Additionally, the album is brilliantly sequenced; subsequently, this is not an anthology to digest or endure, but an album to dig.
By opening the album with Alexander von Schlippenbach's "Globe Unity Forty Years," the pianist piquantly makes the case that past is prologue. In mixing a twelve-tone row with fulminating ensemble embellishments and solos by tenor saxophonist Evan Parker and trombonist George Lewis, Schlippenbach establishes the continuity between the composition that gave the orchestra its name and his current approach to structuring the orchestra's performances. To varying degrees, there is a comparable linkage between past and present in most of the other pieces, the most jarring being Kenny Wheeler's "Nodago," a smoldering ballad rendered in a straightforward manner on the '79 Japo album, Compositions. The grafting of trombonist Paul Rutherford and drummer Paul Lovens' flinty improvised duet onto the end of the piece is starkly transforming, but ultimately compelling.
The orchestra's unraveling of Steve Lacy's precociously swinging "The Dumps" from a tightly coiled big band chart into roiling free improvisation has a similar impact. At first, it seemed like a missed opportunity not to have Parker solo on this piece; Schlippenbach often refers to the saxophonist as Coltrane's best student, and this would have been the perfect opportunity to show that he was also Lacy's. The soprano solo goes instead to Gerd Dudek, whose avoidance of Lacy signatures and reliance on a more flowing approach to line and a sleeker sound proves to be a counter-intuitively winning combination. Bass clarinetist Rudi Mahall, trombonist Johannes Bauer and trumpeters Jean-Luc Capozzo and Axel Dörner progressively take it outside, beyond the gravitational pull of the theme. It is noteworthy that – with the exception of the newly penned "40 Years" – "The Dumps" is the only piece not previously recorded by the orchestra.
The inclusion of two pieces from the so-called Wuppertal period of the early and mid '70s points up the orchestra's zig-zagging odyssey. Willem Brueker's "Out of Burtons Songbook" exemplified the dynamic tension of folk and martial materials colliding with free improvisation. Schlippenbach's "Bavarian Calypso," the A side of their only single, took the diametrically opposite approach to idiom. While Breuker scored ponderous themes and frenetic marches, the pianist simply lets it rip, and trombonist Jeb Bishop and alto saxophonist Ernst-Ludwig Petrowsky run with it, handing in boisterous, exhilarating solos. Still, the Breuker piece features one of the highlights of the set – a Manfred Schoof solo where the trumpeter is prodded from poignant lyricism one moment to searing fire the next by Schlippenbach's surprise-filled comping and the teeming pulses of Lovens and Paul Lytton.
Another piece first issued on Compositions, Schlippenbach's "The Forge" ends the album on a strong, jazzcentric note. The piece begins with a staccato rhythm that lays the foundation for layered cyclic and repeated phrases, the overall effect of which is vaguely Lacy-like. It is also a fine blowing vehicle, as evidenced by a keening Lewis solo and the concluding statement by Schlippenbach, who demonstrates his unique ability to morph a solo's relationship to the thematic material on a second-by-second basis. It is an unexpected ending to this defining program, but one that is fitting in the final analysis. It is Schlippenbach's compositional vision that launched Globe Unity Orchestra; compositions like "The Forge" maintained that thread during a period when the orchestra was less his than at other times, including the present, given the placement of his name on this milestone recording.
Given the auspicious occasion, the accompanying booklet includes texts by not one, but two authoritative writers. Bert Noglik delivers a solid, straight-ahead annotative essay that traces the orchestra's history through the program. Lewis' "Globe Unity and the Little Red Hen" is an engaging, far-ranging commentary, but it does not fully explicate the connection between its two subjects. Lewis rightly cites the folktale heroine as an icon of self-determination; since no one will help her plant the seed, she does it herself. Most probably in the interest of space, Lewis forgoes mentioning that she also cut, threshed and milled the resulting wheat, and then baked the flour into bread – a lengthy laborious process that is a bit reminiscent of LP production. But, Lewis also omits the moral punchline of the story – since she did all of the work, the Little Red Hen solely determined that she alone would eat the bread. It is the control and benefit of the fruits of one's own labor that is the tale's most germane aspect in regards to Globe Unity Orchestra, and the endeavor of experimental music networks and communities in general. Globe Unity – 40 Years is a testament to this struggle and its bounty.
Bill Shoemaker. Point Of No Departure, USA, January 2008
Forever Free
Saxofonist Evan Parker gehört mit Pianist Alexander von Schlippenbach und Drummer Paul Lovens auch zum Nucleus des Globe Unity Orchestra, das nun mit teilverjüngter Mannschaft auf "Globe Unity – 40 Years" (Intakt) vor allem Kompositionen aus den 70ern neu eingespielt hat und damit die musikalische Bandbreite der 15-köpfigen Bigband zwischen Kenny Wheelers Romantizismus ("Nodago"), Steve Lacys mathematischem Swing ("The Dumps") und der launigen Deftigkeit von Schlippenbachs "Bavarian Calypso" eindrucksvoll vor Ohren führt.
Klaus Nüchtern, Falter, Wien 51/52/2007 vom 19.12.2007
Legendarisk fri flyt
Alexander von Slippenbachs Globe Unity Orchestra har runda 40 år med god margin. Vi snakker om en svært livskraftig jubilant.

Da den tyske pianisten, komponisten og orkesterlederen von Slippenbach etablerte GUO i 1966, var det på mange vis starten på ei europeisk grein av frijazzen. Inspirasjonen var henta fra afro-amerikanske stilskapere som Ornette Coleman, Albert Ayler, Cecil Taylor og John Coltrane, men von Slippenbach & Co ville sette sitt eget preg på frijazzuttrykket og de påfølgende tiårene har klart og tydelig vist at det klarte de.
Bortsett fra ei pause fra slutten av 80-tallet og fram til begynnelsen det nye århundret, har Globe Unity Orchestra vært et banebrytende "storband" med et svært annerledes repertoar. På denne jubileumsinnspillinga gjort live i Baden-Baden og Berlin i november 2006, får vi komposisjoner av von Slippenbach, Willem Breuker, Kenny Wheeler og Steve Lacy som alle har vært spilt inn tidligere – helt tilbake til tidlig 70-tall.

Bandet og uttrykket har vært kompromissløst fra første ansats i 1966 og heldigvis har ikke de etter hvert modne herrene slakka av på de kravene. GUO har alltid vært et "politisk" orkester og er det fortsatt – de jobber med noe høyst personlig som de TROR på og har gjennom det åpna mange dører for nye generasjoner – både musikere og publikummere.
2006-utgava bestod av trombonistene Johannes Bauer og Jeb Bishop, trompeteren og flügelhornisten Jean-Luc Capozzo, saksofonisten, klarinettisten og fløytisten Gerd Dudek, trompeteren Axel Dörner, trombonisten George Lewis, trommeslagerne Paul Lovens og Paul Lytton, bassklarinettisten Rudi Mahall, saksofonisten Evan Parker, saksofonisten, klarinettisten og fløytisten E.-L. Petrowsky, trombonisten Paul Rutherford, som gikk bort i august i fjor og trompeteren og flügelhornisten Manfred Schoof, samt sjefen sjøl på piano. 15 mann altså, noe i nærheten av et vanlig storband, men der stopper også likheten.

Noen er veteraner som har vært med helt fra starten, noen er nykommere og to amerikanere – Bishop og Lewis – har også blitt tatt inn i det gode selskap. Fellesnevneren er et alle tilhører kremen av frijazzutøvere, samtlige med personlige stemmer og i dette unike kollektivet utstråler de hver for seg og til sammen et uttrykk ikke noe annet band er i nærheten av.

Ofte kan musikken her høres ganske så anarkistisk ut, men så samles de 15 til en homogen enhet før de igjen legger ut på ekskursjoner til morsomme og spennende steder, bl.a. i von Slippenbachs "Bavarian Calypso". Måtte Globe Unity Orchestra få mange fler inspirerende år.
Tor Hammerø, Side2, Norway, 08.01.08
Alex Dutilh, Jazzman, France, Janvier 2008
Kazue Yokoi, Jazztokyo, Japan, January 2008
40 années, donc, qu'Alexander Von Schlippenbach mène son Globe Unity Orchestra. En novembre 2006, au Jazzfest de Berlin, eut lieu une célébration qui rassembla, aux côtés du pianiste : Evan Parker, Gerd Dudek, Ernst-Ludwig Petrowsky, Rudi Mahall, Kenny Wheeler, Manfred Schoof, Jean-Luc Capozzo, Axel Dörner, George Lewis, Paul Rutherford, Jeb Bishop, Johannes Baueur, Paul Lovens et Paul Lytton.
Une équipe irréprochable, en somme, qui œuvrait à défendre trois compositions de son leader, et trois autres signées Steve Lacy, Willem Breuker et Kenny Wheeler, au son d'envolées et de débordements combinés aux façons intactes des intervenants. Prenant ici les airs d'une drôle de fanfare héroïque (Out of Burtons Songbooks), l'ensemble interprète ailleurs avec précision The Dumps (soprano de Parker contre clarinette basse de Mahall), ou sert un air de fête qui ne tardera pas à dégénérer en affrontements (Bavarian Calypso). Partout, dépeintes avec merveille, les frasques déraisonnables d'adultes contrariés.
Le son du Grisli, Jazz, musiques expérimentales et autres, France, Janvier 2008
felb. Jazzzeit, Wien, Jänner-Februar 2008
Dan Warburton. The WIRE, London, February 2008
Thierry Lepin, Jazzman, Paris, Fébrier 2008
Ulrich Seinmetzger, Leipziger Volkszeitung, 25.1.08
Während die Rolling Stones medial extrem ausgeleuchtet letztes Jahr ihren 45sten feierten, wurde das Globe Unity Orchestra schon 2006 unglaubliche 40 Jahre. Was dieser Vergleich soll? Na, das zeigt sich vielleicht in 10 Jahren. Es könnte spannend sein, dann zu checken, ob Rock 'n Roll oder vielleicht doch der Free Jazz jünger hält - oder ist es einfach nur die Musik? Alex von Schlippenbach, der im Frühjahr seinen grandiosen 70sten feiern wird, ist jedenfalls nach wie vor einer der inspiriertesten und kreativsten freien modernen Pianisten der Jetztzeit - siehe erst letztens seine unglaublichen "12 Tone Tales", und wenn sein Orchester auch nicht so rastlos tourt wie die Rock-Opas, ist sein Output, wenn es sich denn mal trifft - wie hier dokumentiert in Baden-Baden und beim Jazzfest in Berlin - so frisch und atemberaubend wie am ersten Tag. Neben dem Who's Who des avancierten zeitgenössischen Jazz frischen Spieler wie Rudi Mahall, Axel Dörner, Jeb Bishop und der elder statesman George Lewis, von dem auch - neben Bert Noglik - wunderbare Linernotes zu lesen sind, das Spiel gehörig auf. Und da gibt es keine Atempause, denn Geschichte wird gemacht: Schlippenbach selbst, Willem Breuker, Kenny Wheeler und Steve Lacys "The Dumps" - eine Scheibe wie ein guter Satz heißer Ohren. Utopischste Momente des hierarchie-freien und spontan-bewussten Improvisierens - das ist das Prinzip Freiheit!
MADE MY DAY by HONKER, TERZ 02.08

The pianist Alexander von Schlippenbach founded Globe Unity Orchestra in 1966. Its 40th anniversary features 15 former collaborators from the European, British and American free-jazz scenes, including Evan Parker and the English trombonist Paul Rutherford, who died last year. Three lengthy tracks showcase the tropes of collective improvisation that von Schlippenbach helped to define, as the polyphonous ensemble eschews sequences of solos to move forward en masse. Three five-minute pieces are more playful, tuneful and structured. Bavarian Calypso reconciles unrelated styles with comical conviction; Kenny Wheeler's spacious Nodago offers a conventional, sultry respite.
Stewart Lee, The Sunday Times, London, January 27, 2008
Le Globe Unity Orchestra existe officiellement depuis 1973, le premier enregistrement d'Alexander Von Schlippenbach à la tête d'une formation préfigurant cet orchestre date de 1966. De l'équipe réunie cette année-là restent aujourd'hui Manfred Schoof et Gerd Dudek, auxquels on ajoutera Kenny Wheeler, Evan Parker et Paul Lovens qui étaient là en 1973 lors de l'enregistrement du "Live In Wuppertal" (FMP). Anniversaire oblige, on aura une pensée pour les disparus (Peter Kowald par exemple, non remplacé), on constatera que la musique n'a pas pris une ride, sans se demander si c'est un compliment ou un regret, et on fera la fête aux nouveaux venus, notre Jean-Luc Capozzo, mais aussi Rudi Mahall et Axel Dörner. Von Schlippenbach insiste pour que l'on nomme sa musique free-jazz et non musique improvisée, ce qui doit s'entendre au sens où la liberté ici en acte se glisse entre les mailles d'un certain nombre de contraintes acceptées : partitions et repères, thèmes récurrents, signature d'un seul. Pour le reste, une fête très réussie, entre les moments de joyful noise, les détournements emballés et dansants (Bavarian Calypso), l'unisson, l'hymne ou la marche comme résolution possible de la question de l'unité dans la diversité (Out of Burtons Songbook de Willem Breuker), et les moments où l'émotion tendue affleure, comme dans le très beau Nodago de Kenny Wheeler. Ce dernier très en vue dans de nombreux solos, tout comme Evan Parker, George Lewis et l'irréfutable paire de percussionnistes que sont Paul Lovens et Paul Lytton. A l'heure où les grands formats ont une vie précaire mais précieuse, un beau témoignage du plaisir qu'on peut prendre à faire advenir la musique à plusieurs, et une superbe illustration du lien entre les générations.
Philippe Méziat, Disques D'émois, Jazzmagazine, Paris, Fevrier 2008
Luc Bouquet, Improjazz 142, Février 2008
"The cosmic eye at the central point and on the periphery of the sphere can see all the structures from every angle at the same time. From the divine indifference of the sphere emerge the solos with all the impulse of revolt. The lines they trace are the images of life."— Alexander von Schlippenbach, from the liner notes to Globe Unity (Saba, 1966).
In 1966, German pianist/composer Alexander von Schlippenbach convened two of the groups he was working with (the Manfred Schoof Sextett and the Gunter Hampel group) and added a host of rising stars of European free music, some whose pedigrees are now mythical and others who have remained as obscure as their talents were large. Fourteen musicians—two trumpets, five reeds, tuba/trombone, vibes, piano, two basses and two drummers—came together in a momentous squall. Globe Unity, containing the dense title track and a sparser piece (which had the musicians doubling on a variety of flutes and non- western instruments) entitled "Sun," was released on the Saba label under his name. Following a notorious performance at the Berlin Jazztage 1966, it was technically the pianist's first recording as a leader.
The orchestra itself became a working and recording group the following year, its performance at Donaueschingen frightening to the "new music" cognoscenti who also reviled tenor saxophonist Archie Shepp's performance at the same festival. The GUO had a few periods of hiatus in lean economic times during the 1980s and 1990s, but despite change and loss have persevered as an ensemble since their inception. Following a number of recordings for FMP, Po Torch, and Japo (plus archival documents on Atavistic), they found a home on the Swiss Intakt label with Globe Unity 2002 (Intakt, 2002). Globe Unity - 40 Years is their 17th recording; it is also quite possibly the final recording of trombonist Paul Rutherford, a longtime member of the orchestra who passed away in 2007.
The Globe Unity Orchestra of 2008 looks a little different than the earlier line-ups—bassists are absent, for the only two who could hold that chair, Peter Kowald and the criminally underrated Buschi Niebergall, have since died. Though for most of the 1970s (the "Wuppertal Years"), Aachen-born Paul Lovens was the sole percussive engine, he's recently been supplanted by Paul Lytton. The current cast is diverse, with many returning conscripts as well as the young fire of trumpeters Axel Dörner and Jean-Luc Capozzo, trombonist Jeb Bishop and bass clarinetist Rudi Mahall.
Globe Unity - 40 Years counts as something of a retrospective, and quite nearly a "greatest hits" album. There are two tunes from the classic FMP dates, one tune each from saxophonist Steve Lacy and trumpeter Kenny Wheeler, and "The Forge" from their brief Japo sojourn.
The title track is clearly written around the Schlippenbach-Lovens-Evan Parker trio, who after a punchy collective beginning and a momentary rise in density, emerge as the primary voice. Parker's tenor saxophone is a picture of commitment to phrases and scales, hanging onto and extrapolating the folk dances of piano and drums. There's a brief tenor-drums duet before a riff straight out of the original "Globe Unity" emerges in a beeline for the past, as Parker's controlled ululations ride atop the orchestra's pulse. Trombonist George Lewis, who has followed Anthony Braxton's membership as an AACM figure in the orchestra since the 1980s, solos unaccompanied and in a firestorm trio with Lovens and altoist Ernst-Ludwig Petrowsky—frenzied and searing madness that recalls some of the high-octane playing of the FMP heyday. Soon other voices join the party in pointillist stabs, returning to the forms that introduced the piece and, as Schlippenbach's fingers rake the piano strings, invoking the overarching order in the most notoriously "free" big band in contemporary music.
"Out Of Burton's Songbooks" is a theme by an early collaborator, Dutch reedman Willem Breuker, who was part of the original Globe Unity date and throughout the band's first several years contributed to its book. It's a reference to (if not lifted entirely from) pianist Burton Greene, who has made his home in Holland since the late 1960s. Schlippenbach and Greene aren't that different in their approach—both have a huge affinity for pianist/copmposer Thelonious Monk and Eastern European folk music, and yet can bring an uncanny pastoralism to the proceedings. Schlippenbach opens the tune solo in a minor key "tree theme" before a plodding Kurt Weill- like melody appears. Trumpeter Manfred Schoof is poised in his series of trills and bell-clear runs, sallying over wispy percussive accompaniment and in counterpoint with the leader. There's a ham-fisted take on Gypsy music that leads into a collective improvisation, Gerd Dudek's gruff post-bop saxophone keen tearing out from under, only to be swallowed again. Mahall and trombonist Johannes Bauer joust in trio with the pianist; Mahall's painstaking solo architecture is a studied advance on Eric Dolphy, and runs in direct counter to the borderline obnoxious paint-peeling of his predecessor in the group, Luxembourgian Michel Pilz.
"Bavarian Calypso" has the distinction of being included on one of the ultra-rare FMP singles. Though relegated mostly to collective improvisation, the tune is a fantastic (and humorous) take on the South African kwela themes used by contemporaries the Brotherhood Of Breath, as well as German parade music and who knows what else. Here, it's also a vehicle for the blistering tailgate of Jeb Bishop and torrents of multiphonics from Petrowsky. It segues into "Nodago," a beautiful dirge by (and feature for) Kenny Wheeler, who joined the band in 1970. Tacked on is a brief but illuminating series of earmeals by Rutherford and Lovens, the trombonists' buzzing and chortling a perfect transition into Steve Lacy's "The Dumps." Lacy appeared on a few GUO recordings during the 1970s and contributed "Worms" to the album Compositions (Japo, 1979), but "The Dumps" hasn't had orchestral treatment until now. Dudek inhabits the composer's horn amiably, his clear tone carrying the traditional melody into a spirited horns-only fanfare. Mahall digs in over the rhythm section, turning birdsong into sqawks as the tune's character shifts from winsome melody to a contrapuntal conflagration.
Axel Dörner, surely among the trumpet's most willfully experimental voices since Bill Dixon, opens "The Forge" unaccompanied, a panoply of soundmasses, guttural exhortations and vaguely electro-acoustic sounds spilling from his slide-affixed axe. The tune itself builds on the multipart "Payan" theme, nearly martial before becoming a true rhythmic hornet's nest. Schlippenbach and Lovens take the reins in knotty dialogue following Lewis' dissertation on flicked facility, arcing exhortations and subtonal discoveries.
The closing title is apt: part of running an orchestra is hammering out structure from fifteen very individual creative minds. But the longevity of the band is a testament to the true cooperative nature of the effort. Now nearly forty-two years on, the feral intensity of Globe Unity has been replaced with a clear handle on a collective lexicon. Schlippenbach quoted the painter Paul Klee in the first album's liner notes: "You leave behind all that belongs to this side, building yourself a new world on the other side, a world in which everything is wholly 'Yes'." Could there be another answer?
Clifford Allen, All About Jazz, USA February 10, 2008
Christoph Merki, Tages-Anzeiger, Zürich, 13. Februar 2008
Christian Rentsch, Jazz'n'more, Zürich, März 2008
Reiner Kobe, Jazzpodium, März 2008
Few, if any, large scale ensembles of recent memory can claim the antiquated but still apposite designation "All-Star" like this one can. Roscoe Mitchell's recent Transatlantic Art Ensemble comes close and shares slight overlap, but as an assemblage of cross-generational European and American improvisers the latest incarnation of the venerable GUO takes the prize. Essentially an expansion of the 2002 re-launch group (also documented by Intakt), Brötzmann is no longer on board, but the trade-off is more than worth it. The trumpet teaming of Kenny Wheeler, Manfred Schoof and Axel Dörner alone is enough to make savvy improv listeners salivate profusely at the prospect of the sounds ensconced on disc. Brass outnumbers reeds two to one. Jeb Bishop and George Lewis are the American emissaries, an intriguing made practically transcendental by the addition of Paul Rutherford and Johannes Bauer to the ranks. The gatefold photo-op of all fifteen men in performance formation is an awesome sight. But enough fawning over the roster… even the most infallible orchestra can find itself compromised the source material isn't up to snuff.
Fortunately, there's no danger of that as bandleader Schlippenbach hand picks several of the finest numbers from the GUO archives. Dictated primarily by collective free improvisation, the title piece employs Schlippenbach Trio as catalyst and more specifically Evan Parker's indefatigable and unmistakable tenor, which rides the rising and falling troughs generated by the orchestra en mass. These fanfare-shaped waves reach Kentonian magnitudes in the piece's second half, eventually falling off into a largely unaccompanied solo for Lewis and closing on a pedal weighted rumble from the composer. Borrowed from GUO colleague Willem Breuker, "Out of the Burtons Songbooks" is more conventionally structured and relies on wildly shifting dynamics as well as almost comedic application of folk march forms. Grand anthemic gestures punctuate solo passages from several band members, which in turn lead to a bracing exchange between Mahall and Bauer. A circular Parker soprano sortie primes the audience for a tension-thick slow simmer close.
"Bavarian Calypso" and the Wheeler-derived "Nodago" join Schlippenbach's "The Forge" as the shorter forays into variegated song forms. The first brings the cultural collision of its title to practice in humorous fashion and once again Breuker comes to mind as Bishop and Perowsky compete for woolliest, most unhinged improvisation. Wheeler and Rutherford devise diametric solos on the second, trumpet dealing in soaring ballad elegance while trombone doles out a nail-studded retort flanked by the drummers. Lacy's "The Dumps" receives a rousing reading as well. Gerd Dudek leads the ensemble in an exploration of the highly hummable theme before slipping into several interludes of raucous polyphony and rounding off with one of Dörner's raspberries meet broken air duct and tea kettle statements. It's hard not to imagine the composer pleased by the tribute were he around to hear it. Four decades in the can for the GUO, if only we might be privy to four more!
Derek Taylor, www.bagatellen.com, März 2008
Ulrich Steinmetzger, Sonic 2/ 2008
Duncan Heining, Jazzwise, London, March 2008
Bill Meyer, Downbeat, May 2008
La Globe Unity torna a incidere, non succedeva dal 2002, e il risultato ancora una volta è straordinario.
E per festeggiare le quaranta candeline, Schlippenbach e soci hanno fatto le cose in grande. Innanzitutto largo alle nuove leve, con l'innesto di giovani virgulti pescati al di qua e al di là dell'oceano: i trombettisti Jean-Luc Cappozzo e Axel Dörner, il clarinettista Rudi Mahall e il fenomenale trombonista Jeb Bishop, ex Vandermark 5. E poi, a differenza delle ultime testimonianze discografiche, due negli ultimi vent'anni, in cui si era privilegiata un'unica, interminabile, improvvisazione collettiva, si ritorna ad una scaletta articolata, che pesca a piene mani nel repertorio accumulato dal '66, anno di fondazione, a oggi.
Disco celebrativo nelle intenzioni, dunque, anche se di celebrativo, nel senso di geriatrico o museale, in questa musica c'è ben poco. Perchè la formula Globe Unity, e qui sta la grandezza del progetto, è viva più che mai e più che mai attuale. Al di là delle considerazioni sulla lunga storia della formazione, che poi è la storia dell'improvvisazione europea, e sulla fastidiosa, ma inevitabile, conta degli assenti, compreso il recentemente scomparso Paul Rutherford, piace sottolineare come lo spirito che Schlippenbach infuse al progetto quaranta primavere or sono, scommettendo sull'ipotesi di una formazione allargata in cui la libertà del singolo non venisse soffocata, ancora si agita e contorce, contribuendo a mantenere intatta un'identità collettiva che supera di gran lunga la somma algebrica - e che somma algebrica - dei singoli musicisti coinvolti.
Bastano pochi secondi d'ascolto per calarsi nel flusso e cogliere lo spirito Globe Unity. I gorgoglii di George Lewis in coda all'inedito "Globe Unity Forty Years", il duetto Rudi Mahall-Johannes Bauer e il soprano di Evan Parker nella maestosa "Out of Burtons Songbooks", a firma di Willem Breuker, il solo di Jeb Bishop nella cadenzata "Bavarian Calypso", la commovente intro di Kenny Wheeler alla nostalgica "Nodago": sono solo alcuni dei momenti indimenticabili in un programma che non conosce cedimenti, indugi, concessioni all'autocompiacimento e giogionerie.
Globe Unity forty years and forever!
Luca Canini, All About Jazz Italia, Italy, 14. April 2008
Guillaume Bellhommee, Inrock, France, Mai 2008

Globe Unity Orchestra's life-line closely follows that of my own. With forty years behind our belts, we can both say we're older, a little wiser, perhaps a little bit more confused [but that's hitting things on a more personal note]. Alexander von Schlippenbach's creation has survived many changes over the last four decades, yet it's still able to show sharp teeth. His writing has always left me in an ecstatic mood, while his performances have been nothing short of spectacular. There's only one big band that I can think of that can produce the same sort of synergy and that would be Barry Guy's London Jazz Composers' Orchestra [which on occasion shares some of Globe Unity's line-up]. To celebrate four decades of dedicated work, Intakt released a recording from 2006. Simply entitled "Globe Unity - 40 Years", the CD is a mix of live [JazzFest Berlin] and studio recording. Only three of the pieces were penned by Schlippenbach, while the other three are given over to former members of the Orchestra. Willem Breuker's swinging "Out of Burtons Songbooks" gets a powerful rendition. Kenny Wheeler's "Nodago" receives a sparse reading [which highlights Wheeler on trumpet along with Paul Rutherford robust trombone bursts], while Steve Lacy's "The Dumps" gets a quirky take, which features dueling trumpet work of Axel Dorner and Jean-Luc Capozzo. Some of the other highlights include trombonist George Lewis [who penned the liner notes for the disc] who is featured on outstanding, full-squelching work on "The Forge" and Evan Parker, who is highlighted on tenor as he ravages through the disc's title track. Just about every one of the Orchestra's fifteen members gets to do a brief solo or play in a duo scenario. Two Pauls - Lovens and Lytton - on percussion don't break out of their mold and never, not even for a brief section attempt to over-power the sound of the band. Some of the numbers feature the Orchestra blasting furious motifs away at the audience or one another. Whether they're in an all-out mode of jubilation or when the music is toned down a notch to highlight talents of a given player, the Orchestra simply shines. With some of their best work still out of print, we'll gladly take any recording that comes our way. Luckily "Globe Unity - 40 Years" is not just any recording. It's a wealth of creative prowess moving forward to the next decade of great music, improvisation and creative high. Mr. Schlippenbach, all we're asking is for another helping of this fine music of life.
Tom Sekowski, Gaz-Eta, Poland, May 2008
Twenty Minutes - Interview, John Eyles, All About Jazz, 20. May 2008
Juri Giannini, Concerto, Österreich, Februar/März 2008
Marcello Lorrai, In Sound, Italy, May 2008
Alan Waters, Signal to Noise, USA / Canada, Summer 2008
Enzo Pavoni, Jazzmagazine, Italy, July/August 2008
Marek Romanski, Jazzforum, Poland, June 2008
Alan Waters, Signal to Noise, USA/Canada, Fall 2008
Het Globe Unity Orchestra van Alexander von Schlippenbach is zowat de pionier in het genre. Het orkest veroorzaakte in 1966 een enorm schandaal ("Heksenketel!") maar heeft de tand des tijds grandioos doorstaan. In de loop der jaren hebben ze verschillende strategieÎn gehanteerd, gaande van streng gecomponeerd werk tot totale improvisatie. De jubileumopname Globe Unity - 40 Years (****) toont de werkwijze van het orkest in een zestal composities. 'Bavarian Calypso' begint bijvoorbeeld met een aanstekelijk dansdeuntje, maar de groep breekt dat gauw af tot een nauwelijks herkenbaar kluwen. Toch landt het orkest even later nog zachtjes in de schaduw van een melodie. Maar elk nummer werkt helemaal anders en steunt altijd sterk op de ingeving van individuen.
Didier Wijnants, De Morgen, Belgium, 23. September 2008
A month shy of the 40th anniversary of Alexander von Schlippenbach's monumental album Globe Unity (SABA, 1966), the German pianist brought together a modern edition of this freewheeling large ensemble for a concert at the 2006 Berlin Jazzfest as well as time in the studio. The result is an album that celebrates the history of one of Europe's longest-running jazz ensembles (a couple of years older, though with an involuntary 10-year hiatus, than Holland's ICP Orchestra) and demonstrates it is, with new material and members, still a vital part of the European jazz scene.
When Globe Unity was released in 1966, the band was 14 strong, almost exclusively hailing from Germany, based around the Manfred Schoof Quintet and Peter Brötzmann Trio of the time. By 1967-1970, there were a number of personnel changes, which included expansion into England, Poland, France and Sweden and swelling to as many as 19 players. Over the years, the Globe Unity Orchestra (GUO) has expanded and contracted, featuring musicians from all over Europe as well as some notable American participants like Steve Lacy and George Lewis.
What makes GUO particularly fascinating, besides having included a fair percentage of the Western's world's best improvisers, is that its repertoire included both compositions and large-scale free improvisations (see the two albums on JAPO - 1977's Improvisations and 1979's Compositions - for both sides). 40 Years focuses more on the compositional side of GUO. Included on this slightly-more-than-an-hour disc culled from three days in November 2006 is a brand new piece ("Globe Unity 40 Years" by the group's leader); a piece included on Live in Wuppertal 1973 (early constituent Willem Breuker's "Out of Burtons Songbook"); another piece from Wuppertal as well as the A Side of a rare FMP single (Schlippenbach's "Bavarian Calypso"); two pieces from the Compositions album (Kenny Wheeler's "Nodago" and Schlippenbach's "The Forge") and a previously unrecorded piece by Steve Lacy ("The Dumps"), a guest with the group in 1975. Most of the pieces stick close to their original recorded lengths, with the delicious exception being "Out of Burtons Songbook", lengthened by over 12 minutes. That, "Globe Unity 40 Years" and the Lacy piece make up the bulk of this album and contain some wonderful individual features.
An improvising ensemble is only as strong as its component players and they are only as good as their communication and rapport. Since that first album, GUO has, with all the personnel changes, centered on Schlippenbach, saxophonist Gerd Dudek and trumpeter Manfred Schoof, who have been performing together since 1966. Another crucial component to that mix is the British contingent of saxophonist Evan Parker, the late trombonist Paul Rutherford and (honorary Brit) trumpeter Kenny Wheeler, GUO'ers since 1970. The rest of the 15-piece edition on 40 Years represents an encapsulated history of both GUO and Schlippenbach's career: trumpeter Axel Dörner and bass clarinetist Rudi Mahall are part of Schlippenbach's current quintet; drummer Paul Lovens is also part of that group but is more notably the third component of the Schlippenbach trio with Evan Parker, playing steadily since 1972. Trombonists Johannes Bauer and Jeb Bishop and trumpeter Jean-Luc Capozzo are newcomers to the group, representing three countries' improvising traditions, while the final three musicians are occasional players in the GUO's ranks: reedplayer Ernst-Ludwig Petrowsky, trombonist George Lewis and drummer Paul Lytton (who seems to have become the regular foil for Lovens).
It's unheard of for an avant garde ensemble to put a Greatest Hits album and that was most likely not the intent of 40 Years. After the release of Globe Unity 2002 (Intakt), GUO has been getting far more work than would be expected for an international experimental large group (see review of a recent concert in Berlin on page 13). Playing so near to its 40th anniversary, it is not surprising that Schlippenbach, who just turned 70 this past April, would be somewhat nostalgic. But what listeners have here is not a summation of GUO's work; rather it is a warm invitation to explore this seminal group's long history in more detail and to catch them live if you can.
Andrey Henkin, All About Jazz New York, November 2008
Andrey Henkin, All About Jazz USA, November 22, 2008
More than 70 years old, pianist Alexander von Schlippenbach is one more proof of Steve Lacy's adage that "free jazz keeps you young". A professional musician since 1962, Berlin-based Schlippenbach has maintained his level of creativity in various contexts, most prominently in the trans-European Globe Unity Orchestra (GUO) and his trio with saxophonist Evan Parker and drummer Paul Lovens.
Consistency may be another attribute of quality as well as metaphoric youthfulness, since these CDs – one celebrating the GUO's 40th birthday and the other recorded in the year of the Schlippenbach Trio (ST)'s 35th anniversary – confirm that the pianist and his associates are still on top of their game(s).
Taking them one by one, death and disagreements have taken their toll on the GUO's personnel, but the 15-piece aggregation – sans bass player like the ST – holds to the high standards set by its predecessors. Mixing older compositions with newer pieces, such as the pianist-composed title track, solo space is given to every band member, who range from GU veterans such as trumpeter Kenny Wheeler and multi-reedist Gerd Dudek to newbies such as American trombonist Jeb Bishop and French trumpeter/flugelhornist Jean-Luc Capozzo.
Some of tracks are practically bagatelles, with the real meat in the more lengthy explorations. Still there is period charm in the rhythmic punctuation, complete with screaming high-note trumpet lines – likely from Capozzo – that enliven "Bavarian Calypso"'s cacophonous polyphony. Plus "Nodago", a reflective showcase for Wheeler, who composed it, proves that the old Woody Herman-Stan Kenton-style big band backing can be legit. Nonetheless, the late British trombonist Paul Rutherford manages to counter nostalgia here with a burbling multiphonic solo that contrasts contralto and basso tones.
A close cousin to the calypso is Steve Lacy's "The Dumps". Thelonious Monk-like in its interpretation it features oomph-pah-pah brass, slithering reed timbres and high-frequency rolling chording from Schlippenbach. Here Dudek expels a continuously breathed circular soprano saxophone solo with more grit than Parker brings to similar outputs. Bishop's slippery slide positions and tongued pressure layer the backing along with Capozzo's mouse squeaks and behind-the-beat grace notes, which are given further impetus by Lovens' cymbal spanks and rim shots. In contrast, Dörner's concluding knitted capillary tones appear to leech sound as much from metal stress and throat scraping as from what is pushed through the bell.
Another showcase, Wilem Breuker's "Out of Burtons Songbooks", from 1973, makes obvious the GU's early style-spanning. The processional piano introduction could have been lifted from a chamber recital, while Schlippenbach's subsequent exchanges with Dudek outline the sort of interdependent dissonance that seems a lot closer to Joe Henderson's and Herbie Hancock's work for Blue Note, then contemporary European experimentation. In-the-moment interface is thus left to Bishop and bass clarinetist Rudi Mahall's whack-a-mole-like duet, where smears, vibratos and trills in all registers are immediately answered and intensified.
Still the GU's 21st Century identity is made clearest on the pianist's title composition. Fabricating the piece from drum pops, brass plunger tones, slurred reed chirps, zig-zag trumpeting and irregular triplets from the piano, serendipitously its resolution involves members of the ST. Schlippenbach is appropriately staccato and cross-handed in his playing; Lovens wallops cracks, drags and crashes his percussion; while Parker unleashes hummingbird-swift sliding, slurping and triple tonguing. Trombonist George Lewis' side-to-side slurs and doubled tongue flutters extend the line still further.
Gold Is Where You Find It's title tune provides an equivalently definitive description of the 21st Century ST. Coupled with the subsequent "K. SP", it exposes the trio strategy of tick-tock wooden drags and positioned licks plus cymbal pops from Lovens; echoing strummed piano chords plus bowed, twanged and stopped prepared piano strings from Schlippenbach; and squeezed irregular note clusters and unstated squeaks and breaths form Parker.
Like the GU, the trio improvisations obliquely refer to antecedents as well as the future. For instance, there's a section on "Three in One", when Schlippenbach's key-clipping is so obviously Monk-like – the American pianist is an admitted influence – that Parker's continuously uncoiling chirps and split-tone asides start to resemble the tenor saxophone styling of Johnny Griffin. Meanwhile the pianist circles through a variety of chord and cluster coloration as cascading high-energy feints and fills share space with wriggling note clusters and off-handed patterns.
"Cloudburst" – not the Lambert-Hendricks & Ross vocal showcase – in instead a moody nocturne where circumspect tenor saxophone timbres meet rebounds, pops and temperate cymbal lacerations, with the tune accelerating in andante increments, until it climaxes in kinetic cadenzas from Schlippenbach as well as tough saxophone cadences from Parker.
Finally there's "Z.D.W.A.", the impressive group improvisation that begins this recital. Balanced on Lovens' distinctive locution of rolls and rebounds plus irregular cymbal shattering, the pianist expresses himself in different styles and tempos. Moving from dreamy romanticism to rolling stride in his solos, bass pedal pressure and chord clusters gradually give way to playful double-timing. Similarly Parker's tongue-slapping and tone-scraping attain his characteristic line-and-pattern extensions before downshifting with the others to cumulative silence.
Extrapolating Parker's composition title "Three in One", the Schlippenbach Trio has maintained its power over many years by sympathetically amalgamating each other's skills. What's more, even with a constantly shifting cast, the Globe Unity has performed a similar task. Perhaps then it's this organizational flair, along with his choice of compositions, and situations that welcome new ideas, which accounts for the pianist's musical youthfulness.
Ken Waxman, Jazz Word, November 2008
Tobias Richtsteig, Jazzpodium, Dezember 2008
It has been a pleasure to see the venerable GUO back in action, and this is an even more convincing effort than that from 2002, on the same label. The title piece is nothing short of a happening, as are all Globe Unity events. How can it be otherwise with what amounts to a dream cast of improvisers from two continents? Globe Unity Forty Years is positively epic, building in its first wave to a stunning solo by George Lewis; to have him and the late lamented Paul Rutherford in the same ensemble provides an embarrassment of riches, both on paper and in the realities of these 2006 performances.
Jeb Bishop makes a fine showing on the cataclysmically whimsical "Bavarian Calypso," an uproarious testament to the obvious
joy felt by all on this auspicious occasion.
It's not all depraved abandon though, as the gorgeous Kenny Wheeler-penned "Nodago" makes plain. He's playing with such beauty, each note almost sobbing its way out of existence. On that track's second half, we find Rutherford in transcendent form in one of his last recorded performances, maybe not quite as fiery as in previous circumstances but exhibiting extraordinary control and invention. This is a wonderfully varied program, Steve Lacy's "The Dumps" and Willem Breuker's "Out of Burton's Songbook" adding another layer of wise humor. Schlippenbach's playing is technically masterful and endlessly inventive, as usual.
GUO has recorded most of these pieces during its forty year existence, so Forty Years is a fine retrospective as well as showcasing
a newly refreshed ensemble under the direction of one of this music's most revered practitioners.
Marc Medwin, Cadence-Magazin, USA, Jan-Feb-Mar 2009
Chris Searle, Morning Star, Great Britain, November 22 2011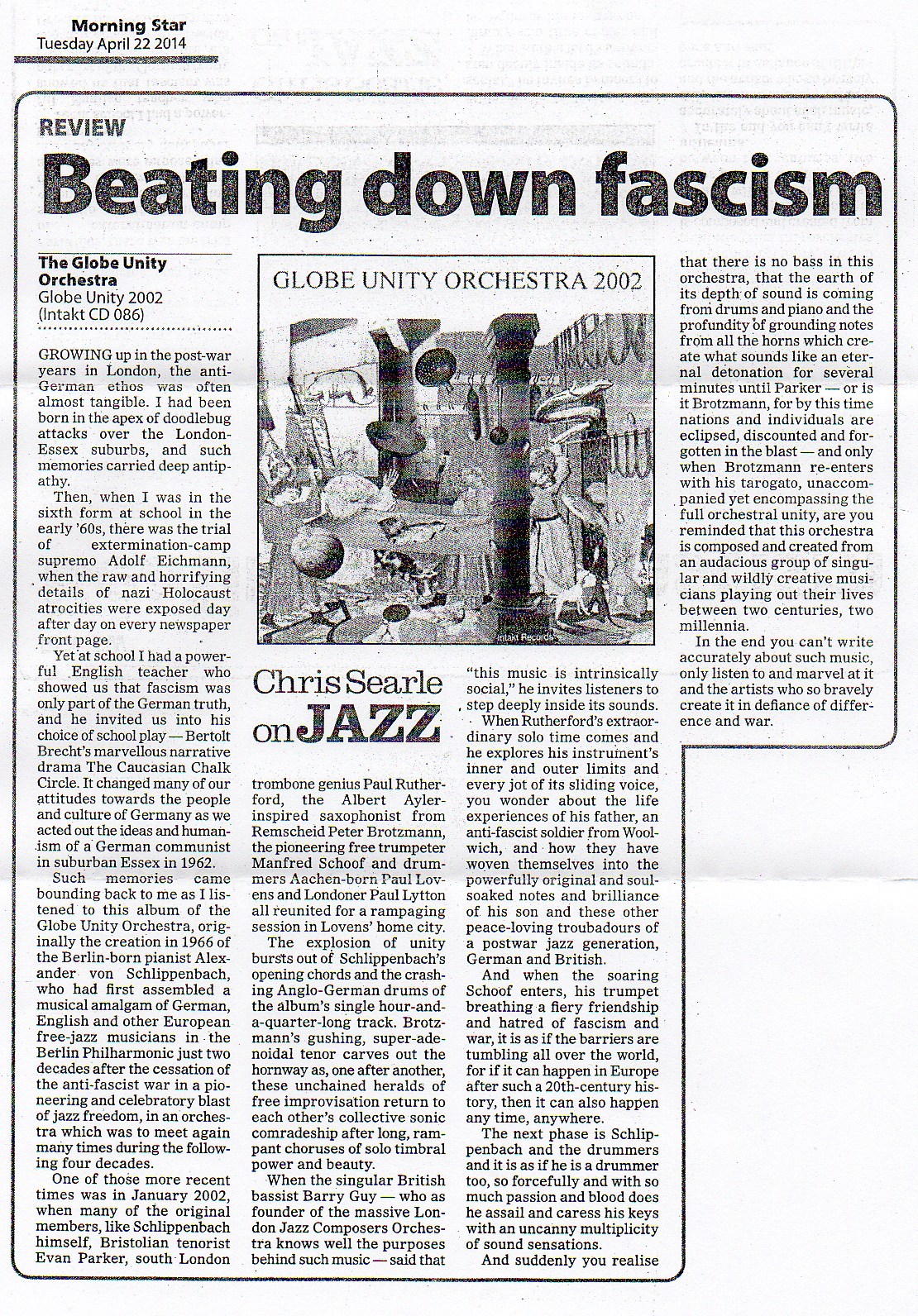 Chris Searle, Morning Star, Great Britain, April 22, 2014