BARRY GUY
LONDON JAZZ COMPOSERS ORCHESTRA
with IRÈNE SCHWEIZER

Wednesday, Mai, 21, 2008, Jazzfestival Schaffhausen, Switzerland, Stadttheater Schafhausen, 20.15
Invitation for Apéro: 19.30

Barry Guy , bass director
Irène Schweizer, piano
Evan Parker reeds
Mats Gustafsson reeds
Trevor Watts reeds
Simon Picard reeds
Pete McPhail reeds
Conny Bauer tmb
Johannes Bauer tmb
Alan Tomlinson tmb
Henry Lowther tpt
Herb Robertson tpt
Rich Laughlin tpt
Per Åke Holmlander, tuba
Phil Wachsmann violin
Howard Riley, piano
Barre Phillips , bass
Paul Lytton, percussion
Lucas Niggli , percussion
Programm
- Irène Schweizer Piano Solo
- Barry Guy London Jazz Composers Orchestra with Irène Schweizer. World premiere of the piece: «Radio Rondo».
- Barry Guy London Jazz Composers Orchestra. «Harmos»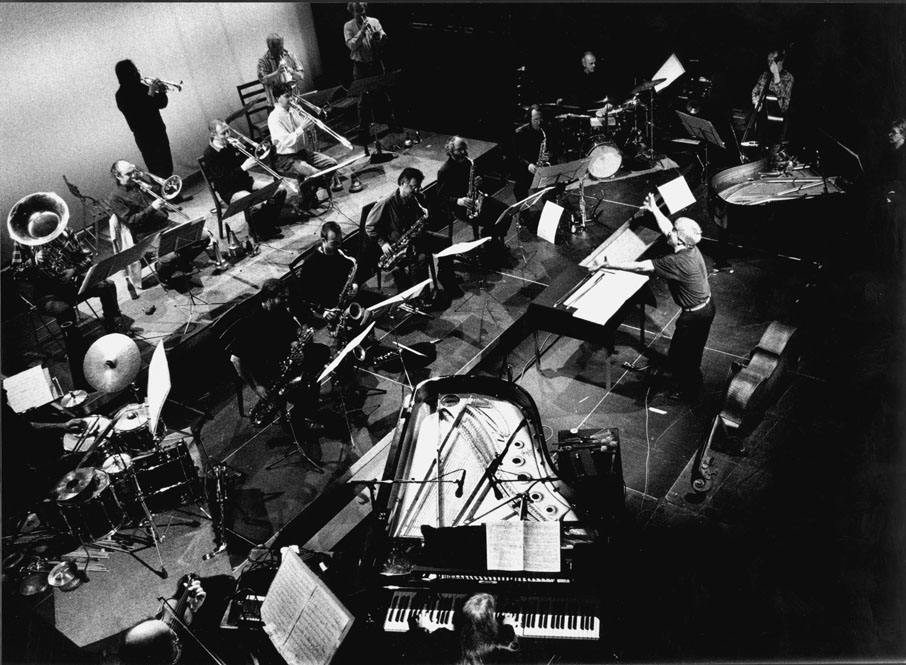 About RADIO RONDO
The London Jazz Composers Orchestra was formed by Barry Guy in 1970 and played concerts up until 1998 (Berlin Jazz Festival) after which it took a rest in favour of a smaller formation : Barry Guy New Orchestra. The Swiss Label Intakt has documented much of the output of the LJCO.
Ten years on from the Berlin Jazz Festival, the Schaffhausen Jazz Festival will present the orchestra on May, 21, 2008 with many of the original players and new guests playing the well known composition HARMOS and a new composition, entitled RADIO RONDO written for Irène Schweizer and the LJCO.
The concept of the new piece is, to create a 25 minutes work that will be flexible, pitching the solo piano against changing small ensembles that emerge out of the big orchestral voice. RADIO RONDO refers to a re-awakening of the orchestra (ten years quiet), as if tuning into radio frequencies that have over the years circulated the planet with the musician's improvisations.
(dt)
England ist nicht nur das Herkunftsland der Popmusik. England verfügt auch über eine der innovativsten Jazzszenen der Welt. Irène Schweizer arbeitet schon seit den siebziger Jahren regelmässig mit britischen MusikerInnen zusammen. Die wohl spektakulärste Kooperation der Schaffhauser Pianistin mit den britischen Jazz-Grössen findet im London Jazz Composers Orchestra statt. Zum fünfzigsten Geburtstag der Pianistin schrieb Barry Guy, der Leiter des London Jazz Composers Orchestra, ein Klavierkonzert für Irène Schweizer. «Eine Musik mit Enthusiasmus, mit Leidenschaft und Intelligenz», schrieb Christian Rentsch im «Tages-Anzeiger» und bezeichnet die Begegnung von Irène Schweizer mit dem London Jazz Composers Orchestra «als Glücksfall».
Fürs Schaffhauser Jazzfestival 2008 komponiert Barry Guy ein neues Werk für Irène Schweizer. Die Komposition mit dem Titel «Radio Rondo» gibt der Pianistin Raum, als Solistin inmitten der britischen All-Star-Besetzung zu brillieren. Als weiteres Orchesterwerk präsentiert Barry Guy die Komposition «Harmos», eines der schönsten und aufregendsten Orchesterstücke des modernen Bigband-Jazz. Den Festival-Abend eröffnet Irène Schweizer mit einem Solo-Rezital. Der Auftritt des London Jazz Composers Orchestra zusammen mit Irène Schweizer am Schaffhauser Jazzfestival ist der erste Auftritt des Orchesters nach einer zehnjährigen Kunst-Pause.
Barry Guy and the London Jazz Composers on Intakt Records
Irène Schweizer on Intakt Records