JIM BLACK TRIO


RECKON

Intakt CD 334 / 2019

Elias Stemeseder: Piano
Thomas Morgan: Bass
Jim Black: Drums


1. Astrono Said So 5:42
2. Tripped Overhue 5:22
3. Tighter Whined 2:10
4. Spooty and Snofer 5:19
5. Very Query 4:26
6. Focus on Tomorrow 2:39
7. Next Razor World 3:43
8. Neural Holiday 3:36
9. Dancy Clear Ends 5:03
10. What You Are Made From 2:57
11. This One and This Too 6:13

Total time 47:16
All music by Jim Black Trio. Recorded January 15 & 16 2019, by Michael Brändli at Hardstudios Winterthur,
Switzerland. Mixed and mastered by Michael Brändli at Hardstudios Winterthur, Switzerland.
Cover Art and graphic design: Jonas Schoder. Photo: Michelle Ettlin. Liner notes: Kevin Whitehead.

Preview and digital order on Bandcamp

Please click here to order CD*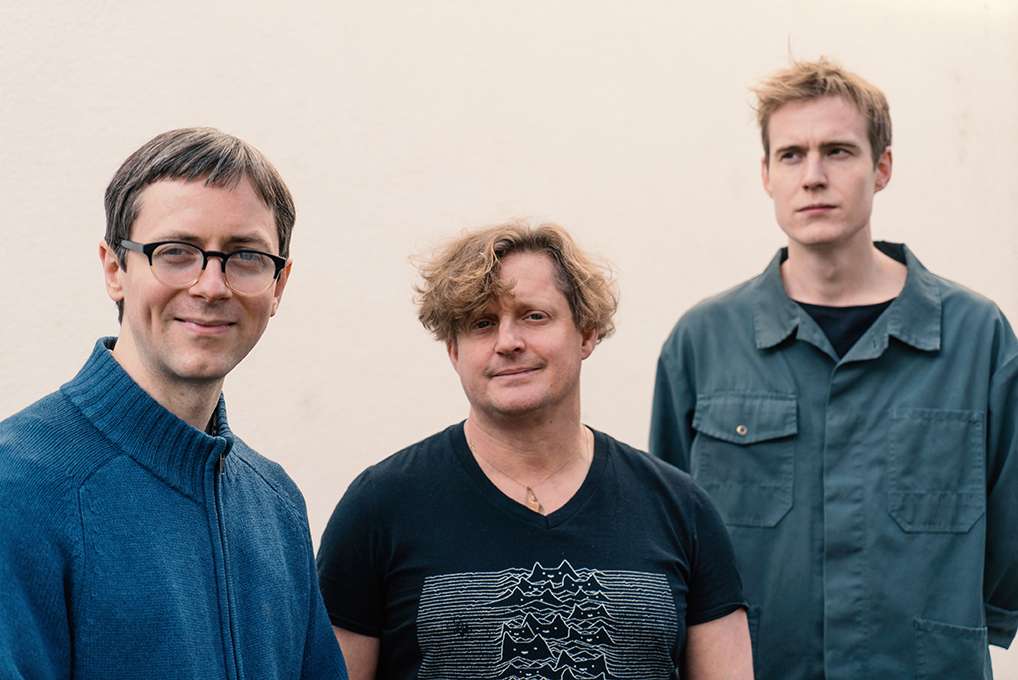 The Chicoago Reader describes the Jim Black Trio with Thomas Morgan (Bass) and Elias Stemeseder (Piano) "one of the best bands in Jim Black's busy career". In the HardStudios Winterthur the trio recorded this new album over two days. It is their fourth CD as a trio and their second release on Intakt Records.
Drummer Jim Black has one of the most immediately recognizable styles in Jazz -– his wonderful unhinged playing bears the mark of the rock backbeat, but he adds a clanking disruptive quality that forces his collaborators to sharpen their reflexes.
"They find their own space", writes Kevin Whitehead in the liner notes.
"Stemeseder is an original. It's not that he never backstops a right-hand melody with left-hand chords – he just does it less than most jazz pianists. He can feather the pedals or get stabby-percussive, but never over-plays. The space he leaves around the piano's sound is an invitation: he creates room. Like Stemeseder, Thomas Morgan has the confidence to do nothing where another accompanist might fill all the holes.
His bass tone is ringing and clear, his attack has propulsive bite, and his lines sing. He provides a through-line when the other guys fracture."

******
Jim Black Trio on Intakt Records:

Intakt CD 334 / 2019

Intakt CD 268 / 2015
JIM BLACK TRIO
JIM BLACK TRIO
RECKON
THE CONSTANT
Jim Black: Drums, Composition
Elias Stemeseder: Piano
Thomas Morgan: Bass
Jim Black: Drums, Composition
Elias Stemeseder: Piano
Thomas Morgan: Bass
Jim Black on Intakt Records:
Intakt CD 322 / 2018
Intakt CD 283 / 2017
HUMAN FEEL
JIM BLACK
GOLD
MALA MUTE
Jim Black: Drums
Kurt Rosenwinkel: Guitar
Andrew D'Angelo: Saxophone
Chris Speed: Saxophone
Óskar Guðjónsson: Tenor Sax
Elias Stemeseder: Keyboards
Chris Tordini: Electric Bass
Jim Black: Drums and Sampler
Thomas Morgan on Intakt Records:
Intakt CD 192 / 2011
Intakt CD 168 / 2017
SYLVIE COURVOISIER - MARK FELDMAN QUARTET
SYLVIE COURVOISIER - MARK FELDMAN QUARTET
HÔTEL DU NORD
TO FLY TO STEAL
Sylvie Courvoisier: Piano
Mark Feldman: Violin
Thomas Morgan: Bass
Gerry Hemingway: Drums
Sylvie Courvoisier: Piano
Mark Feldman: Violin
Thomas Morgan: Bass
Gerry Hemingway: Drums
*MAILORDER CD PRICE:
Schweiz: 30 SFr. plus 3 SFr. Porto/Versand
Deutschland/Österreich: 18 Euro plus 3 Euro Porto/Versand
International: VISA / MASTER: 30 SFr. plus 4.50 SFr. Postage