(eg)

Hans Hassler, born 1945 in Graubünden, East Switzerland, is the true Swiss king of accordion. Hassler inspires the listener with his playful virtuosity, a good sense of humour and a musical imagination without borders.

For Hans Hassler, performing on a variety of stages, to return to the studio as a soloist means adding something significant to anything which has already been played. It doesn't necessarily have to be new or different; it has to be substantial. Hans Hassler has retained something of the originality of his playing. He combines this elemental, physical and spontaneously deployed music-making power with a finely tuned sense for artistic form. Appropriately enough for this two-handed instrument, this often involves a dialogue across the spectrum between heavenly descant and droning lowlands. There are ethereal lone notes and powerful clusters of tones, and altogether a great deal of dynamics, scurrility, humour, drama and thoughtfulness. That, if we wish to name it, is Hassler music.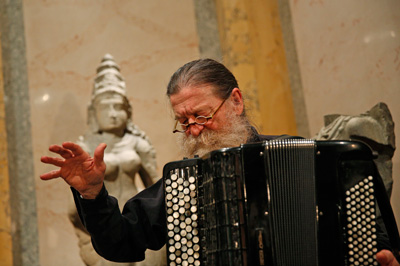 Photo: Francesca Pfeffer

(dt)

Hans Hassler ist der Schweizer König auf dem Akkordeon. Er brilliert mit seinem Gang durch die verschiedensten Szenen: Volksmusik, Jazz, Filmmusik, freie Improvisation und klassische Interpretationen. 2008 setzte er mit seinem Debüt-Solo­album «Sehr Schnee, sehr Wald, sehr» einen deutlichen Akzent in die Kunst des Akkordionspiels.
Erneut als Solist ins Studio zu gehen, bedeutete für den auf vielen Bühnen aktiven Hans Hassler, dem bereits Gespielten Wesentliches hinzuzufügen. Nicht zwingend neu oder anders müsste es sein, sondern substantiell. Hans Hasslers verbindet die elementare, auch physisch und spontan vermittelte Kraft des Musizierens mit dem Feinsinn kunstvollen Gestaltens. Dem Wesen des beidhändig gespielten Instrumentes entsprechend, geht es dabei im Spektrum zwischen himmlischem Diskant und brummenden Tieflagen oft dialogisch zu. Es gibt ätherische Einzeltöne und mächtige Tonballungen, insgesamt viel Dynamik, Skurrilität und Humor, Dramatik und Nachdenklichkeit. Das ist, wenn man es denn schon benennen will, Hassler-Musik.