ANGELIKA NIESCIER – FLORIAN WEBER
NYC FIVE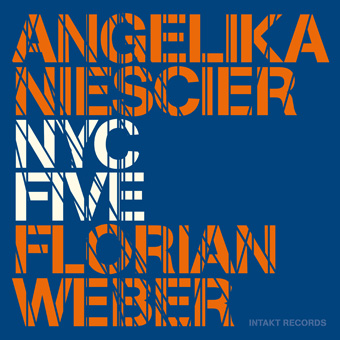 Angelika Niescier: Saxophone
Ralph Alessi: Trumpet
Florian Weber: Piano
Christopher Tordini: Bass
Tyshawn Sorey: Drums



Soundsamples of this CD / diese CD probehören
(Player opens in new window / Player öffnet sich in neuem Fenster)

1 The Barn Thing (Niescier) 8:24
2 And Over (Weber) 10:18
3 Invaded (Weber) 6:37
4 The Liquid Stone (Niescier) 7:28
5 Parsifal (Niescier) 6:18
6 Für Krefeld (Weber) 8:06

Recorded January 6, 2014, at Systems Two, Brooklyn NY by Mike Marciano. Mixed May 15, 19, 24, 2015, and September 26, 29, 2015, at tonart-studio by Christian Heck. Mastered by Michael Fossenkemper at TurtleTone Studio, NYC.
Cover art and design: Jonas Schoder. Photo: Scott Friedlander. Liner notes: LaurenceDonohue-Greene.
Produced by Angelika Niescier and Intakt Records, Patrik Landolt. Published by Intakt Records.
Intakt CD 263 / 2016
With their new album, alto player and bandleader Angelica Niescier and pianist and composer Florian Weber both from Cologne, Germany place themselves at the centre of the New York jazz scene.
Their quintet NYC FIVE is completed by three  jazz musicians in great demand in the "Big Apple": trumpeter Ralph Alessi, bassplayer Christopher Tordini and drummer Tyshawn Sorey. The quintet plays highly contemporary jazz with original tunes, distinctive arrangments, complex rhythms and expressive improvisations.
Laurence Donohue-Greene, editor at «The New York City Jazz Record» writes: "With this new dynamic quintet – Angelika, Florian, Ralph, Chris and Tyshawn present a unique aura of timelessness, as much influenced from decades past as about the present and future state of jazz, from New York and beyond." And: "Angelika's distinctive tone shoots right through to the listener's core."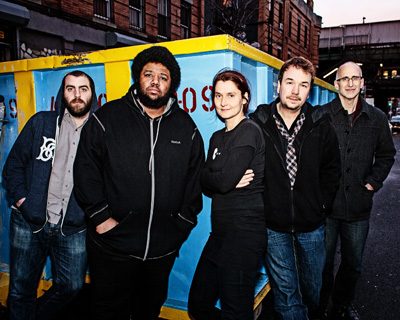 Photo: Scott Friedlander

Angelica Niescier, die in Köln lebende Altsaxofonistin und Bandleaderin sowie der Pianist und Komponist Florian Weber bewegen sich mit dieser Aufnahme mitten in die aktuelle New Yorker Jazzszene.
NYC FIVE, das deutsch-amerikanische Quintett bestehend aus Nescier, ihrem langjährigen musikalischen Begleiter Florian Weber, sowie drei der angesagteste New Yorker Musikern, dem Trompeter Ralph Alessi, dem Bassisten Christopher Tordini und dem Schlagzeuger Tyshawn Sorey, reflektiert die Kreativität des Jazzschaffens der New Yorker Metropole. Das Quintett spielt einen höchst akuellen Jazz, der in seiner einzigartigen Verschachtelung eigenwilliger Themen, origineller Arrangements, vertrackter Ryhtmen und ausstruckstarker Solos fesselt und überrascht.
Laurence Donohue-Greene, Redakteur bei «The New York City Jazz Record», schreibt: "Mit diesem neuen dynamischen Quintett präsentieren Angelika, Florian, Ralph, Chris und Tyshawn eine einzigartige Aura, beeinflusst vom gegenwärtigen und zukünftigen Stand des Jazz von New York und darüber hinaus." Und: "Angelikas unverwechselbarer Ton zielt direkt ins Herz des Hörers/der Hörerin".
Angelika Niescier NYC FIVE Trailer from Angelika Niescier on Vimeo.
Making of the CD "NYC FIVE"
Angelika Niescier- sax, Ralph Alessi- trpt, Florian Weber- piano, Chris Tordini- bass, Tyshawn Sorey- drums,
CD available www.intaktrec.ch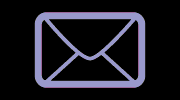 Please click here to order
MAILORDER-PRICE:
Schweiz: 30 SFr. plus 3 SFr. Porto
Deutschland/Österreich: 18 Euro plus 3 Euro Porto/Versand
International: VISA / MASTER: 30 SFr. plus 4 SFr. Postage
Order adress: Intakt Records, Postfach 468, 8024 Zürich, Fax: 0041-1-383 82 33
intakt@intaktrec.ch
Ralph Alessi on Intakt Records