A magic duo: Chico Freeman, 65, saxophonist, clarinettist, flute player, composer from Chicago, an eminent improvisor and Heiri Känzig, 58, born in New York, the Swiss double bass virtuoso. A transatlantic dialogue between one of America's most versatile saxophonists and one of Europe's most 'all-round' bass players.

Freeman and Känzig share that passion for the centre of gravity of the Jazz tradition, albeit with one precondition: that of transformation. And, with all their abilities for strong, heavy grooves, there is that preference for me-lody. "If you groove like hell and there's no melody, it makes no sense." (Känzig).

Peter Rüedi writes in the liner notes to The Arrival: "We could also read 'The Arrival' as something of an arrival at the centre of Jazz: Jazz, in the present tense. Or as it were: tradition in transition.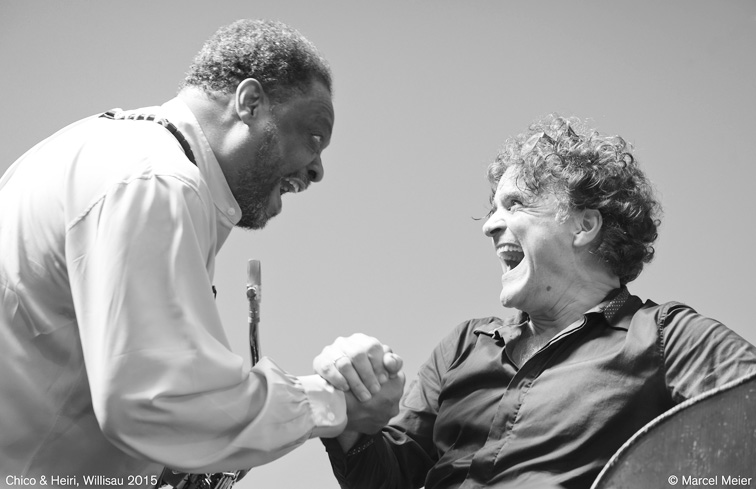 Chico Freeman, Heiri Känzig, 2015. Photo: Marcel Meier
Chico Freeman, 65, Saxophonist, Klarinettist, Flötist, Komponist aus Chicago, ein eminenter Improvisator und Heiri Känzig, 58, der in New York geborene Schweizer Kontrabass-Virtuose: ein magisches Duo.

Mit Chico Freeman teilt Heiri Känzig die Leidenschaft für das Gravitationzentum der Jazztradition, wenn auch unter Voraussetzung von deren Veränderbarkeit. Und, bei aller Fähigkeit zu starken Grooves, die Vorliebe für das Melodische. "If you groove like hell and there's no melody, it makes no sense".

Peter Rüedi schreibt in den Linernotes: «'The Arrival', so heisst die erste CD dieses Duos, können wir als eine Ankunft in einem intimen Innenraum verstehen, aber auch als eine Ankunft im Zentrum des Jazz: Jazz im Präsens. Mit einem Titel von Freeman zu sprechen: Tradition in Transition. In ihrem transatlantischen Dialog setzen sich Freeman und Känzig hauptsächlich über je eigene Kompositionen und über gemeinsame Findungen auseinander. Nach langen Karrieren sind die beiden an einem Punkt, an dem sie niemandem mehr etwas beweisen müssen. Ihr joint venture hat etwas von einer schönen Freiheit und Freiwilligkeit. Sie belebt diese Musik jenseits aller Moden und Trends in jedem Moment. Viel Raum, viel Atem. Für die beiden Partner ebenso wie für den Zuhörer.»