Günter Baby Sommer auf der Höhe seiner künstlerischen Laufbahn. Nach den «Songs for Kommeno» (Intakt CD 190) präsentiert der Architekt des europäischen Jazzschlagzeugspiels sein Solowerk. Die neun Stücke der CD erzählen Geschichten, erzeugen Spannung und lassen die Hörer faszinert eintauchen in die wundersame Welt der Rhythmen. – Röhrenglocken, Hang, Gongs, Xylophon, diverse Klangerzeuger und seine Stimme erweitern das sorgfältig zusammengefügtes Drumset aus Slingerland, Premier, Beverley, Yamaha, Dresdner Appartebau, den Tom Toms von Thomas Wolf zu einem noch nie gehörten Klangorchester.

Der Dresdner Jazzinnovator, der das Schlagzeugspiel zusammen mit der Pioniergeneration des Jazz entgrenzt und einen eigenen Sound entwickelt hat, widmet diese CD den grossen Jazzschlagzeugern. Die Hommagen an Baby Dodds, Philly Joes Jones, Art Blakey, Ed Blackwell, Max Roach, Pierre Favre, Han Bennink und Paul Lovens sind Liebeserklärungen. Es erklingt die grosse Welt des Jazz: Swing, Bebop, Drive, Puls ­ ­– ein atemberaubender Hörgenuss und eine spannende Einführung in die Kunst des Jazzschlagzeugs.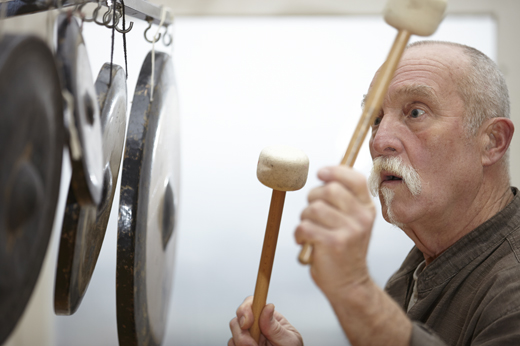 Photos: Tobias Sommer
Günter 'Baby' Sommer is at the height of his musical career. After 'Song for Kommeno' (Intakt CD 190)
Sommer, one of the architects of European jazz drumming, now presents his Solo masterpiece.
The nine songs on the album tell stories and draw the listener into this exhilarating wonderworld of rhythms.
Tubular bells, hang, gongs, xylophone and an array of unusual percussion instruments plus his voice, transform his carefully chosen drum set into a percussive orchestra of rare intensity.

Günter 'Baby' Sommer, who lives in Dresden, East Germany, has dedicated this album to the great drummers of jazz: from Baby Dodds, from whom Sommer got his nickname, to Philly Joe Jones, Ed Blackwell, Max Roach, Pierre Favre, Han Bennink and Paul Lovens. From the first beat of the album you enter the world of swing, bebop, drive and pulse. This is a breathtaking adventure in sound and an exciting guide through the art of jazz drumming.