MICHAEL JAEGER KEROUAC
DANCE AROUND IN YOUR BONES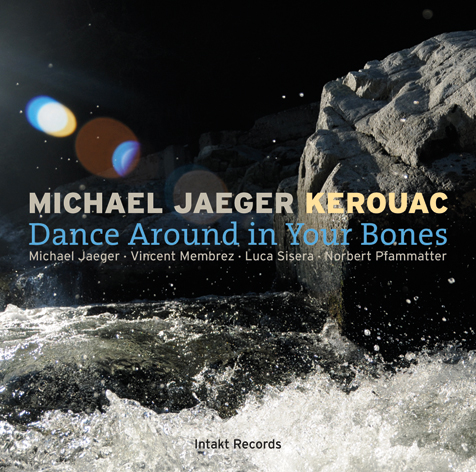 Michael Jaeger: Tenor Saxophone, Clarinet
Vincent Membrez: Piano
Luca Sisera: Bass
Norbert Pfammatter: Drums


?Recorded February 19, 2013, at Studio la Buissonne, Pernes-les-Fontaines, France
for Schweizer Radio und Fernsehen. Recorded, mixed and mastered by
Gérard de Haro. Edited by Vincent Membrez and Michael Jaeger. Cover art: Michael Jaeger.
Graphic design: Jonas schoder. Liner notes: Bert Noglik
Intakt CD 219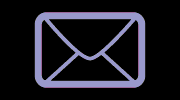 Please click here to order
Kerouac spielt mit Rhythmen und Klängen und Räumen», schreibt der Jazzkritiker Bert Noglik in den Linernotes zur CD. «Ohne jeden Zweifel, Kerouac, die Band, ist schon auf einem Hochplateau angelangt, doch noch immer on the road.»
«Groove ist ein Schlüsselbegriff für dieses Album – eine physische Bewegungsenergie, die die Gedanken und die Knochen in Schwingungen versetzt. Das Rhythmische verknüpft sich mit dem Magischen, zuweilen auch mit dem Ekstatischen, mit der Beschwörung eines Rituals …
Michael Jaeger spielt aus dem Geist schwarzer Balladen. Es sind heutige Geschichten, die da erzählt werden und die sich verzweigen. Wenn es hier einen Anklang an John Coltrane, dort eine Annäherung an Evan Parker und schließlich auch eine kleine Hommage an Jimmy Giuffre gibt, dann geht es weder um das Ausborgen von Idiomen noch ums Zitieren, sondern um das Spiel mit dem Reichtum der Erfahrungen.»

Kerouac plays with rhythms and sounds and spaces. A door within a door opens up into a new space of experience. And so it goes on – much to the surprise of the listener and to the musicians themselves. Without a doubt, the band Kerouac has already reached a high plateau but is still 'on the road'», writes Bert Noglik in his liner notes.
«Groove is the key concept for this album – a kind of physical kinetic energy, which gets minds and body going. The rhythmical element combines with a kind of magic, at times with the ecstatic, in conjuring up a ritual …
Michael Jaeger's playing takes its origins from the spirit of black ballads. It is present day stories which are being told here and which then fan out. If there is an echo of John Coltrane here, a hint of Evan Parker there and finally also a tiny tribute to Jimmy Giuffre, it is neither about borrowing idioms nor about playing quotes, it is about playing with a wealth of experience.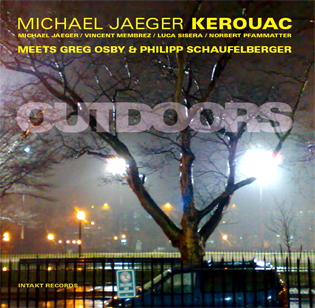 Michael Jaeger Kerouac
Meets Greg Osby & Philipp Schaufelberger
Michael Jaeger: Tenor Saxophone
Greg Osby: Alto Saxophone
Philipp Schaufelberger: Guitar
Vincent Membrez: Piano, Prepared Piano
Luca Sisera: Bass
Norbert Pfammatter: Drums