Steve Lehman and Stephan Crump are two of the most exciting agents of the young New York jazz scene. Crump has earned considerable acclaim as a member of Vijay Iyer's trio and quartet. Steve Lehman made his mark with his octet and CDs as "Travail, Transformation and Flow".

Their first recording for Intakt Records entitled KALEIDOSCOPE & COLLAGE presents two extended pieces, "Terroir" and "Voyages". The CD stands out due to the artists' musical skills, their sensitivity and great awareness of shape and style. The scope of dynamics and timbre is far and wide, the communication between the two musicians sharp-witted and alive.

The New York journalist David Adler states in the liner notes: "It's a given that creative musicians work long and hard to master their instruments and develop an individual sound. But there's another thing that separates the technically gifted player from the transcendent one. It's what we might call the collaborative ear, that vital sixth sense that enables improvisers to bring out the best in each other and fashion meaningful stories, even while embracing the hazard of playing without a set script. Bassist Stephan Crump and alto saxophonist Steve Lehman imbue all their work with that sense of trust and openness."

This fact as well as the charming musical atmosphere make KALEIDOSCOPE & COLLAGE an outstanding release.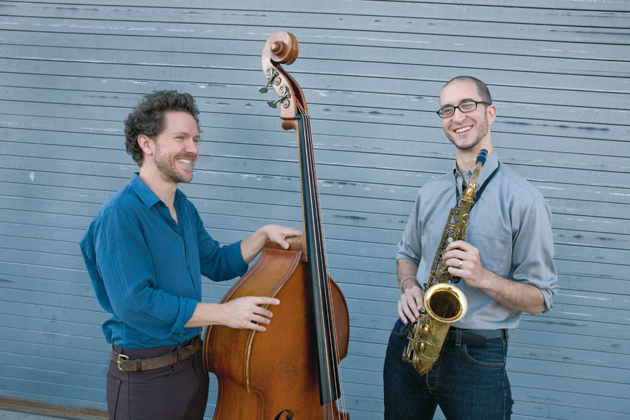 Steve Lehman und Stephan Crump sind zwei der aufregendsten Vertreter der jüngeren New Yorker Jazzszene. Crump hat als Mitglied von Vijay Iyer's Trio und Quartett internationale Anerkennung bekommen. Steve Lehman machte sich mit seinem Octet mit CDs wie "Travail, Transformation, and Flow" einen Namen.

Auf ihrer ersten Veröffentlichung auf Intakt Records mit dem Titel «Kaleidoscope & Collage» sind zwei lange Stücke «Terroir» und «Voyages» zu hören. Musikalisches Können, Sensibilität und ein großes Formbewusstsein zeichnen die Aufnahme aus. Die Bandbreite von Dynamik und Timbre ist weit gespannt, die Kommunikation zwischen den beiden Musikern ist scharfsinnig und lebendig.

"Es ist bekannt, dass kreative Musiker lange und hart daran arbeiten, ihre Instrumente zu beherrschen und einen individuellen Sound zu entwickeln," schreibt der New Yorker Journalist David Adler in den Liner Notes. "Es gibt aber noch etwas anderes, was die technisch begabten Spieler von den überragenden unterscheidet. Es ist das, was wir das gemeinsame Ohr nennen könnten, den vitalen sechsten Sinn, der die Improvisierenden dazu bringt, gegenseitig das Beste aus sich herauszuholen und bedeutsame Geschichten hervorzubringen, selbst wenn sie sich auf das Wagnis einlassen, ohne festgelegtes Skript zu spielen. Die gesamte Arbeit des Bassisten Stephan Crump und des Altsaxophonisten Steve Lehman ist durchtränkt mit dieser Art von Offenheit und Vertrauen." Dies sowie die bezaubernde musikalische Atmosphäre machen «Kaleidoscope & Collage» zu einer überragenden Veröffentlichung.