D er Rote Bereich gilt mit seiner eigenwilligen Musik, dem anarchistischen Humor, intelligenten Arrangements und originellen Sounds als eine der aufregendsten Bands des neuen deutschen Jazz. 1992 vom Gitarristen Frank Möbus und dem Bassklarinettisten Rudi Mahall gegründet, durchlebte die Band mehrere Metamorphosen bis der Berliner Drummer Oliver Bernd Steidle sich als überzeugender Schlagzeuger im Trio erwies. Die Presse feiert den Roten Bereich als «wichtigste Vertreter des deutschen Avantgarde-Jazz». Das «Jazzpodium» schreibt: «In ganz Deutschland gibt es kaum eine vergleichbar vielschichtige, erstaunlich simple, erfrischend selbstironische und zu jeder Sekunde interessante Musik.»
Nach einer kreativen Schaffenspause meldet sich Der Rote Bereich zurück. Diesen Herbst tourt die Band mit einem neuen Programm und legt ihre siebte CD-Veröffentlichung vor, die erste auf Intakt Records. «Musik hat mit dem Leben zu tun, aber das Leben nicht notwendigerweise mit Musik», sagte Frank Möbus einst. Dringlichkeit, Realitätsnähe sowie Aktualität prägen die Musik des Roten Bereichs. Aber auch der «Spaß an musikalischem Ernst», der ihre Musik zu einem intellektuellen wie sinnlichen Jazz-Abenteuer macht.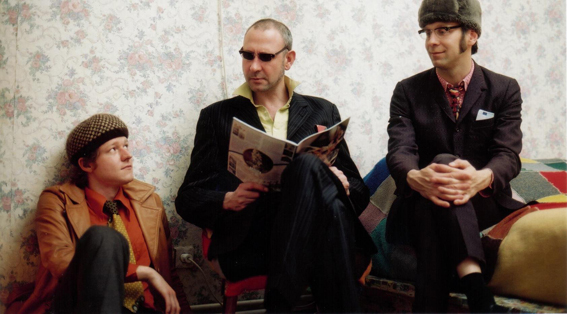 W hat with its idiosyncratic music, the anarchistic humour, its intelligent arrangements and original sounds, Der Rote Bereich passes for one of the most exciting bands of modern German jazz. Founded in 1992 by guitarist Frank Möbus and the bass clarinetist Rudi Mahall, the band went through several metamorphoses until finally the Berlin drummer Oliver Bernd Steidle proofed to be the convincing percussionist in this trio. The press celebrated Der Rote Bereich as "the most important representative of German avant-garde jazz". The "Jazzpodium" states: "In Germany you can barely find music that is comparably complex, surprisingly simple, refreshing in its self-mockery and interesting in every second."
Der Rote Bereich is back now, after a creative pause. This fall the band will be on tour with a new program, presenting their seventh CD release, the first on Intakt Records. Frank Möbus once said: "Music has to do with life, but life not necessarily with music". The music of Der Rote Bereich is very up to date, it is full of instancy and realism. Yet they know the true promise and fun of musical seriousness that makes their music an intellectual as well as sensual jazz adventure.