Der Berliner Pianist Ulrich Gumpert, bekannt als Mitglied der Band Zentralquartett, hat mit jüngeren Musikern der Berliner Szene und dem aus Washington stammenden, derzeit in Berlin lebenden Saxophonisten Ben Abarbanel-Wolff eine Band formiert, die prägnante Themen des Bandleaders mit hochenergetischen, spontanen Spielprozessen verzahnt.

Christian Broecking schreibt in den Liner Notes der CD mit dem Titel Quartette zur neuen Band: «Abarbanel-Wolff ist der jüngste Musiker im neuen Gumpert Quartett. Der 32-jährige Saxofonist wuchs in Washington auf, studierte bei Milford Graves und Reggie Workman und lebt seit 2001 in Berlin, wo er auch in der Band des afroamerikanischen Bassisten Sirone spielt. Der Bassist Jan Roder wurde 1968 in Lübeck geboren und zog 1995 nach Berlin. Mit dem Quartett Die Enttäuschung und dem Pianisten Alexander von Schlippenbach nahm er unter dem Titel "Monk´s Casino" das Gesamtwerk Monks für das Intakt-Label auf. Der 1968 in Nürnberg geborene Schlagzeuger Michael Griener lebt seit 1994 in der deutschen Hauptstadt, im Sommer 2006 trat er beim New Yorker Vision-Festival auf. Mit dem Pianisten Gumpert spielt Griener schon seit fast zehn Jahren zusammen, zuerst im Trio, 2005 kam Abarbanel-Wolff hinzu. Kurz darauf trat das neue Gumpert-Quartett schon beim JazzFest Berlin und beim Sziget Festival in Budapest auf.»

Der Journalist Ulrich Stock beschreibt Ulrich Gumpert in 'Die Zeit' anlässlich der Verleihung des deutschen Jazzpreises an Ulrich Gumpert: «Ohne besonders laut, besonders schräg oder besonders schnell zu werden, hat Ulrich Gumpert zu einem ganz eigenen Ton gefunden: lyrisch, warm, gehaltvoll, auf den Punkt.»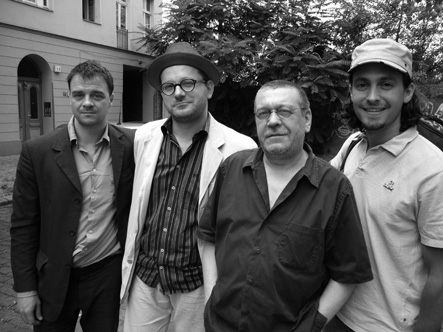 (engl.)
Berlin pianist Ulrich Gumpert, a member of the band Zentralquartett, has put together a band with younger
musicians from the Berlin scene and the saxophonist Ben Abarbanel-Wolff, who grew up in Washington and now lives in Berlin. The band combines the bandleader's incisive themes with high-energy, spontaneous playing.

In the liner notes to the group's new CD, Quartette, Christian Broecking writes: "Abarbanel-Wolff is the youngest musician in the new Gumpert Quartet. The 32-year old saxophone player grew up in Washington, studied with Milford Graves and Reggie Workman and has been living in Berlin since 2001, where he also plays in the band of the Afro-American bassist Sirone. Bass player Jan Roder was born in Lübeck in 1968 and moved to Berlin in 1995. With the quartet Die Enttäuschung and pianist Alexander von Schlippenbach he recorded the complete works of Monk under the title Monk's Casino for the Intakt label. Drummer Michael Griener, born in Nuremberg in 1968, has been living in the German capital since 1994, in March 2006 he was awarded 'most creative soloist' at the Neuen Deutschen Jazzpreis in Mannheim, and performed on the New York Vision Festival in summer 2006. Griener has been playing with pianist Gumpert for almost ten years. first in a trio, later Abarbanel-Wolff joined. Shortly afterwards the new Gumpert-Quartet performed on the JazzFest Berlin and the Sziget Festival in Budapest."

When Gumpert received the German Jazz Prize (Albert Mangelsdorff-Prize), the journalist Ulrich Stock wrote in DIE ZEIT: "Without getting particularly loud, wild, or fast, Ulrich Gumpert has found a sound entirely his own: rich, lyrical, warm, to the point."